Post by been_there on Apr 20, 2022 14:58:37 GMT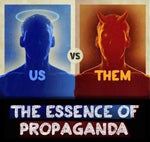 Shoah
narrative is not accurate history.
This time it is evidenced in the 283 comments to an article praising Nick Kollerströms banned book called
BREAKING THE SPELL
'. An article that is written by someone using their real name, praising a book published by someone using their real name!
Heresy In the 21st Century
Never in my long journalistic career have I ever hesitated to put pen to paper – until now. Indeed, I have delayed writing this overview of Dr. Kollerstrom's remarkable book for going on six years. Up until now no subject had been too controversial, too sensitive, too beyond the pale as to warrant more than a passing moment's consideration of consequences. But this is different. In some sixteen countries in Europe one can be put in prison for doing what I am doing now, or even for expressing 'holocaust denialism' on social media. In Germany some fifteen thousand people are tried each year for Thought Crime, i.e., for so-called 'right-wing extremism'. Here in North America it is somewhat better; one merely risks losing one's job, friends and family – and possibly being blacklisted as a writer from virtually every venue one might have formerly been associated with. No small potatoes.
www.unz.com/article/breaking-the-spell/#comments
Here is one comment as an example. It is by someone who ALSO courageously gives their name. That fact alone — that so many are prepared to face the consequences of expressing their doubt — I suggest is evidence of a great change: people are increasingly speaking out, without hiding their identity.
Absolution for the allied powers
...[absolution] was particularly necessary for the British. The ostensible reason for declaring war was to protect Poland from Germany – after British diplomats had disastrously misread the situation. Having stumbled into triggering the most destructive conflict in history, the Brits then lost their Empire; the country was left bankrupt; sterling succumbed to the almighty dollar; and Eastern Europe – Poland included – fell to the Soviets.
Add to that the hellish spectacle of devastated German cities.

Only by selling the 'victory' as a triumph over Satanic forces could the blood, sweat and tears be justified. The Holocaust narrative was [the result]...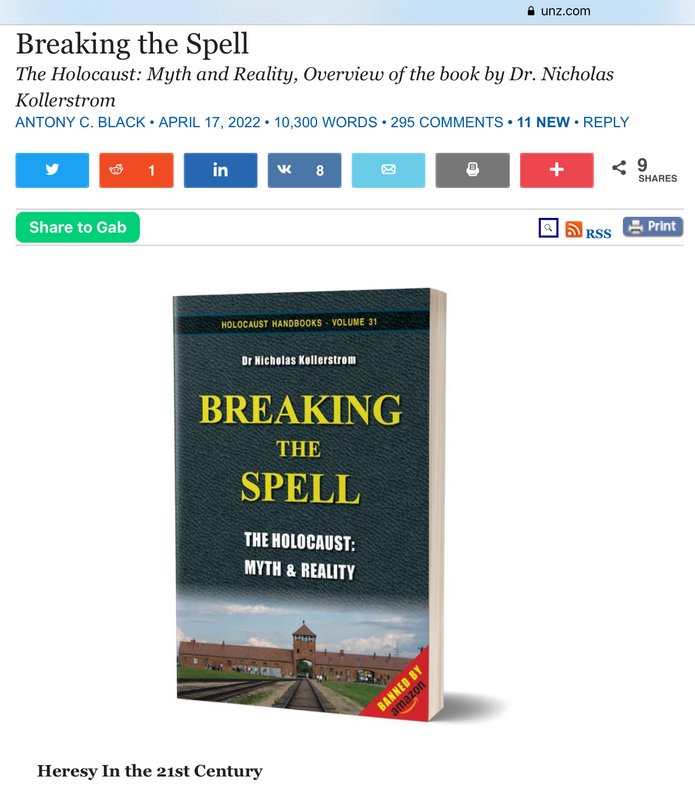 It is a great book title, that Mr. Black is courageously and positively reviewing.
Because what has become known since the 1970s as 'the holocaust' is in reality a pseudo-historical narrative that only
claims
an attempted genocide of ALL Jews by mass murder using poisonous gas. The REALITY though is that
it has no credible evidence supporting that claim
.
As was admitted in the above linked talk by a supposed expert, Ephraim Kaye.
The vast majority only believe it because they have been mislead about that FACT! We have all been told the exact opposite. As anyone who investigates it honestly soon comes to realise. It has been foisted upon a gullible public by decades of relentless indoctrination, childhood brain-washing (education) and increasingly draconian thought control laws.
To come out of all of that can fairly be likened to '
breaking
' a kind of magical '
spell
'.