Post by Nessie on Jun 19, 2023 18:44:24 GMT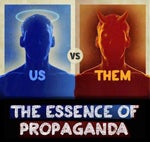 modus operandi
of a genuine historiography is again dishonestly dodged by Nessie and even reformulated to assist this genuine denial by a person with an irrational, dishonest, 'believer' mentality. That dishonesty and refusal to acknowledge reality speaks volumes. It again shows that the true 'deniers' are the 'holocaust' promoters and online defenders.
Would a genuine historiography despise, smear and punish people for conducting genuine research and analysis of its conclusions?
The obvious answer for anyone not defending a bogus historiography is:
NO
, IT WOULD
NOT
!
I disagree, I say, yes it would, and it has, in the case of the Holocaust. You are repeating your assertion, rather than answering my points that a genuine history that attacked by a false history, that uses illogical argument not evidence and spreads hate, is entitled to attack those making false claims.
It would rely on genuine research and analysis.
It would promote it. It would encourage it. It would not outlaw and punish it.
Holocaust denial does not outlaw genuine research and analysis, that is based on EVIDENCE. Revisionists are unable to evidence their claims. They are encouraged to go find evidence, and some have tried, but like Eric Hunt and Thomas Kues, they failed.
And, as we all know, outlawing and punishing is precisely what the holocaust historiography does do, so we can conclude that it is a bogus holocaust historiography. It is not a genuine historiography at all. And Nessie's refusal to address this point honestly and directly is proof Nessie knows this but can't acknowledge it. I.e, denial!

—————————————————
That is a non sequitur. Holocaust history is a genuine, evidenced history under attack by conspiracy theorists presenting a bogus, unevidenced non history of what did not happen. Holocaust denial has been outlawed, because it is hateful and bogus.
Getting back to the bogus 'where did they go?' argument: one explanation for why approximately 1.5 million Jews "disappeared" via the three Aktion Reinhardt camps would be because they operated as transit camps. We have some proof of this with all the Jewish witness who were honest and described passing through these supposed end-of-the-line 'death camps'. Where exactly did the remainder get transferred to is the constant refrain of 'H-believers' with no other way to defend the 'holocaust' narrative's now refuted mass-gassing mythology.
The evidence, from witnesses, documents and circumstances, is of mass arrivals, mass theft of property, limited worker selections and gassings, with mostly empty trains, or trains carrying property leaving. You have no evidence from any person inside an AR camp, to its operation as a transit camp. You have no documents, or other form of evidence that is contemporaneous to the camps, that they were transit camps.
That you cannot evidence where those not selected for work went, is because they were killed, which is evidenced.
Notice that Nessie avoided and ignored the point made
here
that if there was a 'black arts, atrocity-propaganda, psychological-warfare operation to create a 'mass-gassing-all-jew-extermination' hoax, then we would
expect
there to be a cover-up to protect that hoax from detection.
I challenged that allegation, when I asked why, when the Nazis knew they were being accused of mass murder in certain camps, did they not conduct a similar investigation as they did at Katyn, and take journalists and other witnesses to those places, to be shown the evidence as to what had happened? The Nazis produced a report in 1943 evidencing the Soviet killing of Poles at Katyn. They could have done the same thing and taken the same people to TII, Sobibor, Belzec and then in 1944 inside the A-B Kremas. By not doing that, the Nazis helped the mass gassing hoax you are alleging. Why did they knowingly help to perpetrate a supposed hoax?
The cover-up you claim, was actively helped by the Nazis destroying evidence, such as any burials at the AR camps, documents from the camps, documents recording mass departures and where thsoe people supposedly not gassed.
That is not only a plausible possibility, it is an absolute certainty that if there were a policy to deceive, then practicing that deception would include removing all documentary evidence revealing that deception.
Obviously.
Why did the Nazis not produce documentary evidence at the time, to show what happened? Or witnesses, or any other evidence? If someone is accused of a crime and they have evidence to prove they did not commit that crime, why would they then destroy that evidence?
This (and the other point about genuine historiographies) are not complicated or obscure. That the holocaust true-believer mindset will not concede them is further evidence it is more of an irrational quasi-religious 'belief', than a 'history'.
You are trying to suggest that because I do not agree with you, I am irrational. I actually disagree with you, because you have no evidence to back up your claims.
Here is another explanation/answer from a history academic who — what should be to our collective shame — has to hide behind a protective veil of anonymity to make the following points:
The entire purpose of the [Aktion Reinhardt] camps was to collect and concentrate Jews temporarily, disinfest them of disease-carrying lice, and then ship them on to points further East, into newly-captured Russian territory — many to forced-labour camps. That's why all three camps were located in the far eastern portions of Poland, which made it easier to transfer Jews onto Russian-gauge railways and then to ship them out. Once they left those camps, the Jews were considered "exterminated" (from the Latin "ex-terminus" = "beyond the borders" — look it up), and hence no longer had to be tracked. They were now "gone."
Where is the evidence to prove that claim? Where are the AR documents or the Nazi witnesses or the eastern European witnesses to an operation that transported Jews from the AR camps to be settled in the east? When Eric Hunt and Thomas Kues looked for evidence of such, they found none.
We know this because there is no evidence, even indirect, of for example 900,000 Jewish corpses at Treblinka:
if they were buried, they are still there — but no one has found them.
if they were buried and dug up, then there should be a huge volume of disturbed earth — which does not exist.
if they were burned, there should be a mountain of ash, teeth, and bones — which does not exist.
In recent years, a British archeologist, Caroline Sturdy Colls, was hired to find evidence at Treblinka using high-tech ground-penetrating radar; she found precisely nothing.
That is a lie. C S-C did not find "nothing". Be honest and report what she did find.
[It is a] valid point… that we have no good documentation for the 1.5 million Jews who were 'ex-terminated' through the Reinhardt camps, into captured Soviet territory… But as I stated above, the Germans had no need to continue to track all these Jews; they had more important matters on their hands, after all.
The EG had been clearing the territory you say was used for settlement of Jews, since mid 1941 when the Nazis invaded. They tracked and recorded what they did, and the dropping Jewish population in the east, which was also recorded in 1942 in the Wannsee Minutes and Korherr Report. You suggest the EG were making the east Jew free, for more Jews to be sent there, when the policy was to remove the Jews from occupied territory. The Nazis were meticulous in recording how many Jews had been identified and their locations in every occupied country, and you now suggest they would just stop and dump millions of Jews, who they saw as the enemy on land they had cleared of that enemy!
…The transferred Jews were dispersed over a very large area, some to labour camps, many abandoned, all soon to be swallowed up by a resurgent Soviet army — and thus lost to the Western world, for decades. This, in fact, explains the mysterious "disappearance": the Jews went behind the Iron Curtain, losing touch with everyone in the West. It's not that hard to explain.
No evidence from witnesses, documents or any other source is being presented to prove that happened.
Finally, the point I made earlier about simple arithmetic refuting this decades-old, racist, anti-German atrocity propaganda was rejected because it was claimed the argument relying on estimates of Jewish population totals had been "debunked".
In my next post I will expose the ludicrousness of this "debunked" claim.
I used the Nazi's own population figures to prove massive drops in the Jewish population. You use an American almanac that has been shown to be wrong. Why do you refuse to use the Nazi figures?