Post by jeff8675309 on Oct 19, 2022 14:15:53 GMT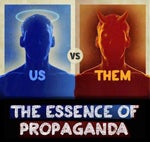 If it is considered racist 'anti-semitism' to proffer credible and compelling evidencd that Jews DID concoct a false narrative of attempted genocide of ALL Jews primarily using death-camp gas-chambers,
Except this is not the case. This is again a hyper emotional reaction that's not based upon the history itself. The history of the Holocaust includes mass shooting and deaths caused by the conditions the Germans (and others) placed Jews in. Gas chambers were another method.
Been-there, I'd like to remind you that the subforum this thread is in deals with the Einsatzgruppen. I'm going to broadly interpret that as mass shootings in general but it does not include discussion of gas chambers. The above comment is off-topic, please confine yourself to the topic at hand. I understand you are dealing with certain emotional issues related with the picture I posted. But please limit your emotional reaction to the picture and not going off on a tangent.
Thank you.
A rational approach would be open to having any pre-concieved, subconscious biases examined and corrected.

I'm always willing to accept corrections. Aimless speculation based upon emotional reaction is not correcting anything.
I took a long look into things like shrunken heads, lampshades, etc. The one thing I noted is that these items were primarily centered around Buchenwald. This was hardly any type of concerted effort. I also want to point out that news about the above items came from prisoners and not from some type of psychological warfare initiative. The Nazis themselves investigated rumors of this type.

False conclusions.

No, that's literally what happened.
However this is off topic. I am certainly willing to indulge a certain amount of off-topic discussion because it opens new avenues to explore. But discussing heads and such things in a section of the forum not dedicated to those subjects is veering us off-topic. I suggest taking such discussions elsewhere. The same with talk about forgeries.