Post by 𝐍𝐞𝐬𝐬𝐢𝐞 on Oct 12, 2022 7:27:41 GMT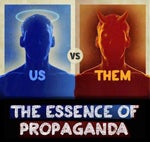 No, I suggest let's not move on. 🙂
This person was making bold but false statements and deriding others based on wilful ignorance.
She/he was invited/challenged to research something and she/he refused but insisted she/he knew the answer anyway.
I am a he, this is the last time you will be reminded of that and you will address me as a he only.
You are lying that I refused to do research, as I showed you links to some of what I had read.
Now that you have conclusively proved her/his dishonesty on one aspect of the question this genuine 'filthy liar' concedes only that she/he might be wrong.

Again proving this is NOT a person interested in a genuine, fair, honest dialogue/discussion/debate about the Jooish experience during WW2.
There is evidence of the American's stealing from the Japanese during WWII, the Canadians stealing from the Ukranians during WWI, but the link about the British is behind a paywall for me and the quote used is ambiguous. It is reasonable to ask questions about it.
This discussion started with her/his racist abuse of all adult Germans alive in the 30s-40s based on the deceitful cult-belief called 'the holocaust'.
She/he then doubled-down and asserted ridiculously illogical conclusions based on the preposterous idea that underpants and goldteeth are indispensable for human survival.
That was not my argument, strawman. My argument is that it is circumstantial corroborating evidence for mass murder of the Jews, something that there is no evidence of by the British of those they interred. Hence, I argued, with evidence, how they kept their personal possessions at the camps.
The whole point on getting him/her to investigate what happened to victims of the exact same policy in USA and Britain of potential 5th-columnists was to get her/him to discover for herself. That being because she/he will not accept correction from anyone other than a fellow true-believer.
No, it is because you do not know how to research, so you need to get me to do it for you. As shown with Nazgul, present evidence and I will assess it and if I need to correct my position, I will do so.
If this were a genuine discussion of 'theft of property' during WW2, then this dishonest person would have looked for the type of info that you have provided. That this person refuses to do that, and only admits possible error when she is caught lying, demonstrates that belief in the holyhoax requires an attitude of stubborn, dishonest self-delusion + denial of factual and historical reality

Evidence has been presented that the Nazis, Americans and Canadians stole property, as in what the internees left behind when they went to the camps. No evidence has been presented that the Americans and Canadians stole the possessions of the Japanese and Ukrainians when they arrived at the camps, including their underwear and any gold teeth. It is not clear what the British seized regarding property and why. They also did not steal the internee's possessions at the camps. Only the Nazis did that.