Post by been_there on Jul 24, 2022 14:52:17 GMT
Many people believe that the Third Reich leadership all admitted that there had been an extermination policy of ALL Jews. In my experience, this is one of the first things believers of the holyco$t mass-gassing narrative respond with when informed of the wealth of evidence refuting this racist, anti-German hate-trope. It is a classic argument-from-ignorance.
Anyone who does any research will discover the complete opposite is the truth: none of the leadership admitted any knowledge of such a policy until after their capture. A few conceded that they had seen or heard Allied 'news' accusations of it prior to that, but had dismissed it as deceitful atrocity propaganda.
So the consensus view on this point of so many people, is just one of many examples of how the majority of people have been brainwashed with demonstrably false accusations that are the complete opposite of the historical reality.
Ernst Kaltenbrunner
is a good example of this.
After his capture in the mountains near Salzburg, Kaltenbrunner was subjected to ten weeks of interrogation (torture?) in London. He was then transported to Nuremburg to be put on show-trial.
Initially — at the beginning of the show-trial — he couldn't appear in court as he had suffered a brain haemorrhage in his cell, presumably as a result of his London 'interrogation'.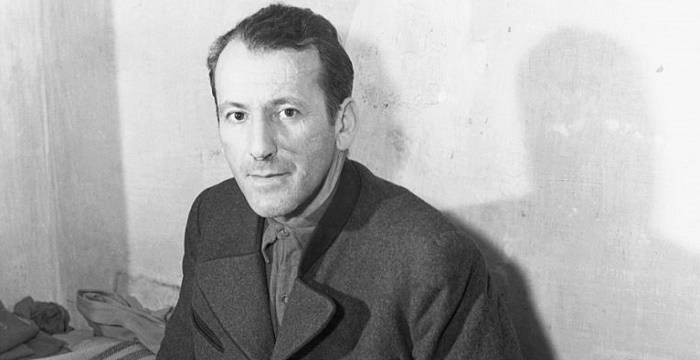 Jewish captor and psychologist Dr. Gustave Gilbert asked Kaltenbrunner in his cell, what he thought of the charges against him of war crimes, etc.
Kaltenbrunner answered:
"I do not feel guilty of any war crimes. I have only done my duty as an intelligence officer, and I refuse to be used as an ersatz [substitute] for Himmler."
Gilbert said to him that as he was chief of the RSHA, few people would believe him nor that he knew nothing about the mass murder program the defeated Germans were then being accused of.
This is Kaltenbrunner's response:
"But that is because of newspaper propaganda.
I told you when I saw the newspaper headline 'GAS CHAMBER EXPERT CAPTURED' and an American lieutenant explained it to me, I was pale with amazement.
How can they say such things about me?

I told you I was only in charge of the Intelligence Service from 1943 onwards. The British even admitted that they tried to assassinate me because of that — not because of having anything to do with atrocities...
.. .. ..
During Kaltenbrunner's Nuremberg cross examination, he was indignantly asked how he had the nerve to pretend he was telling the truth and that 20 or 30 witnesses were lying (XI 349 [385]).
Those "eyewitnesses", of course, did not appear in court; they were merely names on pieces of paper.
One of these names is that of
Franz Ziereis
, commandant of Mauthausen concentration camp.
Ziereis supposedly "confessed" to gassing 65,000 people; making lampshades out of human skin; manufacturing counterfeit money; and of supplying a complicated table of statistical information containing the exact number of inmates in 31 different camps. He supposedly accused Kaltenbrunner of ordering the entire camp (Mauthausen) to be killed upon the approach of the Americans.
Only problem with that is that Ziereis had been dead for ten and a half months when this supposed "confession" materialised. Fortunately, the "confession" has been "remembered" by someone else: a concentration camp inmate named
Hans Marsalek
, who never appeared in court, but whose signature appears on the document (Document 3870-PS, XXXIII 279-286)...
The pretense was that Ziereis was too seriously injured (he died of multiple gunshot wounds through the stomach) to sign anything at the time, but he was healthy enough to dictate this lengthy and complex document, which was then "remembered" exactly and verbatim by Marsalek for ten and a half months. Marsalek would, of course, have had no motivation to lie. 🙄
The document is in German. Brookhart was a confession ghostwriter who also wrote the "confessions" of Rudolf Höss (in English, Document 3868-PS) and Otto Ohlendorf (in German, Document 2620-PS).
Ziereis's "confession" continues to be taken seriously by Reitlinger, Shirer, Hilberg, and other itinerant peddlars of Holo-Schlock.
Kaltenbrunner claimed that there were 13 central concentration camps or "Stammlager" during the war (XI 268-269 [298-299]). The prosecution total of 300 concentration camps was achieved by including perfectly normal work camps. The 13th camp, Matzgau, near Danzig, was a special camp whose prisoners were SS guards and police who had been sentenced to imprisonment for offences against prisoners in their charge: physical mistreatment, embezzlement, theft of personal property, etc. This camp with its inmate SS men fell into the hands of the Russians at the end of the war (XI 312, 316 [345, 350]).
Kaltenbrunner claimed that sentences passed by SS and police courts were far more severe than sentences passed by other courts for the same offences. The SS carried out frequent trials of their own men for offences against inmates and violations of discipline (XXI 264-291, 369-370 [294-323, 408-409])...
Defence evidence on this and related topics amounts to many thousands of pages divided between the Tribunal and "commission", and 136,000 affidavits (XXI 346-373 [382-412]; 415 [458], 444 [492]).
Kaltenbrunner was convicted of conspiring to "lynch" Allied airmen who committed mass bombings of civilians. The lynchings would have been illegal, but did not occur. Many airmen were saved from mobs by German officials. The Germans refused to contemplate such a matter, fearing it would lead to a general slaughter of parchuted fliers. Like so many other German crimes, this remained an idea without effect (XXI 406-407 [449-450], 472-476 [522-527]).
Another crime supposedly committed by Kaltenbrunner was responsibility for the so-called "Bullet Order". This is supposed to have been an order to shoot prisoners of war using a measuring contraption (probably inspired by the Paul Waldmann pedal-driven brain bashing machine, Document USSR-52, VII 377 [416-417]).
The "Bullet Order", Document 1650-PS, if it is an authentic document, which it probably is not (XVIII 35-36 [43-44]) is a mistranslation: the sense of the order is that prisoners who attempt to escape should be chained to an iron ball (Kugel), and not that they should be shot with a "bullet" (also Kugel). The word "chained" appears in the document, but the word "shot" does not (III 506 [565]; XXI 514 [568]); Gestapo affidavit 75; XXI 299 [332]). The document is a "teletype" thus, without a signature (XXVII 424-428).
Sonderbehandlung
"
Sonderbehandlung
" (special treatment) is an example of the... jargon used in all bureaucracies, and is probably best translated as "treatment on a case by case basis". Kaltenbrunner was able to show that it meant, in the context of one document, the right to drink champagne and take French lessons. The prosecution got a winter resort mixed up with a concentration camp (XI 338-339 [374-375]); (XI 232-386 [259-427]; XVIII 40-68 [49-80]). (The winter resort document is Document 3839-PS, XXXIII 197-199, an "affidavit").
~ Carlos Porter.
codoh.com/library/document/not-guilty-at-nuremberg/en/