POWs
Jul 17, 2022 19:33:36 GMT
Post by been_there on Jul 17, 2022 19:33:36 GMT
...
In October, 1939, Poland was invaded and its territory divided between NSDAP Germany and Soviet Russia.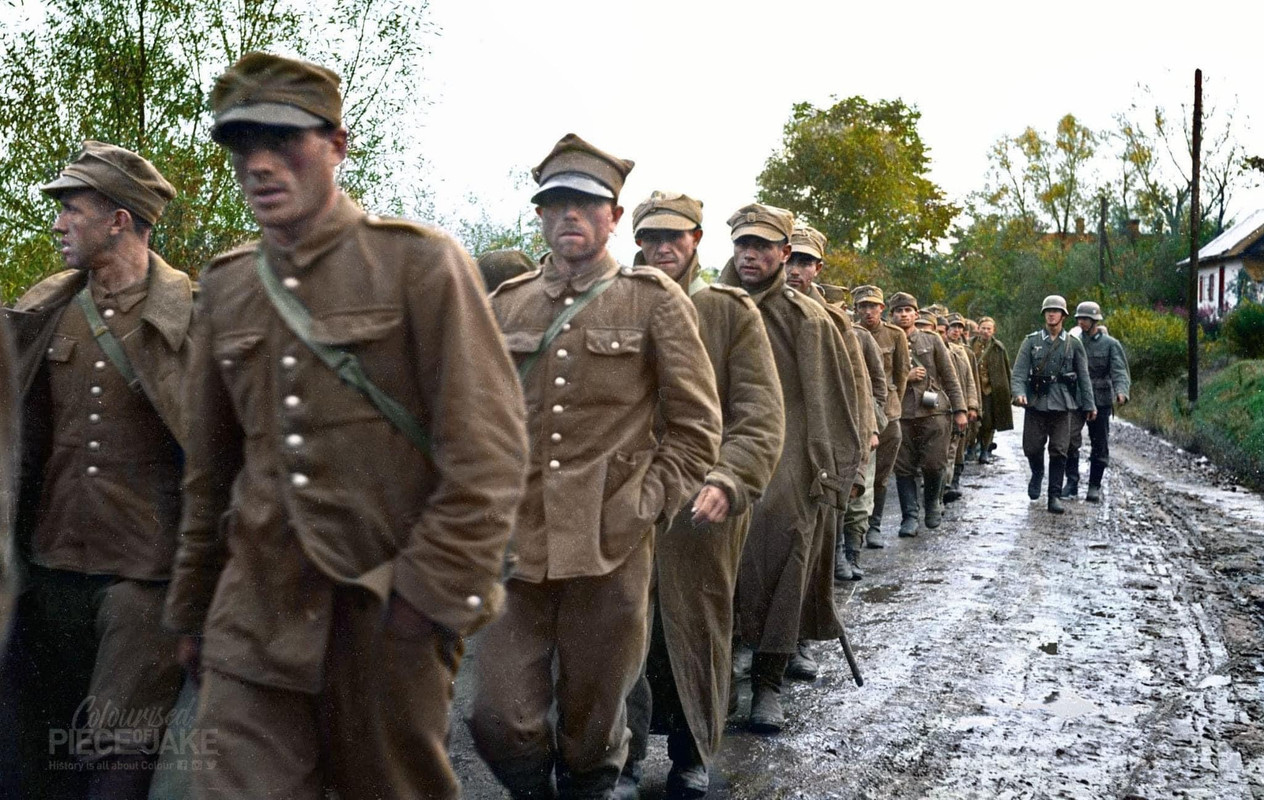 The photo above shows Polish soldiers who had surrendered in September/October of 1939
being led as Prisoners of war (POWs) into captivity by Wehrmacht soldiers.
During the autumn of 1939, a large proportion of the Polish army was captured. Around 400,000 men were captured by the German forces and over 200,000 by Soviet troops.
Until February 1940, the German authorities gave the International Committee of the Red Cross lists of the Polish prisoners of war they held, but after that date they stopped.

In 1943, they again began to send these lists, but now only officers were mentioned. What had happened was that most of the Polish soldiers who became prisoners of war were turned into "civilian workers" by the German authorities.
Prisoners of war who refused to become "civilian workers" were mostly sent to concentration camps.

At no time during the war did the USSR give the Red Cross (ICRC) lists of Polish prisoners.

When, in April 1943, the massacre of over 5,000 Polish officers at Katyn was discovered, the USSR refused to allow the ICRC to take part in an international investigation.
British and American leaders colluded in the lie and mass-deception that blamed the Kayn massacre on NSDAP Germany. The victorious Allies after the cessation of conflict even allowed Germans to be unfairly tried, convicted and executed for this Soviet war-crime.
This was only acknowledged in the 1980s when Gorbachov admitted this Soviet crime — plus the Allied complicity in it and deception about it — during the period of
glasnost
.
The Katyn massacre and the treatment of POWs by the Soviets is another example of how the Allies of Britain, America and Soviet Russia successfully lied and deceived their populations with deliberately false war-crimes propaganda, by blaming the vanquished German nation for THEIR
OWN
CRIMES!!
... ... ...
SOURCES: Sorry, but I can't be bothered to reference them just now.