Post by 𝐒𝐜𝐨𝐭𝐭 on Jun 8, 2022 15:16:14 GMT
This has been an interesting conversation [on the Höfle Telegram]. I attended an Irving event over ten years ago when Irving showed the listeners a copy of the Hoefle telegram ─ but if I remember correctly, he waffled about whether it was real or not.
I think Irving implied that it was real, but at the time, post losing the Irving-Lipstadt libel suit, he was still trying to distance himself as a Holocaust Denier, expressly emphasizing that he was not a Holocaust historian and had never written on that subject. Meanwhile at the Phoenix coffee shop where the event was held, about fifty scruffy Antifa picketed the premises calling him a Holocaust Denier.
I think the Hoefle document is questionable at best and does not really tell us very much anyway.
The point made about umlauts in the transcript but not for the umlaut o in the name Höfle is interesting too. It was obviously transcribed with a German typewriter by a clerk who might make some spelling corrections, but how would they know if the name was spelled Hofle, Höfle, or even Hoefle?
We know that Paul Joseph Goebbels was not spelled with an umlaut, so we never see Goebbels spelled as Göbbels, because he just never spelled it that way. We also rarely see the full name Paul Joseph, just Joseph Goebbels, and he uses the name Joseph and not the German Josef.
Similarly, Hermann Wilhelm Göring has two n's in Hermann, and the name Göring is normally spelled in the German fashion with an umlaut o but occasionally also as Goering in an English transliteration with an oe instead of the ö.
But who is this
Hofle
guy? Did the transcription clerk really know whether or not to add an umlaut?
The point about the message formatting is also a very good one.
My primary military occupational specialty was an 05C10 MOS in the U.S. Army Signal Corps in the early 1980s. I also did 05E (radio repair) and 31J (teletypewriter repair). The MOS's have changed drastically today but this might be important if you were browsing old Army FM's and TM's (field manuals, technical manuals), some of which are now available Online. Later I was promoted to Sergeant so my primary MOS became 05C
20
.
Okay, so during AIT (advanced individual training) I learned RaTT (Radioteletype) Procedures at Fort Gordon, Georgia in 1981. (Btw, my avatar is Confederate Lt. Gen. John Brown Gordon (1832-1904), the namesake of the post, which is the home of the U.S. Army Signal Corps. General Gordon was also the Governor and a U.S. Senator from Georgia.)
Anyway, I was trying to remember the RaTT messaging format exactly and did not want to make too many guesses so I researched this a little bit...
There is a Wikipedia article on 16-line TTY message formatting (
LINK
) ─ a document which is a very comprehensive 59-page Military Auxillary Radio System (MARS) manual that explains for Amateur Radio MARS volunteers how to do Radio Telegraphic procedures for the Army and the Air Force (
LINK
). As an Extra class Amateur radio licensee, I have thought about volunteering to do this for fun ─ if I live long enough to retire. But, like going to Red Cross disaster sites as a Ham volunteer, MARS is probably a little more demanding than one would think...
A little bit of background about what we did as Signal Corps RaTTs was to send teletype messages by HF (high-frequency aka "short wave") radio from what we called a RaTT Rig, usually to another RaTT Rig.
Below, here is what the inside of a RaTT Rig looked like. Not shown are a third teleprinter and both KW-7 cipher machines. The primary KW-7 was mounted in the upper right corner of the shack, and I think the spare or secondary KW-7, if you had it hooked up for Diversity reception, went between the two TT terminals on the Left.
In any case, all of the heavy KW-7 cryptography equipment had to be removed from the rig and put into a safe at the end of the day in garrison. There were two HF receivers so you could setup the system for so-called Diversity reception or copy teleprints from a second unrelated channel from a teleprinter on the right (not shown) while you typed a punched-tape message on the TT tape punch machine at the left, and received or transmitted from the main TT machine at the center front. Shown in the center front in the first picture below is the newer UGC-74 semi-computerized teletype machine, and not the old Kleinschmidt 98 mechanical teletype machines that we normally used.
I was the Team Chief for mine which was a radio shelter mounted on a 4x4 pickup truck and pulling a trailer with two 5 KW generator sets. We setup large wire antennas from masts that we assembled in the field and integrated into the camouflage. We could also operate on DC power from the vehicle and use a whip antenna, but this was less effective. We could send messages via voice SSB, CW telegraphy, or (usually) via both encrypted and unencrypted Radio-Teletype.
When we sent encrypted QSOs (RED messages) it was encoded/decoded automatically with a device called a KW-7. This came out as garble on the other end unless they were operating with the same "Keylist" as we were, and the security of the messaging mainly depended on the security of the Keylists used. Normally a new Keylist was engaged every 24 hours but could be changed more often or to send special traffic.
If we were not passing official traffic, we frequently sent TTY in the Black (unencrypted). Either way, you could tell who was typing just by their sending style, or as Ham radio CW (Morse code) operators call it, their "Fist." For this reason the secure traffic was supposed to be typed out beforehand on punched paper tape using the 5-bit ITA2 telegraphy code and transmitted in batches. You want to keep your radio time as short as possible or you will likely get some arty (artillery) on your @ss.
In WWII, signal interceptors could tell pretty close to where the U-Boats were operating every time they started keying their radio transmitters just from basic radio location triangulation ─ high-frequency direction finding or HF/DF. This meant that even if the Allies could not read the encoded messages, they sent their sub-chasers to that general area to look, and of course convoys attracted attention from submarines so the escorts would already be close.
Signal interceptors can also tell a lot about what is going on just by the peaks in the volume of traffic, so much of the messaging that we actually sent was really only dummy traffic. The Germans tried to send the bulk of their traffic by landline rather than by radio, and the
Feldhell
or
Feldhellfernschreiber
(Field Hellschreiber teletype) machine that the Germans used to send text messages, could operate connected to either telephone lines or radio circuits. These teleprinted text messages could also be encoded prior to sending with an Enigma machine or hand-coded in some other manner like a
One-Time Pad
, which is super-secure.
The German Feldhell (or
Hellschreiber
) system was different than most teletype machines that were used elsewhere. It was a form of facsimile that used an ink raster to draw letters, numbers, or even draw pictograms onto a paper tape, with the image mirrored for redundancy. This is a form of digital communications called "fuzzy logic," in that the character "decoding" is done by the human brain instead of by being machine-readable and decoded via digital logic circuits.
An example of fuzzy-logic is steganography, where you take, for example, a Polaroid picture of a number or a street address and send the photo in the mail or send the picture electronically via fax, but not in a machine-readable fashion. You do not read the address over the telephone where anyone could potentially hear.
CW (or Continuous Wave aka Morse code) is a digital communications format which is also a form of fuzzy-logic because it requires a listener whose brain has learned Morse code in order to decipher the characters from a continuous signal that is switched on and off for encoding.
The WWII German
Feldhell
system (below) was very simple and ultra-reliable and it discouraged eavesdropping whether over the telephone or the radio because you needed another Feldhell compatible machine to read the traffic. The Feldhell radio pulses literally draw a picture of letters and numbers or potentially even Asian pictograms onto a roll of paper tape.
Here is what a WWII German Feldhell unit looked like, and a Signal soldier could even carry one on his back to send messages over field telephone wire or via radio after a quick setup. The machine was extremely simple and ultra-reliable, which is not something that I can say for the Kleinschmidt 98 mechanical teletype monsters that we used in my day.
There are some other forms of teletype machines, but the ones that were the most common at the time were developed by the German Electrical Engineer
Rudolf Hell
in the 1920s and were a form of digital facsimile rather than a true digital format. The wire services of the time period were using Hellschreiber systems called
Pressehell
worldwide. The strips of printed paper tape coming out of the
Hellschreiber
machine were then cut to size and glued onto a Western Union or whatever military telegram card to read the message. (For example, see my new post showing the actual dispatch sent to the Panzer Ace Oberleutnant Otto Carius for his decoration by Adolf Hitler with the Oak Leaves to his Knight's Cross,
LINK
.) The word
Hellschreiber
is a pun on the inventor Rudolf Hell's name, and literally means "bright-writer" in German.
There are pictures of WWII commanders like General Guderian in his command car with radio sets and two operators encoding messages beforehand with an Enigma machine. Another operator (wearing headphones) is sending and receiving the traffic via Morse Code, which is probably how the Höfle message was sent and intercepted, although Bletchley also copied radio traffic from their own Feldhell machines.
Gen. Guderian in Sdkfz 251 command vehicle.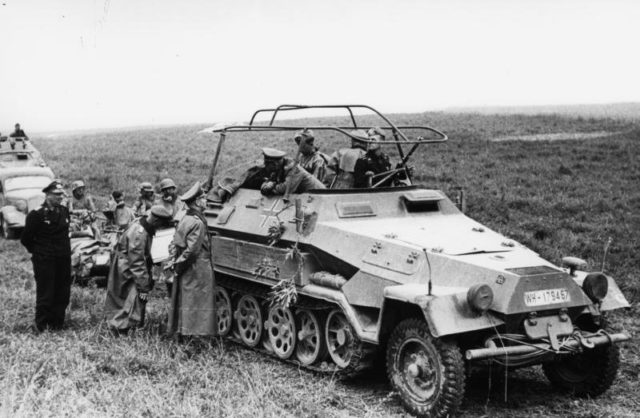 The TT system that we had was a little different. We encoded the messages onto 5-bit punched paper tapes. Since there are only 32 characters possible with a 5-bit binary system, two to the fifth power (2
5
), it therefore required a Figures command button to shift the carriage to get more characters for figures, followed by a Letters command button to shift the carriage back for standard letters. The teletype keyboard only contained three rows, and you only had all-capital letters unless you could incorporate a system with a third carriage-shift command for lowercase letters.
Apart from the military, the standard 5-bit teletype system was replaced in 1963 with a 7-bit teletype wire service system which could digitally encode (2
7
) or 128 characters. That could easily incorporate both figures and letter case without a hard carriage shift. In reality, however, this was an 8-bit system (aka ITA5) because the eighth bit was used as a parity-checker to help reject bad characters and unreadable text over noisy telephone or radio circuits.
It should be pointed out that the Feldhell system was very robust on noisy shortwave radio links compared to the true-logic 5-bit (
ITA2
) or "Baudot" -derived systems that we used in the U.S. Army Signal Corps, even in the 1980s.
However, when computer architecture was being used to talk over clean lines, the eighth-bit was actually used for data and not for parity-checking, so that meant that 256 characters could now be decoded (2
8
), which left room for all kinds of special characters like umlauts and "dingbats." You might be more familiar with this 1960s era 8-bit (
ITA5
) code as ASCII, or the "American Standard Code for Information Interchange" (
LINK
).
Another brief point I would like to make is about the robustness (or lack thereof) for digital signals on the shortwave bands. Traditionally the best way to send telegraphy has been via CW aka Morse code. The radio signal is continuously on or off (i.e., binary) rather than modulated in some way with a microphone. This was the most robust data signaling method prior to modern computer digital modes. The second best is Hellschreiber, and a distant third ─ though often better than voice modulation ─ is digital teletype like Baudot or ASCII.
The German command vehicles usually used shortwave signals of a few megahertz, maybe near the modern HF (high-frequency) Amateur Radio 80 Meter band. The type of antenna mounted on Generaloberst Guderian's command vehicle above, looking like a strange ring or hoop frame at the top, is an NVIS antenna for Near-Vertical Incidence Skywave (
LINK
). This is very important.
Nowadays a command car would probably use either a microwave satellite link or a VHF radio linked to a relay or to a net control and would not light up the world as the so-called shortwave bands might, especially when they travel farther at night. What the Germans are doing with NVIS here is bouncing the signal off the ionosphere directly above them and then skipping it over the horizon, but probably not around the world or where interception stations in London could hear it. Very long distance propagation with the HF bands is usually best done with a low-incidence angle, which they are not doing here.
One of the funnest exercises I did was at the Los Alamitos Naval Air Station in Los Angeles in the early 1980s. When we were not on duty we could go to the beach (yes, I got a nasty sunburn) or go to Disneyland, which was only a few miles away. We had to maintain a net with another RaTT rig parked at the Port of Los Angeles (got to see the Queen Mary, and Howard Hughes' "Spruce Goose," then stored there). Plus, we had to communicate with another RaTT rig at a base near San Luis Obispo, maybe a hundred miles away operated by a sister unit.
We were assigned a frequency around 3 or 4 megahertz, which was not ideal for the QRN (natural noise), especially at night when the range was far longer, and for the severe QRM (man-made noise) in the Los Angeles area. In fact, even with 100 watts we could not use anything other than CW if using the whip antenna on the vehicle. Plus, my rig had a blown power amplifier tube and only put out about 16 Watts, not enough to get a groundwave into the Port of L.A. with all the steel ships and cranes and other stuff blocking the other signal van.
But at my location at Los Alamitos (not far from the famous race track) I had enough room to build a large doublet antenna on three masts and get the RaTT to work. Primarily we were using NVIS signal propagation for the local link to the Port of Los Angeles, and it was just inside the skip zone to still communicate around the clock with the SLO station. And once we did all that we could send signals encrypted automatically with the KW-7 cryptographic machine, which adds a further element of garble if the signal-to-noise ratio sucks.
Below is a picture of the
KW-7
enciphering machine, which was very Top Secret in those days ─ but now you can even find information and photos on the Internet, LOL.
The way the KW-7 worked is you had a square plugboard called a KWK that fit into the square area on the front of the KW-7 which was locked inside it with a key. The KWK blocks were interchangeable and had various plug combinations to be set that were determined from the numbers given from your paper Keylist for that day. It seems like there were about fifteen or so plugs and about as many slots to put them in but that is purely from my faulty memory. (You can see an installed KWK block in the KW-7 picture above.)
In any case, there were a lot of Keylist combinations possible. Programming the KWK was kind of a hassle and you had to make sure all the plugs were in snuggly in the plugboard. The KWK blocks were kind of fragile outside of the KW-7 where they were inserted. You made up the plugboard in advance from the Keylist for that day, and then at 0000 hours you switched to the new KWK plugboard for the next day. Usually you prepared this just before the changeover, and the Signals Security officer or the Team Chief had the codebook and the Keylists, which were detached from a book.
When you got your KW-7 working for the next day and reestablished your radio link, you burned yesterday's Keylist and zeroed the other KWK (if you still had a working spare). It wasn't a good practice to let just any Private soldier program the KWK because the blocks were somewhat delicate. Plus, you were trusted to destroy the old Keylists when done and not lose them.
The bottom line is that the security of your Signals was determined by how secure the Keylist was and by how professional the operators were when they were doing an exercise.
Unlike the Germans who sent messages by both CW and Feldhell, we normally did not manually encrypt our messages, but yes we had to do this a few times when we used CW or SSB Voice (Single Sideband), or maybe if there were Priority messages to send and the KW-7 would not work or if we did not get the new Keylist.
Unlike the KW-7, the Enigma machine was not automatic, working not much differently than a manual encoding wheel but much more complex and much more secure, since it had at least three encoding wheels and a plugboard. The KW-7 was synchronous and completely automatic. It encrypted everything, including callsigns, headers, and not just the text of your message. It either worked or it didn't, but you could still get streaks of garble if the radio propagation was poor, called fading or QSB.
When you sent messages in the Red (encrypted) with the KW-7, it was very easy; you just switched on your transmitter, pushed a doorbell button on the front of the KW-7 for a few seconds to synchronize the sender/receiver systems, and then started either typing or sending the message from your previously-punched paper tape strip. Of course, you tried to keep the transmissions as short as possible. And if you attracted attention from the enemy somehow you had to pull stakes and roll. This was a pain because we usually had antennas and extensive camouflage all setup. 
The traffic messages were typed out in advance on punched paper tape and then sent a little later depending on what their priority was. The priorities were ZZ for flash messages (usually combat or emergency related) that were meant to be sent within 10 minutes of receipt by the RaTT rig; OO for immediate; PP for Priority (most common), and RR for Routine (mostly for training). We were taught to use double letters for redundancy and not just a single letter, which could easily get garbled.
RaTT Procedures, the name of the Army Radio-Teletype formatting course, was very similar to the 16-line formatting system in this Wikipedia article (
IBID
).
The RaTT Procedures message formatting was similar to Voice Procedures, which you are probably familiar with if you have ever seen a war movie involving a two-way radio. Note, contrary to Hollywood, you would
never
say "Over and Out." It is either "Over" (I'm done talking, so go ahead) or "Out" (I'm done completely and I am now hanging up and going bye-bye). In telegraphy, K means "Over" and AR means "Out." There are other things like Callsigns and Authentication and message Acknowledgement procedures that I won't go into.
So, I would strongly agree with Turnagain that the message formatting and other technical considerations are VERY important to the authenticity of this Höfle telegram. I don't know a lot about how the German Signal Troopers did their jobs, but I can remember a few things from when I did this forty years later in the U.S. Army Signal Corps, or at least in many field training exercises.
Mostly from (rough) memory, this is how a typical RaTT message might look:
A2D
DE G4J
ZZ042109Z JUL 2022 NR 001

FM CDR 536SIG
TO DIVARTY
INFO COL MUSTARD
SUBJ BIG BERTHA

BT
UNCLAS

ABCDE 12345 EDCBA 54321 BCDEA 23451 DEABS 54321
IMI
ABCDE 12345 EDCBA 54321 BCDEA 23451 DEABS 54321

FIRE FOR EFFECT
BT

001
2113/SGT SMITH
AR

Okay, so the first bit is the radio Callsigns, and they are changed every day, and assigned by the ComSec or Signals officer. Alpha Two Delta is the Recipient, and the Sender is Golf Four Juliet.
The DE is old telegrapher's code and means "this is," comes from something in French that escapes me at the moment.
The next line is the Date-Time-Group (DTG). It is a Z or Flash message priority. The date is 04 (day) 2109 Zulu (hours) or 9:09 PM Greenwich Mean Time.
Let's say that I am fighting Commies in California, which is normally GMT -8, but it is Summer now so that is 2:09 PM PDT (or in other words only seven hours earlier than the Greenwich Observatory in London ─ which, unlike the city, does not use Daylight Savings Time). In the Winter, it would be Pacific Standard Time (PST) and GMT -8, but since this example is July it is Pacific Daylight Time (PDT) in California, so GMT -7.
The Month and Year is JUL (July) 2022, and it is message number 001.
FM
here means "From," so in this case, the Commander of the 536th Signal.
TO
is "to," and in this case to the Divisional Artillery section. (Somebody gonna git lit up good for the 4th of July.)
INFO
is like a carbon copy to somebody, in this case Col. Mustard, whoever that is.
Sometimes there is a SUBJ or subject line. I suppose that "Big Bertha" here is a big bore cannon like the famous German WWI gun. 
The point is that radio dispatches are not biographies; we just send the messages as they are given to us, not necessarily understanding what they mean. Maybe the Colonel directly controls the Divisional artillery targeting or something like that and wants to be informed. A Colonel is probably not a divisional commander, but maybe it's his deputy, so whatever the reason, he is in the loop.
This part has been the Header, and there might be other metadata like telex Routing Codes or something obscure. I can't remember how this might have looked so I did not add it.
BT means either Begin Text or Break Text. Inside these walls is where the meat of the message lies.
UNCLAS
means Unclassified.
This is a weird addition for my example considering that this is presumably artillery targeting information ─ but the entire message is synchronously encrypted with the KW-7 anyway. They probably would not be sending a Classified message by HF radio traffic, but with the KW-7 it is considered NSA secure, though maybe not as much as an armed courier or via a one-time pad encryption, which means that it would be hard encrypted before I would even see it. In a campaign situation I would have a Top Secret clearance, but probably not a specialized one. Most of the messages that I handled either said UNCLAS or did not specify a classification. (Of course, I only participated in training exercises not real campaigns, so I don't really know about sending the classification protocols.)
As Turnagain noted, I did find it interesting that
Geheim Reichssache
, "Secret Reich Matter" is seldom ever seen in Bletchley decodes ─ and for some reason it did not get this message noticed much earlier.
Next in the above RaTT message we have some weird five-character codes that came to me that way or perhaps I was asked to manually encrypt them on top of everything. We could have pages of this stuff if it comes to me that way. In this case, these letter and number groups seem like encrypted coordinates that DivArty can presumably make use of.
The IMI between the two identical text strings is telegraph operator code which means "I Say Again," or in other words, the data is given twice to make sure that you get it right, probably bombing coordinates or something.
If any of this premium text is garbled on the receiving end, they will need to have you send it again. Sometimes there are Acknowledgement procedures in messages, which means that they must confirm to you that they received it okay, and only then you can relax. I don't remember exactly how these procedures or codes were formatted. 
The suffix after the second BT is a 001, presumably the message number as above, or maybe just the number that I have handled that day. The 2113 is the time that I finished after I got the message put into my In-Box at my rig, so it took about four minutes. (I was a lot sharper back then.) This elapsed time is mainly for my own reasons. I might put this into the local time instead, which would have been 1413 or 2:13 PM, and then "U" for "Uniform" time zone (GMT -7 for Pacific Daylight Time). In this version I then have a slash with my name so that the other operator, whom I probably know, knows who actually prepared the message and who can be followed up with if necessary. Knowing how long it took to send the message from when we got it and who prepared it is a CYA maneuver of sorts. If I am keeping a radio transmission log, I might also know when we actually transmitted it as well.
AR is another operator code that means "Out" in teleprinter speak. I could have also used K, which technically means "Over." Either way I am still listening and will probably not shut down after sending the message unless I am on the run. Telex codes use NNNN for "End," but unless the message came to me that way, I don't remember using that terminator in Radio-Teletype procedure.
Another very old telegrapher's code is SK, which means "Silent Key." That means that you will be reading my obituary some time after you receive this. Amateur Radio operators use this SK terminology in membership newsletters to denote the deceased, but originally SK just meant that I am tearing down my station so we will be off the air indefinitely ─ maybe the Sixth Army has surrendered and the Field Marshal has eaten a bullet from his service pistol or something like that.
The TL/DR : there is a lot to the German Signals and messaging minutia for a good historian to know. We have barely scratched the surface, and I wish that I knew more. But I consider the "Höfle Meldung" to be weak beer at best. Irving probably does not really believe that it's a smoking-gun, and David Cole would not openly say so even if that is what he believed.