Post by been_there on Jun 18, 2022 14:49:35 GMT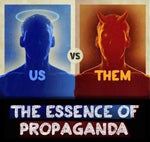 Wow!
Eric Hunt was an
eye-witness
to the effects of CO poisoning.
He experienced it himself and witnessed it on his girlfriend.
They BOTH OF THEM turned cherry-red pink.
He even took a photograph of his girlfriend as further
evidence
.
This is evidence for the revisionist position.
Not necessarily. It is only evidence that is relevant to your argument if Eric Hunt and his girlfriend went obviously cherry red after being exposed to acute levels of CO that would kill in minutes.
It is evidence that you are in denial of.
It is evidence I was unaware of. Can you link to it? I have searched and cannot find it.
It is evidence showing how divorced from reality you are.
It is evidence because of the ABSENCE of descriptions from people CLAIMING to be eye-witnesses to mass-murder of MILLIONS of Jews by gas of ANY cherry-red corpses.

It is evidence PROVING the point that holyco$t lie-witnesses would have seen many thousands of bright pink corpses IF they had really witnessed mass-murder of Jews by CO from engine exhaust and/or HCN from ZyklonB.
Your argument is flawed, as it assumes in
all
cases of acute, fatal gassings, the skin turns obviously cherry red
prior to death
, an assumption that is not supported and is often contradicted by medical sources.
You have yet again shown your inability to understand evidencing and its application.
Another literally insane reply that is in denial of reality. 🤪🙄🤦‍♂️
I never wrote anything about "
ALL cases
". So another dishonest dodge.
Seek professional help. Your inability to comprehend simple biological facts, your refusal to be corrected on what is evidence, and your miscomprehension/lies on how it applies to the racist, anti-German Jew-genocide
Holyco
$
t
calumny is literally psychotic. Make an appointment with your doctor. And while you're there ask them about the skin colour lying Jewish H-survivor, eye-witnesses
WOULD
have seen if they
really
had witnessed millions of fresh corpses of humans who died from CO and HCN poisoning.