Post by Gibson on Jul 1, 2023 12:59:48 GMT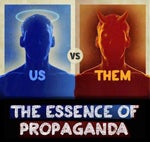 The way our systems work is that once someone pursuing a career in academia has chosen to focus their academic credentials on studying a particular historical subject, they improve their reputation, economic situation and career prospects by pandering to and garnering favourable reviews from society at large but most importantly from their peers.
This is therefore what intellectuals, historians and academics focused on 'holocaust history' also do.
Should any of them ever suspect (or discover) that they have been studying an elaborate hoax, and they choose to reveal it, then all of society, academia and the media will be marshalled to ridicule them, demonise them, impoverish them, ostracise them and remove them from accepted societal discourse and dialogue.
This is what happened to Canadian Professor of Tenure,
Anthony Hall
just for asking for open debate on 'the holocaust'.
This is what happened to distinguished academic
Nick Kollerstrom
for challenging accepted paradigms and for publishing abook on the holocaust mass-gassing hoax with the appropriate title of 'Breaking the spell'.
This is what happened before him to
Joel Hayward
, and to his University, and to his tutors, for daring to investigate fairly and write a PHd thesis on revisionist arguments.
This is what happened before him to Prof
Ernst Nolte
.
This is what happened before him to
Roques
,
Stäglich
and
Lüftl
.
The 'hoax' is perpetuated in academic circles by setting such examples to others. In this way, anyone in academia who does 'break the spell' and sees that the Emperor is parading in public with no clothes on, will not dare say so.
They have few options:
i.) speak/publish and face the consequences,
ii.) publish/correspond anonymously (e.g. Thomas Dalton, Samuel Crowell),
iii.) remain silent.
iv.) assume they were wrong and practice self-delusion.
Most historians/academics will never face such situations as they operate from a subconscious, self-censoring, confirmation bias that transforms every chink of penetrating light into a part of the sacrosanct mosaic.
Here is an example of Christian Gerlach doing that (and/or option iv. from the above list).
He appears to have discovered and been convinced of the holocaust-refuting reality that there is absolutely zero evidence of Himmler and Heydrich having any kind of practical policy and methodology for "exterminating" the approx. 4.5 million Jews who came under Third Reich control.
Which had there been such an 'extermination' policy, is difficult to reconcile with reality.
Here is what Gerlach admitted:
"In December 1941 and January 1942 neither Himmler nor Heydrich and Eichmann had a workable plan for exterminating Europe's Jews, and if they didn't have one then nobody did."
~ Christian Gerlach
The Extermination of the European Jews, (2016) pg.87.
Erm... the problem with this speculation, were it accurate, is that this doesn't fit the accepted timeline.
For example the Einsatzgruppen supposedly began extermination operations in June 1941. So part of who's "workable plan" was that supposed to be?
Herr Gerlach goes on to write:
"In February, Heydrich and Himmler still envisioned a relatively slow process of destruction… instead of the quick and direct killing of all Jews."
~ The Extermination of the European Jews, (2016) pg.88.
Hmmmm? So how "quick and direct" do you think the alleged "killing" was at Babi Yarr in September 1941, Christian?
Academia selects for a certain type and there are ideological constraints that go well beyond just this. In America, in many socially relevant fields you can barely even get away with being a
Republican
much less a "Nazi" which is inevitably how you will be branded if you break ranks on the Holocaust. This goes far beyond the Holocaust because academia is also highly constrained on race, Jewish history, and many other topics. Interestingly though, there is a lot of published data that has "politically incorrect" implications, but the scholars are usually careful to spin things a certain way in their conclusion section. Then there's the jump from academia to popular media. You have a bit of leeway when writing in academic publications since hardly anybody reads them except for other academics who are bought in and "reliable." The really big taboo is on undermining some important narrative and presenting it
to the public
in a forceful and clear way. So if you were to read academic work, pull out the explosive bits, and summarize it effectively for a mass audience, then you will probably get shut down and banned on all the social media platforms.
Arthur Butz is an interesting case because he was able to keep his job but this is entirely because he published his book very early in 1976, just a bit before the major Holocaustomania period. And he was an engineer so his book had absolutely nothing to do with his job or his field. Nowadays though that would not save you and nobody is even willing to try. Ever since the hard crack down in the 90s the trend has been to publish under a pseudonym unlike in the 80s when many revisionists wrote under their own names.