Post by been_there on May 3, 2022 9:58:29 GMT
Viacheslav Datsik and his first MMA fight.
In April of 1999,
Andrei Arlovski
was a promising 20-year-old Sambo champion and a student of the Minsk Academy of the Ministry of Internal Affairs, making his debut in professional
MMA
.
He arrived in St. Petersburg for the
M-1 1999 World Championship tournament
with the status of a future star.
Arlovski was set to face an American fighter who had already traveled to St. Petersburg. But that Yank had to pull out of the fight on the very day of the show. That left the organisers scrambling to find a replacement fighter. Punters were already in the hall, and they were frantically searching right up until the very last moment.
They found
Viacheslav Datsik
— and it was purely by accident.
To give you an idea of who it was they found, Viacheslav Datsik is a person who has spent more than 10 years in prison, serving three sentences in Russia, and one in Norway.
In 2007, the St. Petersburg resident was arrested for a series of robberies of mobile phone shops. But instead of going to prison, Datsik went to a psychiatric hospital. Eventually escaping, he made it all the way to Norway, which he later claimed he had reached by boat (in fact, he went by car from the bordering Murmansk region). Somehow, Datsik acquired a gun in Norway, which led to him being arrested and soon extradited back to Russia.
Datsik has had many prison terms for an array of crimes. In 2016, he launched vigilante raids on illegal brothels in St. Petersburg with a group of accomplices, which led to a new criminal case. In February 2019, Datsik was released, but by November 2020 he was already back in custody after helping a random acquaintance illegally move to Estonia on an inflatable boat. Once their oars broke during the trip, the current carried them straight to Estonian border guards.
Datsik has been nicknamed
'Red Tarzan'
and is accused of "repeatedly displaying neo-Nazi views up until his very last prison release in 2021".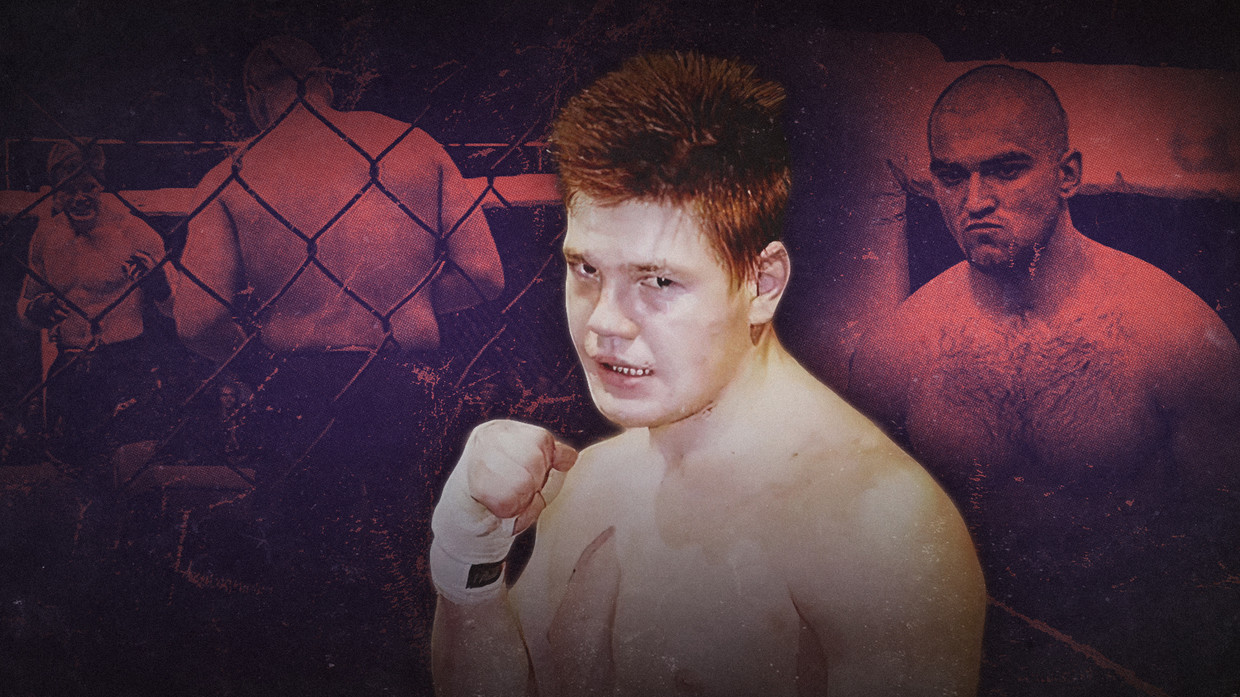 On the day of the scheduled fight, April 9th 1999, Datsik was only 18 years old.
Nikolay Kudryashov was one of the organisers of the tournament and this is how he described the situation:
"I had a phone call one day. Datsik's coach, Eric Kaybyshev said: 'I have a brash guy. Maybe he could [be part of your tournament]?'
So I told him that this guy should come to the Red Devil club. I'll see how it goes and decide if he fits in. But no one came. And we all forgot about it.

It was an eight-man heavyweight tournament, only the American guy who was supposed to participate came to Russia, but on the day decided that he could not take part in the competition. Fans were already gathering at the arena, and now we had only seven fighters.

We are standing by the cage with Slava Kiselev (a former fighter, now a referee), And I persuaded him to go out against Arlovski because we had no one to put up against him.
Arlovski had just won a Sambo championship, and was a serious dude who weighed 115 kilograms. So Kiselev refused to go out, saying that he had no preparation.
'How about you?' he asks me. So I started asking where I can get shorts... And then the head of security comes up to me and says: 'They want to beat up this guy at the entrance. He's acting crazy. But he says that he knows you. Maybe you can come and see who it is.'

I went out and Slava Datsik was standing there. He says: 'Eric sent me to the fight. Here I am.'

'You should have come two weeks ago!' I answered.

He says: 'I came to fight right away. Why would I come before?'

'Did you have any previous fights?' I asked. He replied that he had fought here and there.

I asked him: 'Do you want to fight tonight?'

He replied: 'Of course I do, let's do it.'

I said: 'All right, go get changed' And the rest is history."
And here is Datsik's version of what occurred:
"I shouldn't have participated in this fight at all. I just went to watch the tournament.

(Nikolai) Kudryashov was supposed to let me in through the service entrance, but I stumbled through the main one. The guards got to me. Back then when I was young and totally crazy. So, I had a beef with the security. I wanted to knock them all out. They started yelling at me. Nikolai stepped up. He says: 'So you're a tough fighter?'

I answer: 'Yeah, something like that.'

He replied: 'Would you have balls to fight in the ring against Arlovski?'

Nothing could scare me back then. I didn't even know who Arlovski was. But I didn't care in general. Someone had refused to fight him, and I came in as a substitute. Right off the street. Just because the guards wouldn't let me in."
...The fight lasted for 6 minutes and 5 seconds (back then the first round was 10 minutes long in M-1)....



source