Post by jeff8675309 on May 5, 2022 16:06:27 GMT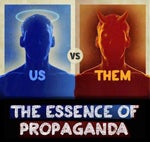 What a fascinating dodge! 😮
And to such a simple question.
You do this little thing where you insist on "yes or no" answers. I'm sorry if you think I'm going to play along. I'll answer how I see fit but thanks for playing.
The next bit is you yammering about mindset. As I warned you, anything attempting to discuss my mindset or read my mind will be discarded and ignored. If I see "mindset" then my assumption will be you trying your usual BS about psychoanalyzing someone you simply don't know.

 You know how I counterbalance that? By look[ing] at documents so I can square how they relate to witness statements and not the weird guessing that Holocaust deniers engage in... with no known connection to any reality.


Hmmmm? So now the argument is that H skeptics don't look at documents, or if they do they make guesses that have no connection to reality?

What deniers do is attempt to twist the meanings of documents to suit their particular need. But calling something an air raid shelter with no supporting statements or documents doesn't make it an air raid shelter. It's just a wild guess.
I have deleted all the irrelevant crap about hating, etc. As was stated previously, all attempts to discuss my mindset, what I believe, how I think, etc. It's irrelevant and the usual garbage been-there tactic. You can write it, I will not read or respond to it and it will be deleted in my follow up.

He is amused by the persistent persecution of a harmless old lady and thinks she deserve it. But he denies that too.

Because it's simply not true.
Now, I permitted this but just to be clear:
No, I'm not amused by Germany wasting its time prosecuting an old woman. I am amused by the "Nazi grandma" name.
Now that is clear, any attempt by been-there to tell me that I find the thought of imprisoning an old woman amusing will be deleted and discarded. I have made my position on this clear. Any attempt to read my mind or tell me what I am feeling will be deleted and discarded. Been there can write it. I'm under no obligation to respond or acknowledge it. I'm under no obligation to include it in my reply.
JEFF: If she's been dragged into court multiple times over the same reason over the last 15 years, then yes, it's persistent.Yeah, persistent persecution.

You are certainly welcome to call it "persecution" if you like but that is an opinion. The fact is what she is engaging in is illegal under German law. Germany will enforce its laws regardless how you or I feel about them.
This last bit falls under the conditions I set above.