Post by Nessie on Feb 25, 2022 8:54:35 GMT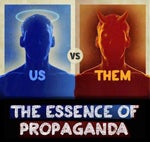 Actually, no. It
is
on topic. 😀
It is Nessie giving a practical demonstration of how
holocaust
promulgators attempt to 'prove a lie' by literally stupid — but amazingly so far succesful — hopelessly irrational 'reasoning'. 🙂
1. Documents showing only train movements of people delusionally becomes 'proof' of mass-gassings.
Wrong, the documents are corroborating evidence of mass arrivals.
2. Architectural drawings of morgues at Birkenau delusionally become records of 'gas chambers'.
Wrong. The original blueprints are merely what was designed in the first place.
3. Buildings demolished by someone (Soviets or Germans, we don't know for sure) delusionally becomes 'proof' of hiding 'gas chambers'.
The evidence from witnesses and photos is that the Nazis destroyed the evidence, which can then be used to infer they had something to hide and their actions were criminal.
4. tiny mass-graves of a few bones and an ancient shark tooth becomes 'proof' of million murdered Jews at Treblinka,
Excavations the size of large swimming pools found by geophysics around the memorial, 2 hectares of disturbed ground containing cremated and larger human remains and the sharks tooth found near the surface, are all evidence that the the Nazis were excavating and burying and covering over at TII.
plus absence of disturbed earth at Babi Yarr or cremains in pools in Auschwitz is avoided and passed over.
I don't know about those issues.
5. Appropriation of wealth prior to forced exile, labour or incarceration delusionally becomes proof of 'genocide'.
Not proof, evidence of.
It is confirmation bias taken to such an extreme that it became a mass-delusion.
And this is how a lie in the minds of so many deceived believers has been and still is 'proven'. 🤪
The documentary, physical and circumstantial evidence TOGETHER, converges to prove what happened. Each piece of evidence corroorates each part of the witness claims.