Post by Nessie on Mar 8, 2022 13:33:36 GMT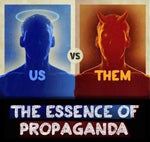 😅🤣😂
This person is so deeply in denial!
Wikipedia has a coterie of Jews who have been trained how to break the rules and co-operate internationally to 'police' Wiki content that Jews have an emotional and intellectual investment in.
They have also infiltrated the echelons of permanent, paid wiki staff. Many of them (e.g. Slimvirgin and Jayjig) are openly pro-Israel and belligerently faithful and protective of Jewish-agendas.
The founder and owner of Wikipedia is himself proudly zionist pro-Israel and for many years claimed on his bio page to be 'Jewish'.
He now denies that he is.
Collectives of registered Jewish 'editors' block and permanently ban people who try to more impartially edit, expand and improve Jewish-related topics.
Arbitration procedures to combat their misinformation machinations are often lengthy, protracted, frustrating affairs that go nowhere and seem designed to deter attempts at correcting clearly biased, factually false wiki content.
All the above is especially true where it concerns anything to do with
'the holocaust'
.
It is also the case for editing and improving much of WW2 wiki content.
How ridiculous must content be on 'holocaust' wiki pages before it is corrected, is demonstrated by the fact that months of wrangling on the talk page once occurred, arguing over whether 4.2 million and 5.1 million are figures that are less than 6 million. This being because the page falsely stated that "at least six million" Jews were
holocausted
during WW2.
The indisputable proof that Reitlinger, Hilberg, Benz and others gave figures that were less than 6 million was fiercely resisted and accusations of 'anti-semite' and 'H-denier' were bandied about.
That 'debate' on basic arithmetic eventually went to arbitration and the appeal was lost. The false claim was allowed to remain!
And that was just one dispute over correction of only one clearly false sentence.
So the idea that all anyone need to do correct wiki misinformation on 'the holocaust' is to edit the entry in Wikipedia and show the source, is profoundly deluded.
A debate about how many died in the Holocaust and what figures should be used, that was lost by revisionists, is not evidence that revisionism is in effect banned from Wikipedia. It is evidence that revisionism is wrong and not backed by the evidence.

Adding in more detail about how someone died in Bergen-Belsen, that is backed up by a credible, verifiable source, is not going to bring down the wrath of the Jews you say police Wikipedia.