Post by Nessie on May 6, 2022 16:09:52 GMT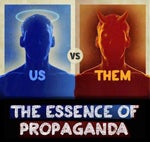 He did not admit to a lack of evidence, as in there is no evidence.
So... the resident, irrational believer asserts that a.) there
is
evidence at the claimed extermination camps, AND b.) that Ephraim Kaye explained why there was
no
evidence there (because the Nazties destroyed it).
🤣😂😅
So which is it?
Is there evidence of mass-murder of millions?
OR
Did the Nazties destroy that evidence?
According to this cultish defender-of-the faith, the answer is YES to both questions! 😮🤪
YES there is still evidence there at the claimed extermination sites.
And YES the Nazties did destroy it all.
🙄🤦‍♂️
So I take this nonsense reply as yet further proof that attempting a sane discussion with this individual is futile. 🙂
.. .. .. .. .. .. .. ..
Anyone with even a basic grasp of English, will understand, how it is possible to say both the evidence was destroyed and that there is still evidence. Anyone with a basic grasp of the history of the AR camps and what is there now, will also understand.
Watch from 4:00 to hear Mr. Kaye refuting Nessie's insane denial of reality.
And understand that he IS admitting what REVISIONISTS revealed to the world: viz. that the H mass-gassing narrative has NO supporting forensic, archeological or empirical evidence supporting it at the alleged mass-gassing sites.



He is one of the holocaust high-priests.

His name is Ephraim Kaye.

And he DOES admit this at 4:24 in that Youtube video:
"...walk around the camp [Birkenau] and geographically it's a tremendous area... and look for the physical evidence of the destruction of 1.2 to 1.4 million people. Well it's distressing and depressing because you REALLY DON'T FIND IT!!!"

And at 5:42, when talking about Treblinka he admits the lack of physical evidence there also, saying this:
"it's unbelievable! There is nothing there"!
Kaye is stating that anyone visiting the AR camps sites now, will not see the evidence. Instead, they see a memorial. Let's go through a chronology and the evidence that would have been visible at the AR camps at different times;
1942-3, anyone inside the AR camps will see mass arrivals and those people being stripped naked and everything they had sorted and sent to Majdanek. They would see gas chambers, mass graves and later, mass exhumations and cremations. All the evidence was there to see.
1943-4, the camps have been closed and most buildings demolished, leaving only some buildings for guards. The gas chambers were demolished and earth spread over them. The area of each camp that had the gas chambers, graves and cremation sites has been levelled and planted over. Globocnik reported to Himmler in May 1944 that "For reasons of surveillance in each camp a small farm was created...", so to anyone going to the site, it would look like a small farm.
1944-60s, the guards have abandoned the camp sites and the grave robbers move in. In 1945, when the Poles conducted site surveys, they found large areas of cratered and dug up ground that stank and contained larger identifiable human remains, such as skulls, along with ash and cremated remains. The buildings that had been left were either looted (TII) or used by locals (Sobibor).
1960s-1990s, in the 1960s, each camp was memorialised, in an attempt to show some respect for the dead and to stop grave robbing. TII had the largest physical memorial built, with concrete covering the two main areas where mass graves had been reported by prisoners. The exposed remains were buried at TII and Belzec and put inside a concrete dome at Sobibor. The sites were grassed over and now, as today, visitors would see any of the evidence.
1990s-2010s, at various times during that periods, visitors to the sites would have seen archaeological and forensic investigations, so they would see bore hole surveys at Belzec, bore holes and excavations at Sobibor and geophysics and excavations at TII. Vistors would again see cremated remains, ash and the remains of the gas chamber foundations.
Present days, all sites are memorialised and both Sobibor and Belzec and covered over like TII, so any visitor will not see any of the evidence. They will not see the remains. That is what Kaye is describing. A visitor to TII sees a site that partially grass and the large memorial. They will not see gas chambers or remains.
The evidence that is still at the sites, buried under/inside the memorials, are large areas of disturbed ground containing human remains and the remains of demolished buildings, which cannot be seen anymore, but could be seen at various times over the past decades.
The physical evidence is of an attempt by the Nazis to destroy as much evidence as possible, in particular, the gas chambers and also the corpses, so as to prevent body counts and identification. When evidence is destroyed, it can be reasonably inferred that there had been criminal activity. Like someone who burns clothing worn at a murder, or who smashes up a gun and buries its parts. That is why most people would understand the concept of destroying evidence, but that still leaving evidence.