Post by been_there on Dec 5, 2021 11:48:58 GMT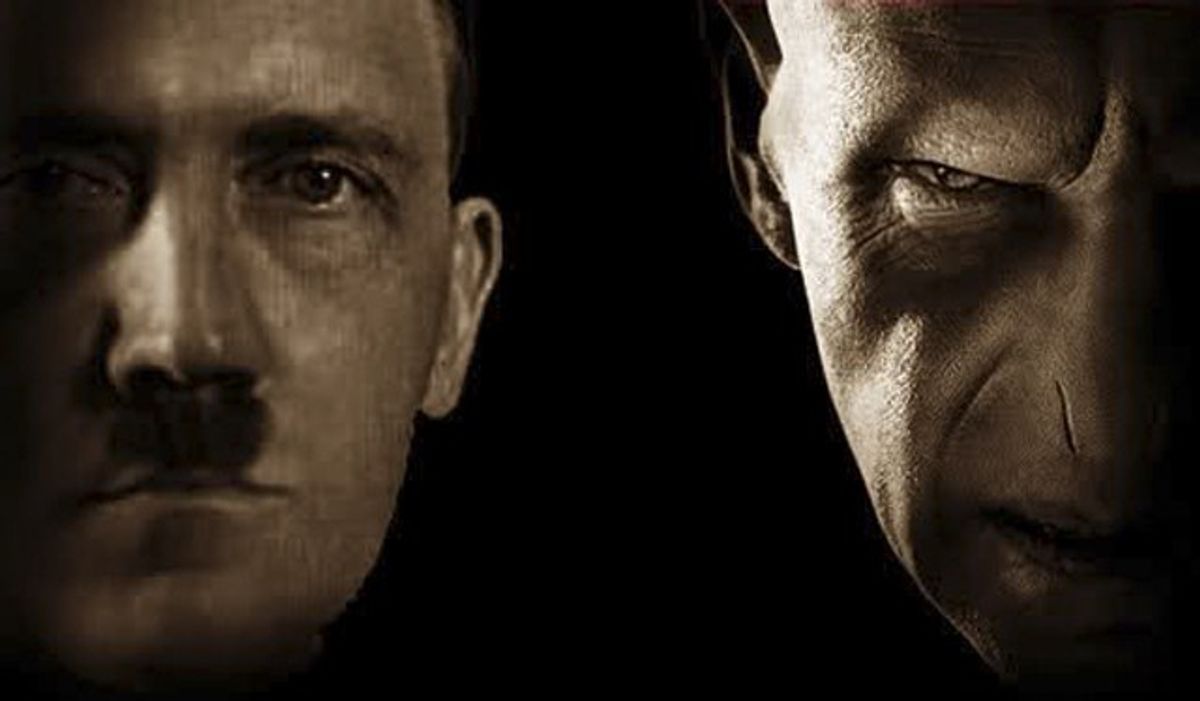 There is no doubt that J.K.Rowling's best-seller Potter books are a clear regurgitating of WW2 mythology. But... check out the level of ignorance, the invention of nonsense and the repeating of disinformation in this excerpt of the linked article:
J.K. Rowling, Harry Potter and 'the holocaust'

...The most common and recognisable references are those to
the Holocaust
. Rowling confirmed only a few of the parallels. However, by studying both subjects, one can see that
the Holocaust
is a prime component to the development of the Harry Potter series.
...Beyond the basic comparisons of both
Lord Voldemort
(formerly known as Tom Riddle) and
Adolf Hitler
being evil and powerful dictators, there are many more connections that link the two.
Many German women, and even young girls, were madly in love with Hitler. Although never clearly stated, it is a common argument that Bellatrix Lestrange is very much infatuated with Voldemort. Maybe women admire the seemingly endless power of Hitler and Voldemort, or maybe their personalities drew women to them.
Their personalities show yet another connection. Both were described as being remarkably intelligent, persuasive, and manipulative from an early age.
The most interesting and undeniably purposeful link is the lineage of both men. Hitler is suspected to have Jewish descent [FALSE: this is long ago discredited deliberate misinformation]
while Voldemort is the product of a muggle and witch, making him a half-blood. Both men are very ashamed of their ancestry and go to great lengths to hide of these parts of their lives. While in the chamber, Voldemort says to Harry,
"You think I was going to use my filthy Muggle father's name forever? I, in whose veins runs the blood of Salazar Slytherin himself, through my mother's side? I, keep the name of a foul, common Muggle?"
(Chamber of Secrets, 206).
Voldemort hates his muggle father so much that he changes his name so he wouldn't be associated with his father and murders him out of pure hatred of being non-magical.
Despite having the same backgrounds to those which they were fighting against, Hitler doesn't stop from his vendetta against the Jews, and Voldemort against those of non-magical descent.
The environment a child is raised in has a lot of affect on who they become, so their desire to do harm may be partially due to their troubled childhoods. Hitler was abused by his father [FALSE: beating of children for misdemeanours was considered normal for the time] and lived in a predominately Jewish neighborhood [FALSE: the complete opposite of the truth].
He aspired to be a professional artist but was rejected both times he applied to art school in 1907 and 1908. Similarly, Voldemort lived in a muggle orphanage until his time at Hogwarts. After his time in school, he applied multiple times unsuccessfully to be a
Defence Against the Dark Arts
teacher.
The similarities are not only who they were, but also how they died. Hitler was trying to avoid being captured by the Allied Powers and Voldemort's killing curse rebounds because the Elder Wand's allegiance didn't lie with him. In the end, Hitler killed himself, as does Voldemort, but neither of them meant to [FALSE: of course Hitler meant to 🤦‍♂️🙄].
...Throughout
the Holocaust
and the
Harry Potter
series, Jews and muggles held very similar positions. They were the scapegoats of society's problems. Because of this, the goal of purebloods and Aryans was to rid the world of those they thought to be inferior in order to "purify" the race. In doing so, the victims of these ideologies lost many of their rights, and were tortured, even killed.
Although muggleborns weren't put in concentration camps, they were watched by the government and dementors, but this didn't happen all at once. The lives of Jews and muggle-borns were stolen from them little by little. The first injustice was being classified by the degrees of mixed blood. The less Aryan or magical blood you possessed, the less humanity you had. Most people of the "dominant" race didn't even consider Jews human or muggles to be worth humanity.
On her official website, J.K. Rowling said [wrote]:
"If you think this is far-fetched, look at some of the real charts the Nazis used to show what constituted 'Aryan' or 'Jewish' blood. I saw one in the Holocaust Museum in Washington when I had already devised the 'pure-blood', 'half-blood' and 'muggle-born' definitions and was chilled to see that the Nazis used precisely the same warped logic as the Death Eaters. A single Jewish grandparent 'polluted' the blood, according to their propaganda."
Harry Potter and the history of 'the Holocaust'