Post by been_there on Dec 26, 2021 9:36:49 GMT
Here are two 'news' stories that appeared in the 2021 Christmas editions of the British newspaper called 'The Guardian'.
The first one is a new translation of the novel that became the Disney film '
Bambi
'. The 'news' maintains that way back, as early as
in 1923
a Jew named Felix Salten correctly predicted and "warned" against what is now enshrined in the public collective consciousness as the mass-murder of six million Jews in a policy of attempted annihilation.
🙄🤦‍♂️
Bambi ...a dark parable of antisemitic terror?

A new translation of Felix Salten's 1923 novel reasserts its original message that warns of Jewish persecution

A new translation seeks to reassert the rightful place of Felix Salten's 1923 masterpiece in adult literature and shine a light on how Salten was trying to warn the world that Jews would be terrorised, dehumanised and murdered in the years to come. Far from being a children's story, Bambi was actually a parable about the inhumane treatment and dangerous precariousness of Jews and other minorities in what was then an increasingly fascist world, the new translation will show.
...
Jack Zipes
, professor emeritus of German and comparative literature at the University of Minnesota and translator of the forthcoming said:
"what happens to Bambi at the end of the novel has been concealed, to a certain extent, by the Disney corporation taking over the book and making it into a pathetic, almost stupid film about a prince and a bourgeois family."


Salten, who had changed his name from
Siegmund Salzmann
during his teens to "unmark" himself as a Jew in Austrian society, earned his main income as a journalist in Vienna.
Zipes thinks he could see the direction in which the political winds were blowing:
"I think he foresaw the Holocaust. ...This novel is an appeal to say: 'no, this shouldn't happen'."


.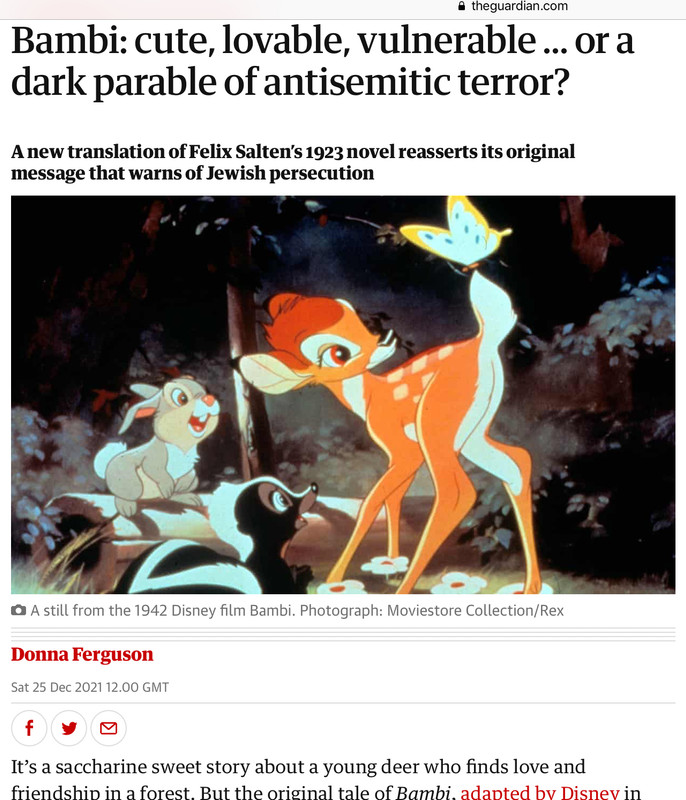 Amongst his many publcation Professor Jack Zipes has also written:
The Operated Jew: Two Tales of Anti-Semitism
(1991),
Yale Companion of Jewish Writing and Thought in German Culture, 1066-1966
(1997),
Unlikely History: The Changing German-Jewish Symbiosis, 1945-2000
(2002).
_______________________________________________________________
The second 'news' story is publicising another book.
This one gets promoted as 'book of the week'.
And in this 'news' story, 'anti-German' descriptions of atrocity gets publicised but with zero verifiable reference. Which I suggest shows the Jewish racism which constantly spreads unconfirmed anti-German hate-tropes.
This racist hypocrisy I regard as quite monumental !!!
Plus although this 'news' story glorifies an Arab as a new Schindler (for protecting just one Jewish person??!? Really? Sheltering one Jewish person is equivalent to Oscar Schindler's actions?? 😮), the 'news' story emphasises that Dr. Helmy was the ONLY Arab who saved a Jewish person!?!