Post by 𝐒𝐜𝐨𝐭𝐭 on Nov 24, 2021 22:46:47 GMT
PrudentRegret was eventually banned after JeffK1970 snitched on him. It does however give us another opportunity to see Pyrrho's double standards on public view.

Holy Cow! The issue with the Rittenhouse case in the first place was that the kid was carrying a gun while WHITE.
Nick Terry even plays the tactical nihilism card by arguing that JoJo Rosenbaum wasn't even a Jew, and that this Hate Fact is "an odd hill to die on" for getting banned at Skeptics.
No big surprise that the Jews don't see the violent convicted pedophile, JoJo Rosenbaum as the next Leo Frank. The same with the anti-social skateboard thug "Antifa Anthony" Huber.
Well, Skeptics is in reality a Lib-Tard echo chamber, so this comes as no big surprise. Our friend Pyrrho is quite the champ. Orwell would be proud about their using the name Skeptics to describe an echo-chamber.
RODOH on the other hand has actively recruited people who think differently than us, including as Moderators, and I have been most reluctant even to ban trolls who have nothing to offer besides disrupting an open-discussion of ideas.
One of the reasons that the Holocaust has been a "third rail" issue of special interest to the free-speech forum of RODOH is because any non-approved treatment of the subject is defined as "obscenity" (((by whom defined is not entirely clear))) and that it must therefore be banned
a priori
.
This is the essence of the Deborah Lipstadt epistemological doctrine that RODOH heretically opposes:
"This free-speech forum is predicated upon the idea that the other side is worthy of real open-debate, regardless of who the other side is."
"We know that the primary subject matter covered here may be extremely controversial and even taboo. Hopefully this will not deter an open and honest exchange of ideas. Perhaps our lofty motto above about free-speech and open-debate reflects an overly ambitious goal, but a message forum is only as good as its participants make it, and free-speech may not always be pretty."
www.rodoh.us
So that is why Skeptics are hypocrites with at best a Lib-Tard agenda, and we (instead) believe in at least trying to do better.
Back to the subject at hand ─

According the the usual suspects, it seems that Kyle Rittenhouse forfeits his right to self-defense for being White.
From the President of the United States to the Anti-Defamation League of B'nai B'rith, it seems that all you have to do to silence your opponent nowadays is to call them "White."
That is what they did with Kyle Rittenhouse, as Prudent Regret bravely noted at Skeptics.
It did not work this time. In my opinion, it was crucial for Kyle that when he fired twice, he missed the Negro who had jump-kicked him in the face.
I believe that, felonious or not, if a Magic Negro were lying in the morgue, Kyle would have been convicted of murder.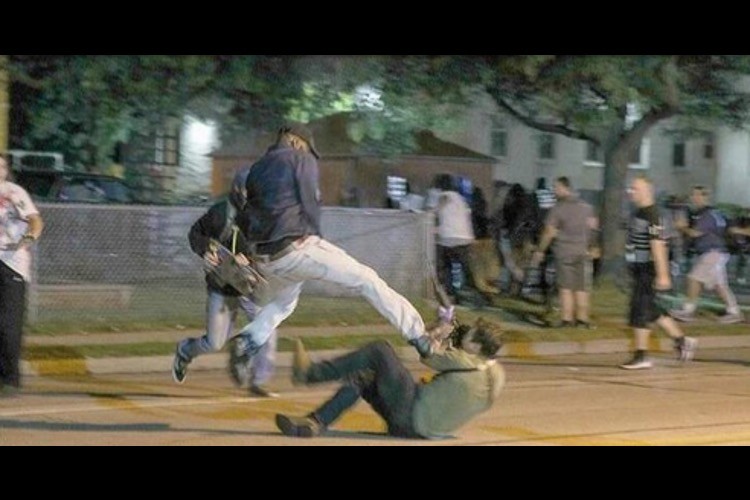 This Black man, 39-year-old Maurice Freeland, was curiously not identified by the Prosecution, likely because he had a string of felonies a mile long, so for Direct examination, they punted with Antifa activist Gaige Grosskreutz who was wounded ─ but this was a massive gift for the Defense.
The President calling 17-year-old Kyle Rittenhouse a "White Supremacist" is pretty rich, especially considering that free-speech itself has recently been on trial in Charlottesville, VA with an activist Jewish legal coalition of vile gender-bolshevists suing the people who protested the pending removal of the statue of Confederate General Robert E. Lee back in 2017.
When BLM and Antifa crashed the Charlottesville event, the political police revoked the protest permit and tried to get the two groups to kill each other before they could disengage ─ so now the Jews are suing the White Nationalists for damages. This tactic is called
LAWFARE
, or filing SLAPP suits, "strategic litigation against public participation."
Even Deborah Lipstadt bravely testified for the plaintiffs that telling a joke about Jews is itself Genocide.
Let that sink in a bit. Whether in good faith or good humor or otherwise, you cannot even criticize some groups of people.
Nick Terry and Pyrrho are being very coy about this.
The First Amendment must not apply to White people!
I don't really care if Rosenbaum was a practicing Jew or not. But if he had been a violently anti-social Mormon, would this not be included in the bevy of facts (convenient or otherwise) for Liberals to lecture us about?
I am not sure, but I don't think that Christians, or Rastafarians for that matter, are allowed to receive KOSHER chow at the Arizona State Prison. According to former inmates who worked in the kitchen, the Kosher menu is light-years better than the slop they feed to the general population.
This is a good place to remind the reader that Rosenbaum's disciplinary report card with a massive 40 tickets is still Online at the State of Arizona Department of Corrections website:
JoJo was a very bad boy when he served his ten years hard time for sodomizing the young boys of relatives and paramours while he was babysitting in Tucson.
Not that it matters after TRYING TO KILL Kyle Rittenhouse as he THREATENED TO DO, but JoJo Rosenbaum's Jewish background is well-documented.
Nice try, Nick.
The bottom line is that the Prosecution tried to argue that Rittenhouse chased these Commie Jews and peacefully-protesting Negroes around as a
tourist-VIGILANTE.
More on that later.