• Keep repeating lies in 'news' stories, but brazenly declare them as undeniable, evidenced truth.
Don't permit people to ask for the evidence.
• Make exhbitions based upon those lies AS IF they were unassailable fact. Get people and schoolchildren and newspaper articles involved in analysing and speculating about the ramifications of the narrative and the 'exhibitions' which are based on lies. This reinforces the false impression of the lies being factual, upon the people being indoctrinated. They will then have extreme difficulty in accepting empirical evidence that expose the lies.
• Don't permit people to intelligently, rationally, impartially analyse the historicity of the basic premise for the lie. Demonise and ostracise anyone who does.
Never allow ANY exhibition that challenge the lies.
Never allow any publication that details the lies.
Never allow any TV or film documentary that expose the lies.
Never allow any academic and/or university research that critically dissects the lies.
Never allow any legitimate wikipedia editing that refute the lies.
Never permit any historical drama to be made for TV or cinema that challenge the lies.
Etc., etc., etc.
Get many newspaper articles, 'human interest' news stories, TV and film documentaries, exhibitions, cinematic historical dramas, etc., that reinforce the lies in the public consciousness.
Repeat these, regurtitate them and reconstruct them ad nauseum.
In this international misinformation, indoctrination campaign, use sleight-of-mind tactics.
E.g. Equate undenied policy towards Jews during WW2 as 'proof' of the "6 million exterminated Jews" lie.
I.e. get people discussing how it was allowed to happen, not whether it actually happened as claimed.
The motives, pressures and fears that shaped America's response to

the murder of 6 million Jews in Europe during the 1930s and 1940s

are the subject of a provocative new exhibition at the United States Holocaust Memorial Museum in Washington DC.

Americans and the Holocaust debunks the myth that Americans lacked access to information about the persecution of Jews as it was happening, demonstrates that they had little appetite to take in refugees from Europe and illustrates that President Franklin Roosevelt's primary focus was on winning a war, not ending a genocide.

https://www.theguardian.com/world/2018/ ... -holocaust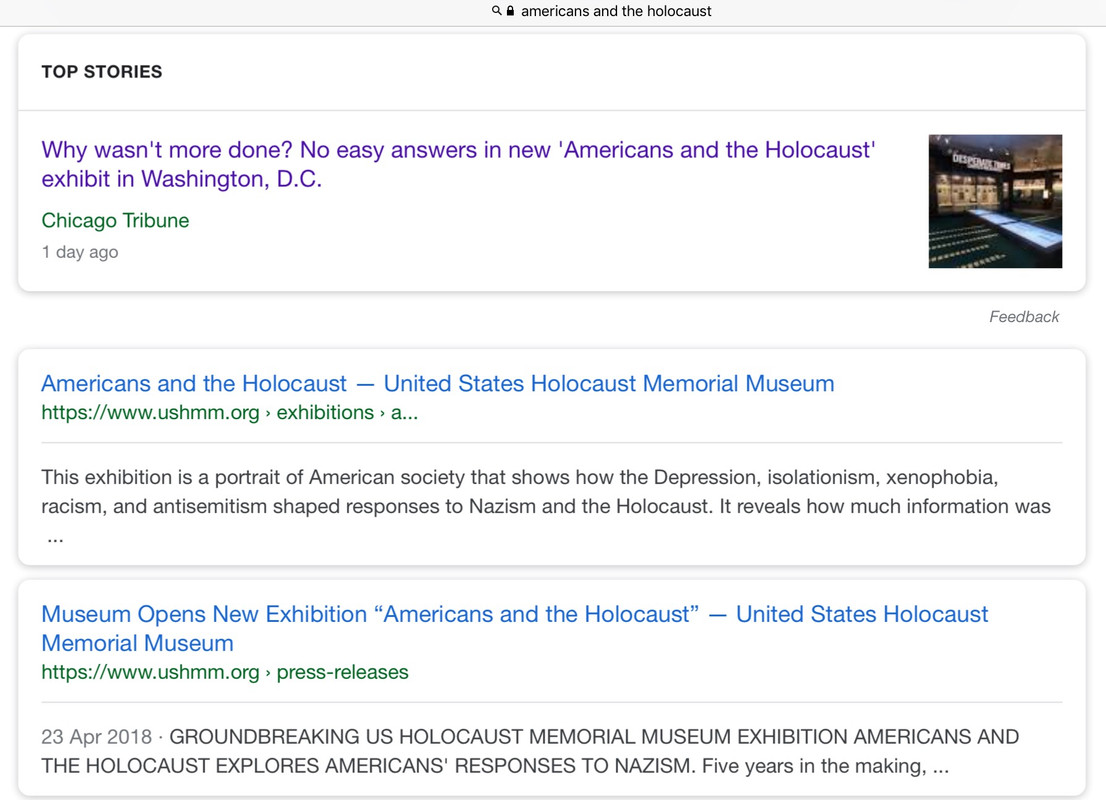 Below are some of the recent articles reinforcing this particular lie in the public consciousness:
AMERICA AND THE HOLOCAUST
http://time.com/5327279/ushmm-americans ... holocaust/
https://www.facinghistory.org/defying-n ... -holocaust
https://www.history.com/topics/world-wa ... -holocaust
https://www.newberry.org/10032018-ameri ... -holocaust
https://m.jpost.com/Diaspora/Americans- ... nds-563293
https://www.americanheritage.com/conten ... -holocaust
https://chicagotonight.wttw.com/2018/07 ... -holocaust