blake121666

wrote:

↑

Sun Jul 29, 2018 1:47 pm

been-there

wrote:

↑

Sun Jul 29, 2018 1:39 pm

blake121666

wrote:

↑

Sun Jul 29, 2018 1:26 pm

Excerpt from Hitler's Will:

But nor have I left any doubt that if the nations of Europe are once more to be treated only as collections of stocks and shares of these international conspirators in money and finance, then those who carry the real guilt for the murderous struggle, this people will also be held responsible: the Jews! I have further left no one in doubt that this time it will not be only millions of children of Europeans of the Aryan peoples who will starve to death, not only millions of grown men who will suffer death, and not only hundreds of thousands of women and children who will be burned and bombed to death in the cities,

without those who are really responsible also having to atone for their crime, even if by more humane means....

Ok. But HOW were they made to atone? And where? And IF he meant mass-murder, what happened to their remains at those locations where the deed was done?

Its no good basing a history on interpretations of written or spoken statements that not only can not be verified but are actually refuted by empirical evidence.

What "empirical evidence" refutes what claims? You're speaking too broadly as a "believer" in your denial. No empirical evidence has refuted the mass slaughter claims. Misunderstandings about the claims have been refuted - not the general claims themselves.
Believer in my denial??
I'm just trying to look at the known facts objectively and without preconcieved bias.
So if you know better and are not in
denial
or '
believing
' then provide a credible answer for this yourself:
1. If this quotation from Hitler's will is supposed to be an admission of mass murder of all Jews, THEN
where
did it occur and
how
?
2. Everyone in the entire world has been conditioned to believe the '
how
' was by mass-gassing in factories-of-death 'extermination camps'. Yet the empirical evidence of that mass-gassing claim at the sites claimed, is not only non-existent but what evidence remains refute it.
For example the claims for mass-murder by Zyklon B at Birkenau is refuted by the actual empirical evidence.
- The claimed means of introducing the Zyklon B does not fit either the testimony or the architectural remains.
- The time scale claimed for deaths of many hundreds to 2000 people at a time in a cold morgue without any method for
kreislauf
defies empirical reality.
- The method claimed for removing and disposing of the alleged gassed victims defies empirical reality in both numbers, time and practicability, etc., etc., etc., etc.
This whole forum has been going over these details for many years. What are you doing here and what have you been doing all this time if you have to ask such basic questions???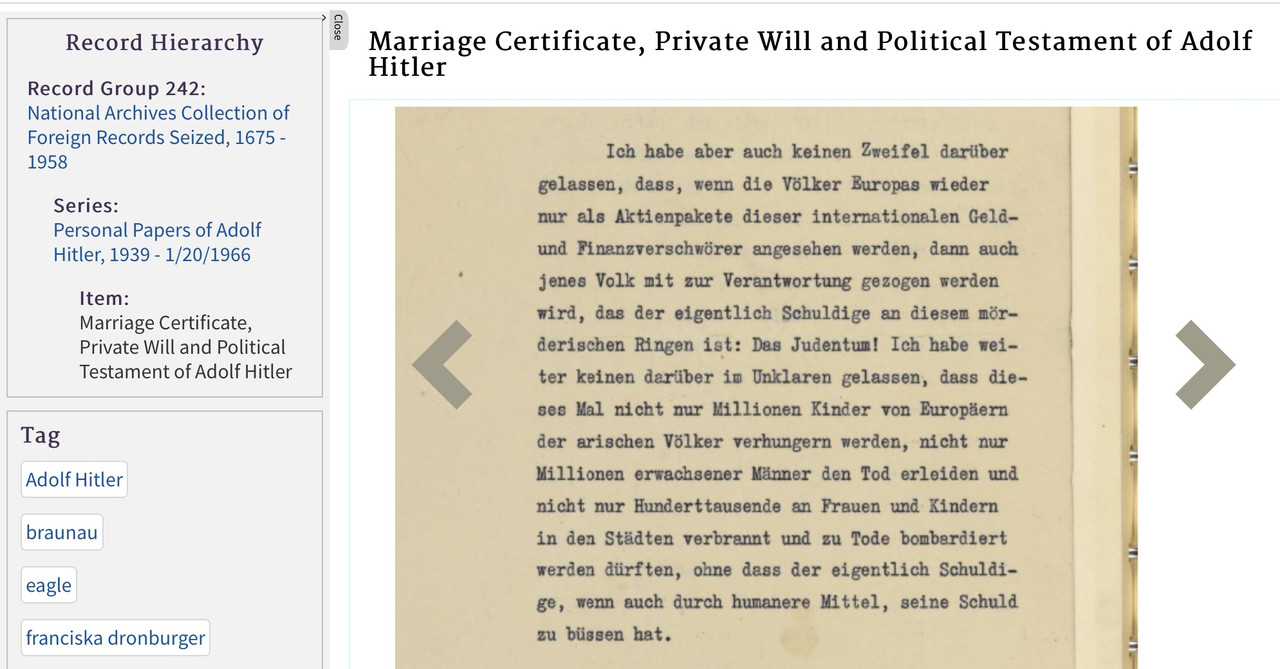 Photo of the actual paper that Frau Traudl typed of Hitler's last will from his dictation.