Some juden were murdered by criminals. How many?? 1.2-1.7 million. One murder is one to many. My interest is finding out why and culpability. Did herr Hitler know?. I hope Mr Irving is correct in some aspects.
Duke Umeroffen

wrote:

↑

Fri Mar 23, 2018 3:09 pm

No one is stopping you from putting forward an alternative, complaining about laws against HD is no excuse for not doing so either. There are plenty of countries where HD is not illegal too. In any case it has been substantially investigated and doesn't need investigating unless you are working in a field in which more understanding on a given area of the H is required.
An alternative without evidence is just an unformulated hypothesis, but there may be enough there to warrant further investigation. This takes time and money so needs to be focused. We want documentation from some volk of Deutschland who may come up with some leads regarding corruption in the Shutzstaffel basically in the SD. Considering what happened to Oskar Gröning this is not likely (and he was a supporter of the Holocaust story). This is the aim of the HD laws to stop hard evidence coming to light and also to suppress free thinking.
The interesting point as put forward by Friedrich is that we had the technology to do this alleged murder efficiently and yet for some reason there is no documentation that it was used. I have no problem with the version of Zyklon B by eyewitnesses as they were not to know the finesse of gas executions. There is a similarity of the witnessing of executions by other methods which were not accurately depicted. Eyewitness testimony of the French Revolution for instance showed pictures depicting a guillotine in action but a machine of that design would probably not work and different to the real thing. One in a forum designed to revise the revolution could speak of blade angle, height of the uprights and so on which can distract from the main point. In a way I am not sure if our attention to detail here is not the same thing.
I suspect that the Einsatz camps were run by rogue units in the SD and not authorized by the NSDAP at the time, this is what is being investigated. Many if not all disagree with that proposal but it was also put forward by Mr Irving at one point.
Eye witness drawing of guillotine execution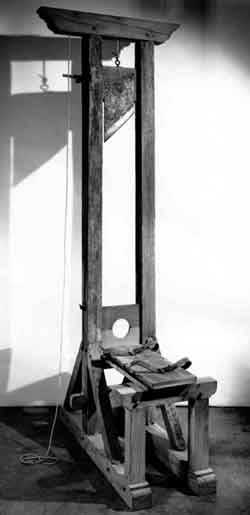 The Guillotine model used on Louis XVI, looks remarkably different to the one above from eyewitness.
A real guillotine, slightly different to one used on the Louis VI
edited: to add new guillotine pic