---
SUPPORT RODOH!
Would you like to financially contribute to the upkeep of RODOH? Please kindly contact Scott Smith ([email protected]). Any and all contributions are welcome!
---
Free shit for everybody resonates deeply with wannabe socialists. Loaves and fishes for everyone is one thing, but that was merely a beach party and I assume that everyone had a good time. Even more so once the mushrooms kicked in and Jesus started walking on water.
Pope Francis Endorses Free Vaccines For All
https://www.naturalnews.com/2020-08-25- ... r-all.html
The wannabe "pandemic" is not the problem. The vaccine however IS.
I give you the Red Hot Chili Popers!
What I've got you've got to give it to your mama
What I've got you've got to give it to your pappa
What I've got you've got to give it to your daughter
You do a little dance and then you drink a little water
What I've got you've got to get it put it in you
What I've got you've got to get it put it in you
What I've got you've got to get it put it in you
Reeling with the feeling don't stop continue
Realize I don't want to be a miser
Confide with sly you'll be the wiser
Young blood is the lovin' upriser
How come everybody want to keep it like the kaiser
Give it away give it away give it away now
Give it away give it away give it away now
Give it away give it away give it away now
---
But no so fast, Pope. Although you're amply qualified to disseminate fairy tales, as evidenced by your haste in advocating a vaccine which, like God, you know nothing about. The Bible however, is immune to Koch's postulates. I know it must be tough for you to reference dead Germans. But Koch's postulates haven't been applied to the alleged virus yet, so why are you invoking a free vaccine for everybody....you cock?


---
I wanna wake up
In a city that doesn't sneeze
New Yawk, New YAWK!!!
Those little town flus
Are melting away
If they can jab you there
They'll jab you anywhere
It's up to you
Screw New York
Screw New York...
https://www.thetruthseeker.co.uk/?p=212778
"A new bill under consideration in the New York State legislature could well become a model for other states in dealing with Covid-19.
In brief, bill A99 proposes the "removal and detention" anyone "suspected" of carrying an infectious disease, like coronavirus. This will happen even if they don't exhibit any signs because people can be infected with Covid-19 without showing symptoms."
---
In plain language it's a mandate for forced vaccination. Part of the bill is posted below and the more observant reader will note that it's dated January 9, 2019. In other words plans for enforced medication were being drawn up and tabled ONE YEAR BEFORE Covid-19 first appeared in Wuhan, China.
---


Yo, peeps! Wake the phuck up!
---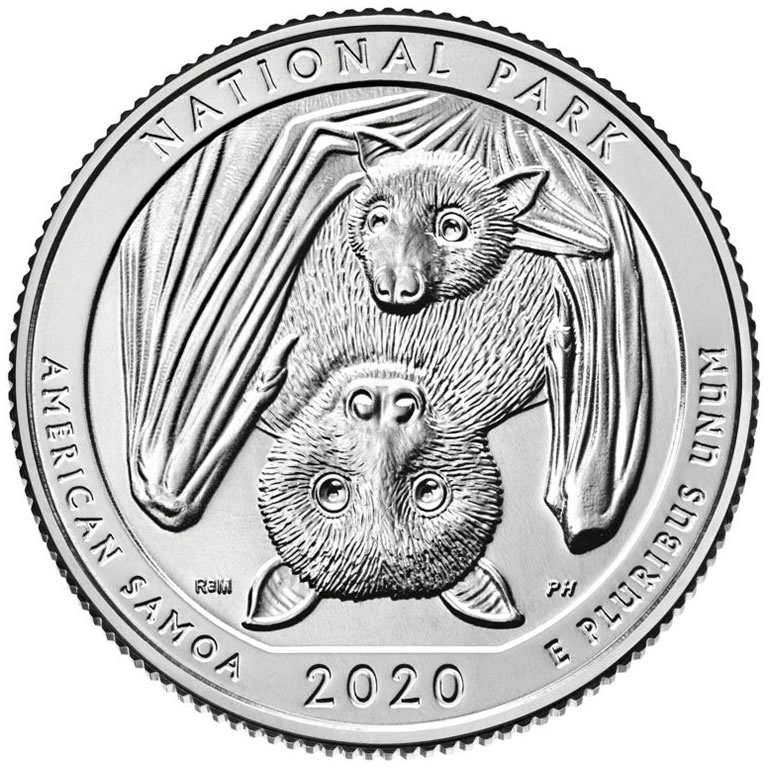 Social droppings of the fruit bat.
---
Propositions Moderator
Posts: 9527
Joined: Tue Apr 30, 2013 8:59 am
Contact:
CDC finds only 6% of coronavirus deaths are solely from COVID-19

The CDC updated the provisional counts on deaths that have occurred from COVID-19 on Aug. 26, and in the section on comorbidities, they revealed that only 6% of the deaths were caused by just the virus.

https://www.ibtimes.com/cdc-finds-only- ... 19-3037136
So the CDC has just quietly conceded that only 6% of the 161,392 US deaths — which till now have been recorded as COVID-19 deaths — actually died solely from Covid.
That's 9,683 deaths from Covid only.
The other 94% had two to three other serious illnesses ("comorbidities") contributing to death, and most of those deaths were of people of advanced age (74 - 85+)
https://cdc.gov/nchs/nvss/vsrr/covid_we ... iSf5WkuwSo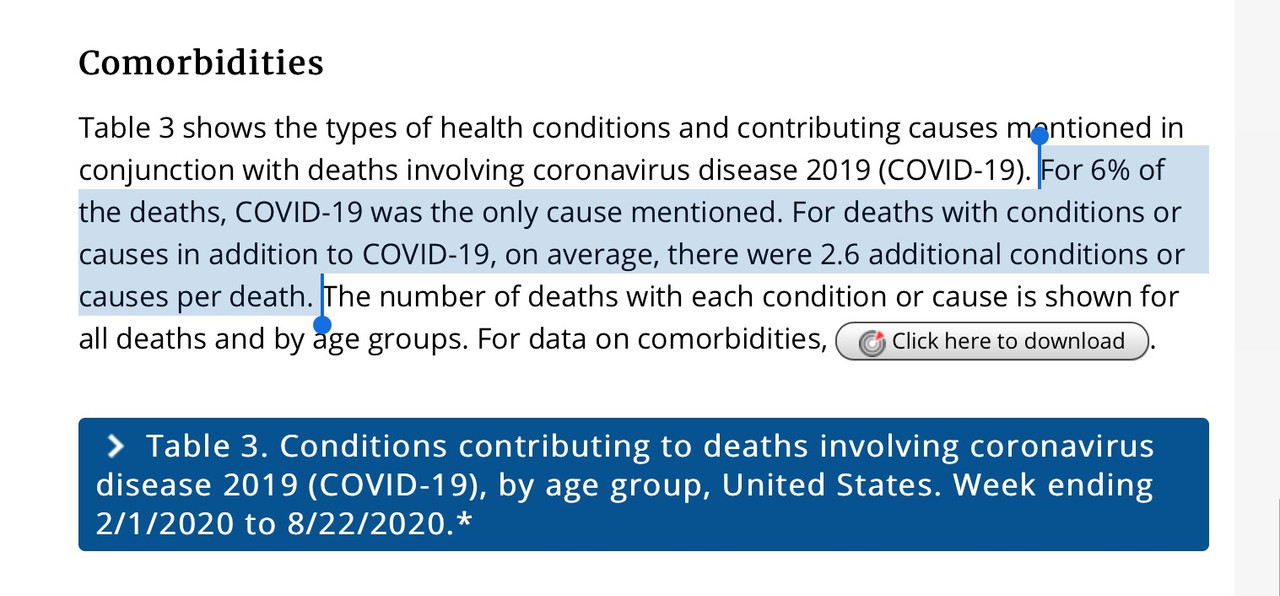 "When people who are honestly mistaken learn the truth,
they either cease being mistaken
or they cease being honest"
-- Anonymous
---
That's right Mr & Mrs America! I know that you've probably been too busy staring at your phucking TV's to notice, but it's no "theory" to say that you're the lucky victims of a conspiracy manifesting on at least two fronts.
---
Propositions Moderator
Posts: 9527
Joined: Tue Apr 30, 2013 8:59 am
Contact:
.
Studies of surgical mask efficacy
August 12th 2020 | by Chris
As a person who went to medical school, I was shocked when I read
Dr. Neil Orr
's study, published in 1981 in the Annals of the Royal College of Surgeons of England. Dr. Orr was a surgeon in the Severalls Surgical Unit in Colchester. And for six months, from March through August 1980, the surgeons and staff in that unit decided to see what would happen if they did not wear masks during surgeries. They wore no masks for six months, and compared the rate of surgical wound infections from March through August 1980 with the rate of wound infections from March through August of the previous four years. And they discovered, to their amazement, that when nobody wore masks during surgeries, the rate of wound infections was less than half what it was when everyone wore masks.
Their conclusion: "It would appear that minimum contamination can best be achieved by not wearing a mask at all" and that wearing a mask during surgery "is a standard procedure that could be abandoned."
I was so amazed that I scoured the medical literature, sure that this was a fluke and that newer studies must show the utility of masks in preventing the spread of disease. But to my surprise the medical literature for the past forty-five years has been consistent: masks are useless in preventing the spread of disease and, if anything, are unsanitary objects that themselves spread bacteria and viruses.
Ritter et al
., in 1975, found that "the wearing of a surgical face mask had no effect upon the overall operating room environmental contamination."
Ha'eri and Wiley
, in 1980, applied human albumin microspheres to the interior of surgical masks in 20 operations. At the end of each operation, wound washings were examined under the microscope. "Particle contamination of the wound was demonstrated in all experiments."
Laslett and Sabin
, in 1989, found that caps and masks were not necessary during cardiac catheterization. "No infections were found in any patient, regardless of whether a cap or mask was used," they wrote. Sjøl and Kelbaek came to the same conclusion in 2002.
In
Tunevall's 1991 study
, a general surgical team wore no masks in half of their surgeries for two years. After 1,537 operations performed with masks, the wound infection rate was 4.7%, while after 1,551 operations performed without masks, the wound infection rate was only 3.5%.
A
review by Skinner and Sutton
in 2001 concluded that "The evidence for discontinuing the use of surgical face masks would appear to be stronger than the evidence available to support their continued use."
Lahme et al., in 2001, wrote that "surgical face masks worn by patients during regional anaesthesia, did not reduce the concentration of airborne bacteria over the operation field in our study. Thus they are dispensable."
Figueiredo et al., in 2001, reported that in five years of doing peritoneal dialysis without masks, rates of peritonitis in their unit were no different than rates in hospitals where masks were worn.
Bahli did a systematic literature review in 2009 and found that "no significant difference in the incidence of postoperative wound infection was observed between masks groups and groups operated with no masks."
Surgeons at the Karolinska Institute in Sweden, recognizing the lack of evidence supporting the use of masks, ceased requiring them in 2010 for anesthesiologists and other non-scrubbed personnel in the operating room. "Our decision to no longer require routine surgical masks for personnel not scrubbed for surgery is a departure from common practice. But the evidence to support this practice does not exist," wrote Dr. Eva Sellden.
Webster et al., in 2010, reported on obstetric, gynecological, general, orthopaedic, breast and urological surgeries performed on 827 patients. All non-scrubbed staff wore masks in half the surgeries, and none of the non-scrubbed staff wore masks in half the surgeries. Surgical site infections occurred in 11.5% of the Mask group, and in only 9.0% of the No Mask group.
Lipp and Edwards reviewed the surgical literature in 2014 and found "no statistically significant difference in infection rates between the masked and unmasked group in any of the trials." Vincent and Edwards updated this review in 2016 and the conclusion was the same.
Carøe, in a 2014 review based on four studies and 6,006 patients, wrote that "none of the four studies found a difference in the number of post-operative infections whether you used a surgical mask or not."
Salassa and Swiontkowski, in 2014, investigated the necessity of scrubs, masks and head coverings in the operating room and concluded that "there is no evidence that these measures reduce the prevalence of surgical site infection."
Da Zhou et al., reviewing the literature in 2015, concluded that "there is a lack of substantial evidence to support claims that facemasks protect either patient or surgeon from infectious contamination."
Schools in China are now prohibiting students from wearing masks while exercising. Why? Because it was killing them. It was depriving them of oxygen and it was killing them. At least three children died during Physical Education classes -- two of them while running on their school's track while wearing a mask. And a 26-year-old man suffered a collapsed lung after running two and a half miles while wearing a mask.
Mandating masks has not kept death rates down anywhere. The 20 U.S. states that have never ordered people to wear face masks indoors and out have dramatically lower COVID-19 death rates than the 30 states that have mandated masks. Most of the no-mask states have COVID-19 death rates below 20 per 100,000 population, and none have a death rate higher than 55. All 13 states that have death rates higher 55 are states that have required the wearing of masks in all public places. It has not protected them.
"We are living in an atmosphere of permanent illness, of meaningless separation," writes Benjamin Cherry in the Summer 2020 issue of New View magazine. A separation that is destroying lives, souls, and nature.
_____________
*
from Christopher Fry, A Sleep of Prisoners, 1951.
http://12160.info/m/blogpost?id=2649739 ... ROy7UjaDbI
"When people who are honestly mistaken learn the truth,
they either cease being mistaken
or they cease being honest"
-- Anonymous
---
Users browsing this forum: No registered users and 18 guests