Even though Trump is infinitely preferable to the pedophile, Joe and his Ho, it's still disgusting. To think that one of the great US traitors, FDR, conned the sheeple of the US into going to war against Hitler for the Rothchild bank of England and the Jew's Communist Russia in 1941. Well, at my age I (hopefully) won't live to see the logical outcome of this shitshow.
---
SUPPORT RODOH!
Would you like to financially contribute to the upkeep of RODOH? Please kindly contact Scott Smith ([email protected]). Any and all contributions are welcome!
---
Propositions Moderator
Posts: 10130
Joined: Tue Apr 30, 2013 8:59 am
Contact:
.
Joe "
I am a zionist"
Biden's team:
Charles Traynor

wrote:

↑

Mon Jan 25, 2021 6:10 pm
https://youtu.be/-fnwGcQgKVI
.
---
Propositions Moderator
Posts: 10130
Joined: Tue Apr 30, 2013 8:59 am
Contact:
.
Antisemitism Advisory Board
David Evans
, General Secretary of the Labour Party
["The Jewish Chronicle described Evans as a "fierce critic of anti-Zionism"."]
Adrian Cohen
, Trustee, Jewish Leadership Council (JLC)
Natascha Engel
, Trustee, Antisemitism Policy Trust (APT)
[works for leading Tory Israel lobbyist]
Mark Gardner
, CEO, Community Security Trust (CST)
smears critics of Israel as hateful "sneering bastards"

Mike Katz
, Chair, Jewish Labour Movement (JLM)
Marie van der Zyl
, President, Board of Deputies
Rt Hon Dame
Margaret Hodge
MP
Baroness
Doreen Lawrence
of Clarendon
Baroness
Jan Royall
of Blaisdon
https://labourlist.org/2021/02/labour-u ... ory-board/
---
Propositions Moderator
Posts: 10130
Joined: Tue Apr 30, 2013 8:59 am
Contact:
Another Zionist joins the Biden team
Anne Neuberger will make our cyber secure?
By Philip Giraldi
It does not require any particularly perspicacity to realize that the President Joe Biden Administration has been loaded with
Zionists
who not only believe in their own vision for Greater Israel but also in some cases have strong and enduring ties to the Israeli government itself.
The new Secretary of State
Tony Blinken
comes from an American
Jewish
family that has well established ties to Israel. Blinken's paternal grandfather was one of the founders of an organization that eventually evolved into the
American Israel Public Affairs Committee (AIPAC)
.
Blinken said at his Senate confirmation hearing that the new administration would "consult with Israel" before any possible return to the 2015 nuclear deal and he also made clear that there will be "additional conditions for Iran," an odd position to take since it was the U.S. that withdrew from the agreement and introduced a harsh sanctions regime even though Iran was in compliance.
More recently,
Blinken
claimed that Iran is weeks away from having the enriched uranium needed to make a nuclear weapon. Strangely enough, or perhaps not, Israeli Prime Minister Benjamin Netanyahu has been making the same claim since the 1980s.
Joe Biden
himself proclaims proudly that he is a Zionist and Vice President
Kamala Harris
has spoken at AIPAC gatherings, pledging her unconditional support for the Jewish state.
Majority leader Chuck Schumer has proclaimed himself "shomer" or protector of Israel in the Senate.
While House Speaker Nancy Pelosi has said that the "If this Capitol crumbled to the ground, the one thing that would remain would be our commitment to our aid, I don't even call it our aid, our cooperation with Israel. That's fundamental to who we are."
The House Majority Leader, the second ranking Democrat,
Steny Hoyer
has proudly led numerous Congressional delegations to Israel.
One has to suspect that many White House and Congressional friends of Israel are opportunists, knowledgeable of the fact that
Zionism is career enhancing
and equally aware that
getting on the wrong side of "The Lobby" is a political death wish
. Many politically astute senior officials meanwhile wind up by design in positions in the Department of State, CIA and National Security Council where they will be able to narrow foreign policy options in favor of the Jewish state. Under George W. Bush, folks like Paul Wolfowitz, Richard Perle, Doug Feith and Scooter Libby worked hard to infiltrate the Pentagon and White House and, having succeeded, the disastrous Iraq War was the result.
...
The latest friend of Israel to rise to the top as Biden completes his appointments is one Anne Neuberger, who recently was named senior director for cyber policy on the National Security Council.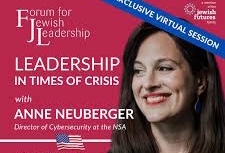 ..."[Israel] operates in its own interest and aggressively spies on the U.S., including using cyber capabilities." It also cites "A cross section of current and former intelligence officials and foreign policy experts — none of whom were willing to be named — [who] said the donations created an appearance problem. They noted that Israel, whose companies build and sell spying gear to regimes abroad and whose intelligence agencies hack foreign governments around the world, has a big stake in American cyber policy."
...The supporters of Neuberger are incorrect in that the contributions made in her name to AIPAC, which most in Washington regard as a front for the Israeli government, would have most definitely been relevant to her clearance process. Under normal rules, it would disqualify her from having a top level clearance, but, as should be noted, we are dealing here with Israel. Neuberger's appointment as head of U.S. cybersecurity while donating hundreds of thousands to the lobbying arm of a foreign government that recently welcomed to great fanfare a citizen of theirs, Jonathan Pollard, who spied on the U.S., as a hero is unacceptable. One might also add that Israel is regarded as the most active "friendly" government in respect to its spying on the United States, often using
sayanim
American Jews as their "agents," and its well documented history of stealing U.S. high technology is extensive. It also has highly developed cyber capabilities of its own which it has recently used against American government targets, to include the White House.
The final twist to the Neuberger story is that complaints from Jewish groups and individuals began to pour into NBC after it released the story, some concerned that a wonderful organization like AIPAC was being impugned. AIPAC denounced the piece directly, claiming that its "Charges of dual loyalty are anti-Semitic and insult millions of Americans—Jewish & non-Jewish—who stand by our ally Israel." The news network then surrendered, pulling and archiving the story after claiming that it had not met its usual standards due to its use of anonymous sources and failure to give Neuberger adequate time to respond. NBC did not contest the AIPAC claim that Israel is an actual American ally, which is itself a lie, nor to the compelling evidence that some American Jews certainly do demonstrate either dual or singular loyalty that favors Israel.
But my favorite contribution in support of Neuberger comes from President Barack Obama's U.S. Ambassador to Israel Dan Shapiro, who appears to be in line for a Biden senior foreign policy appointment. He tweeted: "I don't know Anne Neuberger, but the 'charge' against her — that she's not fit for national security work because her family foundation supported political work that is fully protected under the Constitution — is offensive and belied by her stellar career. Glad she is serving."
Shapiro's claim that a senior national security official's supporting a lobby that exists to obtain favors for a foreign country is a "free speech" issue is curious. One also wonders about Shapiro's ultimate loyalty, recalling how he left his ambassadorial post to live in Israel, where he presumably now holds dual-citizenship. He subsequently told an American Jewish audience that Israel is "this miracle, this gift, this jewel" and worked as a senior officer in an Israeli national security think tank, representing it in testimony before Congress, which should have required him to register as a foreign agent. But he didn't do so and got away with it because it was Israel, of course. And now he is giving advice on a critical United States national security issue in which he is dead wrong. That is the fundamental problem. We Americans are, at our peril, never allowed to challenge the extent of someone's devotion to a foreign country if that country just happens to be Israel.
Philip M. Giraldi, Ph.D., is Executive Director of the Council for the National Interest
"When people who are honestly mistaken learn the truth,
they either cease being mistaken
or they cease being honest"
-- Anonymous
---
Propositions Moderator
Posts: 10130
Joined: Tue Apr 30, 2013 8:59 am
Contact:
Eli Rosenbaum

was in his mid-20s when, as a trial attorney for a criminal division of the Department of Justice, he began prosecuting

Nazis

[German and East European participants in WW2] who had moved to the United States.

Now

four decades

into his

distinguished

[revenge-motivated] career as a

professional

Nazi hunter

, Rosenbaum, 64, is still going strong — even as such cases have become increasingly rare.

Last week, a Memphis immigration judge ruled that

Friedrich Karl Berger

— a 94-year-old

Nazi

[person with German origin] and longtime resident of Oak Ridge, Tenn. — be deported to his native Germany, where he worked during the war as an armed guard in a Neuengamme subcamp. Rosenbaum, who serves in the Justice Department's

Human Rights

and

Special Prosecutions Section

, helped try the case.

In a recent phone interview, he discussed the case and reflected on his

four decades

of

service

[revenge].

A 2012 photograph of harmless Friedrich Karl Berger that appeared in the February 27, 2012 issue of the Farragut News-Shopper.

Building the case

:

The case took

"quite a while"

to put together, Rosenbaum said.

"These cases all take months, if not years"

. Rosenbaum credited his colleague, attorney Susan Masling, for doing "most of the heavy lifting".

The biggest piece of evidence used in the case, he said, was an index card featuring Berger's name and service details that had been recovered, not long after the war, from a sunken German ship in the Baltic Sea — though prosecutors also assembled other supplemental Nazi documentation and historical information.

Background

:

Rosenbaum began working for the Office of Special Investigations, a now-defunct unit tasked with finding

Nazis

[Axis forces personnel] in the U.S., in 1980. He served as its director from 1994 to 2010, when the OSI merged with another criminal division to become the Human Rights and Special Prosecutions Section. Over 40 years, the office has won 109 of 133 cases, some of which ended because the defendants either died or became medically incapable of appearing in court, according to Rosenbaum.

U.S. leads the way:

Over the last 30 years, Rosenbaum told JI, his office has won more cases against

Nazi criminals

[Axis forces personnel] than authorities in all of the governments of the world combined. "This country," he told JI, "which has a tiny percentage of the perpetrators, should not have really been leading the world for the last 30 years. But there are aspects of political will involved — let's put it that way." Rosenbaum estimates that there are hundreds of

Nazis

[Axis forces personnel] still living in Europe.

[Really? No way! ] Actuarial odds:

"We are definitely at the very last moment in history when these cases can still be brought," Rosenbaum told JI. "It's simply a function of the passage of time." Rosenbaum acknowledged that it may be jarring to see an old man such as Berger and think of him as a Nazi. "They clearly don't come out of central casting in that regard," he said. But, he added bluntly, "You can't go by appearances. That's all I can say." When asked if he anticipated prosecuting more

Nazis

[Axis forces personnel] in the U.S., Rosenbaum was discreet. "We're not finished in our work," he told JI. "We're almost finished."

Personal note

:

Rosenbaum, who is

Jewish

, said the work occasionally gets to him. "It's not the nicest way to spend the day," he told JI, adding, "It's always been true that, at night, some of the things you read — whether they be from Guatemala or war-time Poland — those things can hit you pretty hard."

The work is especially personal for him: his father left Germany in 1938 and moved to America.

The elder Rosenbaum joined the U.S. Army and served in an intelligence unit, where he was responsible for questioning detainees at the end of the war — a few of whom, according to Rosenbaum, were tried at Nuremberg.

Eli Rosenbaum... also read Nazi hunter

Simon Wiesenthal

's memoirs growing up...
How do Jews get the support to live a whole life working professionally as vengeful Jews looking for people to take revenge upon for actions during WW2 that all the warring nations did?
Why is there no Japanese equivalent of Eli pursuing and prosecuting guards of the concentration camps, for persecuting people with Japanese ethnicity in America during WW2?
How do people like Eli Rosenbaum get the huge funding for such a revenge-motivated travesty of justice?
Why does no-one stand up to this sickness and put a stop to the injustice and self-centred obsessiveness of Jews regarding participants of WW2 whom they still regard with hatred?
What societal lunacy to pay a whole team to run a programme for four decades, spending years seeking out people like Friedrich Karl Berger, for the'crime' of as a 19 year old becoming caught up in a war not of his choosing?
What sort of sick society not only allows but supports, pays and celebrates a revenge-driven person like Eli Rosenbaum — someone indoctrinated with the deceitful memoir of Simon Wiesenthal —
to pursue and persecute harmless people into their antiquity??
"When people who are honestly mistaken learn the truth,
they either cease being mistaken
or they cease being honest"
-- Anonymous
---
Propositions Moderator
Posts: 10130
Joined: Tue Apr 30, 2013 8:59 am
Contact:
"There has been since almost the earliest days of the Israeli state and the earliest days of the CIA a secret bond, basically by which Israeli intelligence did jobs for the CIA and for the rest of American intelligence. You can't understand what's been going on with American covert operations and the Israeli covert operations until you understand this secret arrangement."
-- Andrew Cockburn
In my opinion it is not possible to understand the content and the enforced prevalence of what is now called
'

THE

Holocaust'
without an understanding of those who regard themselves as Ashkenazi Jews and their mythologic beliefs regarding themselves and their history — how that has played out in the past, AND how that is playing out now.
We can argue endlessly about minute details of this compulsory belief-system that has been implanted in people's minds from childhood with the emotive trigger term '
THE

Holocaust
'. But there is also a larger context from which this enforced narrative derives and out of which it is able to be presented so ubiquitously. I understand if certain mind sets aren't interested in that, nor can even get their heads around it. Each to his own. But it is my view that without understanding that its not possible to understand the cause of WW2, nor to understand the NSDAP justification for their 'final solution' anti-Jew policy, nor is it possible to understand the decades of collective lying that has created this 'holocaust' pseudo-'history'.
The empirically verifiable details regarding this
Holocaust
'story' are a cut and dried issue as far as I can see. There's nothing really to argue about. These details do NOT support the
holocaust
mass-gassing narrative on the scale claimed, at the sites claimed. That's the factual truth. On the contrary the empirically verifiable details refute that globally accepted story. The end.
Oh, but no, its not the end.
What about all the witnesses?
The 'holocaust' narrative is based almost entirely on witness testimony.
Yeah. And the empirical evidence refutes their mass-gassing testimony. The end.
But... No, no. That is not the end. The vast majority of the billions of homosapiens on the planet STILL 'believe' this narrative DESPITE it being debunked using the scientific method. Despite the vast majority of these 'witnesses' inventing often ridiculous and ludicrously improbable stories, and despite their court testimonies and books being exposed as fraudulent, plagiaristic and false. Despite knowing this, STILL most people on the planet aren't able to even discuss the facts objectively and rationally. They believe that discussing it is a 'hate crime'. They have been programmed to believe that they should never ever engage in discussion about this topic. They should never ever give any intelligent, honest and even scientific questions about the narrative a second thought, but should immediately dismiss them without entering into debate. To discuss or to debate is to give such reasoning credibility, which all good people should abhor the very idea of.
They have been taught not to 'think' about it but just to 'believe' it.
'
How is this state of affairs possible?
' is therefore the main question in my opinion.
So to repeat where I came in: as I see it, without an understanding of the Ashkenazi Jewish people and their mythologic beliefs regarding themselves and their history — how that has played out in the past, AND how that is playing out now — it is not possible to
understand the prevalence of jew-centric WW2 misinformation in the collective consciousness
.
The quote at the top of this post, from the journalist andrew Cockburn is taken from
this article
about the JFK assassination:
Cockburn's words are a rough overview of the thesis that I have presented in

Final Judgment

...

In many respects,

Final Judgment

is more than a book about the JFK assassination.

It also reveals the hidden global power politics of the last half of the 20th century.
This explains how disgusting travesties of justice like these are still being permitted by our judiciary and celebrated by our mass-media:
https://www.rt.com/news/411315-nazi-aus ... uard-jail/
https://www.bbc.com/news/world-us-canad ... urce=knewz
https://www.theguardian.com/world/2021/ ... mp-murders
Meanwhile war criminals like Netanyahu, Tzipi Livni, Henry Kissinger and shabbat goyim like Tony Blair, Dick Cheney, George Dubya, etc., etc., get away with much more heinous and racist recent crimes than anything Oscar Gröning, Friedrich Karl Berger, etc., did.
Has any one been pursued into their old age for the Katyn massacre?
How about the mass-murder perpetrated at Dresden, Tokyo, Hiroshima, Nagazaki, etc?
How about the rapists of German females from 8 to 80? That mass-rape by British, American but principally Russian soldiers was the GREATEST crime in known history against femininity! Where are the memorials and museums and special days of remembrance for the INNOCENT victims of that horrific, bestial, Allied crime? Any Allied rapist ever been pursued into his old age and put on trial for that mass-rape?
No!
See the hypocrisy?!
This is how the Jew-centric, necro-pornographic
holocaust
narrative has warped all minds; that we as a society accept and go along with this obvious injustice.
To understand how that has been —and still is — possible, we need to understand the
power
that has elevated clearly bogus and refuted eye-witness testimony to a quasi-religious status. And we need to understand
who
predominantly wields that
power
.
As Plato said
"those who tell the stories rule society"
.
We need to look, then perceive, then acknowledge who ultimately is controlling the telling of these stories?
"When people who are honestly mistaken learn the truth,
they either cease being mistaken
or they cease being honest"
-- Anonymous
---
Propositions Moderator
Posts: 10130
Joined: Tue Apr 30, 2013 8:59 am
Contact:
.
While Democrats accused Donald Trump of being a Russian agent,
they don't seem to care that Biden is an obvious and proud,
bought-and-paid-for agent of the Israeli lobby.
"It is not a matter of what is true that counts,
but a matter of what is perceived to be true"
~~ Henry Kissinger ~~
---
Propositions Moderator
Posts: 10130
Joined: Tue Apr 30, 2013 8:59 am
Contact:
Former British Minister of State for Europe and the Americas Alan Duncan
Ex-minister reveals 'most disgusting interference' in UK by Israeli lobbyists
Friday, 09 April 2021
Former British lawmaker Alan Duncan says pro-Israel lobbyists are interfering in Britain's public life and negatively influencing the country's foreign policy in the Middle East.
Former Conservative MP and government minister until 2019 Alan Duncan says the
Conservative Friends of Israel (CFI)
has been responsible for pushing the UK to adopt disproportionately anti-Palestinian and pro-Israel policies, .
The CFI is a parliamentary group that supports the ruling Conservative Party and advocates for pro-Israel policies.
The CFI has injected a "Netanyahu-type view of Israeli politics into our foreign policy", Duncan has said in his newly published memoir, referring to extremist Israeli prime minister Benjamin Netanyahu.
"A lot of things do not happen in foreign policy or in government for fear of offending them because that's the way it's put to them by the CFI," Duncan said, stating that the group had lobbied to prevent him from becoming Middle East minister at the foreign office.
"It's a sort of buried scandal that has to stop… they will interfere at a high level in British politics in the interests of Israel on the back of donor power in the UK," he said.
Duncan said his new role of Middle East minister was agreed until the then foreign secretary Boris Johnson alerted him to the fact CFI lobbyists "are going ballistic".
Duncan served as minister of state for Europe and the Americas between 2016 and 2019 under then prime minister Theresa May. Following her resignation and the ascension of Boris Johnson, he stepped down from his position and did not stand for re-election in the December 2019 parliamentary elections.
He accused the CFI of "the most disgusting interference" in the British politics.
Duncan has previously come under fire from pro-Israel circles for his support for pro-Palestinian positions, such as his criticism of illegal Israeli settlement construction in the occupied Palestinian territories.
https://www.presstv.com/Detail/2021/04/ ... entionists
---
Users browsing this forum: No registered users and 6 guests