.
Here's how it works.
Certain Jews — through decades/centuries of undeclared/covert Jewish networking and manouvering — have achieved much more power and political/economical influence worldwide than is proportionate to their numbers in global society. This is obvious fact.
So anyone who denies this undeniable reality is clearly suffering from a delusion. I.e. on just this particular point they are clearly delusional.
Delusional beliefs and behaviour didn't use to be something desired by society. Yet this particular delusion is actively encouraged.
Anyone who cooperates with that disproportionate power and helps in the spreading and institutionalising of that delusion that denies it is praised and rewarded.
Anyone NOT in denial and who exposes and criticises that undemocratic and disproportionate power and influence, is punished.
When anyone becomes aware of this situation they therefore face a daunting dilemma: 'should I risk censure, career-destruction and societal ignominy for me and my family by expressing my views, or should I keep my mouth shut about it, and get on with making my life as comfortable as possible?'
It's an intentional conundrum with extremely high personal stakes.
The compulsory belief in the pseudo-historical, quasi-religious 'holocaust' narrative is a powerful weapon in enforcing this mass-delusion worldwide.
A French man who courageously chose the first option to expose this 'Jewish' power and influence and the bogus H history that helps permit it has just been sentenced to a year in prison for speaking about this disproportionate and therefore undemocratic Jewish influence in his country's politics. His mistake was to mix a.) exposing fact with b.) repugnant racist prejudice against ALL Jews. Revisionists should please take note.
As we know, its a well-worn trick: provoke an irrational expression of hatred that can then be demonised as 'anti-semitism' to destroy the credibility of the accurate statements that had been made.
Here is the accurate, factual message that has thus become obfuscated.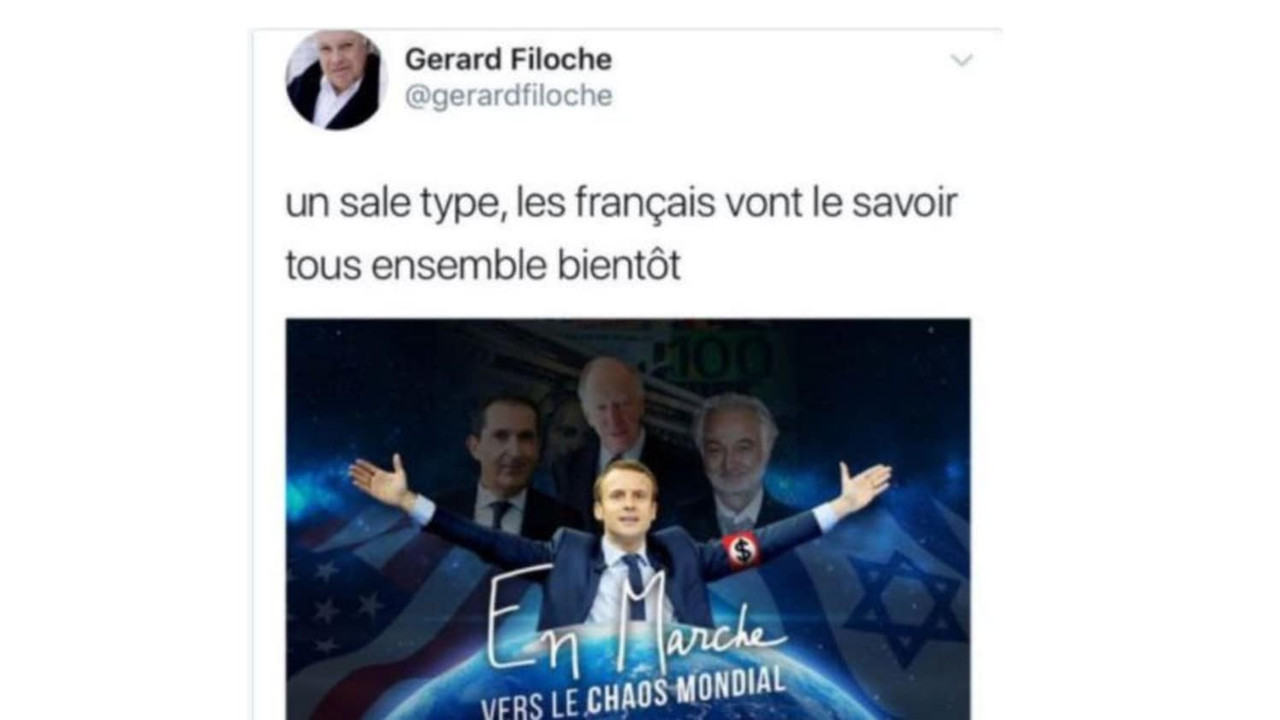 The Twitter tweet by Gérard Filoche. The slogan in the image says: "A march towards world chaos." To which Filoche tweeted: "A dirty fellow, the French people will find out soon."
The March article for which he [Alain Soral] was sentenced to prison was prompted by a court case in February over another post on his website. That post, which he put up [shared from someone else, viz. Gérard Filoche] during France's 2017 presidential election, showed a digitally manipulated picture of then-candidate (and now president) Emmanuel Macron wearing what looked like a Nazi armband, but with a dollar sign in place of the swastika. Behind Macron there were American and Israeli flags, along with three Jews well-known in France – banker Jacob Rothschild, Jewish-American businessman Patrick Drahi and Jacques Attali, the first president of the European Bank for Reconstruction and Development. According to the indictment for the February case, the post portrayed Macron as a marionette with the three Jews pulling his strings. Consequently, he was charged with inciting hatred of Jews; in response, he wrote his March essay.

https://www.haaretz.com/world-news/euro ... fpRT3cmL-M