.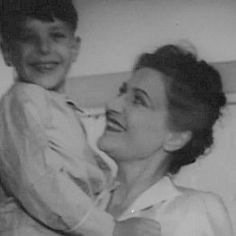 Harald Quant with his mother Magda Goebbels
https://m.youtube.com/watch?feature=you ... JunFsPTGDg
https://m.youtube.com/watch?feature=you ... 60OdbR7vxg
The last letter Magda Goebbels (formerly Frau Quant) sent to her son Harald from her first marriage.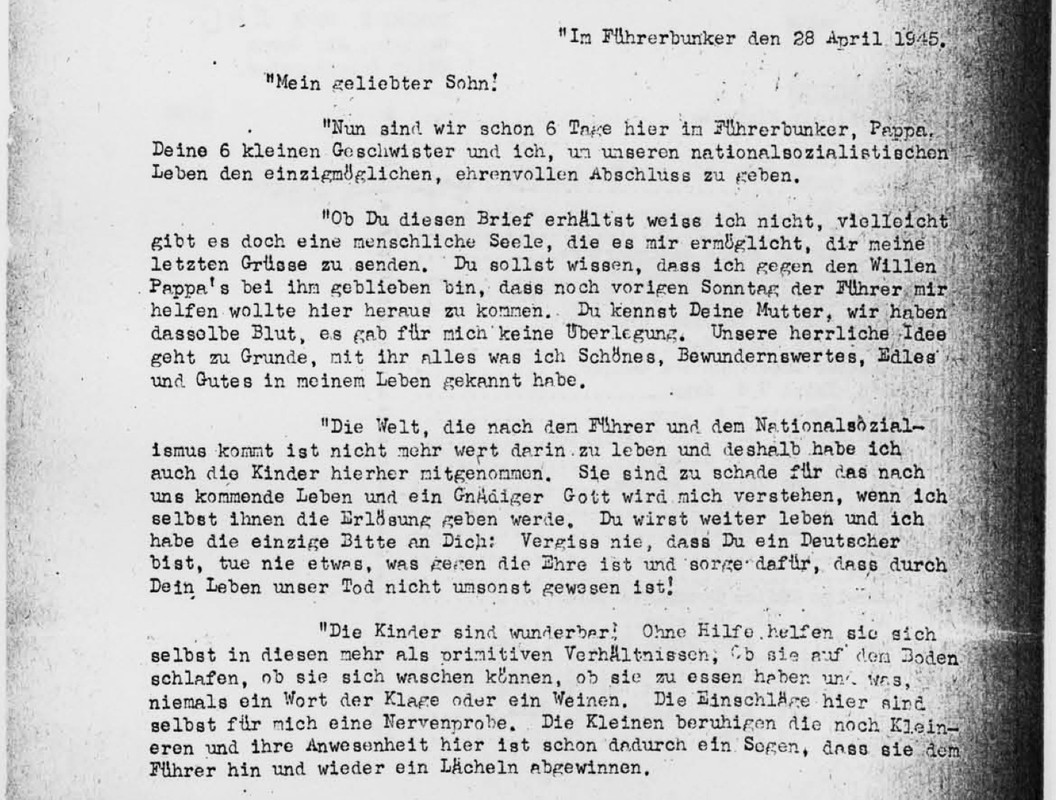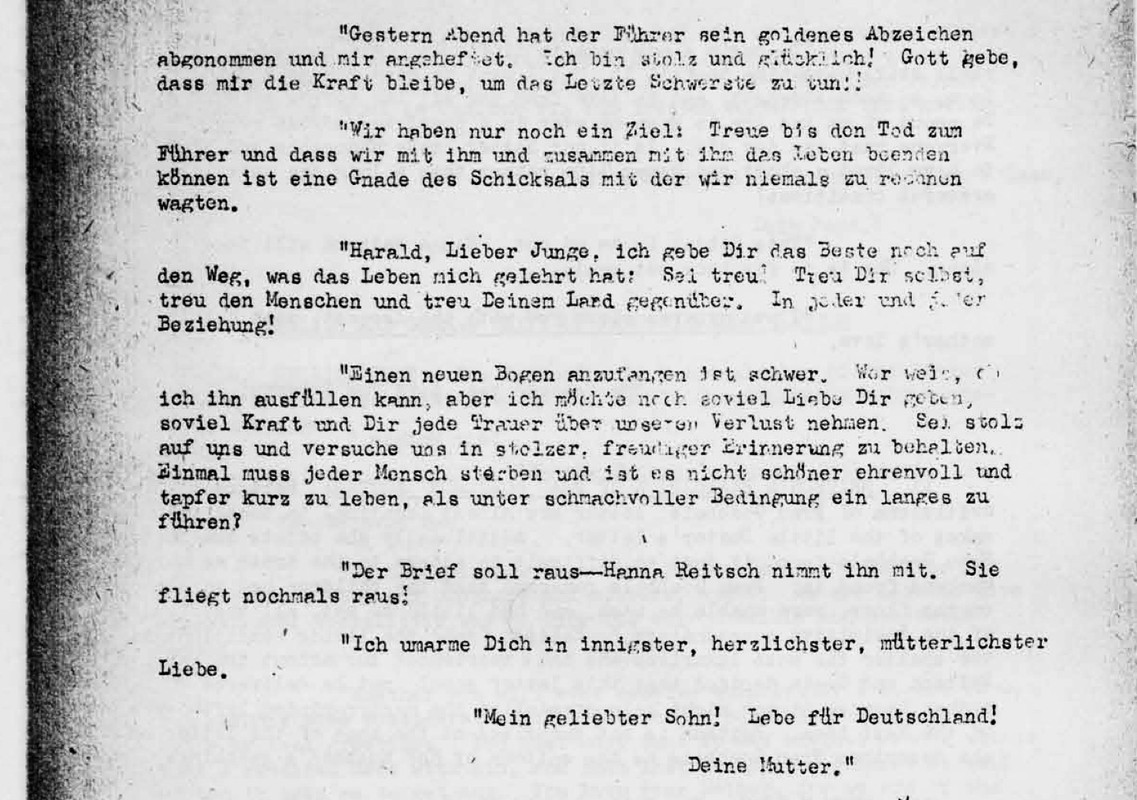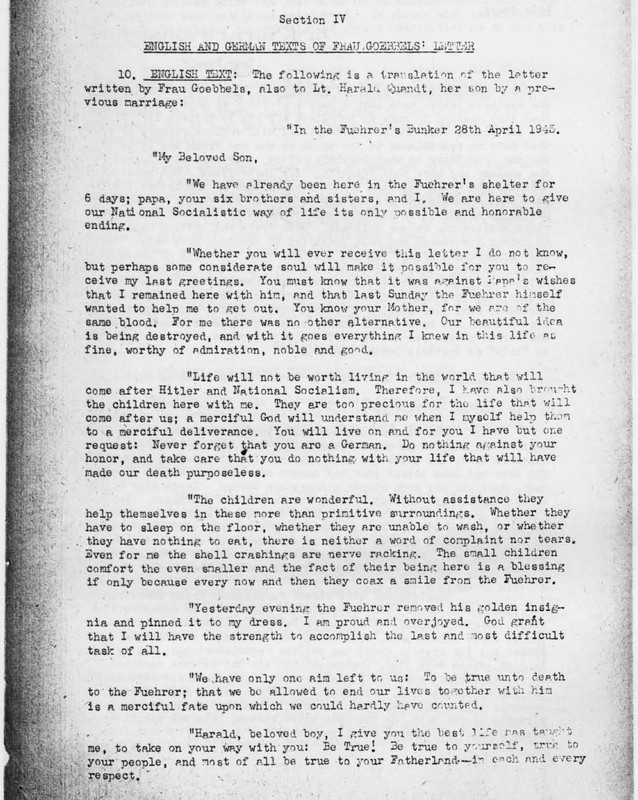 been-there

wrote:

↑

31 Jul 2018, 11:12

2005 interview with Rochus Misch,translated from German:

[Minister of Propaganda Dr. Joseph] Goebbels and the kids arrived suddenly about 14 days before the end. Then Hitler's doctor, Dr. Morell, had to move out so that Goebbels could move in, and his wife lived one story higher, in the adjoining bunker, with the children. But the children came down to play all the time, you know? But when they were too loud we sent them back up.

[Laughs.]

Usually they were up in the New Chancellery; there were people around up there and they had freedom to move about.

I went up there too, shortly before the end, because the big kitchen was there. Goebbels sat down at a long table with the children. A young man played the harmonica. And Goebbels was saying goodbye to the civilians, with the children; there were so many people there in the New Chancellery, people looking to take shelter there. And it occurred to me for the first time that maybe I should say goodbye, too. That was the moment it became clear to me that Hitler and Goebbels would stay. And Eva Braun and Frau Goebbels had agreed they wouldn't abandon their men either, stay to the end, too. And then plans were made for the children. The other women in the bunker all offered — Frau Rindell for example, from the office, she said, "Frau Goebbels, if you want to stay here, that's your business, but the children can't possibly stay here..." and Frau Bruns said, "I'll take them to Arnbruck to my sister, as she can't have children — she would be happy. Please!" and she cried.

You know, we, the service people, we all knew that the children were meant to stay, and what would happen. They would stay and they would die.

Oh, and then of course the aviator, Hanna Reitsch, offered to fly them out as well. She said even if she had to fly back and forth 20 times, she would fly them out. Of course, that's not what happened.

Frau Goebbels, she had to come down to my room to get the children ready [administer the cyanide]. Up above there were so many people around, but down in our rooms there was no one. We ourselves weren't even down there. We only slept there. So she could take care of them on her own. I went out of the room and waited outside. Then Dr. Naumann came out of the room and said to me, he whispered in my ear, that

if it had been up to him — he meant Dr. Goebbels — then the children wouldn't still be in the bunker, they would be evacuated

. And I had seen Naumann with Goebbels up above, and he was probably right. I took him as a trustworthy representative.

Goebbels didn't want it.

It was Frau Goebbels who did. One must stick with the truth. That's how it was.

The film ['Downfall'] suggests both parents colluded to kill their children — misrepresented, in your opinion?

It's all Americanized. That's how the Americans want to see things...

But what about here in Germany? The film was made in Germany for Germans, by Germans, wasn't it?

Oh, the Germans have no idea about anything, either. If I had been in the New Chancellery instead of in the bunker, I wouldn't have any idea either, how that happened with the Goebbels children, how they killed the six children.

How do you think about the recent developments in Germany, the mainstream attempt to come to terms with the Holocaust and on the other hand the modest rise in neo-Nazism since the fall of the Wall?

Next to the site of the bunker they're putting up the big memorial. [The colossal central Berlin Memorial to the Jews of Europe, designed by American architect Peter Eisenman and composed of 2,700 concrete slabs, opens in May 2005.] Two thousand seven hundred concrete blocks; they're allowed that. But I say, how would it be if over there around the corner by the bunker, we put in six blocks, just six? The children of Goebbels were... killed. Couldn't they be honoured, the children? It won't do them any good now, but at the very least we could honour them, put up a sign that says here died six... children. Two thousand seven hundred, but six children can't be honoured?
been-there

wrote:

↑

10 Feb 2018, 14:52

Hermann Esser wrote

:

There was still another relationship with a woman during this time: Hitler's intense involvement with

Magda Quandt

[who later married Joesph Goebbels]. Even before Geli's passing (September 18, 1931), it seemed to most of us that Hitler was having a love affair with Magda Quandt. At the time she was having a clandestine relationship with Joseph Goebbels as well. Only those in the highest circles of the Party knew about their particular love affair.

Whether Hitler didn't know that Frau Quandt was Goebbels' lover or whether he didn't care, he behaved around her like a man who had conquered her. She returned his adoration tenfold and made no secrecy of her feelings for him. Sometimes it verged on the embarrassing. Frequently when meeting him, her complexion would turn from pink to flaming red. Hitler's face would also blush crimson. It was as if they were both sharing a delicious secret.

Hitler and Frau Quandt both behaved like they were two people in love, almost giggling with their feelings. This went on even in the presence of Joseph Goebbels, who no doubt was deeply embarrassed that his lady friend was ignoring him so openly.

Whenever I saw Frau Quandt and Hitler together during this period, it seemed obvious to me they had become intimate in every sense of the word. There was a palpable electricity between them. I might add, I never saw this occurrence with Hitler and any other women. Never.

Whether their "friendship" continued after she married Goebbels, I don't know. The evidence for it is lacking...

I have one story about Hitler and Magda Goebbels that I can divulge. This was in the Spring of 1933 at Hitler's mountain home, Haus Wachenfeld. The Goebbels couple, myself, Eva Braun and Jakob Werlin were the only people present that weekend.

I will never forget a glance that passed between Hitler and Magda Goebbels during that stay. It was a gaze that expressed a powerful attraction, remembrance and longing. They were standing on the porch partially turned towards me. Neither knew I was watching them. Frau Goebbels was a petite woman and I saw as she stood on her toes to whisper something to Hitler. He did not move away from her, but clearly moved towards her as she rested her forehead against his cheek.

After she had finished whispering into his ear, Hitler put both his hands on her shoulders. That was when I saw the explosive look they exchanged. I certainly never saw Magda Goebbels look that way towards her husband, whom she seemed to passively dislike. It was fortunate that Eva Braun did not witness this exchange, for her jealousy was that of a tigress watching over her cubs.

Excerpt taken from Adolf Hitler, der Grosse Liebhaber by Hermann Esser,
Revue magazine, November 1 and November 8, 1949. Translation by Putschgirl.