Heinrich Hoffman and Adolf Hitler
JT: When did your father meet Adolf Hitler?
HH: That would have been very early in 1919 or 1920. This was long before Hitler was famous. Hitler was a nothing when my father met him, just some local political oddball.
JT: And your father liked him right away?
HH: I'll put it this way: he was impressed by him. Everyone was impressed with Hitler when they first met him. Just about anyone was and my father wasn't any different from others. I defy anyone who met Adolf Hitler to say he wasn't impressive upon first acquaintance.
JT: How old were you when you first remember Hitler?
HH: Oh, I was a very little. I was a little boy, maybe 5 years old when I first remember Hitler. He was a wonderful play companion for me, he was a special visitor, always. When he would show up in our house, I smiled because he was such fun and not like any other adult I had ever known. He could put himself at the level of a child and that's enchanting to a boy.
JT: Do you have strong memories of Hitler when you were a boy?
HH: Yes. I was 4 or 5 years old when father first started bringing him around, as I said. I remember him well. He would bring me Pralines, rubber bands, small toy cars. He was a wonderful visitor for me and not just because of the chocolates. One thing I can mention in passing is that Hitler also could play the piano. He wasn't a very good pianist, but he could pick out tunes and play a little.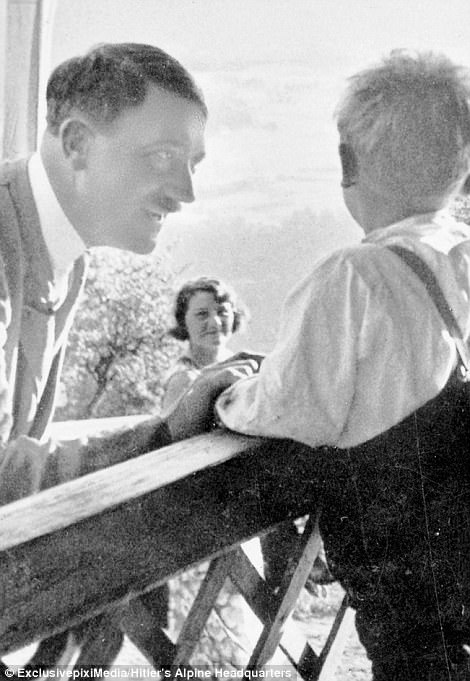 Hitler, Geli and child
JT: How close were you to Hitler as you got older?
HH: As close as a person probably could be. I was born in 1916, I was 16 years old when he came to power. We still used Du (German intimate form of "you") with each other at that time, later he dropped that. My sister had been very close to Hitler, I feel my father was his best friend. Also my mother adored him.
JT: Your mother sadly passed away when you were a boy?
HH: I was only 11, Henny was 13, almost 14.
JT: Did your mother know or like Hitler?
HH: Both! She adored him, she always talked him up, she was his greatest supporter. He was very stricken when she died. He spent a great deal of time at our home after my mother left us. In fact I would admit to you that having Hitler around the house after my mother's passing helped me. He said I was a "brave little comrade" for not crying at my mother's funeral. He was really very saddened by her death, he had liked her very much.
JT: How would you describe Hitler then, when you were a boy?
HH: He was unlike anybody else I ever knew. Then or since. He was an extraordinary man, he had a photographic memory, he was a great imitator of people and he loved children. It was fun when he visited because he wasn't run of the mill, he was just very, very different and more interesting than other people.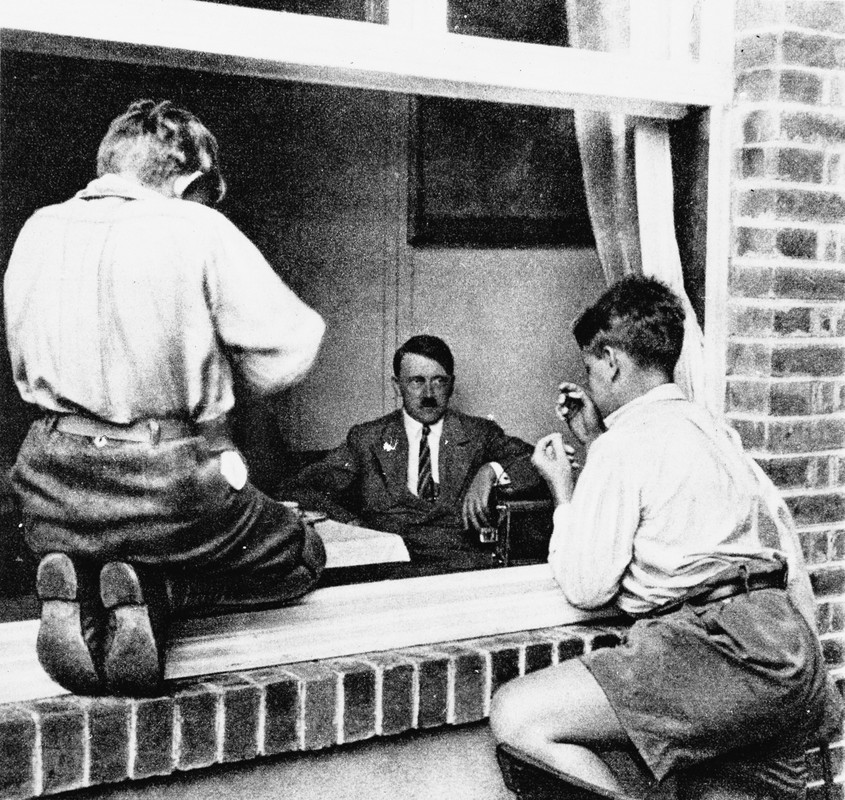 JT: How much time did you spend in your father's photography shop?
HH: Actually this should be plural. Father had several photography shops in Munich at that time. His main shop was on the Schellingstrasse. The NSDAP party HQ was in the rear of our shop there. He also had additional shops by the train station, one on the Amalienstrasse and one by the Sendlingertor. I was in all of them, but most often the main one, on Schellingstrasse.
JT: This is the shop where Eva Braun first met Hitler?
HH: Yes, you're right, that's the shop.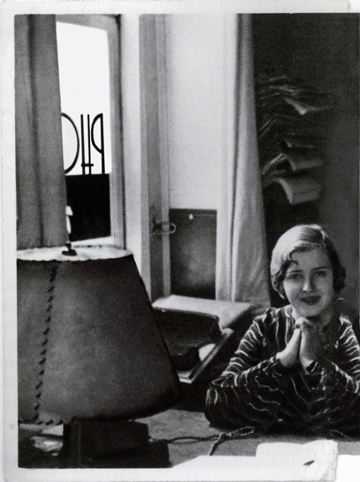 Eva in the Schellingstrasse shop in 1930
JT: Did you know Eva Braun yourself?
HH: I knew her very well, in fact I knew her before Hitler ever laid eyes on her.
JT: But you would have been very young then?
HH: I didn't think of myself as such, I was 13 when I first met her, I had been to boarding school, had experienced my first kiss, wore long pants and felt myself to be quite the man. I was at the age when a boy develops his first crush. I think I'd say Eva Braun was my first crush. Yes, definitely she was.
Below is a photo of Hoffmann's two children, Henny and Heinie, beside Eva Braun in 1931 or 1932.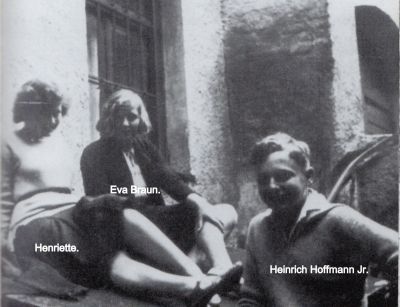 JT: What was she like then?
HH: This was all before the Hitler period. Eva was then 16 or 17 years old, just a young girl, but to me, she was a grown lady, a real prize. I thought she was the most special lady I'd ever met. I loved her as only an adolescent boy can do. I think I was in the shop so much mostly to talk to Eva or at least catch a glimpse of her.
JT: How was it that you found yourself in the shop in the first place?
HH: I was something of an orphan, you see. My mother had just recently passed on, my sister was in the shop frequently and I had no one at home except our Hungarian maid and the cook, who came only at night. After school I would spend some homes in my father's shop so I wouldn't be home alone. This was all after I had come back from boarding school. I was so lonely I begged to come home and father allowed it.
JT: And you met Eva in this way, in your father's shop on the Schellingstrasse?
HH: Yes, I knew all the girls in the shop. Eva was the prettiest and nicest to me. She was really my first love, you never forget your first crush I don't think.
JT: What memories do you have of Hitler meeting Eva?
HH: I have none. I was not there at that historic moment, or at least it became historic. But it was only historic when looking backwards. Nobody took any interest in that meeting, Hitler was in the shop a lot, he was nice to everyone. Women always fell for him, this was just his lot in life. I always envied that in him, but he just took all that for granted.
JT: Your sister wrote me that Eva fell in love with Hitler immediately.
HH: Eva was just a girl, I don't think she fell in love with him at all upon first sight, she had to get to know him. Hitler was very much older than her, you know. She may have thought he was interesting, but he didn't pay her a lot of mind in the early days, he really did not. He was travelling all the time in 1929 or 1930, those days were the height of constant elections and gaining/losing seats in the Reichstag.
JT: Do you remember the first time you saw the two of them together?
HH: I really don't remember the exact occasion. Their relationship was just something that happened slowly and over the course of months or years. For instance, Eva started appearing at our house in the evenings. I noticed quickly that she was only there on evenings when Hitler was there. They didn't arrive together and they didn't depart together, but the time in our house was mostly spent together.
JT: You mean they would absent themselves from the party?
HH: I don't mean that, I meant that Hitler was paired off with Eva when they'd be our house. If we sat down for a meal, she would be on his left. If we sat about and chatted, she would be on his left. He spent his time talking to her mostly. But they never left together, I never saw them in the same car. But it was apparent to most people that they were a couple. Of course Hitler chatted and circulated with everyone at first, but then he'd settle down on a sofa with Eva, or in fine weather, they would go outside and sit on the grass.
JT: Was this before Geli Raubal's death or after?
HH: Both. Eva was Hitler's friend before Geli died. I am sure of that, in fact I know it. Hitler knew Eva for almost two years before Geli's death.
The photo below shows Heinie on the far left with Hitler's half niece Geli Raubal. Hermann Esser also appears, these are all 1931
).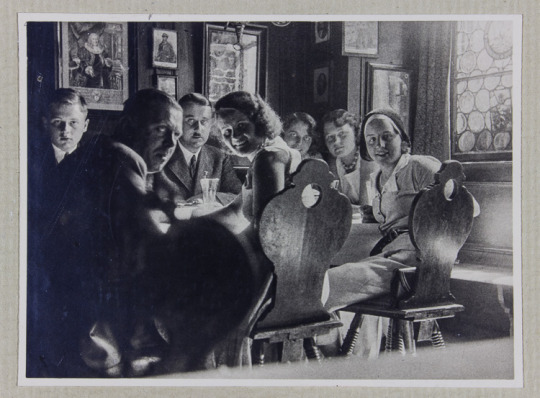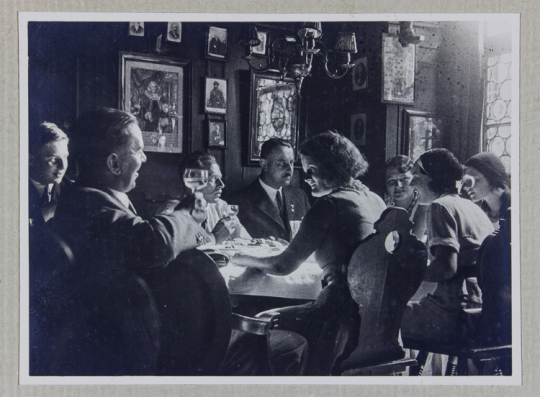 JT: Did you know Geli?
HH: Yes I did and in some respects I knew her better than I ever knew Eva later on. Hitler was obsessed with Geli, there's no two ways about it. With Geli, there was no secrecy involved with his relationship, he was very open and possessive of her. I liked Geli but she was very moody and could be temperamental. She was a carefree spirit and all that, but I always preferred Eva.
JT: Can you tell me why?
HH: For one thing, Eva was far prettier and had a much better shape. I was 14 or 15 years old then, after all. I had a one track mind. I never saw what Hitler saw in Geli. She was a nice girl and loved to laugh, but she was not what one would call a looker. Her moods were really quite something as well.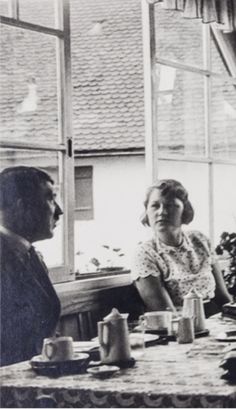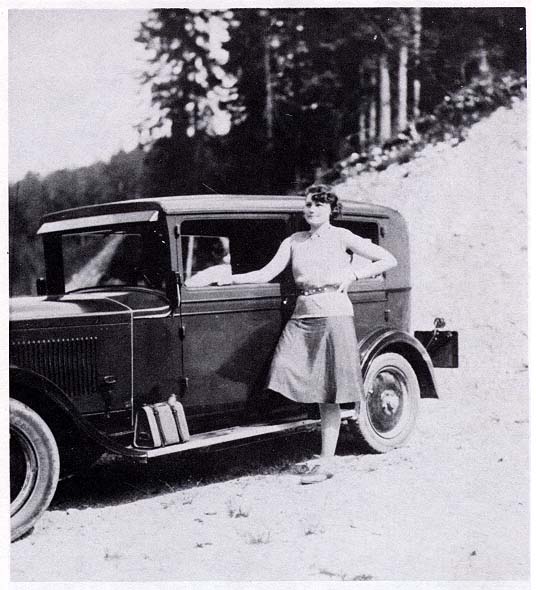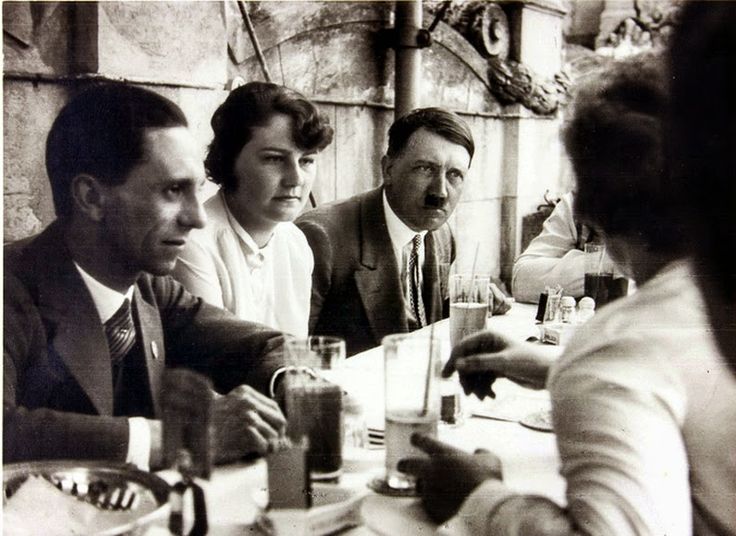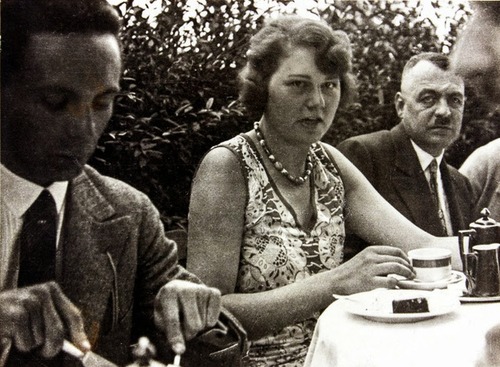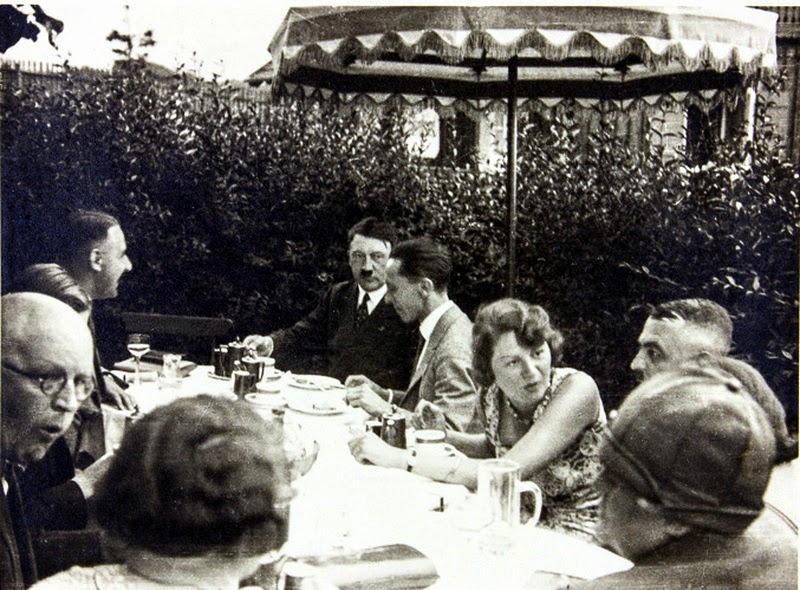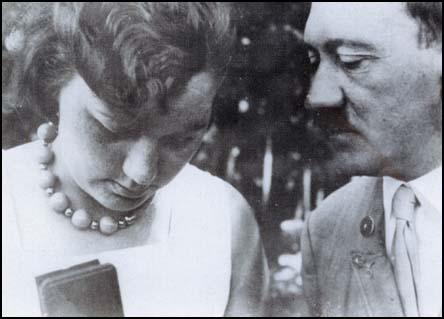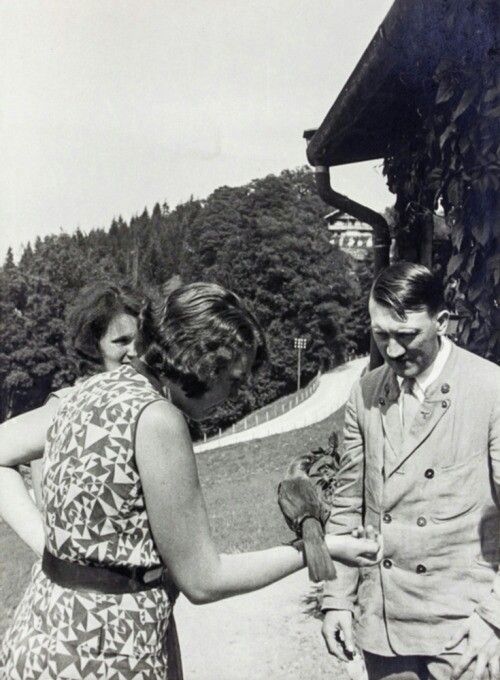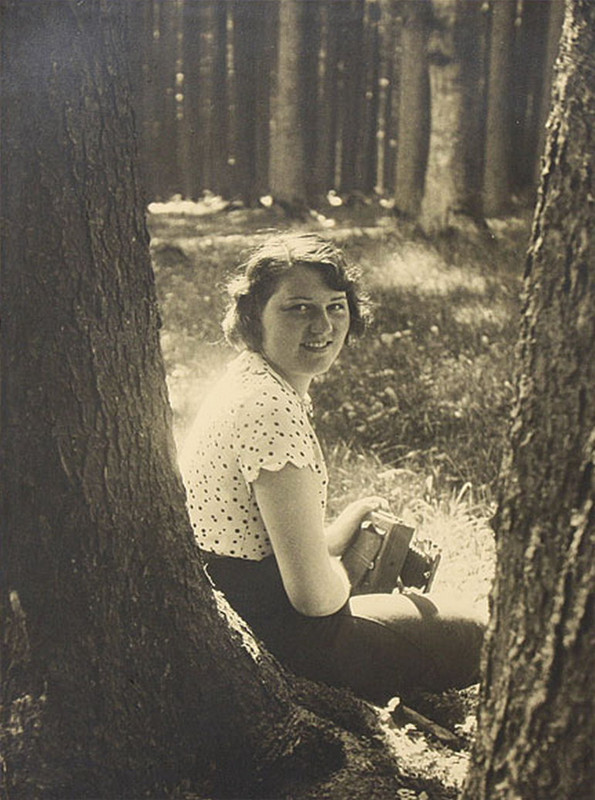 JT: How did Hitler behave towards Eva Braun in these early days?
HH: Hitler always behaved correctly with women, but also very carefully. He always attempted to act as if Eva Braun was just an ordinary girl that had come along for the evening because my father had invited her. But like I said, even I as a boy quickly noticed Eva never came to the house unless Hitler was there. And nearly every time Hitler was there, she was there. It didn't matter if it was daytime or night time, they would be together in our home.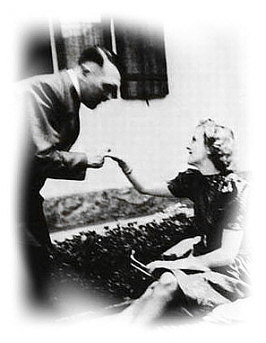 JT: Did they go out on dates?
HH: In this early period before Hitler seized power, yes they did go out. In fact I have a funny story about this. More than once, I myself went out on dates with them. We went to the opera twice, all three of us, and quite a number of times I was there when they went out to dinner or lunch.
Heinie Hoffmann is standing behind or between Hitler and Eva in in the following two photos, he accompanied them to the opera, these are both January, 1932 photos


JT: I don't understand something. Why were you going on dates with two adults?
HH: Because this was very early on in the history of Hitler and Eva. I'm referring to the time before Geli was dead, and to the period shortly after her death. Hitler was not supposed to be dating anyone but Geli when she was alive and he was not supposed to be dating anyone when he was supposed to be in mourning. Hitler didn't take Eva out alone for a long time, he would have a group of people that he trusted to come along, as something of a cover for his real intentions.
JT: And what were his 'real intentions?'
HH: Well, you know. I mean we weren't there at the opera or the movie theater as chaperones. We were there to conceal the fact that Hitler had a woman he liked and to whom he was courting. He was representing himself to the electorate as this celibate bachelor who loved Germany more than anything else. I got to go on some wonderful excursions and I got to be around Eva, the woman I found so wonderful.
JT: Did Hitler ever talk to you about Eva?
HH: Only in the early days, the period we're discussing right now. He knew I had a crush on Eva and it amused him very much. One day at my parents home, Eva was there spending the evening with us all. She got up from the sofa and walked past us. Hitler nudged me in the side and said, "
Heinie, you have excellent taste in women!
" He said it in a deliberately exaggerated manner, as if to rib me. I didn't know whether to smile, so I just awkwardly shuffled my feet.
JT: Was that Hitler's way of telling you to leave Eva alone?
HH: I don't think it was that at all, I was no rival to Adolf Hitler, let's put it like that. He was on the brink of power and an experienced 40 or 41 year old man then. I was a callow fellow of 15 or 16. Eva never regarded me as anything but a pesky nuisance, I think. She liked me, but I was a little boy to her, she had eyes only for Hitler.
JT: How did Hitler behave towards Eva when you would go out with them; you mentioned the opera and eating places.
HH: He always acted in public as if Eva was a distant friend of his. He never paid her any more attention than anyone else at the table or in the opera seats. It was a role they both played. Now in private, at our home, you could see an informal closeness between them, they didn't pretend as much, but they still arrived and left at different times, even when we knew they would be meeting up together later than night. There was still that element to their relationship, this forced distance in front of others.
JT: Did you know Eva was in love with Hitler, could you see that?
HH: She tried to hide it, but I could see it and I don't think it's just because I knew. She was very much in love with that man, there was no hiding it. Women had that look a lot when Hitler was about.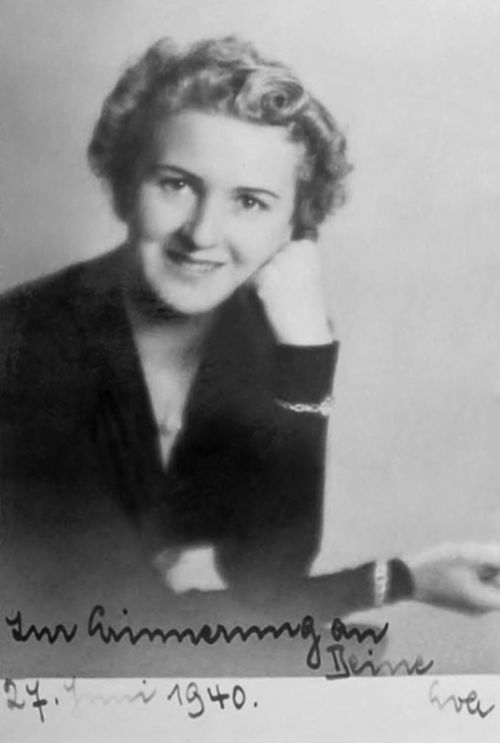 JT: How much time did you spend with Hitler after he became Chancellor?
HH: It depends on Hitler's schedule and my schooling at that time. I saw him whenever he was in Munich, and that was remarkably often. He never liked Berlin and always was looking for an excuse to get out of there. I spent time also on the Obersalzberg, both before he was Führer and after.
JT: Can you tell me what you liked about Hitler?
HH: I always liked Hitler. And I make no excuse for that, I never have. He would have been impossible to dislike if you were a child, as I was. I knew him as a boy, and I knew him when I was a man and I never had occasion to not like him. He could be difficult sometimes, which I'm sure doesn't surprise you. He was very stubborn, willful and things had to go his way. I suppose these are all traits a dictator would tend to have.
JT: Was he arrogant or conceited?
HH: Now those are two words I wouldn't ever use to describe Hitler. He was personally very modest, that was not an act. He lived modestly, he didn't put on airs. He lived well, of course, after he became Führer. But his apartment in Munich, for instance, have you ever been there? It was in a nice area but it was not the apartment you'd expect from a world leader. It was quite modest. He didn't require a lot for himself, he purposefully tried to live a life of self-denial. Not in all things, but quite a few.
JT: When did you see Hitler the happiest?
HH:
[He thinks for a long time before answering]
He liked to picnic, he was always happy then. He loved going on picnics and in the summer we would go most every day. I almost always went along since school was not in session and I came home from boarding every summer. I always thought Hitler seemed happiest with Geli. He really came out of his shell with her, he was not as inhibited as he usually was. Those picnics were the most fun I ever had with Hitler.
(
The two photos below show Heinrich Hoffmann. Jr. in a dark suit behind Hitler, summer 1931 on a picnic. Geli Raubal in the white dress and necklace. Marlene Weinrich — Hitler's girlfriend at the time— is far left.
).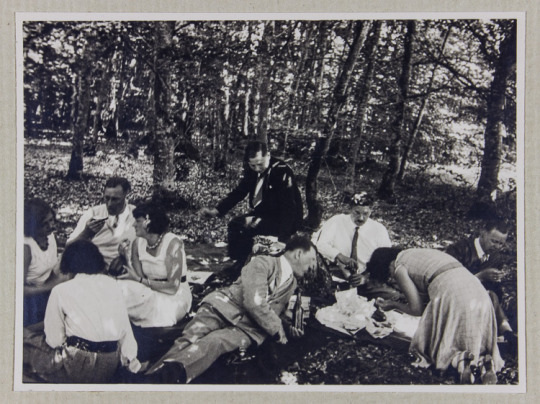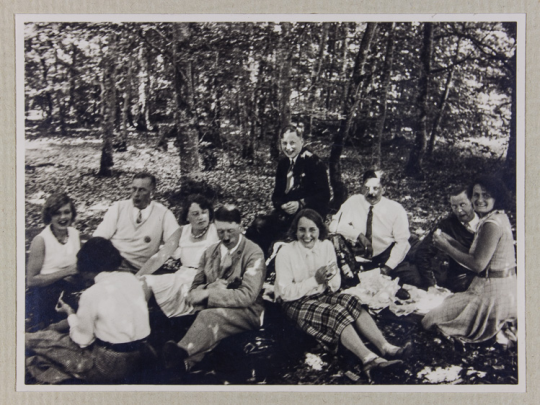 Hitler appears to have a black kitten in his arms
JT: Did you ever go on a picnic with Hitler and Eva Braun?
HH: Yes, not as often as with Geli, but definitely I was part of the group that went on picnics with Eva and Hitler. They didn't go alone, we all went in one big group and we would go in two cars, Eva in one and Hitler in the other. The rest of the party would always include my father, Schaub, Brückner, my stepmother, sometimes Eva's friend Herta Ostermeyer, Schreck and then me. My sister also was sometimes part of the group. The faces never changed, the same people always went. I would have been shocked had someone new appeared.
JT: Do you think Hitler loved Geli Raubal?
HH: Without any doubt he did. Now the particulars of their relationship, what went on behind closed doors, if anything, I don't know. People write now that she was miserable with Hitler, but I didn't see that. She chased him, he was happy around her, but she was the pursuer, as far as I could see. I'm sure I'm right about that, even after all these years.
JT: But you admit Hitler was two-timing Geli with Eva Braun, going to the opera and picnics with her?
HH: I didn't say he was doing that, those are your words. I never said Hitler was cheating on Geli with Eva Braun. I said they casually dated, they went on excursions together and had lunches in restaurants. I don't think they had the chance to be alone very often then. I think it was all innocent until Geli killed herself.
JT: Do you think Hitler and Geli were lovers?
HH: I don't know. I don't think anybody knows, or if they did, they would be long dead. I just don't know.
JT: Would you say Hitler loved Eva Braun?
HH: Not in the same way or with the same intensity as Geli. That's my view, I could have been wrong, but I don't think I am. Hitler was always quite tender with Eva, they were quiet together a lot of the time, happy just to be together, it seemed. He wasn't as passionate I don't think towards Eva as he was towards Geli. Maybe that was because he was older, or because he was a world leader by then. He depended on Eva, he trusted her, he adored her, but I don't think he was madly in love with her.
JT: Did you ever see Hitler angry?
HH: Certainly I saw Hitler angry, I knew him for so many years. He could fly off the handle on any type of whim. I have seen him angry because the table wasn't set properly, or because the cars were late picking him up. I've seen him angry at subordinates. He and Röhm had plenty of arguments, very loud ones. Hitler was even-tempered, but sure I saw him angry sometimes.
JT: On the other side of the spectrum, did you ever see Hitler cry?
HH: Cry? Yes, I have seen this. He cried after Geli died, my father was with him out at the Tegernsee for a few days. He heard him crying for hours behind a closed and locked door, he told me that story many times later on. Then several months later, Esser mentioned Geli at the table when we were eating on the Obersalzberg. I happened to glance at Hitler and he had tears streaming down his face. I also saw him cry after his driver Schreck died.
JT: So he was a man who could show emotion in front of others?
HH: He could be uninhibited in these things. Just look at him giving speeches, he throws his entire body and soul into orating, that's being very exposed and open. He had that side to him, and never forget he was an Austrian!
JT: You know in almost every interview I have conducted for this book, the Hitler crowd always mentions that. What exactly do you mean when you say, "but he was Austrian?"
HH: I mean he had the Austrian charm. He bowed from the waist, he kissed ladies hands, he paid women all sorts of compliments, he noticed things about their hair or jewelry or something about them. He was altogether much, much more charming than your average German lout. Hitler was more refined, more schooled in manners. Austrians have all that down pat.
JT: That explains this better for me, thank you. When was the last time you saw Hitler?
HH: In 1944, at the Berghof. I went to Gretl Braun's wedding. Actually I felt ill that day and didn't attend the ceremony, but I was there with the intention of going. When I recovered, I saw Hitler and it was our last meeting. He had aged so dramatically that it stunned me. It literally stunned me.
JT: Explain how he looked?
HH: Like death itself. Whether we'd lost the war or not, Hitler was through by 1944, that much was self evident to me.
John Toland's papers are now in the Library of Congress and this interview with Heinrich Hoffmann, Jr. is in box 49 of the manuscript division of the Toland Papers.