Propositions Moderator
Posts: 8862
Joined: Tue Apr 30, 2013 8:59 am
Contact: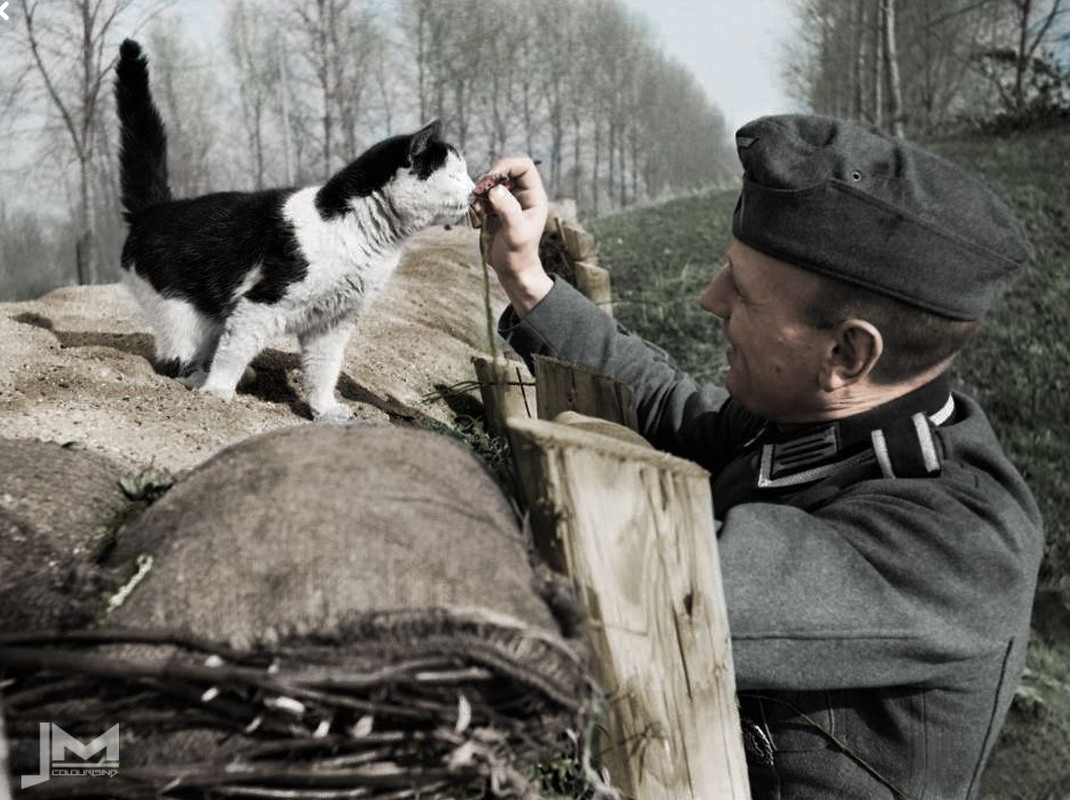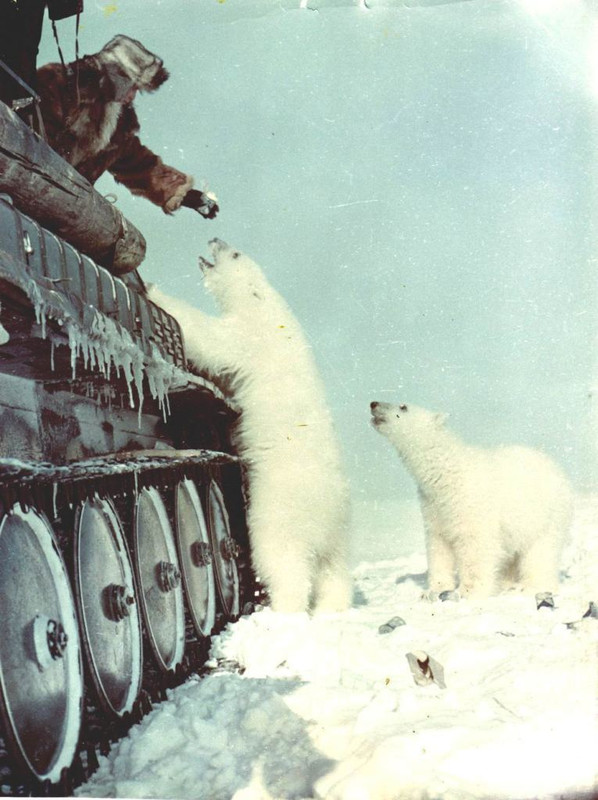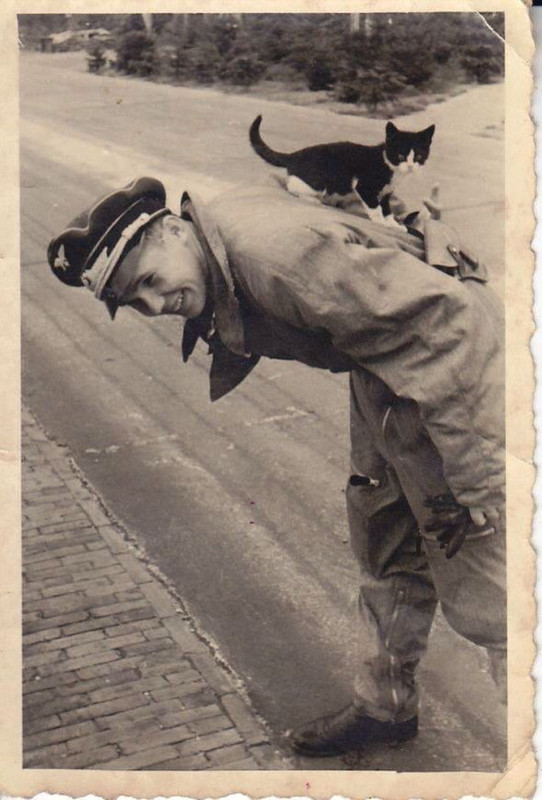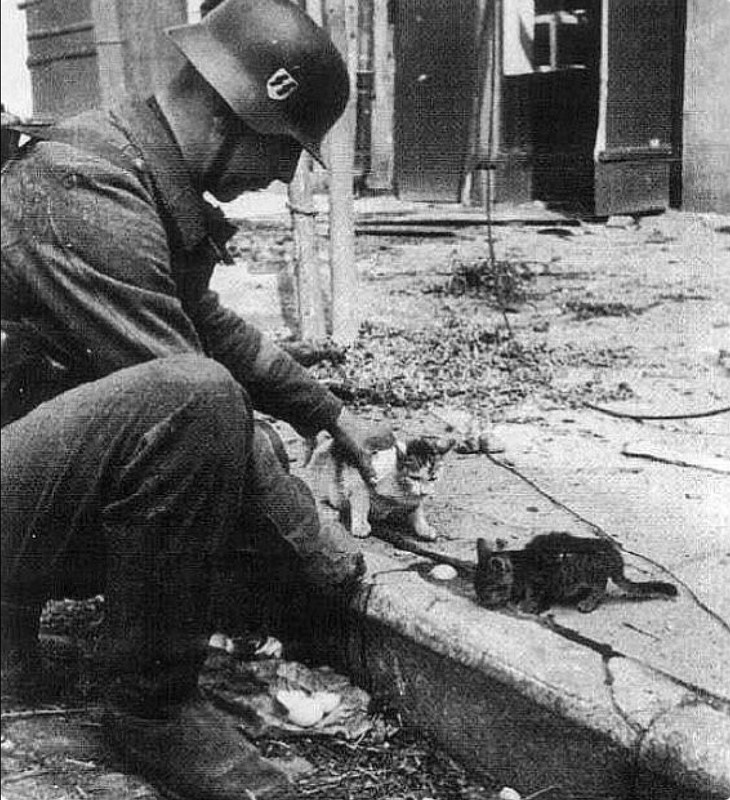 "When people who are honestly mistaken learn the truth,
they either cease being mistaken
or they cease being honest"
-- Anonymous
---
Propositions Moderator
Posts: 8862
Joined: Tue Apr 30, 2013 8:59 am
Contact: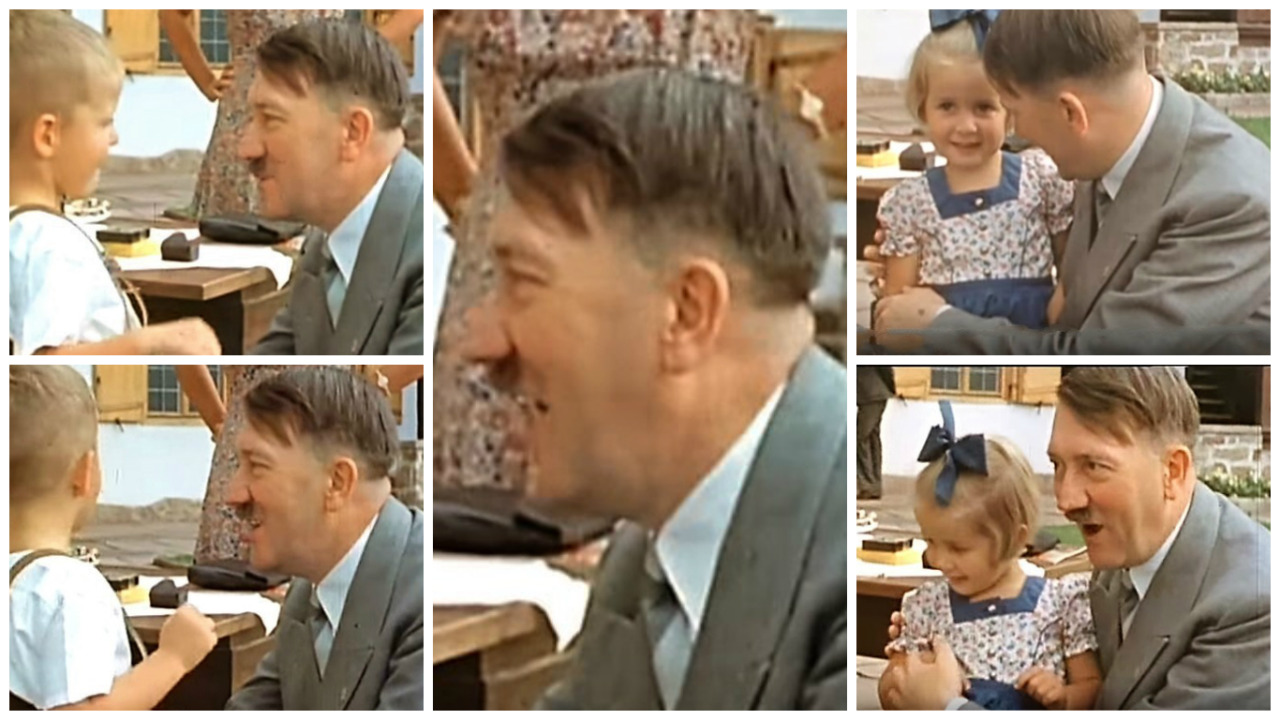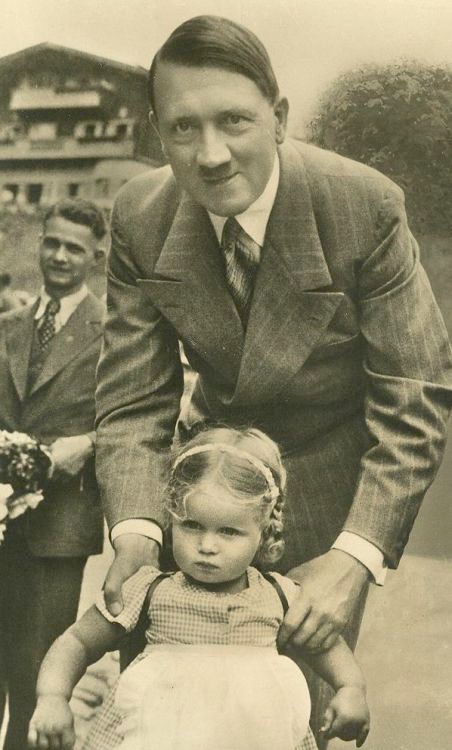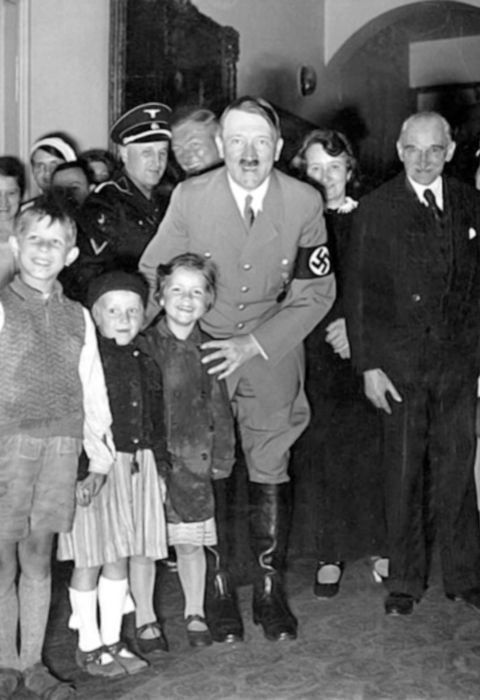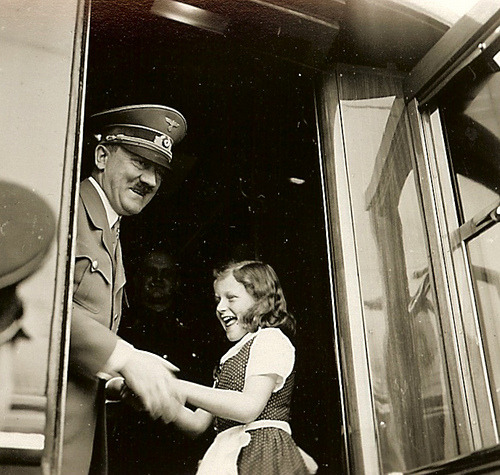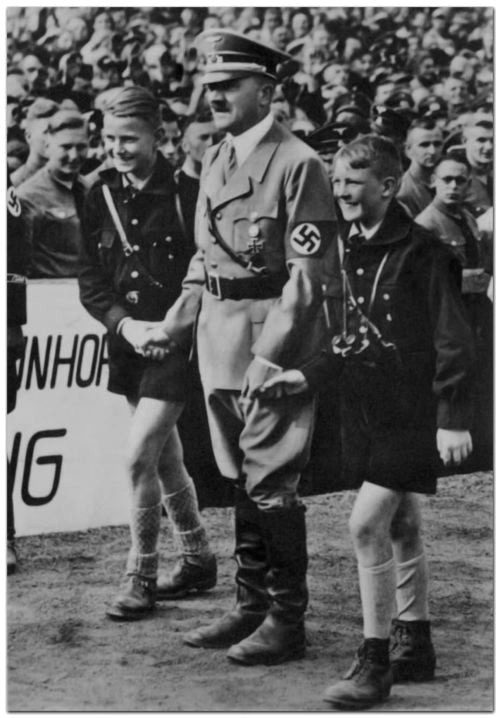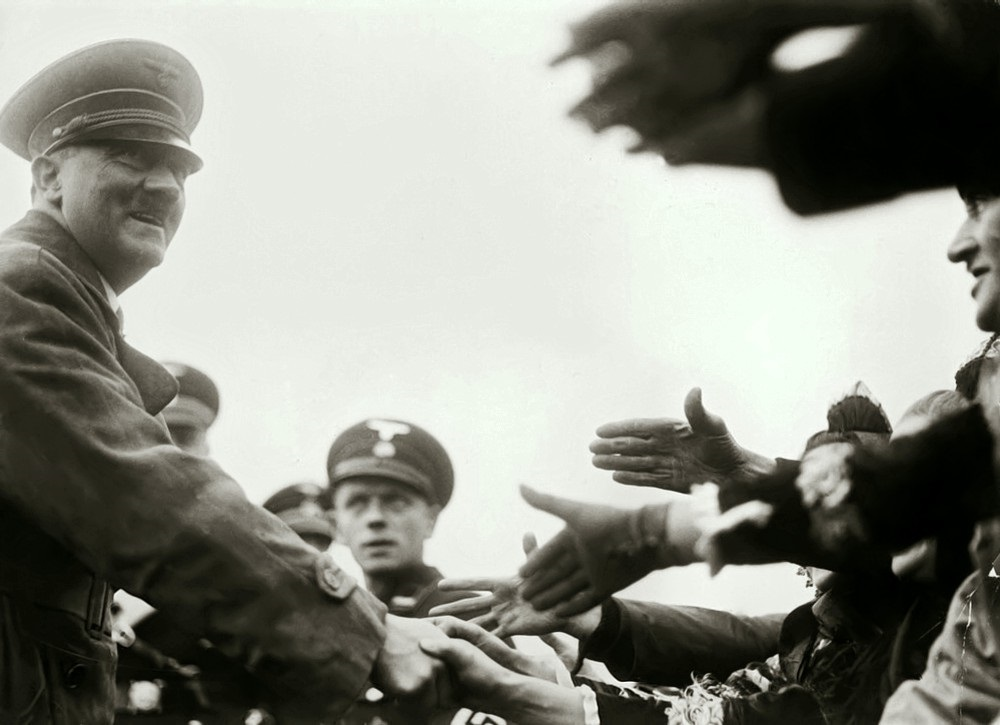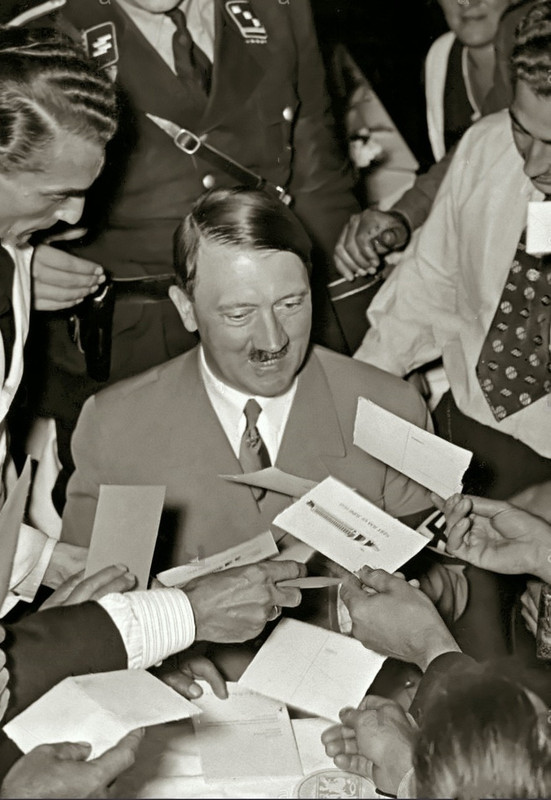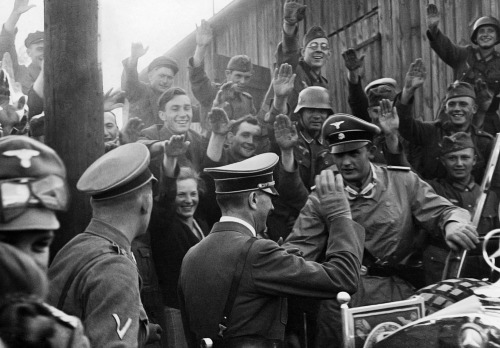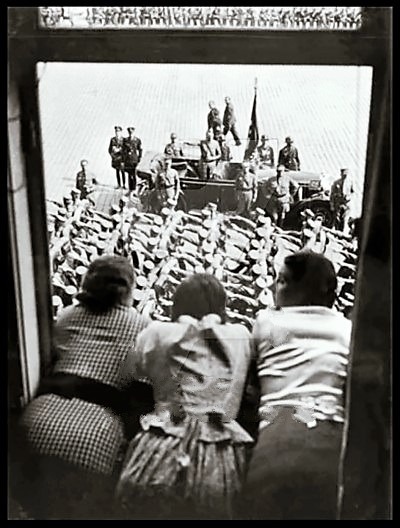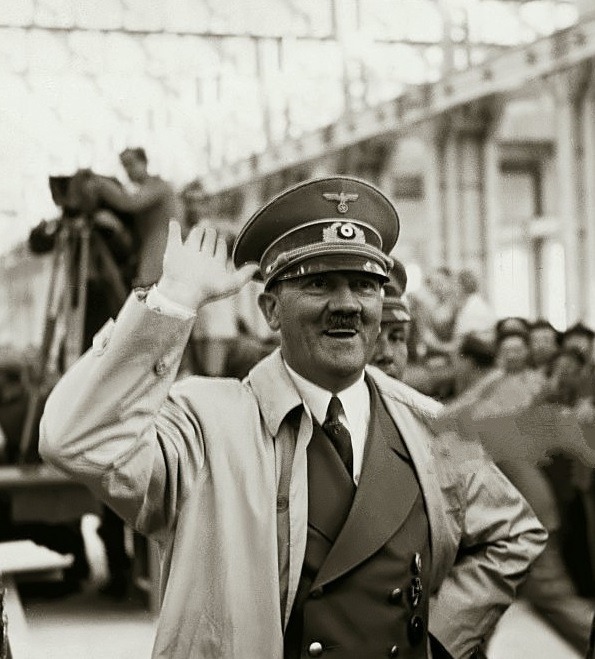 Of the people.
For the people.

.
---
Propositions Moderator
Posts: 8862
Joined: Tue Apr 30, 2013 8:59 am
Contact:
.
Members of the German Luftwaffe on the British island of Jersey, in 1940.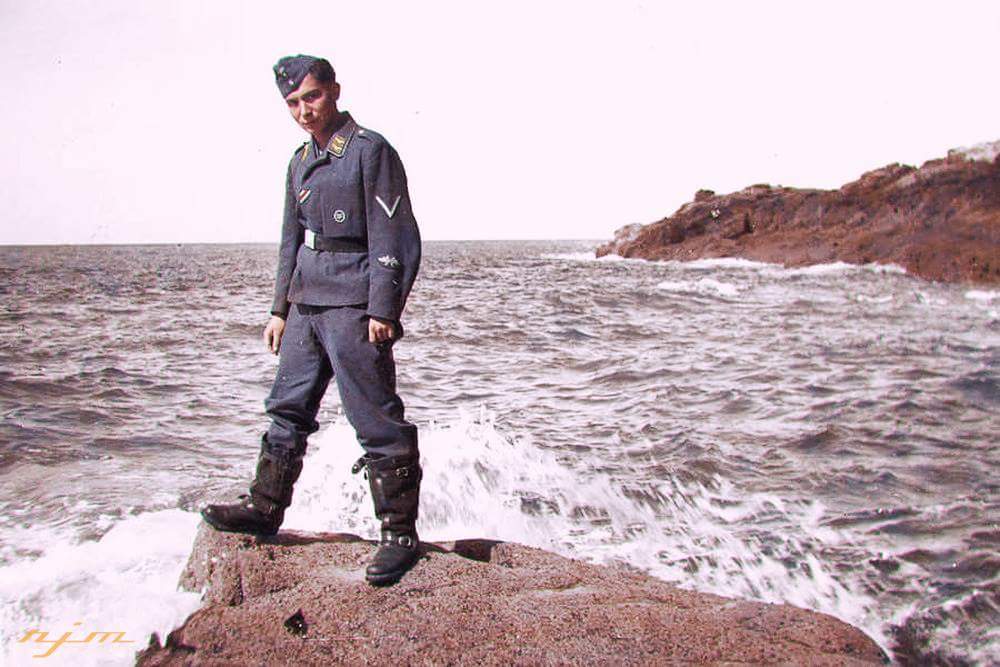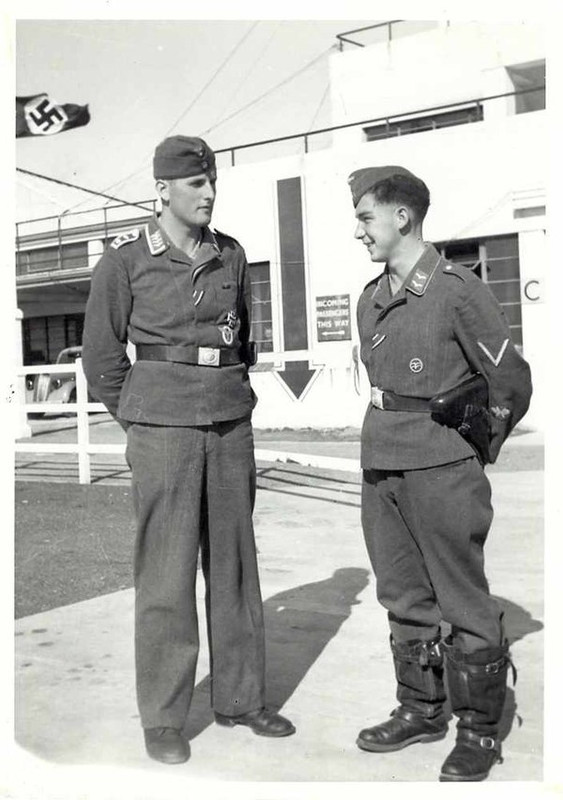 at Jersey airport
with Jersey tomatoes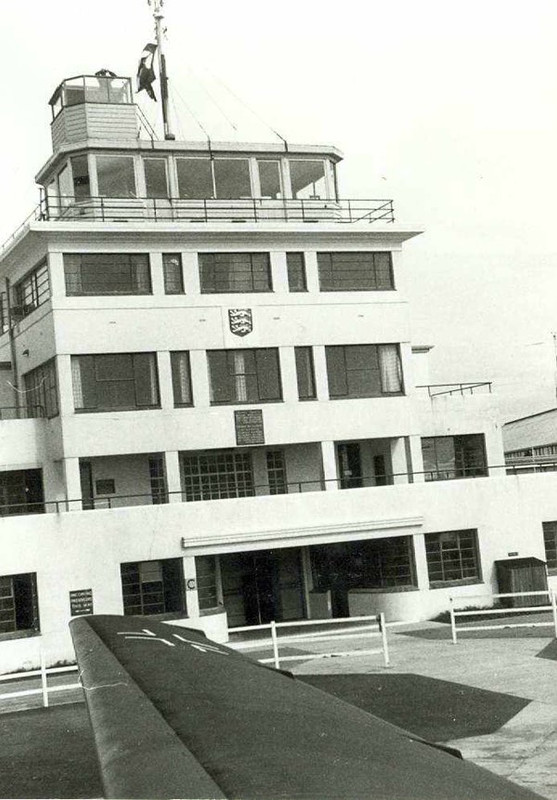 Heinkel wingtip at Jersey airport
Heinkel bombers flying low over the Channel Islands
"When people who are honestly mistaken learn the truth,
they either cease being mistaken
or they cease being honest"
-- Anonymous
---
Propositions Moderator
Posts: 8862
Joined: Tue Apr 30, 2013 8:59 am
Contact: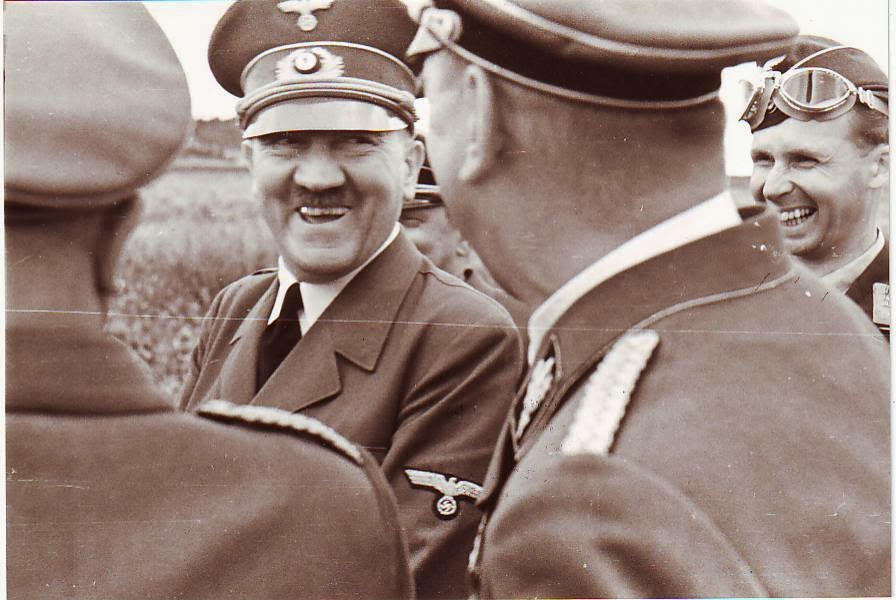 There are very few photos that show Hitler's teeth. From the few that exist showing his teeth with him smiling it appears that he had a damaged left-front tooth. The recent 'news' about confirmation of the teeth and skull fragments kept in Russia confirm this.
It's well-documented that the Nazi leader had bad teeth and gum disease (which led to bad breath in the last years of his life); by the end, he had ...a complicated set of bridges and dentures. That, according to the forensic team, made ID'ing his jawbone relatively simple. The teeth appear to match X-rays taken of Hitler in 1944 and descriptions provided to the Soviets by Hitler's dentist and his dental assistant.

https://www.smithsonianmag.com/smart-ne ... died-1945-
http://historian-at-large.blogspot.com/ ... tator.html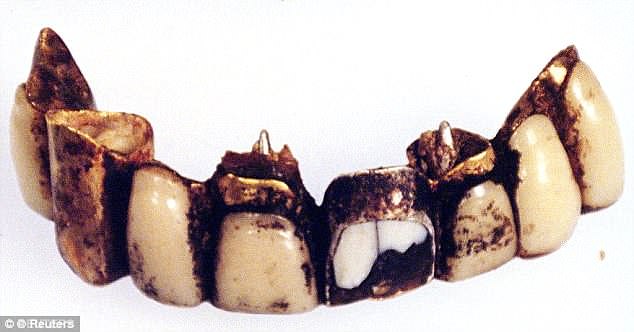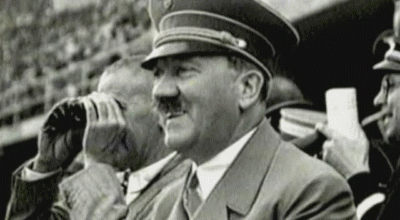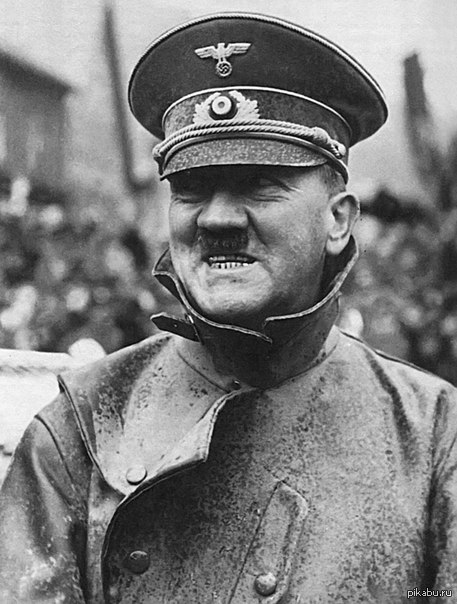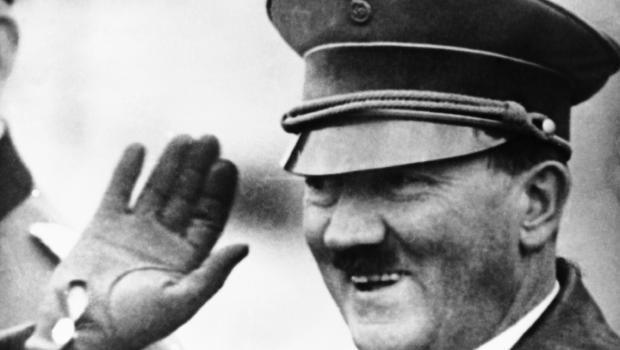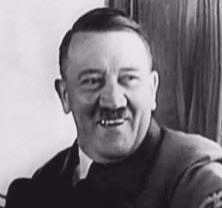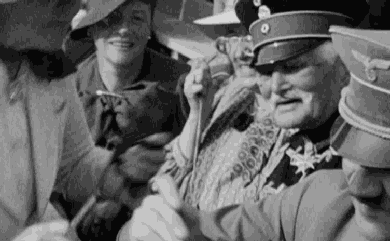 ---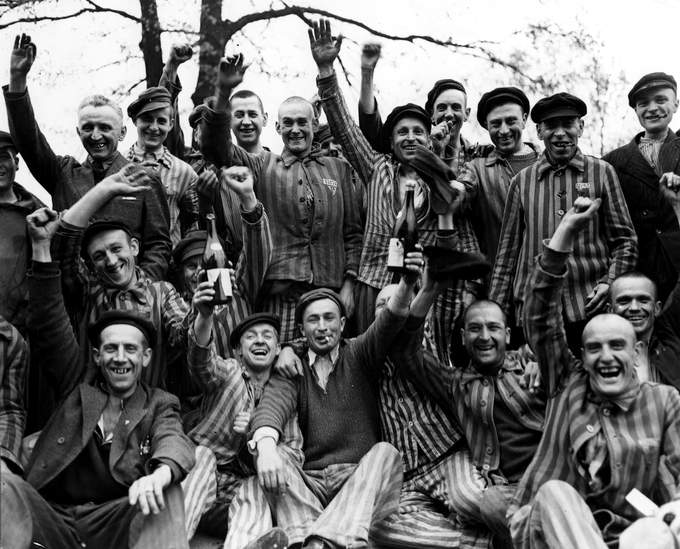 Taken in Buchenwald just after its liberation by the photographer

Margaret Bourke-White

, this image is so powerful not just because it shows the pure joy of liberation, but because it turns these men who we have almost turned into mythic creatures into normal folks.
Wenn wir die Flagge, die wir aus dem Nichts gerissen haben, nicht halten können, müssen Sie, meine Söhne und Töchter, greifendie Fahne in deiner Faust...Führer der NSDAP Adolf Hitler
---
Boycott Nazi Germany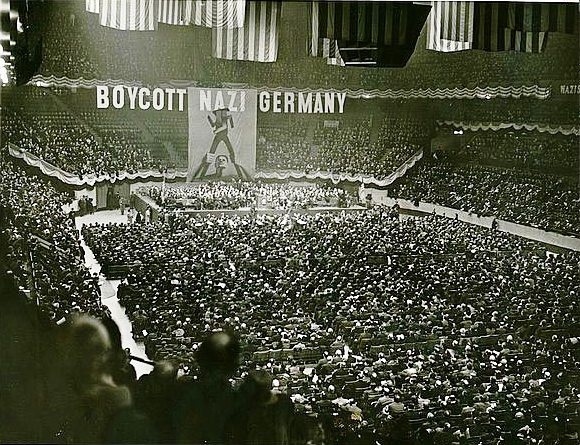 For some reason, we don't usually hear about American Jewry during World War II, so you may be heartened to know that in 1933, American Jews organized a nation-wide boycott of Nazi-Germany. Such a show of support, in so united a way is displayed beautifully in this picture from a rally in 1937. These Juden declared war on the Reich and now complain they were put into detention centres.
Wenn wir die Flagge, die wir aus dem Nichts gerissen haben, nicht halten können, müssen Sie, meine Söhne und Töchter, greifendie Fahne in deiner Faust...Führer der NSDAP Adolf Hitler
---
Propositions Moderator
Posts: 8862
Joined: Tue Apr 30, 2013 8:59 am
Contact:
---
Propositions Moderator
Posts: 8862
Joined: Tue Apr 30, 2013 8:59 am
Contact:
Summer of 1941
Operation Barbarossa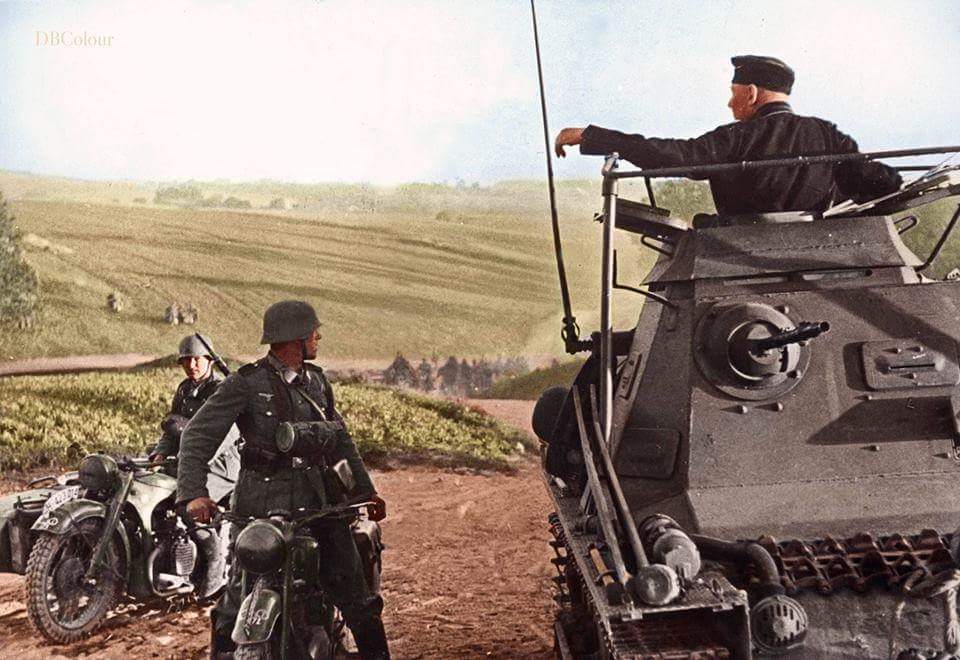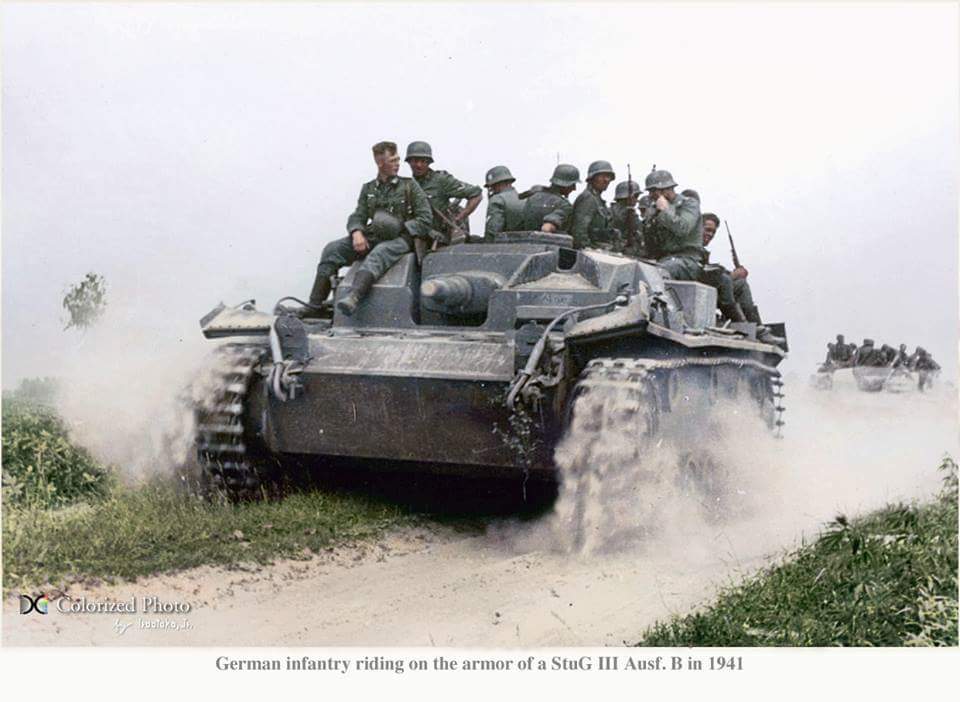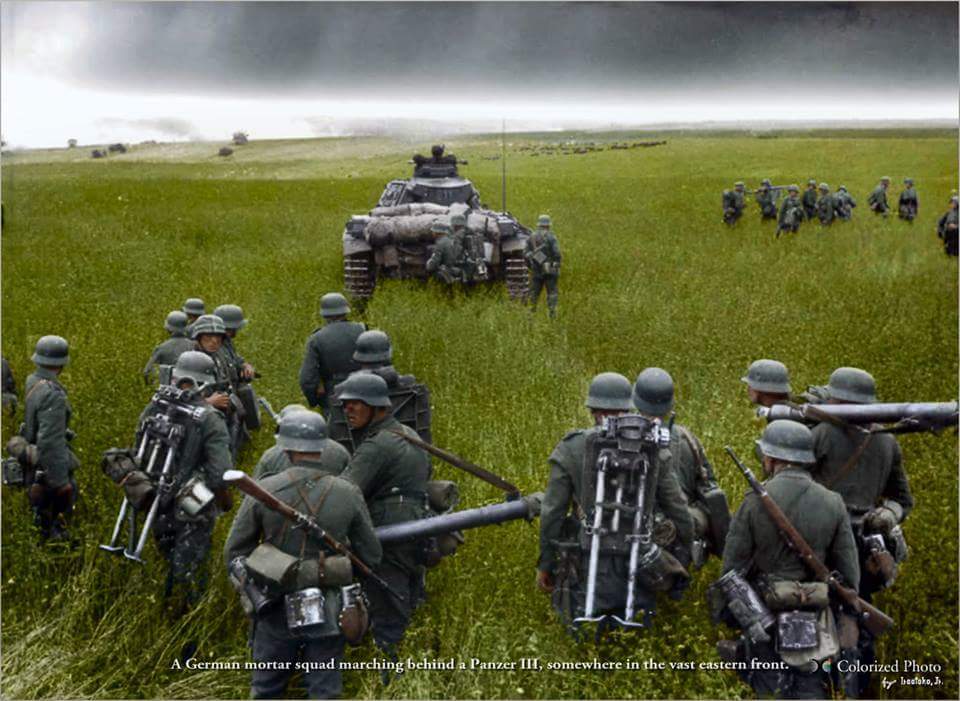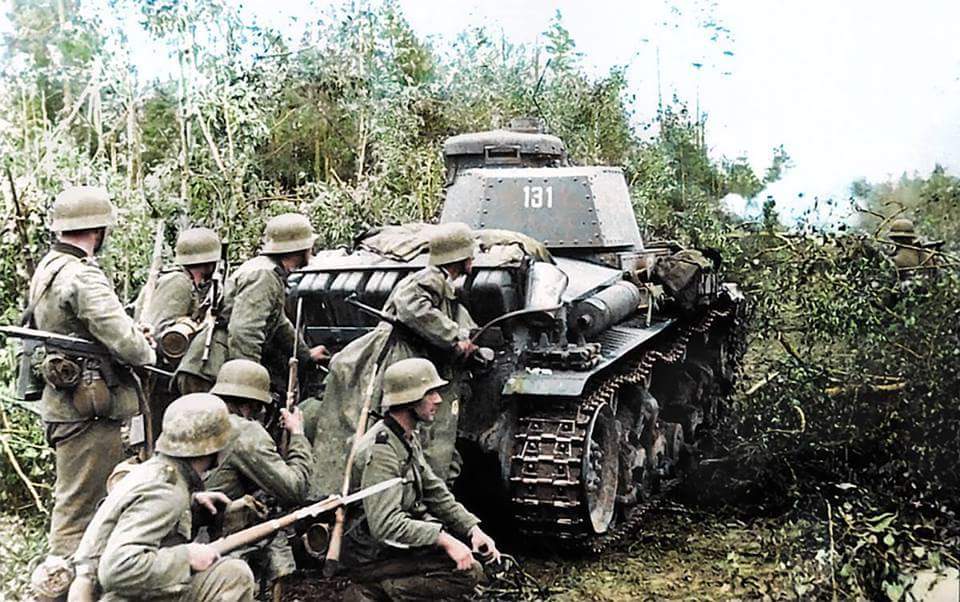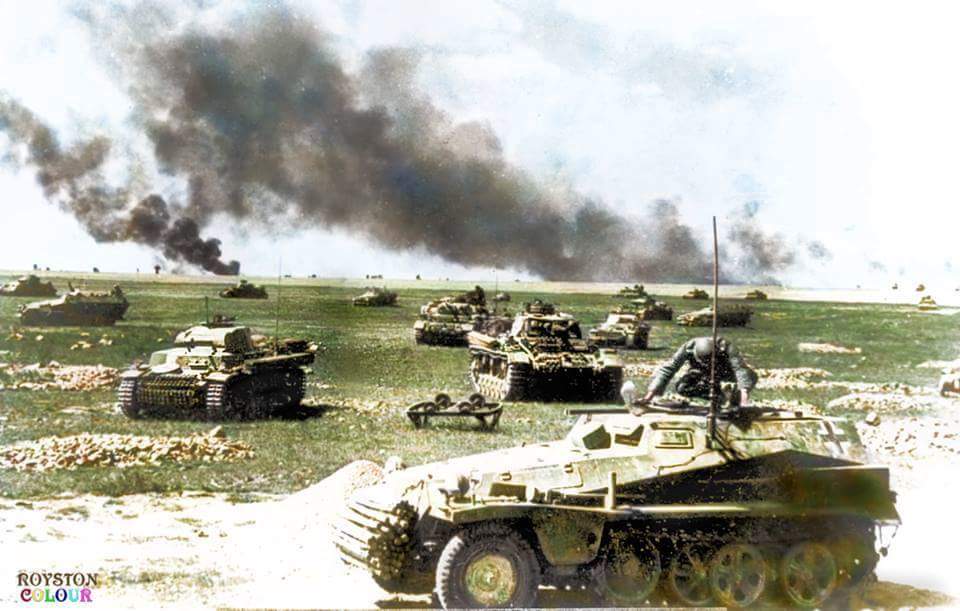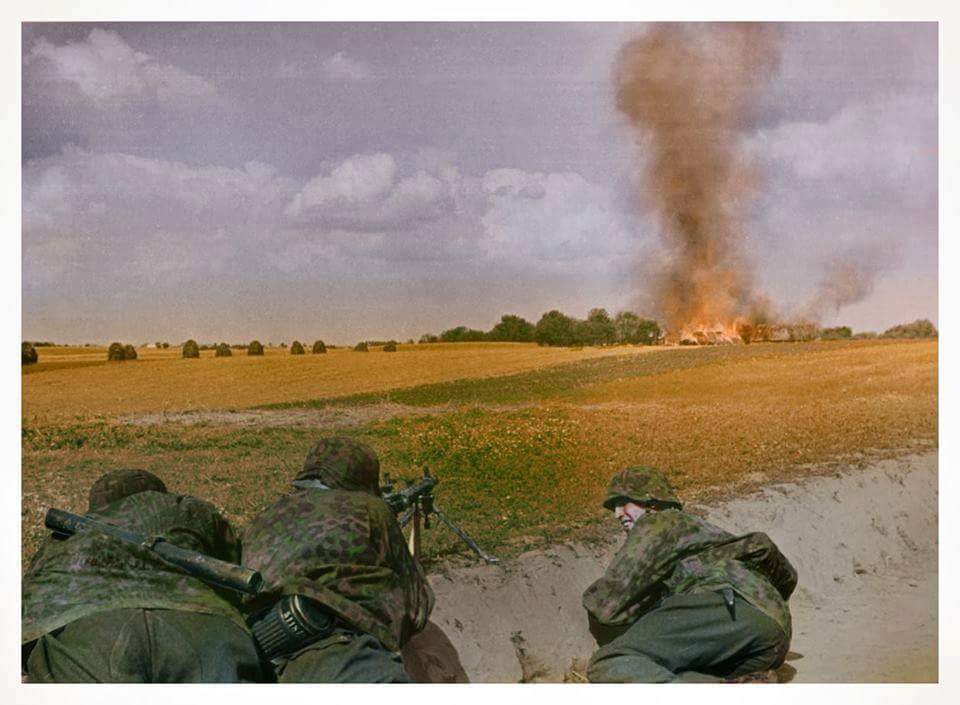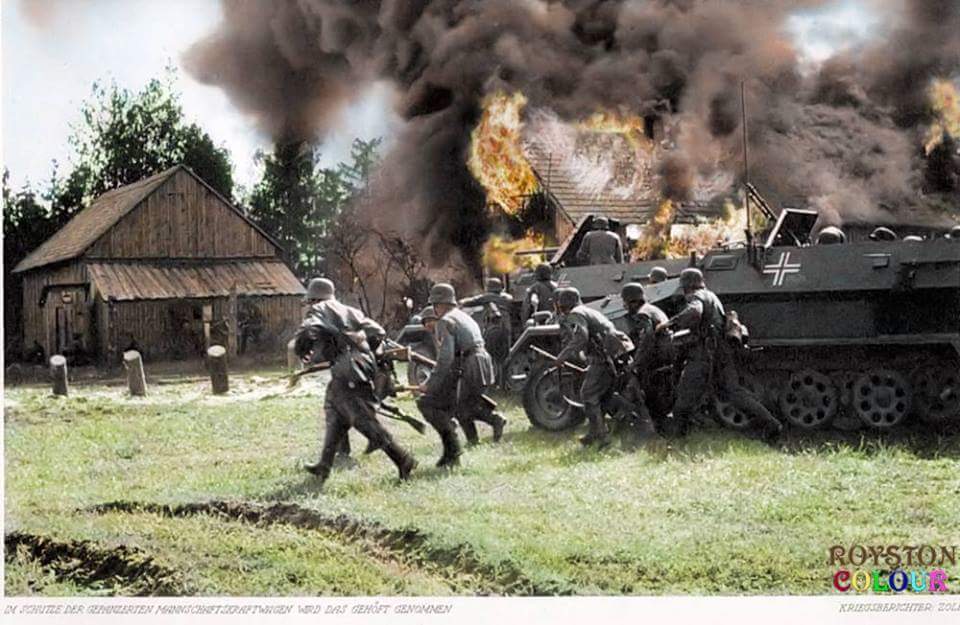 ---
Propositions Moderator
Posts: 8862
Joined: Tue Apr 30, 2013 8:59 am
Contact:
.
General Hasso von Manteuffel
(14th January 1897 – 24th September 1978)
On 1 September 1944, Manteuffel was promoted to General of Panzer Troops and given command of the 5th Panzer Army on the Western Front, which took part in the Ardennes Offensive. Manteuffel's 5th Panzer Army achieved one of the deepest penetrations of Allied lines during the offensive, almost reaching the Meuse River, and engaging the U.S. forces at the Battle of Bastogne. On 10 March 1945 Manteuffel was made the commander of the 3rd Panzer Army on the Eastern Front, attached to Army Group Vistula. His army was assigned to defend the banks of the Oder River north of the Seelow Heights. On 25 April the Soviet 2nd Belorussian Front broke through Third Panzer Army's line, forcing a German retreat. On 3 May 1945 Manteuffel surrendered his troops to the British Army at Hagenow, Germany.

Post-war
At first Manteuffel was interned at the British-administered Island Farm Special Camp 11 for high-ranking Wehrmacht officers. In 1946 he was handed over to the Americans and took part in the U.S. Army Historical Division project, for which he produced a monograph on the mobile warfare aspect of the Ardennes Offensive.

After his release in December 1946, he entered politics and was a representative of the Free Democratic Party of Germany (FDP) in the German Bundestag from 1953 to 1957. In 1957 he joined the German Party. In the early 1950s Manteuffel advised on the redevelopment of the Bundeswehr.

Manteuffel was charged in 1959 for having a deserter shot in 1944. He was convicted and sentenced to two years in prison. In 1968 he lectured at the United States Military Academy at West Point, speaking about combat in deep snow conditions and worked as a technical adviser on war films. Manteuffel died in 1978.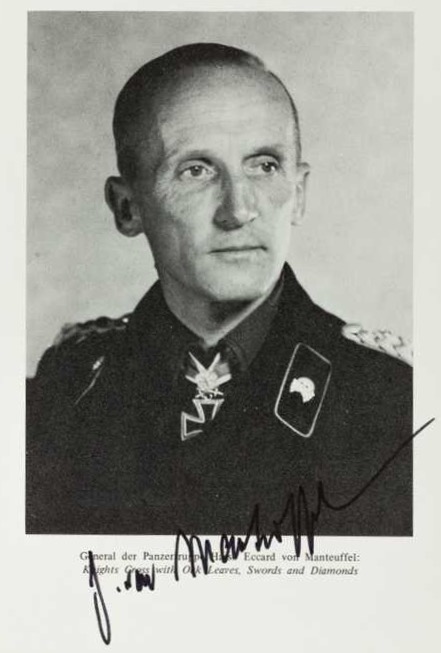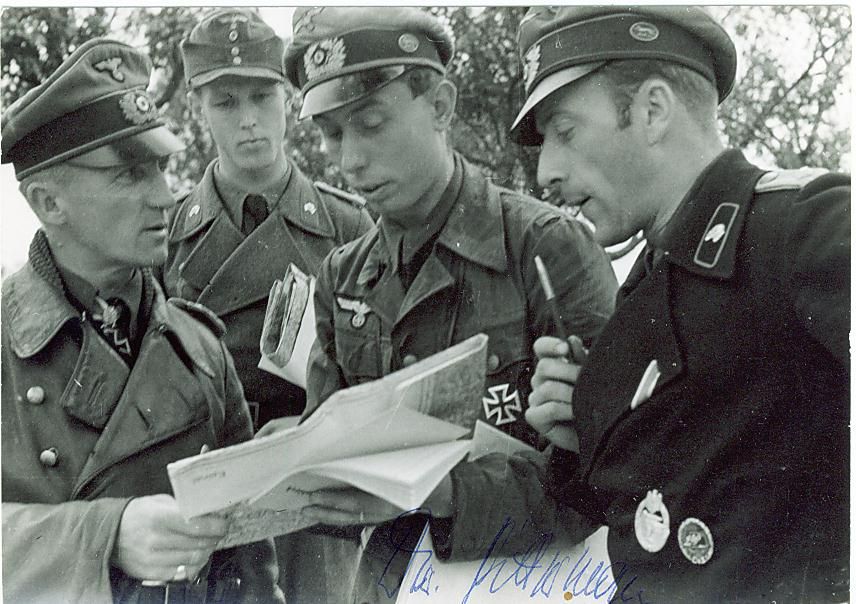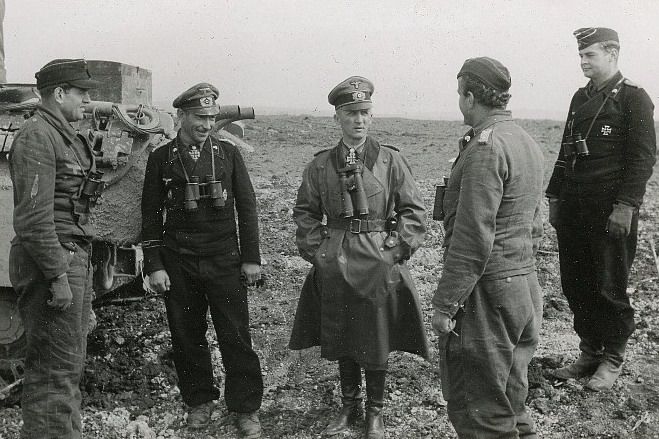 THE SECOND ARDENNES STROKE
In the dark, foggy morning of December 6th, 1944, the German Army struck in the Ardennes. The blow came as a shock to the Allies, for some of their highest commanders had been confidently saying that the Germans would never be capable of another offensive. It soon became a greater shock, for the blow burst through the American front in the Ardennes and threatened to sever the Allied armies. Alarm spread behind the front, and was worse still in the Allied capitals. It was like a nightmare. Fears were voiced that the Germans might reach the Channel coast, and produce a second Dunkirk.
It was Hitler's last big gamble... The decision was entirely Hitler's own, and so was the strategic plan. It would have been a brilliant brain-wave had he still possessed the forces and resources to give it a fair chance of success in the end. That it gained a startling initial success was largely due to tactics suggested by the young
General von Manteuffel
— an army commander at forty-seven — who persuaded Hitler to adopt them. Hitler [had little confidence in] the arguments of the older generals, whom he distrusted, but he had a very different attitude towards newer men and ideas. He regarded Manteuffel as one of his discoveries.
Manteuffel was a professional soldier of the younger school, and an aristocrat. A man of quiet dignity... he was also a dynamic exponent of new methods. Within a year he had risen from command of a panzer division to command of an Army. Besides being the designer of the tactics of the Ardennes offensive, it was his thrust that proved by far the most threatening feature. For these reasons I give the story largely in his words, checked and supplemented by evidence gathered from other sources.
Manteuffel is keenly professional enough to enjoy "fighting his battles over again in discussion", while philosophical enough not to dwell disproportionately on how things went wrong. He has a pleasant vein of humour, too. It survived the hard conditions of the camp where the generals were then confined, as well as the strain of anxiety which all of them felt about the fate of their families, and whether they would ever see them again.
That cheerless camp deep in a remote mountain valley was depressing enough, even without the barbed wire, to induce claustrophobia. Visiting it on one of the dreariest of mid-winter days [in 1945], I remarked to Manteuffel that Grizedale was not a pleasing place at such a time of the year, but that it would be better in summer. He replied, with a smile:
"Oh, it might be worse. I expect we shall be spending next winter on a barren island, or else in a ship anchored in mid- Atlantic."
...Manteuffel told me: "When I saw Hitler's orders for the offensive I was astonished to find that these even laid down the method and timing of the attack. The artillery was to open fire at 7.30 a.m., and the infantry assault was to be launched at 11 a.m. Between these hours the Luftwaffe was to bomb headquarters and communications. The armoured divisions were not to strike until the breakthrough had been achieved by the infantry mass. The artillery was spread over the whole front of attack.
"This seemed to me foolish in several respects, so I immediately worked out a different method, and explained it to Model. Model agreed with it, but remarked sarcastically: You'd better argue it out with the Führer.'
I replied: 'All right, I'll do that if you'll come with me.' So on December 2, the two of us went to see Hitler in Berlin.
"I began by saying : 'None of us knows what the weather will be on the day of the attack — are you sure the Luftwaffe can fulfil its part in face of the Allied air superiority?'
I reminded Hitler of two occasions in the Vosges earlier where it had proved quite impossible for the armoured divisions to move in daylight. Then I went on: 'All our artillery will do at 7.30 is to wake the Americans — and they will then have three and a half hours to organize their counter-measures before our assault comes.' I pointed out also, that the mass of the German infantry was not so good as it had been, and was hardly capable of making such a deep penetration as was required, especially in such difficult country. For the American defences consisted of a chain of forward defence posts, with their main line of resistance well behind — and that would be harder to pierce.
"I proposed to Hitler a number of changes. The first was that the assault should be made at 5.30 a.m , under cover of darkness. Of course this would limit the targets for the artillery, but would enable it to concentrate on a number of key targets — such as batteries, ammunition dumps, and headquarters — that had been definitely located.
"Secondly, I proposed to form one 'storm battalion from each infantry division, composed of the most expert officers and men. (I picked the officers myself.) These storm battalions' were to advance in the dark at 5.30, without any covering artillery fire, and penetrate between the Americans' forward defence posts. They would avoid fighting if possible until they had penetrated deep.
"Searchlights, provided by the flak units, were to light the way for the storm troops' advance by projecting their beams on the clouds, to reflect downwards. I had been much impressed by a demonstration of this kind which I had seen shortly beforehand, and felt that it would be the key to a quick penetration before daylight."
After setting forth my alternative proposals to Hitler, I argued that it was not possible to carry out the offensive in any other way if we were to have a reasonable chance of success* I emphasized : * At 4 p.m. it will be dark. So you will only have five hours, after the assault at 11 a.m., in which to achieve the break-through. It is very doubtful if you can do it in the time. If you adopt my idea, you will gain a further five and a half hours for the purpose. Then when darkness comes I can launch the tanks. They will advance during the night, pass through our infantry, and by dawn the next day they will be able to launch their own attack on the main position, along a cleared approach.
According to Manteuffel, Hitler accepted these suggestions without a murmur. That was significant. It would seem that Hitler was willing to listen to suggestions that were made to him by a few generals in whom he had faith — Model was another — but he had an instinctive distrust of most of the senior generals, while his reliance on his own immediate staff was mingled with a realisation that they lacked experience of battle conditions.
"Keitel, Jodl, and Warlimont had never been in the [first world war]. At the same time their lack of fighting experience tended to make them underrate practical difficulties, and encourage Hitler to believe that things could be done that were quite impossible. Hitler would listen to soldiers who had fighting experience, and practical ideas."
AFTERMATH
Manteuffel summed up the last stage of the war in two sentences: "After the Ardennes failure, Hitler started a 'corporal's war' . There were no big plans — only a multitude of piecemeal fights."
He went on: "When I saw the Ardennes offensive was blocked I wanted to carry out a general withdrawal — first to our starting line, and then to the Rhine, but Hitler would not hear of it. He chose to sacrifice the bulk of his main forces in a hopeless struggle on the West bank of the Rhine.
Rundstedt endorsed this verdict. But he also made it clear that, although the German Army's leading exponent of offensive warfare, he had never seen any point in this offensive. "Each step forward in the Ardennes offensive prolonged our flanks more dangerously deep, making them more susceptible to Allied counter-strokes." Rundstedt traced the effect, on the map, as he talked. "I wanted to stop the offensive at an early stage, when it was plain that it could not attain its aim, but Hitler furiously insisted that it must go on. It was Stalingrad No. 2."
The Ardennes offensive carried to the extreme of absurdity the military belief that "attack is the best defence". It proved the "worst defence" — wrecking Germany's chances of any further serious resistance.
. . . . . .
The way in which Manteuffel attracted Hitler's notice is also illuminating. In August, 1943* he had been given command of the 7th Armoured Division — which Rommel had led in 1940. It was in Manstein's Army Group.
That autumn the Russians surged over the Dnieper and captured Kiev, then rolled on rapidly west towards the Polish frontier. Manstein had no formed reserve left to meet this fresh crisis, but charged Manteuffel with the task of collecting such odd units as he could find for an improvised counter-stroke. Manteuffel broke in behind the rear of the advancing Russians, ejected them from Zhitomir junction by a night attack, and drove on north to recapture Korosten. By dividing his meagre forces into a number of small mobile groups Manteuffel created an impression out of proportion to his strength, and the sudden riposte brought the Russian advance to a halt.
After that, Manteuffel further developed this method of penetrating raids that cut in between the Russian columns and struck at them from the rear. "It was handicapped by the Russians lack of dependence on a normal system of supply — I never met any supply columns on these 'interior 5 raids — but I caught staff and signal centres besides striking bodies of troops in the back. These penetrating raids proved very effective in spreading confusion. Of course, for operations of this kind an armoured division must be self-contained for supplies, carrying with it what it needs, so as to be free from dependence on communications during the whole course of the operation."
Hitler was delighted with the new method, and eager to hear more about it. So he sent an invitation for Manteuffel and the commander of his tank regiment, Colonel Schultz, to spend Christmas at his headquarters near Angerburg, in East Prussia. After congratulating Manteuffel, Hitler said: "As a Christmas present, I'll give you fifty tanks."
Early in 1944 Manteuffel was given command of a specially reinforced division, the "Gross-Deutschland", and with this he was sent to diffeient sectors to check a break-through or to release forces that had been trapped by the Russian tide of advance. In September, after he had cut a way through to the German forces that were hemmed in on the Baltic coast round Riga, he was given a big jump in promotion — to command the 5th Panzer Army, in the West.
Throughout 1944, Manteuffel saw more of Hitler than almost any other commander did, as Hitler frequently summoned him to his headquarters to discuss these emergency missions and to consult him on armoured warfare problems. This close contact enabled Manteuffel to get under the surface that... mesmerised other generals.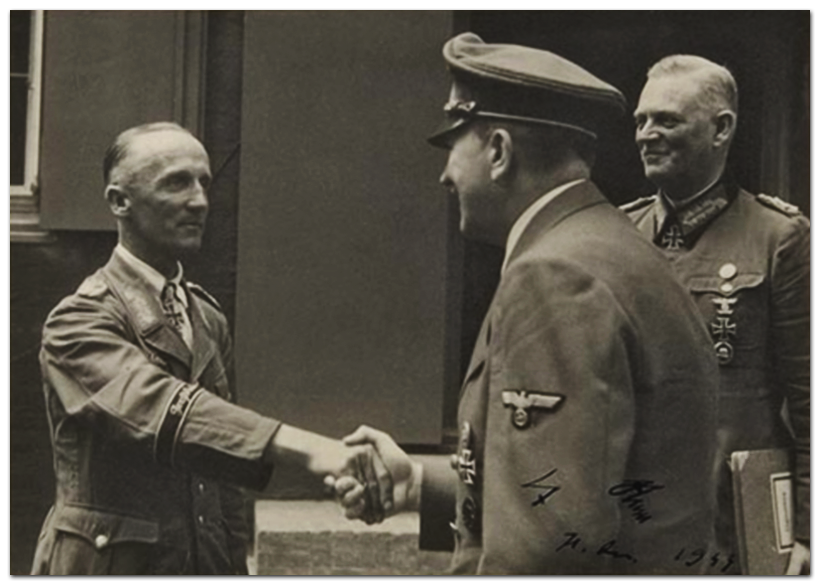 Manteuffel:
"Hitler had a magnetic, and indeed hypnotic personality. This had a very marked effect on people who went to see him with the intention of putting forward their views on any matter. They would begin to argue their point, but would gradually find themselves succumbing to his personality, and in the end would often agree to the opposite of what they intended. For my part, having come to know Hitler well in the last stages of the war* I had learned how to keep him to the point, and maintain my own argument. I did not feel afraid of Hitler, as so many were. He often called me to his headquarters for consultation, after that Christmastide I had spent at his headquarters by invitation, following the successful stroke at Zhitomir that had attracted his attention.

"Hitler had read a lot of military literature, and was also fond of listening to military lectures. In this way, coupled with his personal experience of the last war as an ordinary soldier, he had gained a very good knowledge of the lower level of warfare — the properties of the different weapons; the effect of ground and weather; the mentality and morale of troops. He was particularly good in gauging how the troops felt. I found that I was hardly ever in disagreement with his view when discussing such matters.
On the other hand he had no idea of the higher strategical and tactical combinations. He had a good grasp of how a single division moved and fought, but he did not understand how armies operated."
SOURCE: 'The other side of the hill' by Basil Liddel-Hart. Pgs 283-305
---
Propositions Moderator
Posts: 8862
Joined: Tue Apr 30, 2013 8:59 am
Contact:
"When people who are honestly mistaken learn the truth,
they either cease being mistaken
or they cease being honest"
-- Anonymous
---
Users browsing this forum: No registered users and 4 guests