Posts: 3436
Joined: 15 Jun 2012, 20:53
Contact:
Kitty Hart-Moxon (1998): "Believe me, I came into Auschwitz in a much worse condition than I actually left it."
Posts: 10458
Joined: 30 Apr 2013, 08:59
https://youtu.be/KKxj3DEuk-c
Pathé news with fake sound added recently.
It shows Soviet civilians greeting the Wehrmach German soldiers as welcomed heroes.
Posts: 10458
Joined: 30 Apr 2013, 08:59
.
FRANZ GRASSER
(26.3.1911 — 13.11.1944)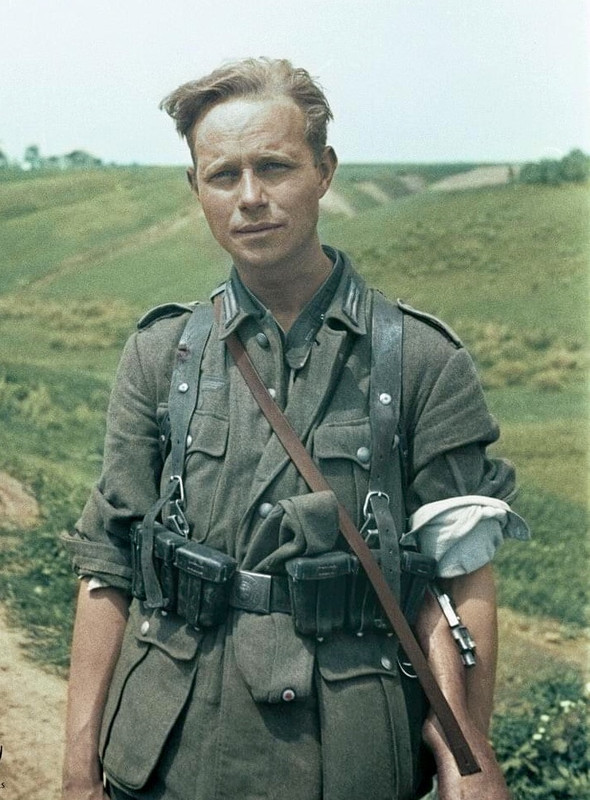 Below are two accounts of this German photographer, some of whose photography can be seen
here
...
Franz Grasser was born in Bad Wörishofen, Bavaria 1911 and learned photography from his uncle who owned a photo and souvenir shop in St. Moritz, Switzerland. In 1936, he got a job as a travel photographer which gave him the opportunity to travel around the world and photograph a diverse range of landscape, people, cultures.

Grasser was later conscripted into the Wehrmacht in 1942 and was sent to the Netherlands and, later to Ukraine in 1943, always with his camera close by. In 1944 he was taken prisoner and sent to a POW camp located in Novorossiysk, he would later die there in November 1944, Age 32.
Franz was a photographer before the war and his war-period photography is particularly poignant.

Conscripted in 1942, during his service with the Webrmacht (German Army) he continued to take photos, leaving us an extensive collection of documents in black-and-white and AGFA colour.
He avoided merely shooting scenarios of death and destruction, and instead his photos focused mainly on his companions and the wide landscapes of southern Soviet Union and its people.

When his division (the 376th Inf. Div.) was destroyed in southern Ukraine in August 1944 he was declared MIA (missing in action). The German War Grave Commission has him listed as deceased in Soviet captivity near Novorossiysk on November 13, 1944.

Original: Deutsche Fotothek
Colour by: In Colore Veritas
Posts: 10458
Joined: 30 Apr 2013, 08:59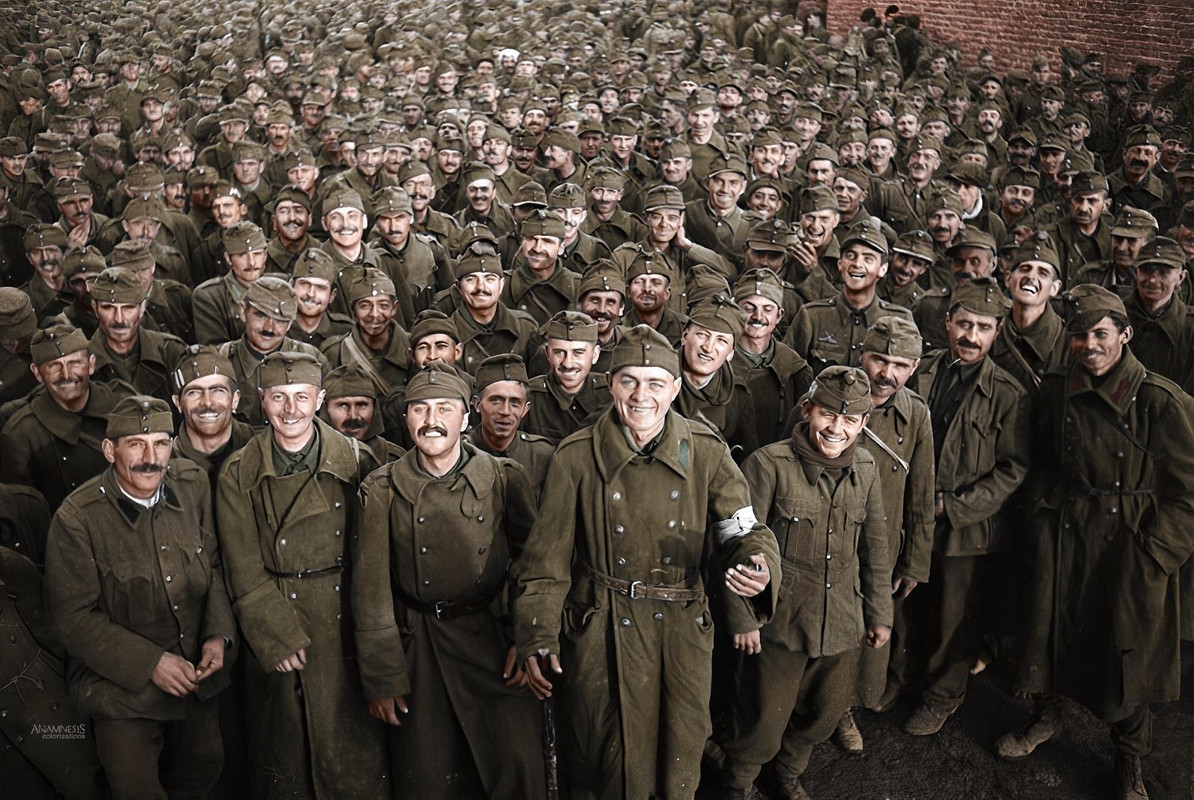 Hungarian prisoners of war after their capture by Soviet troops (possibly during the siege of Budapest) in 1944.
Colourised by Ana-Maria Anamnesiss
Posts: 10458
Joined: 30 Apr 2013, 08:59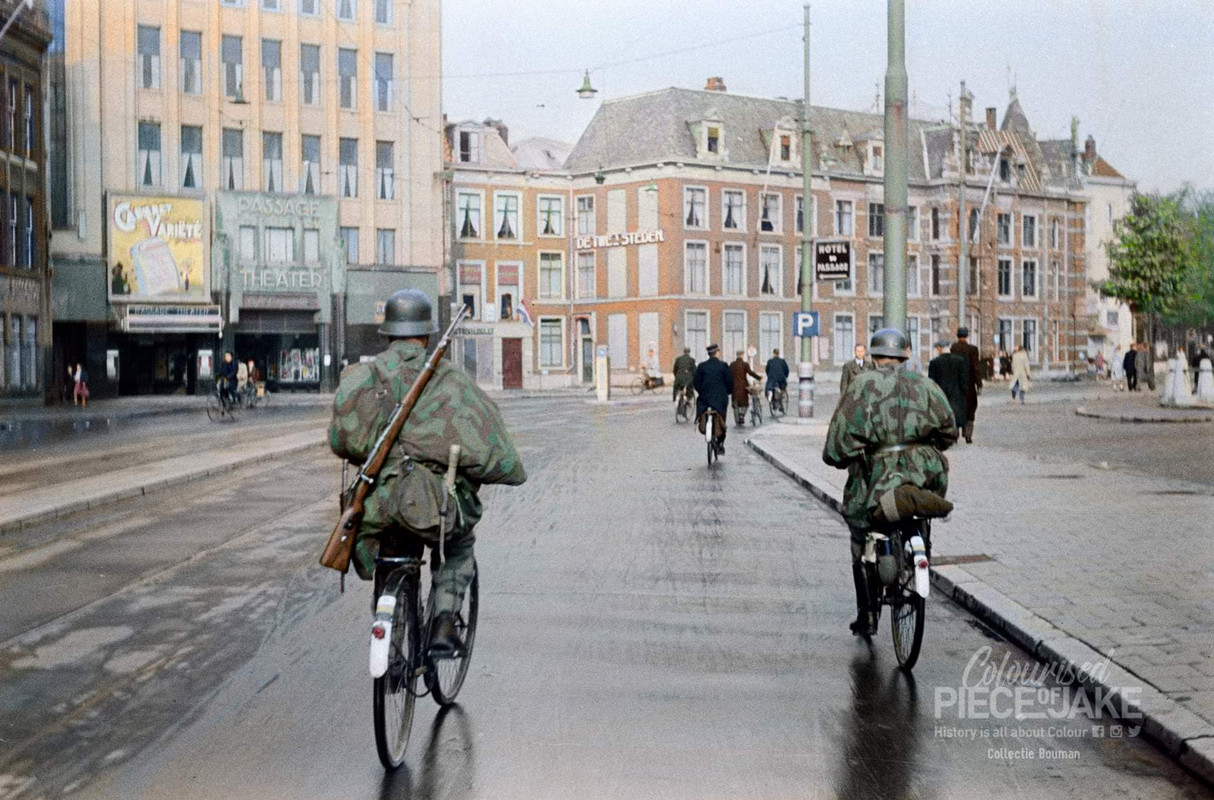 Two Wehrmacht soldiers on bicycles in the Hague, Netherlands.
Posts: 10458
Joined: 30 Apr 2013, 08:59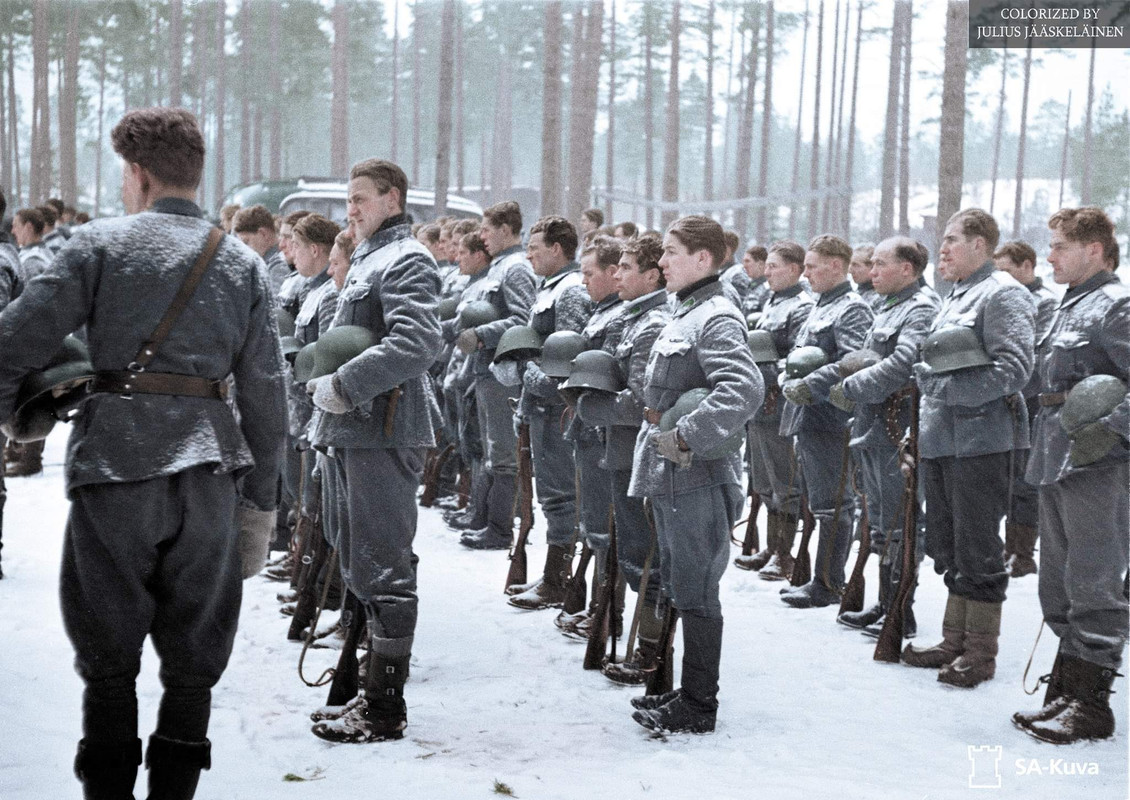 Members of the Swedish Volunteer Battalion during the Finnish Independence Day ceremony
on the newly liberated Hanko Peninsula, Finland, 6th December 1941.
"When people who are honestly mistaken learn the truth,
they either cease being mistaken
or they cease being honest"
-- Anonymous
Posts: 10458
Joined: 30 Apr 2013, 08:59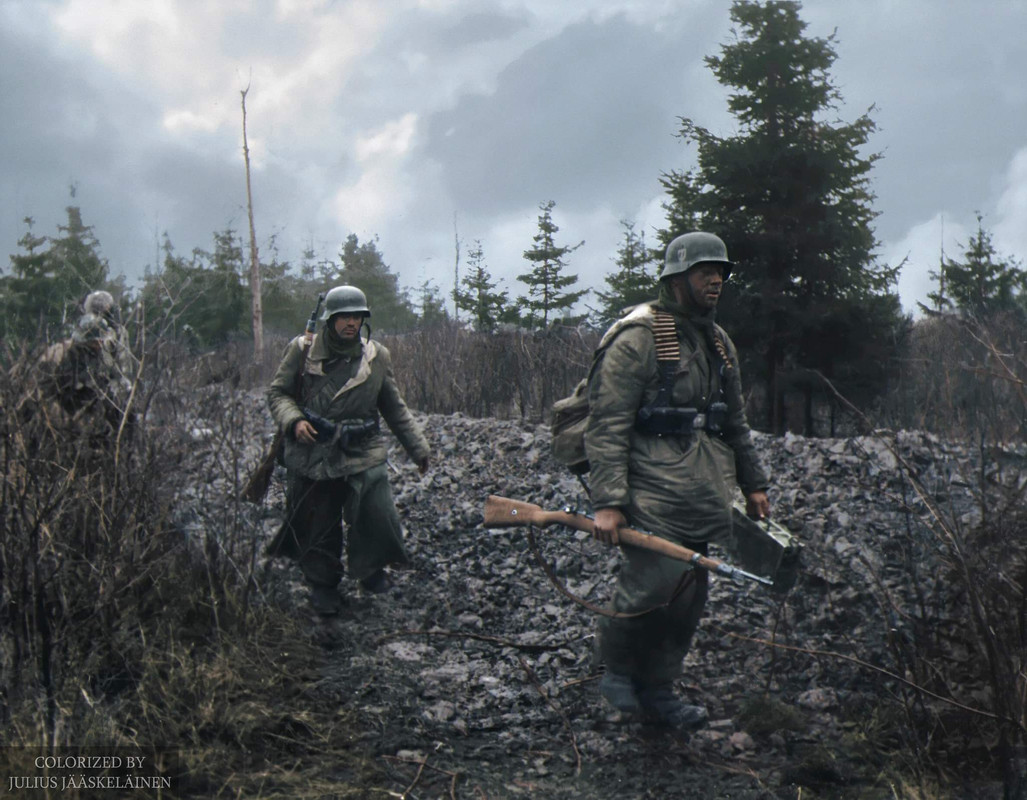 German Grenadiers during the 4th defence of the
Smolensk Rollbahn
, 17th December 1943 after the second Battle of Smolensk (7 August–2 October 1943).
Rollbahn
is a German word used during the war to describe key routes designated by the German army.
The second Battle of Smolensk was a Soviet strategic offensive operation conducted by the Red Army as part of the Summer-Autumn Campaign of 1943. Staged almost simultaneously with the Lower Dnieper Offensive (13 August – 22 September). Its goal was to clear the German presence from the Smolensk and Bryansk regions.
Despite an impressive German defence, the Red Army was able to stage several breakthroughs, liberating several major cities, including Smolensk and Roslavl. As a result of this operation, the Red Army was able to start planning for the liberation of Belarus. However, the overall advance was quite modest and slow in the face of heavy German resistance, and the operation was therefore accomplished in three stages: 7th–20th August, 21st August – 6th September, and 7h September – 2nd October.
Posts: 10458
Joined: 30 Apr 2013, 08:59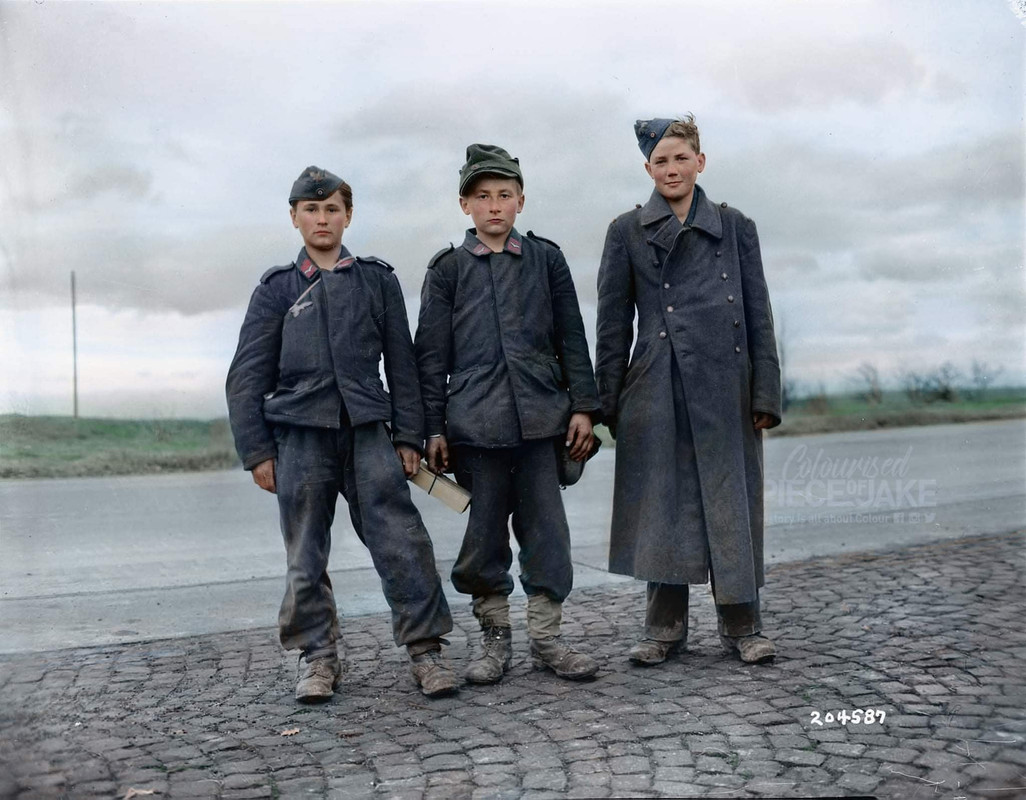 February 15th, 1943.
Boys aged 15 and over are deployed to help operate flak positions, to deter the Allied pilots and crews flying bomber-raids over Germany from their mass-murder and terrorising of German civilians.
Posts: 10458
Joined: 30 Apr 2013, 08:59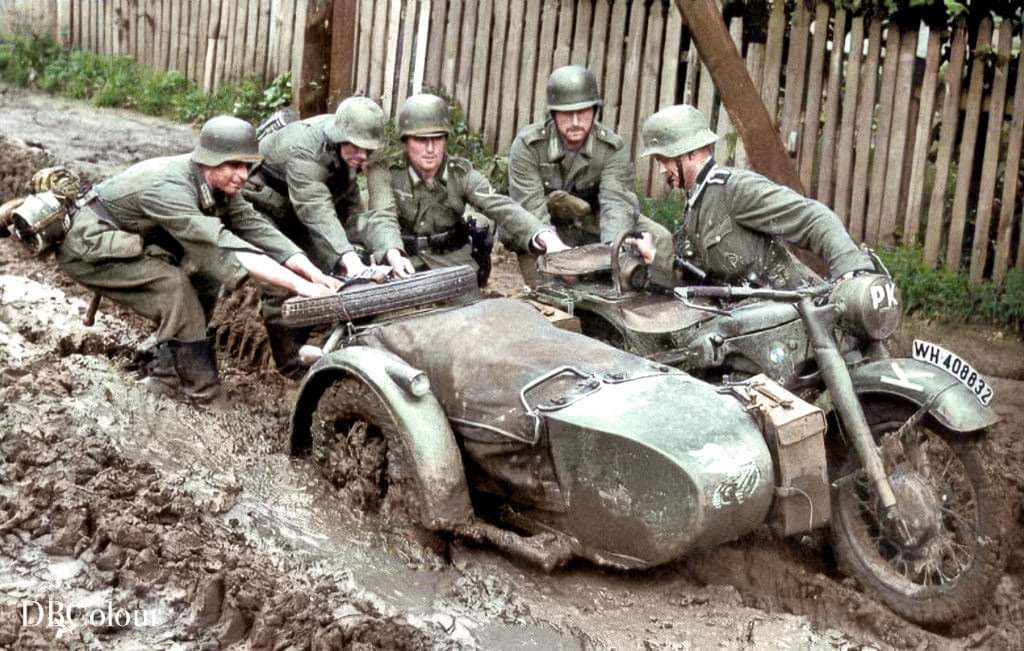 Stuck in some mud, somewhere in Ukraine, in 1941
Posts: 10458
Joined: 30 Apr 2013, 08:59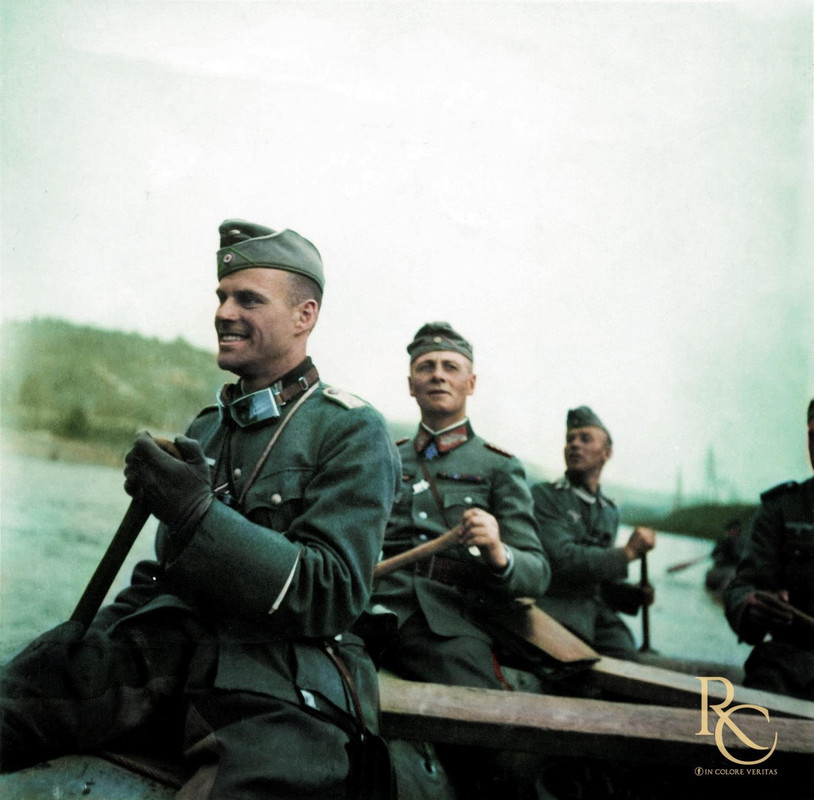 Belgium, May of 1940. 81 years ago today, Rommel paddles across the river Meuse.
After tough combat, elements of the 5th and 7th Panzer Divisions had finally managed to establish a foothold on the west bank of the river. Their position was still precarious but reinforcements were slowly making the cross. The last great physical barrier to the German panzers was about to be conquered.
About those crucial moments, Rommel later wrote:
Erwin Rommel wrote:"I drove back along the Meuse to Leffe (a village on the outskirts of Dinant) to get the crossing moving there. (…)We left the signals vehicle for the time being at a point some 500 yards east of the river and went forward on foot through deserted farms toward the Meuse. In Leffe we found a number of rubber boats, all more or less badly damaged by enemy fire, lying in the street where our men had left them. Eventually, after being bombed on the way by our own aircraft, we arrived at the river.
(…)The firing in the Meuse valley had ceased for the moment and we moved off to the right through some houses to the crossing point proper.
(…)I now took over personal command of the 2. Bataillon of Schutz.Rgt. 7 and for some time directed operations myself. With Leutnant Most I crossed the Meuse in one of the first boats and at once joined the company which had been across since early morning. (…)I then moved up north along a deep gully to Kompanie Enkefort. As we arrived an alarm came in: "Enemy tanks in front". The company had no anti-tank weapons, and I, therefore, gave orders for small arms fire to be opened on the tanks as quickly as possible, whereupon we saw them pull back into a hollow about a thousand yards north-west of Leffe. Large numbers of French stragglers came through the bushes and slowly laid down their arms."

~~ Generalmajor Erwin Rommel, 7. Panzerdivision, 13 May 1940.
from Jean Paul Pallud's "Blitzkrieg in the West: then and now".
Original photo: US National Archives
Coloured by: In Colore Veritas
"When people who are honestly mistaken learn the truth,
they either cease being mistaken
or they cease being honest"
-- Anonymous