Yep. Time for another beheading to be broadcast to the western world. Remember when it was Nick Berg? Turns out he was a Mossad Jew working over in Iraq and CIA killed him and beheaded the corpses in Abu Ghraib prison, but not without putting fake screaming audio on the tape.
http://www.serendipity.li/iraqwar/berg_beheading.htm
The last one before that was Jewish journalist Daniel Pearl. He was beheaded by Islamic forces that weren't loyal to the CIA. Supposedly...Funny how all the beheadings that get broadcast in order to whip up the west into a frenzy and hopefully accept another war on those 'savages', are usually done by forces loyal to or controlled by the CIA-British Intelligence-Mossad axis of evil.
ISIS are Sunni Impostors & Saudi-CIA Shills
August 19, 2014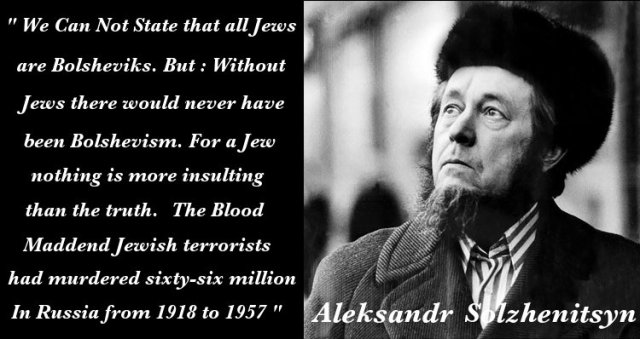 Left. John McCain meets with Caliph Abu Bakr al-Baghdadi, leader of ISIS in Aleppo in April 2013.
http://henrymakow.com/2014/08/ISIS-are- ... rs%20.html
Sherman Skolnick also figured this out. In fact, he is the one who taught.
http://www.rense.com/general20/ver.htm
http://www.conspiracyplanet.com/channel ... 242&page=2
What kills me with this Foley tape is that the beheader speaks English. Reminds me of the fake Obama tapes that were coming out in the first decade of the 2000's. I have seen the video Nick Berg once I read it was faked and I saw a photo still of Danny Pearl's head. I saw another video of a different one in the early 2000's which was also real. Well most of it. I couldn't finish that one. I trust that what I saw was an abridged version on youtube and that a full live action beheading is somewhere on video and therefore Foley is really dead like Pearl, and not faked like Berg.
Fallacy of female who comforted a supposed headless corpse after Woolwich attack
http://theunhivedmind.com/wordpress3/fa ... ch-attack/
THE MI6 CONNECTION TO THE WOOLWICH TERRORIST'S BROTHER
http://theunhivedmind.com/wordpress3/th ... s-brother/
UHM – PAUL JOSEPH WATSON & HIS COUNTER-INTELLIGENCE OPERATION ON EXPOSURE OF WOOLWICH TERRORIST EVENT
http://theunhivedmind.com/UHM/paul-jose ... ist-event/
UHM – WOOLWICH TERROR & THE SOCIAL ENGINEERING STEPPING STONES TO WORLD WAR III **UPDATED WITH VITALLY IMPORTANT DATA
http://theunhivedmind.com/UHM/woolwich- ... d-war-iii/
BUSTED: Foley Beheading done with CPR DOLL

http://www.jimstonefreelance.com/beheadedcprdoll.html

Isis beheading a psy-op – I waited to say anything about this because the Nick Berg video was fake. And this beheading is fake too, COUNT ON IT. The man doing the beheading is speaking with a British accent. That means no journalist lost his head and it is all a show. The related article is linked above, and this would explain why Britain says viewing the video is a terrorist act, because it is FREAKING FAKE. No kidding, British police say watching the video is an act of terrorism and you want to know why? Because it is FAKE AS FRUIT LOOPS.

1. Foley is smiling in parts of the video. 2. The beheader has a British accent. 3. No blood comes out when the beheading starts. 4. It then cuts, and you do not actually get to see the beheading. 5. When the video returns, you see a headless body.

Bottom line, THERE IS NO BEHEADING VIDEO and that is exactly why, in Britain, trying to watch the video is a "terrorist act". The video is such a terrible fake those who fronted it are terrified of having people watch it. They just want you to believe, while never having seen it.

You can watch this HERE, and you can ignore the gore warning, there really is no blood when the beheading starts and it just cuts to an obvious fake, with a perfectly clean cut head sitting on the body with a little fake blood and no spatters on the sand anywhere.

UPDATE: – A couple more points -

Don wrote:

Jim,

I don't know if you noticed, but look at that Foley mannequin, the forearms, as in NO HAIR. If not a dummy, then either he or his "captors" shaved the hair off his forearms, LOL. Looking at the exposed "skin" of his right leg, looking at how shiny it looks, it definitely looks plastic to me. Does the video show more of the exposed "skin" of his body that gives a clue? I'd look there. Thanks.

admin 10:55AM

What I noticed most is the fact that the face color does not match the dummy. IF he was in the sun enough to get his face tanned, at least his hands should match. SO, what happened here is a silicone head was made or selected to match his face, (a simple task for Hollywood) and they got the skin tone right. But they used a generic CPR dummy for the body and that was a huge screw up. The only reason why I am saying CPR dummy rather than store dummy is because the CPR dummies are made to be like a real body and designed to flop around and have the weight and characteristics of a real unconscious body. This would make it possible to handcuff the hands in a natural position, but the hairless and color mis matched silicone is OBVIOUS, and the head mount is OBVIOUS, and the lack of any blood spatters away from where it was poured from a container is OBVIOUS, No wonder why the British police declared it an "act of terror" to watch the beheading video. With fakery that obvious the scammers who pulled this one had a LOT TO FEAR.
And also
from The Unhived Mind
:
theunhivedmind says:

August 22, 2014 at 9:53 am

First of all I suggest you go back to the so-called beheading of Lee Rigby and see how that was all a giant psy-op event no different to this one. Now who in their right mind would attempt to chop off a head with a little useless knife like this? It is no wonder New Venice (Britain) don't want Britons watching this garbage as they know many wouldn't fall for such fakery since Britons are generally more awake than the intended target audience being citizens of the USA Financial LTD a colony of slaves for New Venice.

The very simple reason for a British crisis actor in the video is to scare westerners that members of ISIL are amongst us all! Are we calling it ISIL today or is it ISIS? Oh they cannot use that name since ISIS was busted as a front company for change in the region so now it is just called IS. We all know that ISIS is a front for British Intelligence on behalf of the New Venice empire. New Venice want to bring about a New Middle East which has no borders and will eventually be run by the Latin Kingdom of Jerusalem. Why isn't Israel up in arms about this fake terror group?

I should remind you that Al-Qaeda was created by the family of Carl M. Marcy using the Senior Executive Service and all through the U.S Small Business Administrations 8(a) program. Strange how firewall Cameron and the Bullingdon Club misfits want to censor the video even as they admit they do not even know it is legit (get out clause if they need it) yet they harp on about it all day long in the mainstream controlled propaganda media.

I should point out if all these groups like Al-Qaeda, Takfiri, Al-Nusra, Boko Haram and now ISIL/ISIS/IS were real independent genuine terrorist groups not run by New Venice in the interest of the Empire then the media would never constantly brainwash you with terror threats. A terrorist wants the threats to scare the people into submission. The simply way to destroy a terrorist or group of terrorists would be to never mention their group or name or any event they cause. Terrorists will soon die off if no media coverage is given to their cause. This is why when real terrorists do events you will hardly ever hear about it or it will be covered up as something else (third truth). The real terrorists are the New Venice empire made up of the mega corporations like Serco (the Octopus), G4S and secret societies like Skull and Bones, Pilgrims Society and so forth all made up of merchant pirates overseen by the pirate captain the City of London Corporation in the sovereign land known as the City of London (ancient Londinium).

-= The Unhived Mind

SEE ALSO:

http://theunhivedmind.com/wordpress3/ns ... nce-asset/
And here is one from Kurt Nimmo. He is one of my favourite authors.
NSA Doc Reveals ISIS Leader Al-Baghdadi is U.S., British and Israeli Intelligence Asset

NSA documents add more detail to plan to destabilize Middle East

by Kurt Nimmo | Infowars.com | July 19, 2014

http://www.infowars.com/nsa-doc-reveals ... nce-asset/

Editor's note: The validity of the document mentioned below cannot be verified due to the exclusivity of the Snowden cache. Cryptome sent a letter to various sources in possession of the documents, including The New York Times, Washington Post, The Guardian, Barton Gellman, Laura Poitrias, Glenn Greenwald, ACLU, EFF and others demanding an accounting. The allegation about ISIS and al-Baghdadi, however, pairs up with other information demonstrating ISIS is an intelligence asset.

According a document recently released by NSA whistleblower Edward Snowden, Abu Bakr al-Baghdadi, the leader of ISIS, now the Islamic State, is an intelligence asset.

The NSA document reveals the United States, Israel, and Britain are responsible for the creation of ISIS.

Earlier this month Nabil Na'eem, the founder of the Islamic Democratic Jihad Party and former top al-Qaeda commander, told the Beirut-based pan-Arab TV station al-Maydeen all current al-Qaeda affiliates, including ISIS, work for the CIA.

ISIS is a well-armed and trained terrorist group now in control of large areas of Iraq and Syria.

The NSA document states the group was established by U.S., British and Israeli intelligence as part of a strategy dubbed "the hornet's nest" to draw Islamic militants from around the world to Syria.

Prior Evidence of al-Baghdadi Link to Intelligence and Military

Abu Bakr al-Baghdadi "took intensive military training for a whole year in the hands of Mossad, besides courses in theology and the art of speech," the documents explain, according to Gulf Daily News, a Bahrainian source.

In June a Jordanian official told Aaron Klein of WorldNetDaily ISIS members were trained in 2012 by U.S. instructors working at a secret base in Jordan. In 2012 it was reported the U.S., Turkey and Jordan were running a training base for the Syrian rebels in the Jordanian town of Safawi.

LINK

https://www.youtube.com/watch?feature=p ... FVywIgR0Ns

Corporate media has added weight to myth of Abu Bakr al-Baghdadi, repeatedly exposed as an intelligence asset.

Al-Baghdadi was reportedly a "civilian internee" at Camp Bucca, a U.S. military detention facility near Umm Qasr, Iraq. James Skylar Gerrond, a former U.S. Air Force security forces officer and a compound commander at Camp Bucca in 2006 and 2007, said earlier this month the camp "created a pressure cooker for extremism."

"Circumstantial evidence suggests that al-Baghdadi may have been mind-controlled while held prisoner by the US military in Iraq," writes Dr. Kevin Barrett.

Creating a Fake Terror Threat

The hornet's nest strategy was designed to create the perception that Israel is threatened by an enemy near its borders.

According to the personal diary of former Israeli prime minister Moshe Sharett, however, Israel never took seriously an Arab or Muslim threat to its national security.

"Sharett's diary reveals in explicit language that the Israeli political and military leadership never believed in any Arab danger to Israel," writes Ralph Schoenman. "They sought to maneuver and force the Arab states into military confrontations which the Zionist leadership were certain of winning so Israel could carry out the destabilization of Arab regimes and the planned occupation of additional territory."

In 1982 Oded Yinon, an Israeli journalist with links to the Israeli Foreign Ministry, wrote The Zionist Plan for the Middle East.

The white paper proposed "that all the Arab states should be broken down, by Israel, into small units" and the "dissolution of Syria and Iraq later on into ethnically or religiously unique areas such as in Lebanon, is Israel's primary target on the Eastern front in the long run."

The destruction of the Arab and Muslim states, Yinon suggested, would be accomplished from within by exploiting their internal religious and ethnic tensions.

For more background see our ISIS and the Plan to Balkanize the Middle East.
Re: Jim Stone's allegation that this was an intelligence agency psyop that used a mannequin or a CPR dummy. You think that's crazy? You think it hasn't been done before? Remember that fake LAX airport crap from a while back? Some cop was evidently running a dummy in a wheelchair up the street for that psyop.
http://www.youtube.com/watch?v=tk1MYw7RmSU
http://www.youtube.com/watch?v=qCZIGDfNZ9k
Years ago, many in the truth movement something might go wrong with that airport thanks to the Israeli Shin Bet fucking around with it under the clear auspicies of the CIA.
http://www.ynetnews.com/articles/1,7340 ... 94,00.html
Israelis messing around with airports in 2006 wasn't new since that were allowed to do it in 2001 on the eve of September 11 2001.
All 9/11 Airports Serviced by One Israeli Owned Company
http://whatreallyhappened.com/WRHARTICLES/ICTS.html
If you can't find a body, find a dummy. They have done it more than once. Reuters and Sky News were caught doing it frequently trying to create anti Russian sentiment during the coverage of the war with Georgia in August 2008, six years ago this month. They even used crisis actors to change clothes and change positions laying on the ground. Conspiratorial history will repeat itself because not enough people catch on. And therefore, the powers that be stick with what works. Given all this bullshit over the years that has been piling up, with intelligence psyops with fake video and audio tapes of Bin Laden, dummies and mannequins in place of real people, and also other faked beheadings like Nick Berg and Lee Rigby, can anyone really blame Jim Stone for his current claims?
http://theunhivedmind.com/wordpress3/br ... mes-foley/
I sure can't.