Posts: 3111
Joined: Mon Aug 20, 2012 1:21 am
Contact:
The academics and "intelligentsia" are so gutless that they are worthless as well. When action is needed, they hide.

FPB
---


Would you like to financially contribute to the upkeep of RODOH, kindly contact Scott Smith. All contributions are welcome!
---
Posts: 6380
Joined: Mon Aug 20, 2018 4:56 am
Location: Gasthaus Waldesruh. Swabia
Contact:
𝕴𝖈𝖍 𝖇𝖊𝖗𝖊𝖚𝖊 𝖓𝖎𝖈𝖍𝖙𝖘...𝕾𝖔𝖟𝖎𝖆𝖑 𝖌𝖊𝖍𝖙 𝖓𝖚𝖗 𝕹𝖆𝖙𝖎𝖔𝖓𝖆𝖑
𝕳𝖚̈𝖓𝖙𝖎𝖓𝖌𝖊𝖗
---
Friedrich Paul Berg

wrote:

↑

Fri Jan 25, 2019 7:36 pm

The academics and "intellegentsia" are so gutless that they are worthless as well. When action is needed, they hide.

FPB
I agree, they talk a lot but when it comes to action they are completely impotent.
---
Propositions Moderator
Posts: 8967
Joined: Tue Apr 30, 2013 8:59 am
Contact: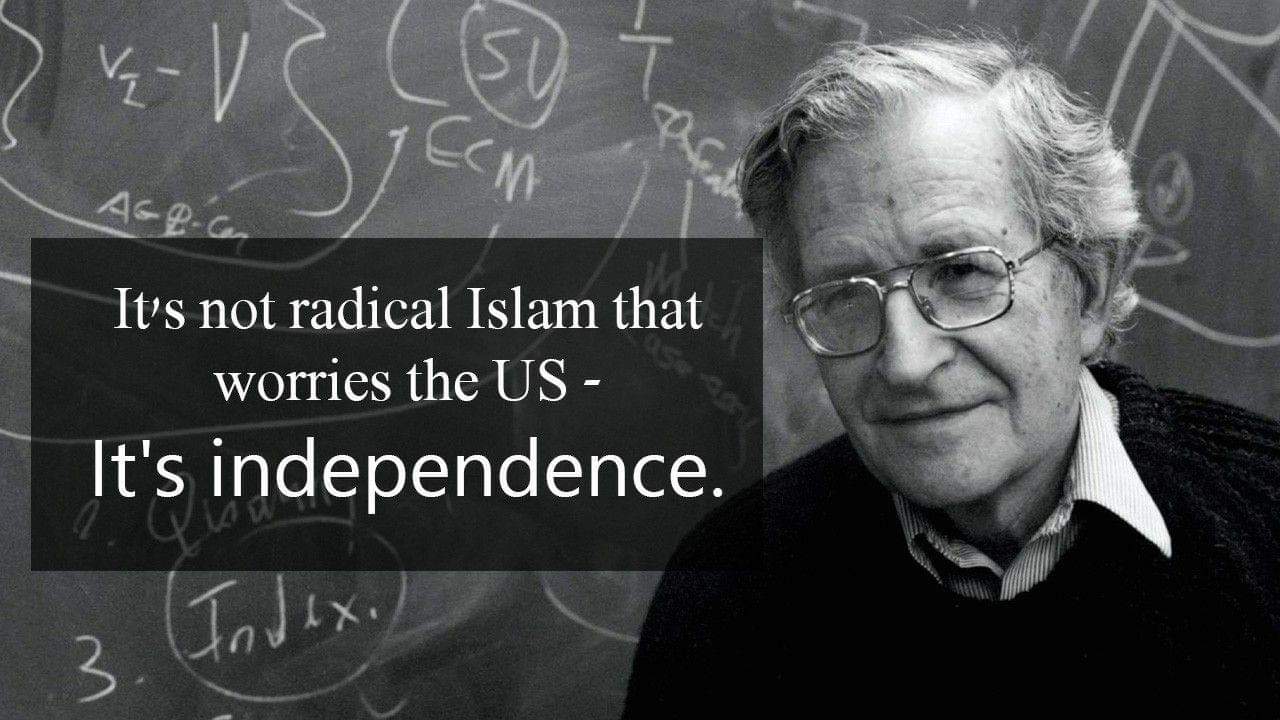 It's not radical Islam that worries the US, it's independence.
"Washington and its allies keep to the well-established principle that democracy is acceptable only insofar as it conforms to strategic and economic objectives: fine in enemy territory (up to a point), but not in our backyard, please, unless properly tamed.
One 1989 comparison has some validity: Romania, where Washington maintained its support for Nicolae Ceausescu, the most vicious of the east European dictators, until the allegiance became untenable. Then Washington hailed his overthrow while the past was erased. That is a standard pattern: Ferdinand Marcos, Jean-Claude Duvalier, Chun Doo-hwan, Suharto and many other useful gangsters. It may be under way in the case of Hosni Mubarak, along with routine efforts to try to ensure a successor regime will not veer far from the approved path. The current hope appears to be Mubarak loyalist General Omar Suleiman, just named Egypt's vice-president. Suleiman, the longtime head of the intelligence services, is despised by the rebelling public almost as much as the dictator himself.
A common refrain among pundits is that fear of radical Islam requires (reluctant) opposition to democracy on pragmatic grounds.
While not without some merit, the formulation is misleading. The general threat has always been independence.
The US and its allies have regularly supported radical Islamists, sometimes to prevent the threat of secular nationalism.
A familiar example is Saudi Arabia, the ideological centre of radical Islam (and of Islamic terror). Another in a long list is Zia ul-Haq, the most brutal of Pakistan's dictators and President Reagan's favourite, who carried out a programme of radical Islamisation (with Saudi funding)."
-- Naom Chomsky
The Guardian, Friday 4th February 2011
https://chomsky.info/20110204/
---
Propositions Moderator
Posts: 8967
Joined: Tue Apr 30, 2013 8:59 am
Contact:
.
STORY for EASTER
According to the biblical narrative in the scripture called 'the Good News' [=
gospel
], there is a story of Yeshua —the Hebrew Rabbi regarded as the anticipated military King (
Hebrew= Messiah, Greek= Christos, English= anointed-one
) who would free Hebrews from Roman occupation — that relates how he temporarily left Israel and walked into Tyre and Sidon, which was Gentile territory.
In other words, Yeheshua/Yehoshua/Yeshua the Nazorean — now known as
Jesus Christ
— was visiting a territory that was inhabited by non-Hebrews / goyim / gentiles, in an area in that is now Lebanon.
While there, in Mark 7:27 and copied in Matthew 15:26, it narrates Jesus encountering a non-Jewish Syrian-phoenician woman (described as a Canaanite) who begs him to cure her daughter from demon possession.
The narrative describes how initially he just ignored her.
When she won't shut up his followers ask permission to tell her to clear off.
Jesus instead himself speaks to her, refusing her request by explaining his mission is only for his fellow Hebrews and NOT for goyim.
She persists, so he answers her with an insult:
"It is not right to take the children's bread
and toss it to the dogs".
The exact word used in Greek, translated as
dog
, is
kunarion
.
'Dogs' are referred to 41 times in the Bible, and none of these times is the association positive.
E.g.
Revelation 22:15: "For without are dogs, and sorcerers, and whoremongers, and murderers, and idolaters, and whosoever loveth and maketh a lie."

Philippians 3:2: "Beware of dogs, beware of evil workers, beware..."

Proverbs 26:11: "As a dog returneth to his vomit, [so] a fool returneth to his folly."

Matthew 7:6: "Do not give what is holy to dogs, and do not throw your pearls before swine, or they will trample them under their feet, and turn and tear you to pieces."
Dogs were regarded as unclean animals by Hebrews of that time. Biblical scholars try to minimise the insult by claiming that
kunarion
means 'little dogs' and that Yeshua was likening her to a puppy or a pet dog. This is a form of denial. The reality is that Jews didn't keep dogs as pets at that time and dogs were considered as unclean scavengers by them. Plus Yeheshu or whatever his actual name was, didn't speak Greek but Aramaic.
SUMMARY:
The Jewish Rabbi regarded as a divine being by most of European society for the last thousand years, refused a request to perform an exorcism from a non-Jewish person, and likened her to one of a pack of dogs, in comparison to his fellow-Jews whom he likened to his own children.
I.e. he refused her request with a racist,
übermensch
, superior insult.
Here endeth the lesson for today, Easter Sunday, 2019.
"When people who are honestly mistaken learn the truth,
they either cease being mistaken
or they cease being honest"
-- Anonymous
---
Propositions Moderator
Posts: 8967
Joined: Tue Apr 30, 2013 8:59 am
Contact:
.
The 'Holocaust' narrative is essentially
a psychological warfare operation
being waged against the entire world
by the international Jewish community,
the mass media and Hollywood.
---
Jews often say, in a fashion meant to be self-complementary, "we don't proselytize." Meaning Jews don't want you to convert to their religion, or they don't care if you do. They don't want to be nuisances like those pesky Christians and Muslims.

But your quote on the "Holocaust" narrative being a psychological warfare operation highlights the fact that Jews do proselytize, just not for the purpose of getting non-Jews to convert to Judaism. Seen in this light it could be argued that Jews out-proselytize Christians and Muslims, but for the purpose of convincing non-Jews of Jewish superiority so non-Jews will accept a subordinate status to that of Jews.
---
---
Jewish gatekeeper
---
Propositions Moderator
Posts: 8967
Joined: Tue Apr 30, 2013 8:59 am
Contact:
"Zionists built upon anti-Goyism planted by Rabbis"
Ha ha. What a brilliant ripost to his "as a rabbi and a jew I know that Hitler built upon anti-semitism planted by churches
And what a self-deluded response, to block someone for mirroring back exactly his own type of rhetoric.
Basically this Rabbi seems to believe that Jews are permitted anti-Christian prejudicial generalisations but no non-Jew is allowed to even parody it, because that would be "stereotyped anti-semitic crap".
So many of these people seem quite seriously deranged.
"When people who are honestly mistaken learn the truth,
they either cease being mistaken
or they cease being honest"
-- Anonymous
---
Users browsing this forum: No registered users and 8 guests