I think the following discussion from the so-called
SKEPTICS FORUM
is worthy of preserving.
I started posting there to attempt a genuine dialogue with others in order to see if I could learn something useful from those who have a diametrically opposite understanding to my own.
I chose the user name REALLY SKEPTICAL.
This particular topic of discussion attempted to look at an aspect of 'holocaust' belief that was not appreciated and so was quite quickly locked. (And this at a discussion forum ostensibly for SKEPTICAL and CRITICAL thinking.
)
Interestingly, only once a genuine dialogue (without the usual insult) had begun to occur was it locked. Presumably that was considered too dangerous. I was then banned for contesting the closing down of the discussion, which I did with a
post
and a private appeal for impartiality to the administrator of the whole site.
Why would a forum that claims to promote
skepticism
and genuine, impartial
skeptical
analysis, feel a need to do that?
------- ------- ------- ------- ------- ------- ------- ------- ------- ------- -------
The topic was informed by the predominance of quite unhinged, hateful personal attacks from most of the participants. For an example of that look at this one responded to
here
.
But mainly it had been inspired by a failed attempt at logical, informed discussion with an academically qualified 'holocaust' university lecturer, Dr. Nick Terry.
One that ended with the following observation:
Really_skeptical wrote:The simple point is that you (and others) approach this historical subject with an ahistorical mind-set.
You approach it instead as a sacrosanct belief that may not be questioned, critically analysed, skeptically doubted or revised.
It started
here
and
here
.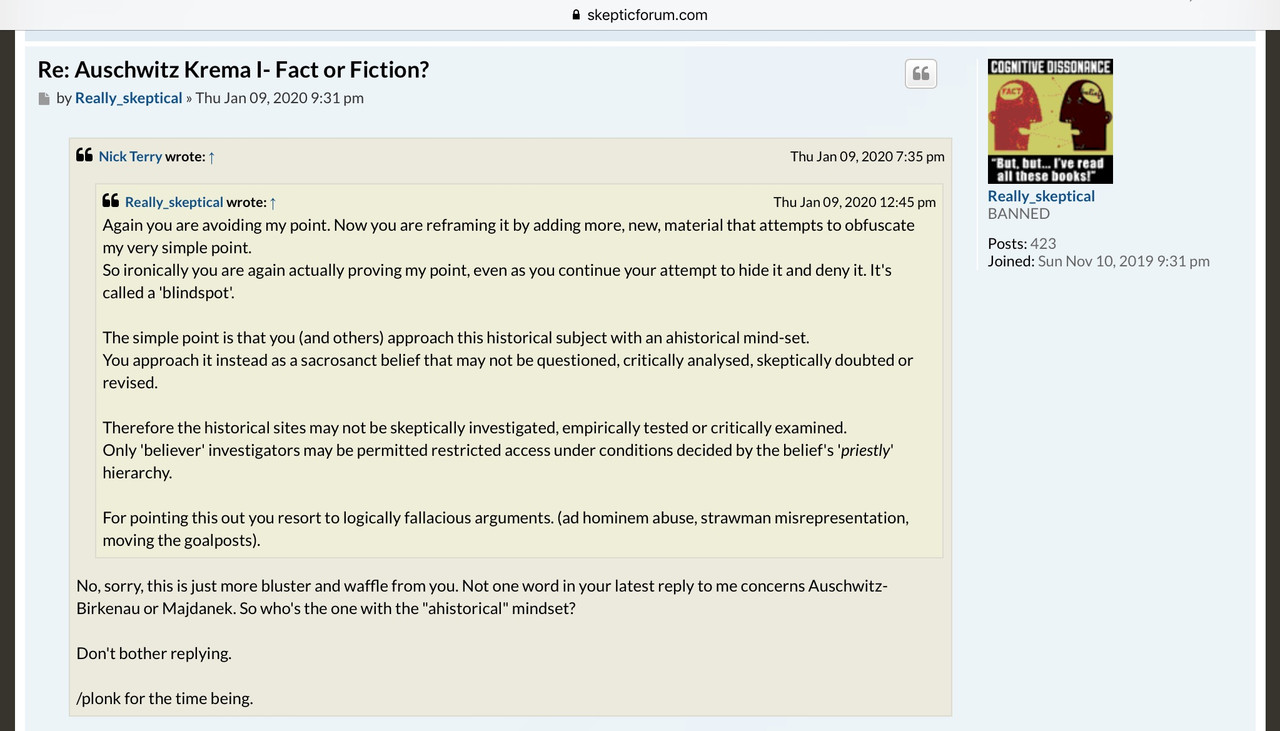 It ended there with this observation:
Really_skeptical wrote:Dr. Terry constantly changes the topic and reframes the discussion. Now after numerous posts from him avoiding the obvious, now he wants to change the ground rules.

I suggest that it's yet more proof of his delusional denial.

Denial over and over and over. Topic after topic.

He most defintely has a much vaster and broader knowledge of subjects related to this imprecise thing called 'THE Holocaust' than anyone I have come across before. Yet that is offset by the fact that he often skews discussion by showing-off knowledge of things that are not contested, plus he often obfuscates and reframes any discussion that shines a too penetrating light on the obvious areas of inconsistency or error.

Just as PrudentRegret has shone a light here on Krema1 and Majdanek.

Just as I have done on the unreliability of Vrba/Rosenberg and the so-called Vrba-Wetzler report.

So obviously a person in denial can neither admit that nor even see that.

That is why I said some posts back in one reply to him, that

just posting the facts will never be enough for people like him. They need therapy. They need cult exit counselling.

They genuinely can not see the reasonableness of PrudentRegret's argument and his intelligent, logical parsing of the known facts.

They are members of a cult that forbids critical analysis, that punishes dissent, that demonises skeptics of its core beliefs.

How is a high priest of the cultish-belief going to be able to see that? And even if they get a glimpse, how are they easily going to publically admit any of that after a life-time's professional career of preaching the faith?
The topic discussing the signs of cultish thinking that was locked and then caused the BANNING for appealing starts here:
https://skepticforum.com/viewtopic.php? ... bf8fdc4324
Really_skeptical wrote: ↑

How do you get a fervent 'true-believer' of a mass-delusion to become aware of their cultish thinking when everyone 'OUTSIDE' of the group is regarded by those 'WITHIN' the group as a wicked, force of evil by the Cult and its leaders?

This is a perrenial problem for all victims of cultish thinking that demonises non-believers.

Most 'cults' are minority groups that exist on the fringes of society.

So how do you help a person come out of a cultish way of thinking that is based on decades of a MAJORITY societal conditioning, manipulation and subtle misinformation?

This is the situation that reformers faced in 18th and19th centuries when compulsory cultish Christian beliefs were incorporated into ALL facets of society in Europe and America.

Awakening from cultish-conditioning is naturally much more difficult when the cultish thinking, beliefs, and attitudes are 'hard-wired' into the victim by their society through numerous methods:

— compulsory childhood education programmes,

— mass-media reinforcement through adult 'entertainment' viewing and reading material,

— constant references to the cultish-think 'beliefs' in news items.

— societal 'ceremonies' and special 'memorial' days.

How do you help a person who for all of their lives has been subjected to an indoctrination into cultish beliefs that demonises non-believers through constant emotional manipulation through news, entertainment, education, reconstructed 'sacred' memorial sites, museums, 'special' memorial days, etc.?

Are just the

actual facts

sufficient against decades of such mind control?

1.) For people who are capable of

independent thought

and

critical thinking

, the actual facts can be sufficient.

2.) For the majority this will not be enough. The psychological effects of them leaving the emotional security of the 'herd' and the 'group think' is for them a formidable barrier to overcome.

What happens when just the

actual facts

WERE sufficient, but relentless persecution and ostracisation forces a recantation

?

For those who are capable of independent thought and critical thinking the realisation of the cult-think can still be a 'step too far' and the persecution and pressure from the majority mind-set can force them to rejoin the cult for an easy life. This can manifest in two ways:

— 1.) their true understanding will be concealed from others and they will feign acceptance of the cult's creed by publically disowning their realisation of reality.

— 2.) they will practice a self-delusion upon themselves in order to fit in with the majority cult mind-set.

In the 1970's there was a policy popular in America that was expensive and involved kidnapping a person and submitting them against their will to a process called 'deprogramming'.

DEPROGRAMMING

Deprogramming ...mostly involves hours and hours of intense "debriefing," during which a team of deprogrammers... use ethical psychological techniques to try to counter the unethical psychological techniques used by the cult. The goal is to get the cult member

to think for themself and re-evaluate their situation

.

Debriefing methods can include:

• educating the cult member on thought-reform techniques and helping them to recognize those methods in their own cult experience.

• asking questions that encourage the cult member

to think in a

critical, independent way

, helping them to recognize that type of thinking and praising them for it.

Thankfully kidnapping and forced deprogramming by those believers in a 'majority' view is no longer considered legal.

Now the favoured approach is called

Cult exit counselling

.

Here is an excerpt of an article by an exit-counsellor who used to belong to the Moonie cult:

Combating Cult mind control — exit-counseling.

While people can be programmed or indoctrinated through repetition and use of the BITE model

[Behavior, Information, Thought, and Emotional contro]

set of techniques and behaviours, it is my understanding that the only respectful, non-traumatising way for someone to

reassert their own analytical thinking

is for them to

make the connections

themselves

.

Working with respect and compassion, as well as, asking good questions and giving very long silences works far better than using content to persuade the person that their beliefs are wrong. Frontal assaults, like this, backfire. The person feels attacked and becomes very defensive; trusting less and withdrawing into cult thought-stopping rituals even more.

This exit-counsellor has some gound rules which are fascinating in regard to the type of conversations that go on here with cult believers and anyone who dares question the cult's core beliefs. They perhaps explain why appeal to reason, critical thinking and empirical facts are almost always met with abuse, hateful rhetoric and ridicule...

• Do not try to argue the facts and make them agree with you.
• Do not try to win the argument.
• Respectful discussions with an exchange of points of view is what you want to pursue.
• Enjoy each other's company.
• After rapport and trust are rebuilt, I suggest picking topics like [political] brainwashing programs or Traffickers and how they recruit and abuse people to become their slaves.
• discuss the BITE model and phobias and Information Control.

The best technique is to ask questions with a sincere, curious tone, giving the person a long time to think about the answer. Step-by-step. Of course, there is much more, too.
That was the opening argument.
Look at the replies that followed.
The irony was that almost ALL the replies confirmed the proposition. Yet those replying didn't know they were doing that.
Although the suggested victims of cult-thinking reacted exactly as a cult-victim would, they were quite unaware of that. They reacted with complete denial of the proposition plus resorted to cultish illogical, ad hominem abuse towards the messenger.
Near the end of the permitted discussion, some actual intelligent dialogue was beginning to occur.
My guess is that is precisely why the discussion was closed down with a completely bogus reason.
And closed down by a moderator — or pool of moderators —
who use an avatar of a fictional character who erases memories of anyone who sees the reality of what is going on
.
How appropriate!

Closed with what I call a bogus reason because as long there was only abuse from the cult-victims towards the messenger, the topic was permitted. Many discussion topics at the SKEPTICS–Genocide/Holocaust sub-forum consist of almost nothing but abuse and insult. E.g. this one:
https://skepticforum.com/viewtopic.php? ... 65#p502648
Such almost totally ad hominem topics are permitted and the moderator/moderators even participate. But as soon as dialogue occurs that isn't showing the cultish true-believers in a good light and is possible influencing and awakening a believer to the situation they are in, THEN the discussion is locked down.
Cultish 101.
Denying-History wrote: ↑Thu Jan 09, 2020 10:35 am
I only see hot air.
Really_skeptical wrote: ↑Thu Jan 09, 2020 10:47 am
Do you realise what this means?

It means you have to deny the following:
– that cults exist.
– that cultish beliefs and mind controlling cult-group-think exists.
– that psychological issues are involved in exiting cultish mind-sets.
– that exit counselling techniques have been developed.
etc., etc.

I suggest you ask yourself this: why would anyone feel a need to deny the existence of such cult-related topics?
Really_skeptical

replied » Thu Jan 09, 2020 3:26 pm

Even without seeing the hater posters who are on ignore after months of no-content ad hominem replies, I still see a great deal of hateful, personal abuse as replies here to this topic.

Sad that those people resorting to that can not see that they are thereby proving the premise of this topic. I mean they are proving that they are unable to respond with any reasonable, logical reply. And I mean that they are displaying all the signs of people who belong to a mind-controlling cult.

I will attempt to help such victims with more information, and logical analysis. I see from the exit-counsellors experience that that rarely helps. But maybe one or two might start to think it through reasonably and logically.

Take a look at the following and see if you can see any similarities

in the following

B

.

I

.

T

.

E

control methods — that a cult-think exit counsellor has categorised —

which fits the methods used for promoting cultish 'holocaust' belief and attitude.

CONTROL OF


B

EHAVIOUR •

I

NFORMATION •

T

HOUGHT •

E

MOTIONS

Behaviour control

- Promote dependence and obedience.

- Modify behaviour with rewards and punishments.

Information control

– Deliberately withhold and distort information.

– Forbid you from speaking with ex-members and critics.

– Discourage access to non-cult sources of information.

– Divide information into Insider vs. Outsider doctrine.

– Generate and use propaganda extensively.

– Encourage you to spy and report on "misconduct" of others.

Thought control

– Instill 'black and white, 'us vs. them' and 'good vs. evil' thinking.

– Change your identity, possibly even your name*.

– Use loaded language and cliches to stop complex thought.

– Teach thought-stopping techniques to prevent critical thoughts.

– Allow only positive thoughts.

– Reject rational analysis, critical thinking and doubt.

* [most online H defenders invent anonymous user-names and many even have multiple sock-puppet identities despite them not being in any danger of prosecution or persecution/ostracisation].

Emotional control

– Instill irrational fears (phobias) of questioning or leaving the group.

– Label some

emotions

[natural thoughts] as evil, sinful, or wrong.

– Shower you with praise and attention [if you go along with the group belief].

– Shun you if you disobey or disbelieve.

– Teach that there is no happiness or peace outside the group.