.
Treblinka
The first time we find a reference to the village of Treblinka in current-day Poland is in a document from 1436, where
Nobilis Albertus de Treblina
, or Noble Albert of Treblinka, is mentioned.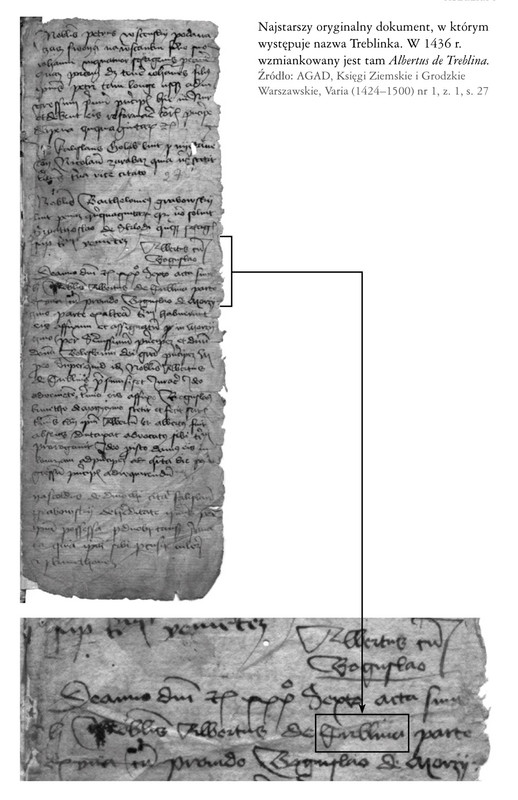 For centuries after, Treblinka was home to a number of noble families, among them those of Świejkowie, Suchodolscy and Wężowie.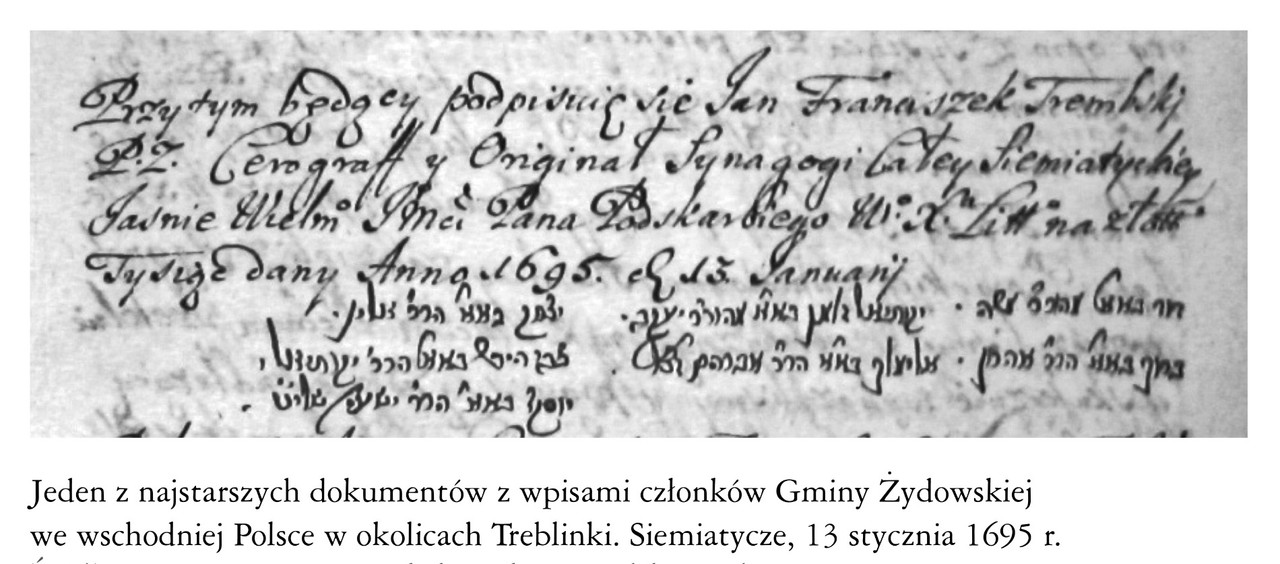 Despite the prescence of nobility, it was always a small village: according to the population records of 1745, there were only around 30 adults living there and by 1827 this had risen to just 130.
THE COMING OF RAILWAY LINES
Railways came to the area in the late 1880's. In 1887, a railway line was built from Małkinia Junction to Siedlce, with a station in Treblinka Village. A side track from Małkinia Junction was created to a local gravel quarry.
Nearbye Małkinia Górna Junction is where the main line between Warsaw and Białystok crosses with this secondary-importance line between Ostrołęka and Siedlce.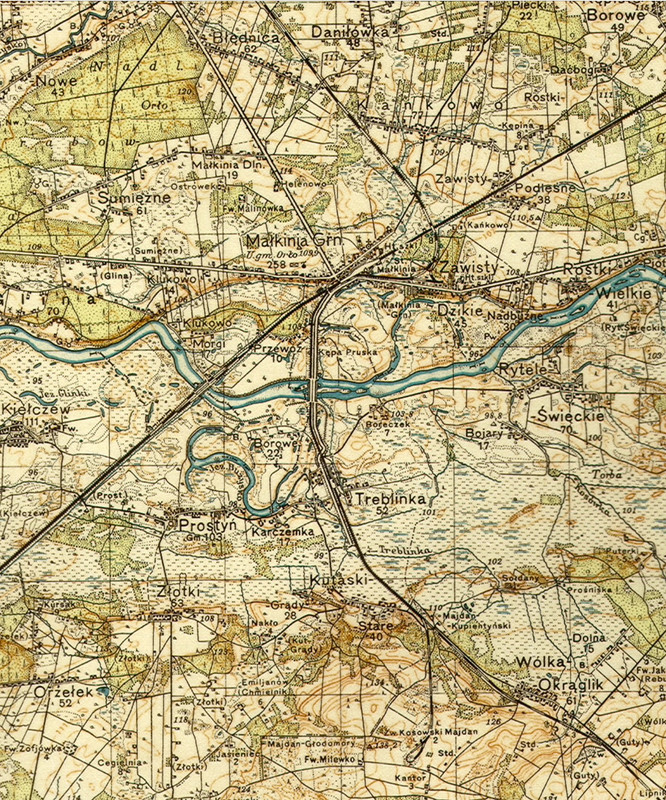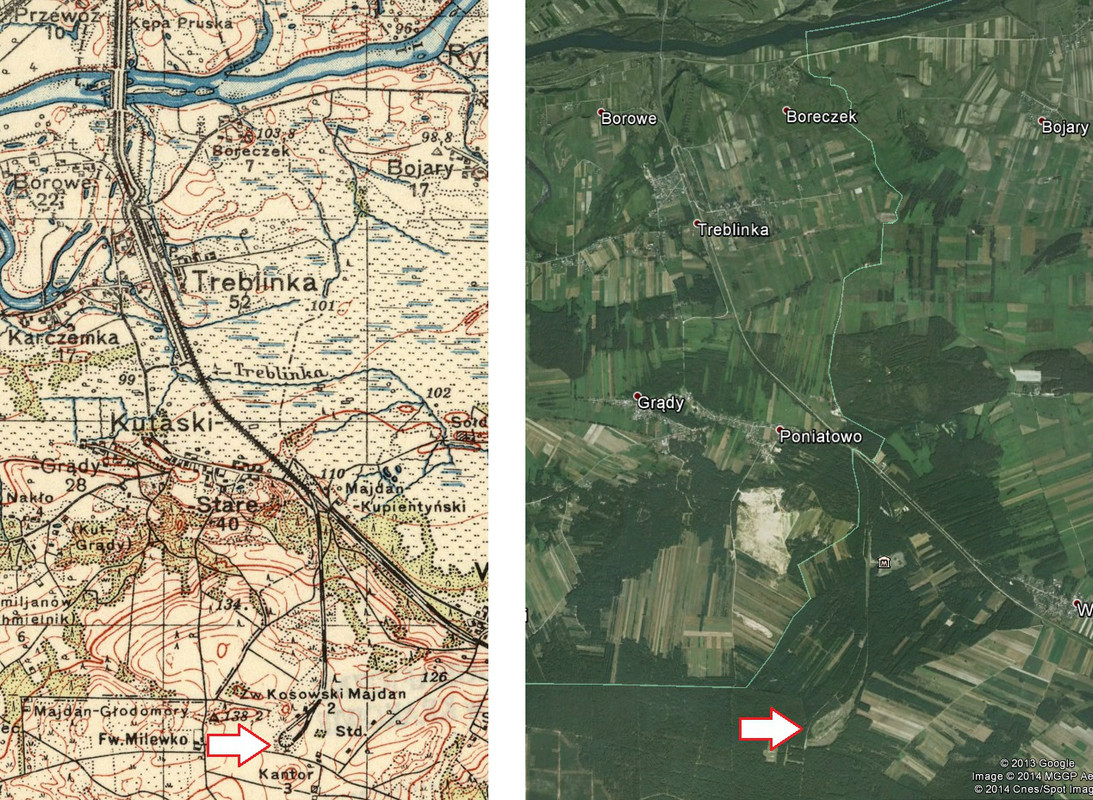 Treblinka gravel quarry and connecting spur line railway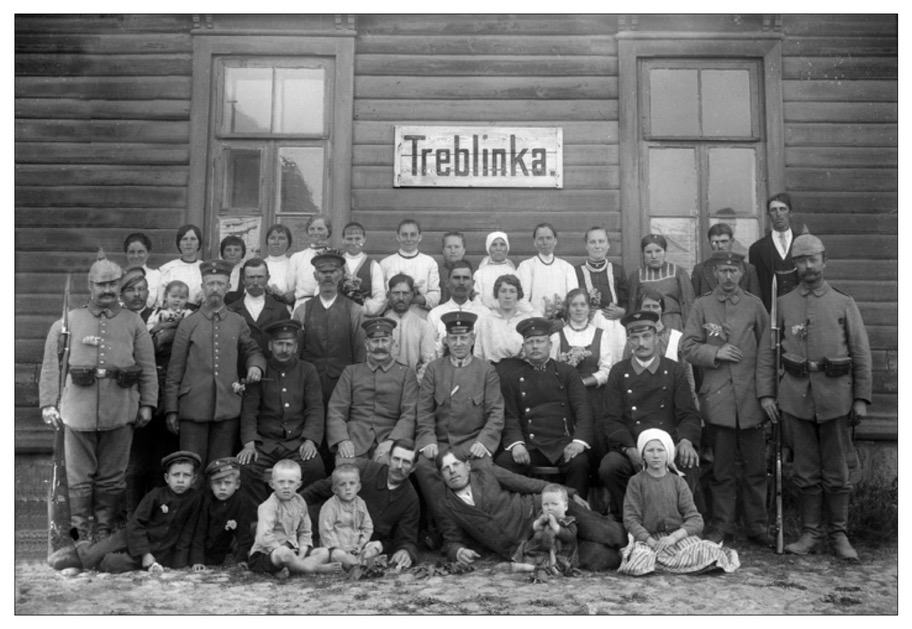 Treblinka village Railway station in 1915
MALKINIA GORNA AND THE BUG RIVER
Treblinka and the important railway Junction at Malkinia are situated by the Bug River which, in summer is little more than a creek, being shallow enough in some places to enable people wade across it. Due to Treblinka being in the vicinity of Malkinia, it became a focus for much fighting in both WW1 and the later 1919 Polish-Russian war, known locally as the Bolshevik war. The area even became the target of German Zeppelin and Fliegertruppen bombing raids during WW1.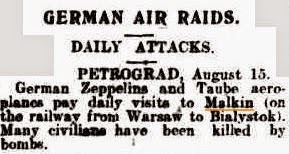 The Mercury newspaper. 17th August 1915

The Queenslander newspaper. 21st August 1915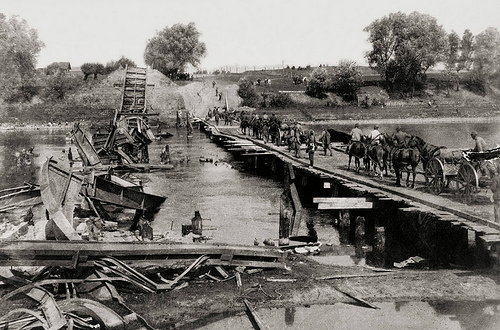 Malkinia August 20th 1920. Regiments of the 29th Infantry brigades cross the Bug in pursuit of the Bolsheviks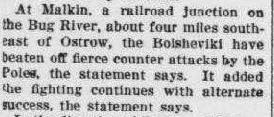 Article from the Concordia Sentinel newspaper in Louisiana reporting the (Malkin) Malkinia fighting.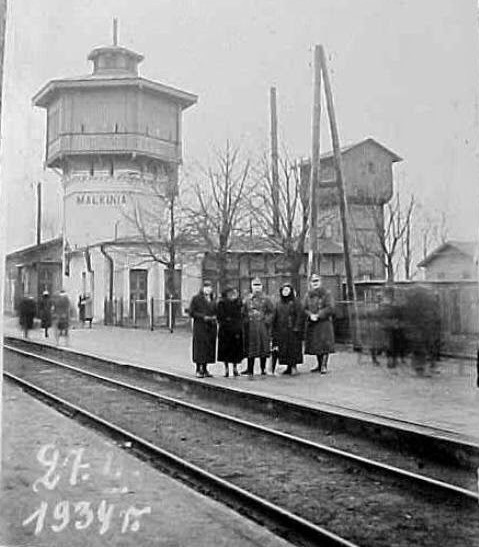 . . . . . .
After the Polish-German war of 1939, the River Bug formed the border between the German occupied General Government of Poland and the zone occupied by the Russians until June 1941.
INFAMY AND ATROCITY PROPAGANDA
This insignicant village of Treblinka was to become infamous, when in the latter half of the 1940's the victorious Allies of WW2 included it in a war-time concocted, atrocity-propaganda story, basing it upon the irrefutable existence of a work camp and an
Aktion Reinhard
camp in the near vicinity of the Treblinka village (4 kilometres south).
In 1941 the Germans had began to transport people to a penal labour camp they had built at the Treblinka gravel quarry which they opened on the 1st September.
Later a second concentration camp was established closer to the Malkinia Junction as a part of programme called
Aktion Reinhard
. Work begun in April 1941 to establish the second camp and it became operational on the 23rd of July 1942. They called this camp Treblinka 2, renaming the first gravel-pit labour camp as Treblinka 1.
Despite the name the Germans gave the camps, Treblinka Village is not the closest to them. The closest place to the camps is the equally tiny hamlet of Poniatowa.
T1
Treblinka 1
was established by Ludwig Fischer and opened on 1 September 1941 as a penal labour camp to imprison Poles who had broken German rules, such as trading without permission, sabotage committed against the Germans by the Polish underground forces, etc. Prisoners worked at the nearby gravel quarry or at the irrigation area.
The camp itself was in the form of a quadrangle and was enclosed by a high fence, at the corners of which were watch-towers. Treblinka 1 was divided into two parts, one for the German, Austrian and Ukrainian staff and the other for prisoners. The camp commandant for the entire time Treblinka I was in operation was Theodor van Eupen, and under him was Franz Schwarz.
The liquidation of Treblinka 1 occurred on 23rd July 1944.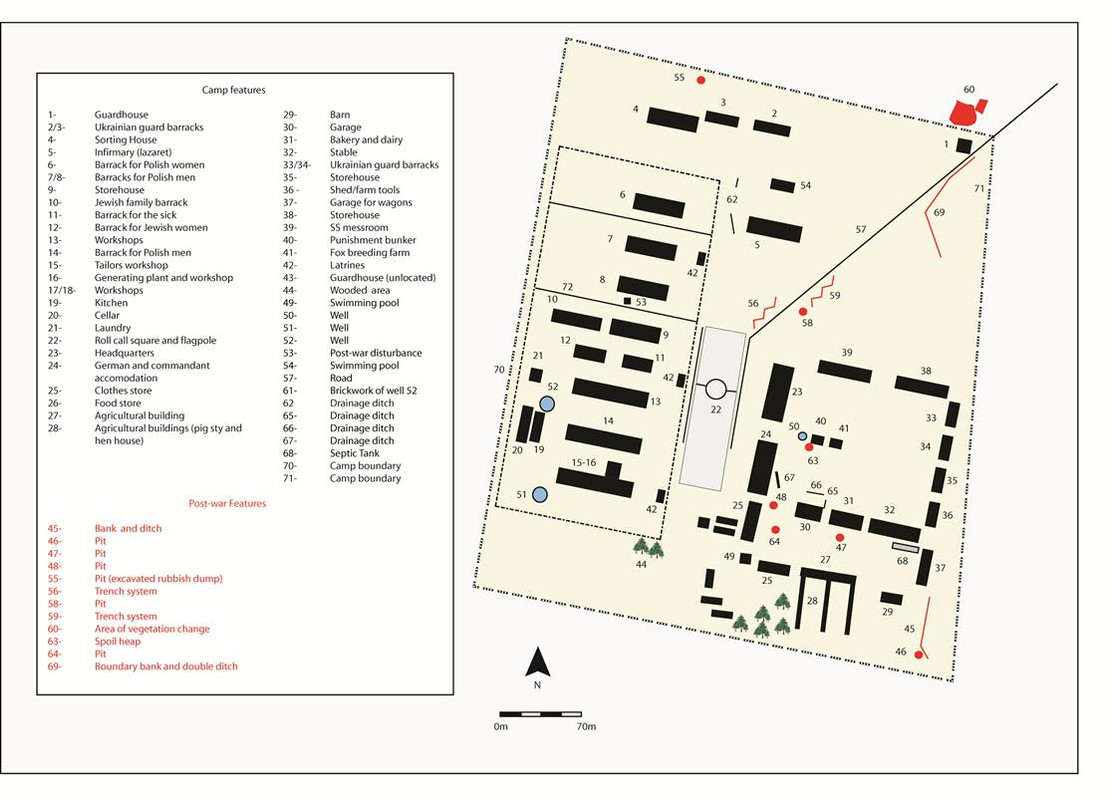 It is claimed that during its operation the T1 labour camp had accomodated in total about 20,000 inmates.
Post-war atrocity claims are still being repeated (e.g. on Wikipedia) that half of these 20,000 were killed, and that the kommandants had revelled daily in acts of great cruelty and sadism. But these claims have been eclipsed in the public imagination by the much larger claims of cruelty and mass-murder alleged to have occurred at T2.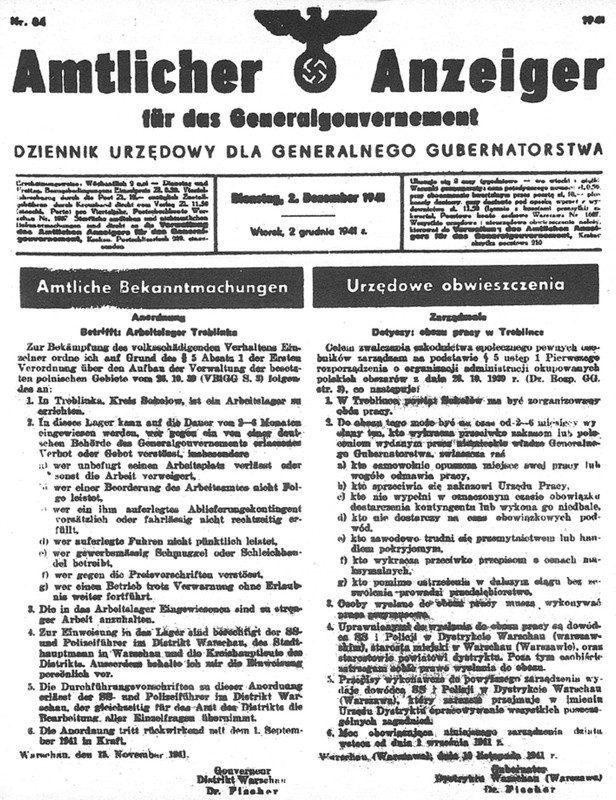 Poster publically notifying in December 1941 — in both German and Polish — the opening of Treblinka 1 as a punishment labour camp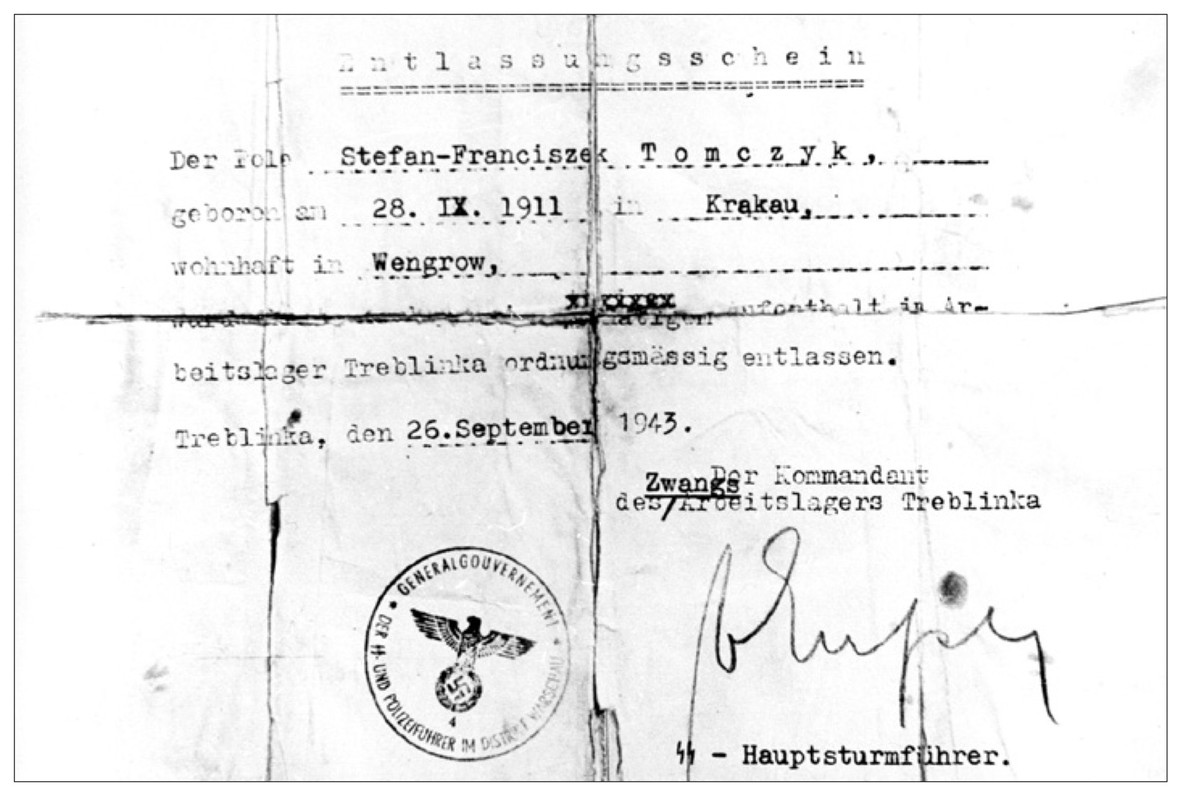 Discharge papers Sept. 1943 for a Polish worker at Treblinka 'Zwangsarbeitslager' (Forced-labour camp), signed by T. Eupen.
. . . . .
T2
Treblinka 2
began to be built in April 1941 and was operational from the 23rd July 1942 until the 19th October 1943. A period of fifteen months. Despite Treblinka's long six century history from 1436, it was for this brief period of fifteen months that the name Treblinka is now known around the world.
T2 was a camp built as part of
Aktion Reinhard
. What that operation entailed is still a subject of controversy. A controversy that until the 1980's was not dared to be debated publically. Ernst Zündel changed that.
The enforced consensus narrative is that
Aktion Reinhard
camps were designed and built "factories of death". In other words, they were camps whose sole purpose was the mass murder of hundreds of thousands of Jews in gas chambers. It is still claimed today that between 5,000 and 17,000 people a day were killed here at T2 during that time.
Initial 'eye witness' accounts in official Polish reports and Russian post-war 'investigations' claimed the mass-murder method was either by vacuum-pump suffocation, or by steam, or by diesel engine exhaust gas, all in "hermetically sealed" chambers. After some decades, a consensus appears to have been silently and tacitly agreed to ignore all testimonies except those that mention the method of killing used petrol engine exhaust. The eye-witness accounts, Nuremburg trial affidavits and official investigations mentioning steam chambers, vacuum pumps and other even more bizarre murder methods are ignored now. Impractical and problematic 'eye witness' detail of "hermetically sealed" chambers is also quietly avoided in current histories.
Initially it was claimed 3 million people were exterminated here at T2. Yad Vashem later claimed the total of killings here was 850,000. The Dusseldorf trials in 1965 accepted an even lower total of deaths of 700,000. Though how any of these figures were arrived at has never been made clear.
The first camp commandant was Irmfrid Eberl. He was replaced by Franz Stangl. Stangl was kommandant of T2 for almost one year, after whom Kurt Franz took over.
The staff of the concentration camp comprised around 25 to 40 German and Austrian soldiers and about 90 to 150 Ukrainian guards. A mass break-out of around 600 Jewish and Polish inmates occurred on 2nd August 1943. Of these about 200 evaded recapture. Shortly after this uprising the camp was closed. The last transportation of Jews to Treblinka was sent from Białystok on 19th August 1943, and the camp ceased to operate on 19th October of that year.
. . . . . .
THE WIDER PICTURE
OK. Let's put this in its bigger context...
1. During World War 2 there was a 'war' going on.
2. People with ethnic origins related to enemy nations were regarded as potentially hostile internal threats by ALL the participant warring nations and were incarcerated in 'concentration camps' and 'labour camps'. That requires rounding up, these ethnically undesirables, getting them to railways, moving them on trains. ALL the warring nations did this to those of their own citizens with the perceived 'wrong' ethnic background. Moving masses of people around on trains doesn't equate with genocide yet.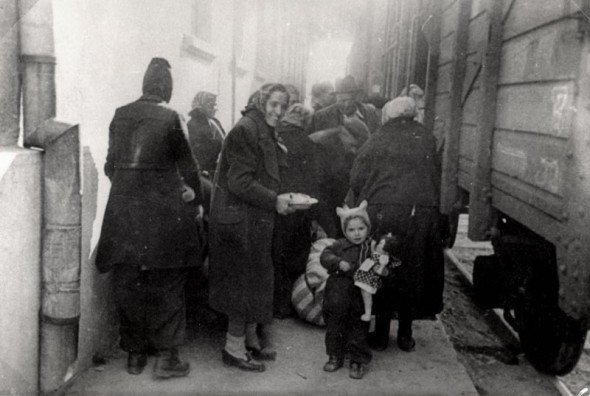 Polish Jews leaving ghettos and boarding trains bound for concentration camps
3. Germany originally just made people regarded as 'potentially hostile Jewish fifth-columnists' wear an identifying yellow star, but later decided to effect a 'final solution' that involved forcing them to emigrate and/or incarcerating them for the duration of the war with the intent of using those able for work, and after victory making them all leave. I.e. exile. E.g. Madagascar was one plan that didn't work out.
4. Rounding up and then moving trainloads of people was just one part of that operation. Other aspects were a.) preventing spread of disease/preventing dangerous epidemics, b.) acquiring needed labour and c.) wealth appropriation. In Canada, America and Britain the same level of cases and risks of Typhus disease among the perceived hostile aliens weren't there. Typhus carriers amongst Polish and Eastern Jews was a pre-existing problem BEFORE WW2.
5. Remember point 1 that there was a war going on. A 'total war', declared by Britain but pushed by international jewry, and after their defeat at Dunkirk with Germany's genuine peace offers rejected before they had even been received or considered. A 'total war' now declared by Britain to be executed with no mercy, with German civilians deliberately targeted and with Germany threatened with annihilation. An escalated 'total war' with people claiming to represent international Jewry working to get America involved against Germany again. Remember that one of international Jewry's representatives Chaim Weizmann bragged that they (Jews) had succesfully done exactly that in WW1. Recall also that most people in Germany — especially Hitler, the wehrmacht top brass and the NSDAP leadership — were bitterly aware of how they had been forced into penury, starvation and widespread national economic and social depression after the unjustly punitive conclusion of WW1. I.e. Germans were perceived to be fighting for their very existence.
6. Remember point 4. moving truckloads/trainloads of people was just one part of that 'endlösung' operation. Other aspects were a.) preventing spread of disease/preventing dangerous epidemics, b.) acquiring needed labour and c.) wealth appropriation.
7. A 'transit
camp
' is where people
ENTER
for a time BEFORE BEING TRANSITED TO SOMEWHERE ELSE. If they just
stop
at a railway station temporarily that is NOT a '
camp
'. That's a transit
stop
. Malkinia could have been such a 'transit
stop
'. But no-one has ever claimed this. So that is PRECISELY WHY a '
camp
' would have been required close to Malkinia.
8. Treblinka village and its Treblinka railway station were tiny.
9. Treblinka 2 not only could and did function as a transit 'point', but it was a fenced 'camp', with buildings, barracks, a bakery, a zoo, a steam facility for disinfecting clothes, with large 'shower' rooms, etc., etc. and with a permanent staff of operators.
10. Treblinka 2 was operated by 25 to 40 German SS and police officials plus a police auxiliary guard unit of between 90 and 150 men.
11. The two Treblinka camps apparently served numerous functions which the holocaust narrative confuses in order to maintain only ONE 'extermination narrative':
T2 augmented and fed operators of the gravel quarry camp (T1),
T1 became a 're-education camp' for troublemakers from other labour camps,
T2 functioned as a transit camp/looting camp/worker sorting camp*/extermination camp*,
(*take your pick).
. . . .
THE T2 CAMP FUNCTION: AKTION REINHARD?
If we were to fairly appraise the possibility of T2 being anything other than an extermination camp, we need to consider what else could have been its function?
If it were operated as a 'transit camp', and/or Aktion Reinhard 'wealth appropriation/collection/sorting camp, what would it require?
• If T2 was a 'transit
camp
' for preventing spread of disease, it would need shower facilities and clothes disinfectation facilities
(T2 had showers/parasite* killing chambers and steam rooms).
• If T2 was a 'transit
camp
' for selecting suitable prison-labour camp workers, and transiting them to prison-labour camps, it would need a fence to prevent escape (T2 had a fence) large showering facilites for disease control (T2 had *shower rooms/parasite* killing chambers), food making facilities (T2 had a bakery), clean camp clothes storage, and barracks for inmates and camp operators (T2 had barracks, permant camp workers and guards).
• If T2 was a 'transit
camp
' for wealth appropriation/theft/looting then you need somewhere to store and sort the wealth, people to sort it and document it, and guards to protect it. (T2 had such facilities and guards.)
• If T2 was a 'transit
camp
'/looting camp prior to exiling people via train into the Russian zone, it would need to be situated where the railway guage changes. (T2 was exactly at such a 'changing' point: close by Malkinia and associated with the pre-existing camp serving T1.)
SUMMARY
If the German war effort had required a place in this vicinity to transport Jews from Warsaw by rail; relieve them of their wealth; select people for labour and transit the rest to other camps or across the Bug river toward Russian territory; then a camp would be needed to be built here with the above mentioned facilities. Malkinia Railway junction, Treblinka village, and Treblinka Village Railway station didn't have ANY of these facilities.
The only question remains regarding which type of perceived parasites* were being killed in those steam* chambers?
. . . . . .
Alternatively, if we were to fairly appraise the possibility of T2 being
nothing other
than a designed and planned extermination camp and wealth appropriation centre, what different facilities would it be required to have other than the above?
It would require:
• a technically efficient method for gassing thousands every day that was more reliable than the alleged system using exhaust from captured soviet diesel/petrol engines.
• a planned system for disposing of hundreds of thousands of bodies leaving no trace, in a way that didn't draw unwelcome attention from surrounding villagers due to smell of decay.
• and an allocated area to dispose of hundreds of thousands of corpses without polluting the water table and thus the well water that served the camp.
T2 didn't have any of these.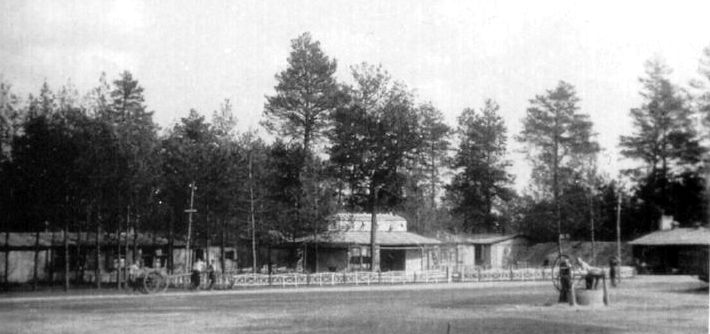 View of the camp showing the well on the right which would have been polluted had hundreds of thousands of bodies really been buried in the small camp, as was — and still is — claimed.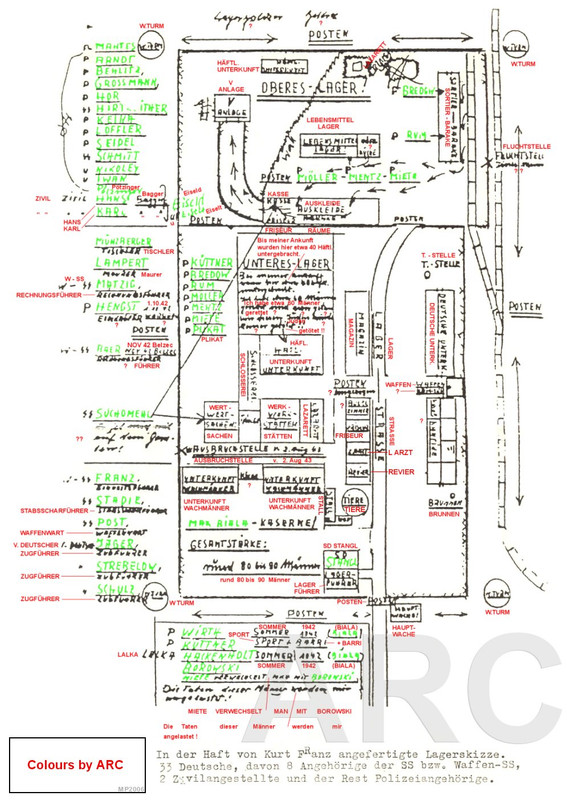 The Kurt Franz Map of Treblinka. In his handwriting Franz indicates names of SS men where they served in the camp. Nothing there about gas chambers, burial pits, collosal funeral pyres.
Kurt Franz