In order to not derail the
"Mass Gassings are IMPOSSIBLE!" Really? That's STUPID!
topic in the Holocaust Forum I am responding to Veronica Clark's defamation of my good character here.
PowerWolf1889 wrote:This is for Mr. Traynor and Mr. Werd:

http://www.veraiconapublishers.com/?p=2091

Maybe now Mr. Traynor will not jump to absurd conclusions about my books, eh? I avoid being banned on Amazon EU with my covers, Mr. Traynor. If white nationalists had half a brain in their heads they would have achieved something by now. As it stands they are mostly just cyberbullies and slanderers of those who stick their necks out as opposed to hiding behind anonymous cyber-veils.

SHAME ON YOU.
Does the mendacious non-historian Veronica K. Clark ever stop lying? It would appear not judging by the idiocy posted above. Casual visitors to this forum should note that I am not a misogynist and that I had to look up the meaning of MGTOW with a Google search. I have never ever bullied this woman in my entire life and our paths crossed for the first time here on RODOH. It appears Werd and I are in her bad books solely for the horrendous crime of daring to speak negatively of her fraudulent, non-scholarly books (this obviously proves we hate women in her warped mind).
PowerWolf1889 wrote:Maybe now Mr. Traynor will not jump to absurd conclusions about my books, eh?
I won't be changing my mind about your books anytime soon, Clark. You are a dishonest individual who misrepresents the truth in order to sell fraudulent history books to the ignorant and uninformed.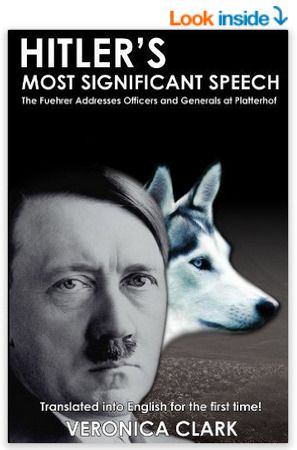 The book which would ultimately lead to VKC's downfall. You can pick up a used copy from
Amazon
if you have a spare $3000 burning a hole in your pocket.
This was not the Führer's most significant speech. There is nothing in it which hadn't been said a thousand times before. This was an informal address to officers at the Hotel Platterhof. The Führer was seated throughout. He was basically giving a pep talk to the military during a period when the war was going badly for Germany. The address was about leadership and not race as is fraudulently claimed by VCK.
Carolyn Yeager systematically eviscerated Veronica Clarks bogus claims about the Platterhof address on her
Feb 16th 2015 Heretics' Hour show
. Please listen to this very important program because it leaves the honest historian with no doubts about VKC's mendacity.
Feb. 16, 2015

Adolf Hitler's view on race and the German Volk

in his talk to Officers of May 1944 has been misrepresented by Veronica Clark in two books that she has sold on Amazon. Carolyn discusses the most interesting parts of the talk and points out the mistakes in Clark's translation:

• Changing the word Volk to Rasse, or race, in one instance where it could not be an honest error (on page 48 of the German copy, shown at right - click on image for enlarged view);

• Other inexplicably poor translation seemingly designed to detract from Hitler's strict attitude on race;

• Attributing to Adolf Hitler in her foreward a false quote that she knew was actually written by another man, Otto Wagener;

• Hadding Scott comes on the line in the last 15-20 minutes and confirms the correctness of Porter's translation over Clark's in some specific instances.

Read "Hitler's Talk to Officers and Generals on May 26, 1944 at the Platterhof in Obersalzberg" translated by Carlos W. Porter

here

.
Carolyn Yeager continues to take Veronica Clark apart piece by piece:
Setting the record straight with VK Clark, part 1
Setting the record straight with VK Clark, part 2
Entire "race section" of Hitler's Platterhof address in the original German
[edit: corrected the spelling of VKC's surname in the topic title.]