I had never before seen that beautiful colour film of Sepp Dietrich at the Berghof, sitting so intimately and affectionately with Gretl Braun (Eva's younger sister) and with the Speer children.
Those poor children. Forced to feel eternally disgraced and ashamed for something they played no part in, and which has been so monstrously distorted since.
E.g. here is a 'holocaust NEWS(?) article of the elder Speer daughter Hilde, STILL talking of her 'shame' in 2005 when she was 69 years old!!!
SIXTY YEARS LATER!!!!
https://www.theguardian.com/world/2005/ ... war.gender
And here is an obituary of the boy in the film Albert, who died last year. He is quoted as saying he tried his whole life to "distance himself" from his father. So sad that he felt compelled by society to do that. All because of lies, deceptions and victor propaganda:
[size=150]https://www.nytimes.com/2017/ ... tml[/size]
It makes me respect Gudrun Himmler even more for her courage and strength of character for resisting even worse demonisation of
HER
father and for continuing to retain her love for him undiminished by the mind-control intimidation.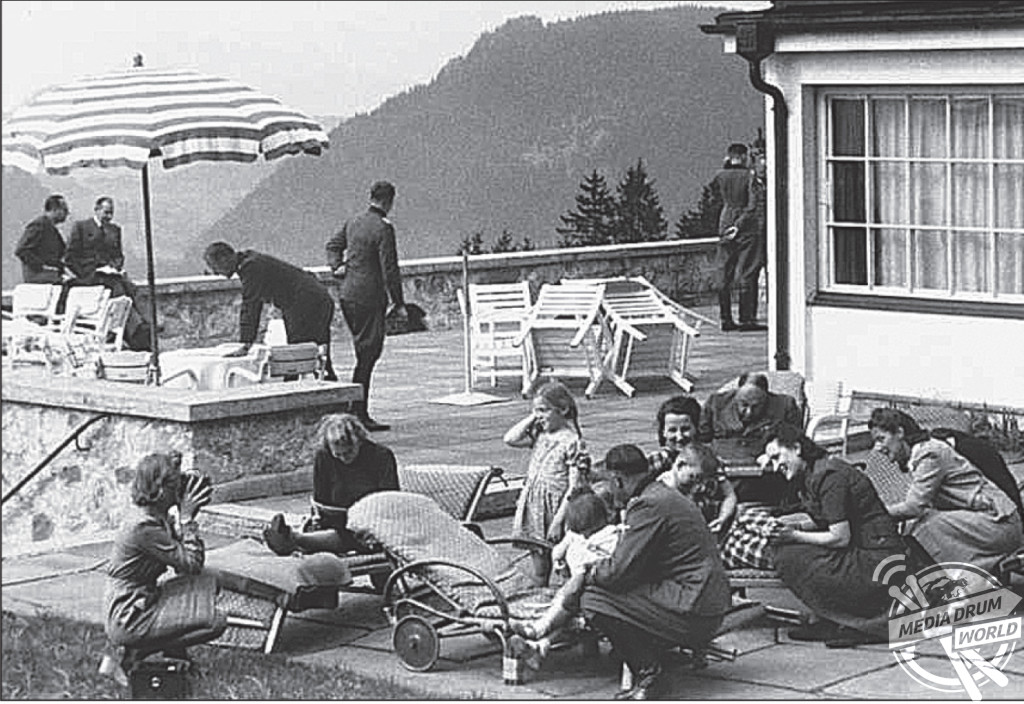 GUESTS ON THE BERGHOF TERRACE AS PHOTOGRAPHED BY ROCHUS MISCH IN 1942.
FROM LEFT TO RIGHT; WALTER HEWEL, LIAISON OFFICER TO THE FOREIGN MINISTRY AND REICH PRESS CHIEF OTTO DIETRICH (BOTH SITTING ON THE PARAPET); EVA BRAUN (FILMING); ADJUTANT FRITZ DARGES (BENT OVER TABLE); CAPTAIN GERHARD ENGEL, HITLER'S ARMY ADJUTANT (BACK TO CAMERA); FRAU MORELL FEET UP ON THE SUNBED NEAREST EVA BRAUN; COMMANDENT SEPP DIETRICH (CROUCHING WITH ONE OF THE SPEER CHILDREN); SECRETARY GERDA CHRISTIAN; THEODOR MORELL, HITLER'S PERSONAL PHYSICIAN (SEATED READING); SECRETARY CHRISTA SCHROEDER; AND (FAR RIGHT) MARGARETHE SPEER.