Conspiracy theorist and author Victor Thorn died earlier this month. Apparently the cause of death was a self-inflicted gunshot wound. Thorn first came to my attention with his book
The Holocaust Hoax Exposed
. Thorn's birth name is Scott Makufka which some claim is a Jewish name (I would like to see some solid proof of this). I know some individuals here have questioned his integrity in the past and the real motives behind this book. Personally I believe Thorn entered the crazy upside down world of the Holohoax because he saw easy money to be made. What is surprising is that this book was republished by Barnes Revue in the style of The Holocaust Handbook series. I wonder who gave the okay for that to happen?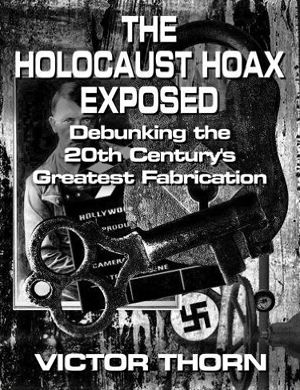 The original book cover
A more Kosher version
It's been a while since I listened to the first three radio shows but I seem to remember Thorn let his guard down and came across as a Holohoax ignorant shyster on the Texe Marrs show.
Victor Thorn audio archive:
https://archive.org/details/VictorThornInterviews2012