It is quite a work of horror. The pneumatic hammer worked like a syringe that entered the skull immobilizing the victim immediately like a bullet but compressed air entered the skull through the syringe causing high pressure within the skull exploding the head. When this was considered so unbelievable the story was changed to lobstering then to gassing as people believe those lies in the first world war. The gassing myth was also promulgated as propaganda in WWI; it is just this time the Russians and Jude have continued. There are variation of the head banger story, which also occured at Treblinka: one is where the prisoner stands facing a wall and behind him a huge hammer comes out and clobbers him.
Potpourri of Nazi extermination methods
Pneumatic hammers
Electric baths
Electrical assembly line killing
Atomic bombs
Burning alive
Steam chambers
Suffocation by pumping all the air out of the death chambers
Quicklime trains
Chambers with submergible, electrified flooring
Blood poisoning
Drowning
Chlorine gas, assembly-line shootings, boiling water, acid
Climbing trees and cutting down tree
slashing with knife
gassing with carbon monoxide
gassing with cyanide
Off course each of these morphings had many credible eyewitness with detail. Sadly none of these represents reality.
What these liars forget is that while they are entitled to form their own opinions, they are not entitled to supplement reality with their own facts. What is missing by omission is allied bombing stopping essential supplies for health and wellbeing, especially medicine. With typhus and typhoid the allies knew there would be huge issues, but like the Russians who were their allies put the blame on Deutschland, who was effectively neutered. This is a cover up of monumental proportions and will never go away.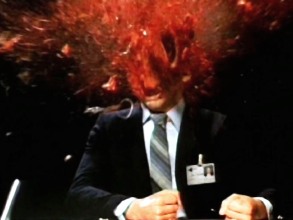 Nazi Pneumatic head banger.