Posts: 9392
Joined: Mon Aug 20, 2018 4:56 am
Location: Gasthaus Waldesruh.Österreichisches Deutsch
Contact:
He notes and believes what (((witnesses))) conspire and collude to achieve a common goal: deception.
𝖀
𝖒𝖆𝖗𝖒𝖊 𝖉𝖆𝖘 𝕷𝖊𝖇𝖊𝖓, 𝖓𝖎𝖈𝖍𝖙 𝖆𝖚𝖘𝖇𝖊𝖚𝖙𝖊𝖓.
Amt IV
---
SUPPORT RODOH!
Would you like to financially contribute to the upkeep of RODOH? Please kindly contact Scott Smith ([email protected]). Any and all contributions are welcome!
---
Collusion and corroboration are very different.
---
Posts: 9392
Joined: Mon Aug 20, 2018 4:56 am
Location: Gasthaus Waldesruh.Österreichisches Deutsch
Contact:
Not with jüdische partizani manufacturing black propaganda.
𝖀
𝖒𝖆𝖗𝖒𝖊 𝖉𝖆𝖘 𝕷𝖊𝖇𝖊𝖓, 𝖓𝖎𝖈𝖍𝖙 𝖆𝖚𝖘𝖇𝖊𝖚𝖙𝖊𝖓.
Amt IV
---
Propositions Moderator
Posts: 10004
Joined: Tue Apr 30, 2013 8:59 am
Contact:
Anyone who undertakes an enquiry of such a kind is soon made aware of one important fact:

the worthlessness of

mere

human testimony

.

It is a chastening thought to a historian to consider how much of history is written on the basis of statements no more reliable than those of Admiral Doenitz, Dr. Spaeth, and Carmen Mory.

If such statements had been made and recorded with reference to the disputed death of the Czar Alexander I in 1825, plenty of historians would have been ready to take them seriously.

In this case they were made by contemporaries,

and it was possible to check them

.

The English historian James Spedding said that every historian, when faced with a statement of fact, must ask himself the question: who first said so, and what opportunities had he of knowing it?

Subjected to this test, much of historical evidence is found to dissolve.

...Of course not all legends are pure fabrication: there are degrees of human invention, and some myths have a basis of fact or at least of wishful thinking.

~~ Hugh Trevor-Roper.

'The Last Days of Hitler', p.xiv, and xvi.
"When people who are honestly mistaken learn the truth,
they either cease being mistaken
or they cease being honest"
-- Anonymous
---
The historians have examined the evidence and all agree, mass gassings happened.
---
Propositions Moderator
Posts: 10004
Joined: Tue Apr 30, 2013 8:59 am
Contact:
.
This topic-thread has concentrated so far almost soley on the vast collection of dubious, improbable and blatantly fraudulent witness testimony of so-called 'survivors' and bystanders of this legally-protected 'history' called 'THE holocaust'.
But what of all the 'eye-witness' testimony of the confessing perpetrators?
Why would they 'confess' to an unevidenced — and often physically impossible — story of the mass-gassing millions of Jews if it had not occurred?
Had they perhaps been coerced?
Also why would the Third Reich top-brass deny any knowledge or involvement yet still 'agree' that an unevidenced programme for the mass-gassing millions of Jews had occurred?
To answer this, we need to start with the first public 'confessor' of mass-murdering Jews with gas:
Rudolf Höß
.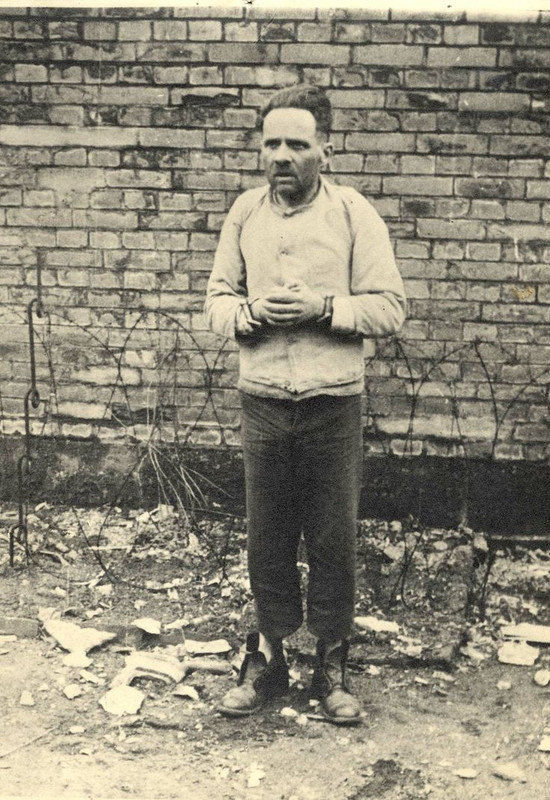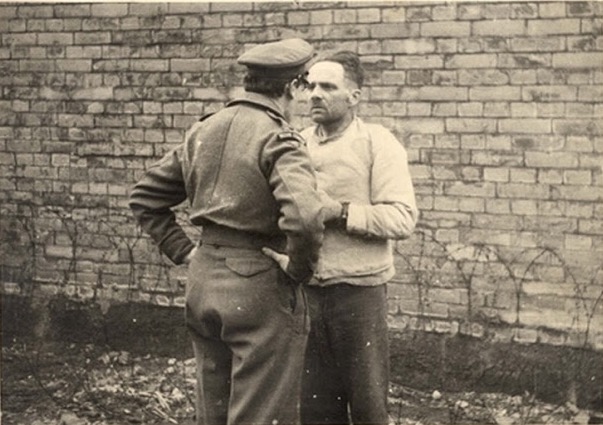 We KNOW that
Rudolf Höß
was tortured prior to his first public appearance at Nuremberg — naturally, a public appearance after first being given a haircut, shave, clean clothes, etc., in order to look well-cared for.
We know about his torture and coerced testimony as he wrote briefly about it. And we know about it from statements from his surviving daughter made decades later, about violent, frightening torture and coercion made upon her eldest brother and her mother by Jewish 'intelligence' soldiers.
And we know about this coercion not just from himself and his innocent children, but because his Jewish captors boasted of it decades later in memoirs and interviews. They even took photos of themselves doing it, and their handiwork!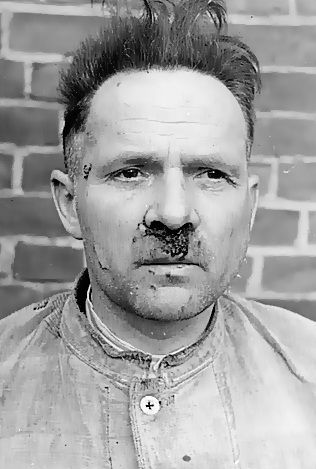 We know also that
Julius Streicher
was tortured, humiliated and ill-treated prior to his journey to Nuremburg. He courageously said so when in the witness box, though it wasn't recorded in the transcription.
We know that
Ernst Kaltenbrunner
was wheeled into court in a wheelchair during the Nuremberg trials after a suffering a brain hemorrhage during his 'interrogation' in 'the cage' at London. Hmmmm? I wonder how that happened?
We know
Hans Frank
was brutally beaten before he was delivered to Nuremberg.
Etc., etc.
... ... ... ...
This seems to have been the proceedure, then: torture and beatings weeks or months PRIOR to their publc appearance at the Nurember show-trial. I.e. before they would be filmed for propaganda news reels.
It would appear they went a bit too far with Kaltenbrunner's final pre-trial interrogation.
Ernst Kaltenbrunner being wheeled to his cell at Nuremberg following his London 'interrogation'
So that is how it was
prior
to Nuremberg.
But just how was it for them when they arrived at Nuremberg?
To answer that, here is an account of prison life for a VIP prisoner at Nuremberg that I just came across.
It was translated from German in 1960 by
David Irving
and is one of the many books of his research of primary sources that he has made available for free download on his website.
It shows how this particular high-rankng prisoner felt compelled to thank and
praise
his captors for their
generosity
(?), whilst simultaneously recording for posterity the effect their treatment of him had upon his physical and mental health?
And as this is the treatment meted out to a high profile prisoner put on public display, we can imagine the treatment of lesser mortals in Allied captivity, who wouldn't later be paraded so publically and internationally.
This high-ranking prisoner had been sat in darkness in his cell every day for
five months
at the time of writing with just a ten minute period of outdoor exercise each day, and with no contact with the outside world, nor with other prisoners.
So for those self-deluders and deceivers who stupidly maintain there was absolutely no coercion of German prisoners, read on:
The conditions under which we have been living here for five months now [on remand in the Nuremberg Palace of Justice] are really less than enviable, since I know nothing at all about what has become of my country or my family, and indeed about what is to become of myself. For the last two months we have been permitted to write letters and postcards, but we have received no replies. That all these circumstances are not without their effect on my health, nerves and frame of mind is self-evident. Since May [1945] I have lost two stone in weight, of which I have lost one stone in the last eight weeks alone here in prison at Nuremberg. Now I cannot lose any more.

I can well understand the fact that we soldiers are to be called to account by the Allied military tribunal and that we have to be kept apart while on remand for investigations, but I find that my being deprived of even the most humble necessities for my cell is a far greater burden to bear than the admittedly wearying interrogations, where every testimony I make — being under oath — has to be carefully weighed.

I mention only a few of the deprivations. From 5:30 P.M., or when it grows dark — which at present is considerably earlier than that — one must sit and brood in darkness, because they have taken away my glasses and it is impossible to read even by the glimmer of light coming in from the corridor outside.
Secondly, one has only a bunk and a small table, with no desk or shelf, and even the wooden chair is taken out.
Thirdly, there is nothing to hang or lay one's clothes and underwear on: one is obliged to lay it on the stone floor, so it is impossible to keep one's clothes clean.
Fourthly, the window which ventilates the cell and regulates the temperature cannot be operated from inside.
Fifthly, one is restricted to ten minutes exercise in the open air each day.

Those are only the worst deprivations, which seem to go some way beyond what is already a decidedly austere furnishing of a remand prison. The effects of all this on my frame of mind, and the uncertainty over my fate, are gradually taking their toll on my physical and mental capacities.

I must stress that by drawing up this list of reasons for my unchecked physical and mental decline I am not raising any complaints, because I have no doubt as to the basically good intentions of my immediate custodians [the Americans] and because I have benefited personally from the manifold help of the American military surgeons, and I must make my gratitude to them quite plain. But my permanent back pains are physical torture to a man of sixty who is not even permitted a chair with a back to it.
"When people who are honestly mistaken learn the truth,
they either cease being mistaken
or they cease being honest"
-- Anonymous
---
Hundreds of direct witnesses to gassings;
viewtopic.php?f=13&t=3196
One witness is repeatedly trotted out as having been coerced and it is suggested that happened to all the rest. That is a dreadfully weak claim.
---
Users browsing this forum: No registered users and 46 guests