The reality is that the 'holocaust' narrative has
no empirical "corroborating evidence" for mass-gassings
in the numbers claimed, at the places claimed, by the methods claimed, with the bodies disposed of in the ways claimed.
On the contrary, the empirical evidence refutes the eye-witness claims in nearly all particulars and details.
So no honest, intelligent, mature person familiar with this fact would
believe those witnesses
. Not unless they could provide corroborating empirical evidence of the witnesses' often impossible claims.
As we all know, the holocaust industry can not do that.
Which is why it has elevated witness testimony to sacrosanct status.

Which is why obvious liars are lauded and feted. E.g. Kitty Hart-Moxon and Eva Moses Korr,
Which is why clear plagiarists and fraudsters have been honoured and celebrated. E.g. like Elie Wiesel was.
Which is why belief is maintained by instead outlawing publication of the fact of this absence of credible evidence.
It is precisely the absence of corroborating empirical evidence that Ernst Zündel courageously demonstrated at his 'witch trial' in the 1980's. Which is why he eventually had to be cleared by the court on appeal of spreading 'false news' but was imprisoned and exiled anyway on 'secret' charges.
Again this shows the wilful ignorance and stubborn stupidity of this troll.
The primary physical "evidence" of witchcraft accepted by the Salem court was the physical behaviour of the girls: weeping, jerking, barking, writhing, screeching, etc. That was
physical
evidence interpreted to fit a preconceived belief.
No-one then or now denies those girls exhibited that behaviour.
So this argument from Nessie shows yet again a genuine denial of reality to support a modern-day, irrational, cultish belief-system. Viz. the irrational, cultish unevidenced belief of millions being gassed to death in Poland between 1942 and 1944.
Other "physical evidence" accepted as "corroborating evidence" of witchcraft were 'marks of the devil' (moles and freckles, etc.,) found on the bodies of the accused.
Then there were coincidences like pigs dying after an accused looked at them.
Then there were dolls or 'poppets' found in the possession of accused.
Etc., etc.
These are all "physical" objects and events. All on their own were not "proof" but — just as with the unevidenced, 'holocaust' mass-gassing allegations — they are made to fit the alleged 'crime' by claiming a "convergence". A convergence towards a pre-conceived belief (witchcraft) achieved by applying a confirmation bias.
Exactly as holocaust-believers argue.
Exactly as Dr. Nick Terry argued in all his discussions with me over at the falsely named 'Skeptics' forum.
Which is EXACTLY how the holocaust accusation was given any semblance of credibility in the first place:
— it accepted witness statements as true,
— then looked for (and even created) physical evidence to support that,
— and then forced confessions out of accused people to fit the accusations against them.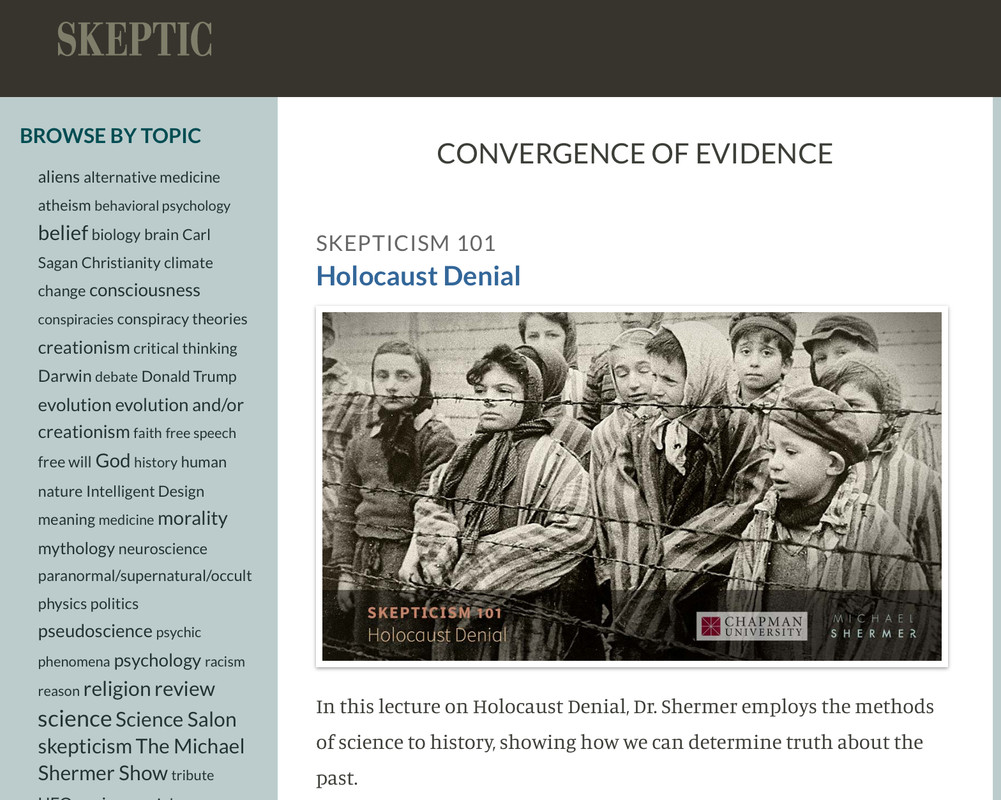 Shermer argues "convergence of evidence" using a Soviet, staged photograph of healthy, well-cared for children asked to wear adult, camp uniforms which they had never worn before and then made to pose behind barbed wire in. Convergence!
Yeah, a minority did. And were hung for their honesty.
As ALL honest, intelligent, knowledgeable people concede.
Only a deeply stupid or extremely dishonest person would deny this well-known fact regarding Salem's witch trials.
Oh boy!
(sigh)
Yeah! Just as innocent people admitted to being witches and co-workers with Satan in Salem in 1692.
That is the whole point of mentioning Salem.
(What a stupid person)
"Told that they would be shown mercy if they confessed, 54 of the accused witches admitted guilt. Families and friends often urged their loved ones to confess to save their lives. ...When Margaret Jacobs confessed to witchcraft, she implicated several others, including her grandfather, Reverend George Burroughs.
From February to May, events escalated until 180 residents had been accused of witchcraft."
https://www.mtsu.edu/first-amendment/ar ... tch-trials
What an incoherent, moronic misrepresentation!