Hi, I am having trouble finding information on this:
Are there documented accusations of the Nazis using chimneys to dispense Zyklon B into homicidal gas chambers before the 1944 Soviet-Polish investigatory committee report on Majdanek, along with this 1944 image of a Soviet Army man demonstrating the operation of the "Zyklon chimney" at Majdanek?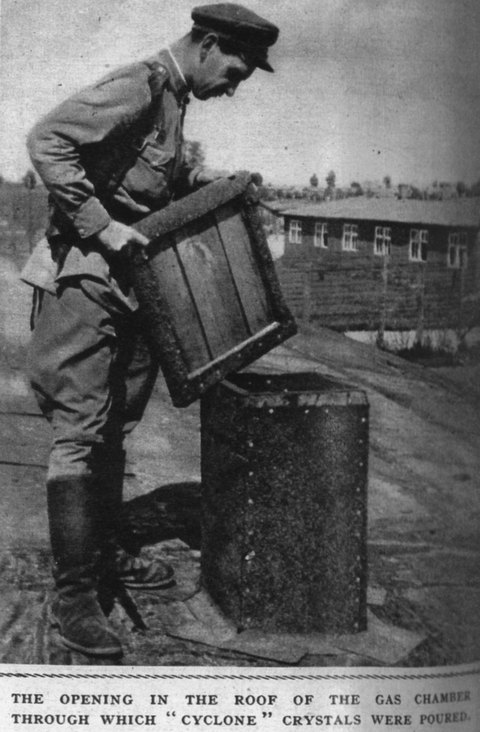 The room containing the real chimneys at Majdanek is now acknowledged to have been used as a "dressing room" and not a homicidal gas chamber. Therefore, this Soviet Man is, in 1944, giving a false demonstration of how the gas chambers are claimed to have worked at Majdanek. Is this Soviet Man then, accidentally or coincidentally, demonstrating the operation of the actual gas chambers in Auschwitz, which wasn't even liberated until 1945?
Isn't this a huge dilemma? If Majdanek is the first documented accusation of Zyklon chimneys, then either:
1. The "Zyklon chimney" story was fabricated at Majdanek by the Soviets in 1944, but those accusations coincidentally described the operation of the real gas chambers as described by eyewitnesses in Auschwitz in 1945. Again- Asuchwitz had not been liberated until after this photo was published so such testimony could not have served as a model for this staged photo.
OR
2. The "Zyklon chimney" story was fabricated at Majdanek by the Soviets in 1944, and that this served as a prototype where it was applied to Auschwitz in 1945. Now, the 1944 prototype is admitted to have been false.
A third possibility, is this: There are documented accusations of Zyklon chimneys before either the liberation of Majdanek or Asuchwitz, the Soviet investigatory committee 'accidentally' identified structures at Majdanek as being such Zyklon chimneys, but the reports/rumors of Zyklon chimneys wound up being true at Auschwitz. The only evidence that could justify this third possibility is documented rumors or accusations of Zyklon chimneys before Majdanek in 1944. Is anybody aware of such documentation?
Or does the fake Zyklon Chimney at Majdanek completely precede all eyewitness claims of the Zyklon chimneys in Auschwitz?