.
People power against misused, maleficent 'Jewish' power!
In Britain, two people motivated by hatred based upon their self-identification as 'Jews' —
Rachel Riley
and accomplice
Oberman
— have just lost their mercenary-driven, FALSE case of 'anti-semitism' against a barrister.
Their hypocritical abuse of defamation and libel laws in Britain has been thwarted by crowd funding.
https://zelo-street.blogspot.com/2020/0 ... money.html
.. .. .. ..
Their other ongoing FALSE case and hounding/persecution— against a journalist — hopefully will also be thrown out by the judiciary.
https://www.crowdjustice.com/case/mike- ... bel-fight/
.. .. .. ..
Jewish TV celebrity
Rachel Riley
claims her legal actions are not about money but combatting "vile lies". The hypocrisy, dishonesty and cheating mentality is alarming.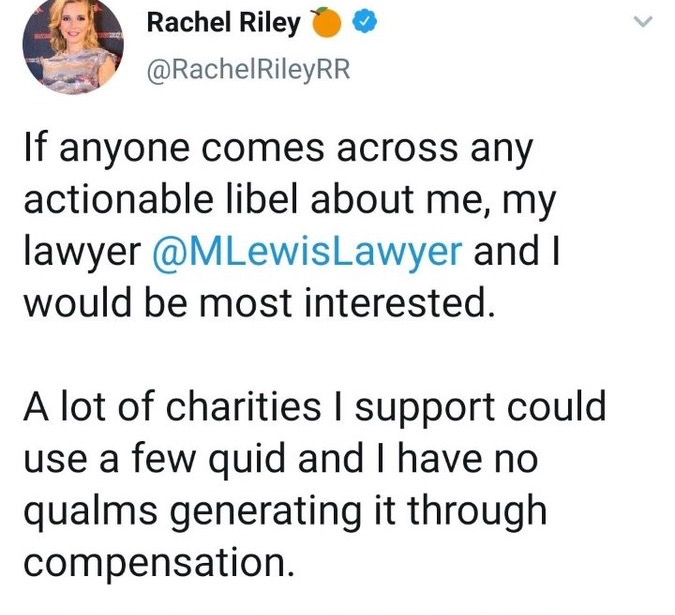 .. .. .. .. ..
In another case brought by another person motivated by hatred based upon his self-identification as 'Jewish', crowd funding has been huge.
John Ware
a reporter for Panorama is taking legal action for libel against former Labour leader
Jeremy Corbyn
.
https://www.gofundme.com/f/47gyy-jeremy ... lQF0HTY%3D
https://skwawkbox.org/2020/07/26/panora ... es-280000/
.. .. .. .. ..
Chris Williamson
is another who is fighting back against the slanderous and hate-motivated misuse of power and the 'anti-semitism' accusation by appealing for help through crowd-funding!
https://campaignforchris.nationbuilder.com/ehrc