.

According to the online encyclopaedia Wikipedia and
holocaust
historians regarded as 'experts' like Christopher Browning, the
final solution
was a policy to kill all and every single Jewish person in Europe during WW2 by the German Third Reich.
One of the supposed 'proofs' of this
'holocaust'
allegation, is the Einsatzgruppen activity on the Eastern front.
And one of the most infamous pieces of alleged 'evidence' of the Einsatzgruppen's part in this alleged 'final solution' genocide of ALL Jews, is the following photo.
On the back was allegedly written
"Ukraine 1942, Judenaktion".
Leaving aside the obvious fact that a photo showing the killing of seven civilians on the Eastern Front is not at all proof of a policy to kill every single Jew in Europe, there are some other problematical aspects of this photo and the claims made of how it was discovered.
It is speculated that this photograph was taken at a site known as
"Ivanhorod Mass Grave"
outside the Ivanhorod village in the Cherkasy Oblast in central Ukraine situated at 48.78484N, 29.78735E.
The story behind the discovery of this photograph is that it was mailed from the Eastern Front by a German soldier and intercepted at the Warsaw post office by members of the Polish underground resistance. They claimed after the war to have been going through all the mail to find anything written about troop movements, plans, morale, etc. They claimed that they then sent this information to London, UK.

I see a few problematical details here.
1. How, where and when was it developed on the Eastern Front?
Firstly if a soldier with the Einsatzgruppen really had taken this photo, it would have been one of many on a film reel. That film reel would need to be developed and prints made from the developed negatives. Where on "the Eastern front" during a fiercely fought war was a soldier supposed to get that done? I'm not suggesting it wasn't possible. I'm just genuinely asking.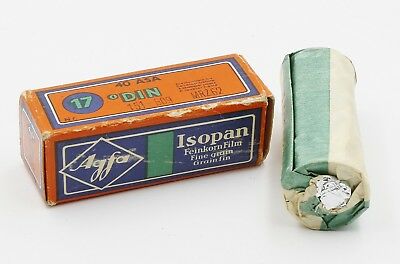 2. Of all the photos to send home, why this one?
Secondly, on a reel of film there would have been perhaps twelve to twenty-four photos.
So out of all the photos a soldier took from a roll with that many photos a.) why would
he
want to show his family and loved-ones ONLY one of civilians – including a mother with a young child – being killed, ?
And b.) would a German soldier really think that
his family
would want to see something like that?
Surely he would choose to send them a photo of himself and his mates at some interesting event or location.
Surely he would know that they also would also prefer to see something like these below?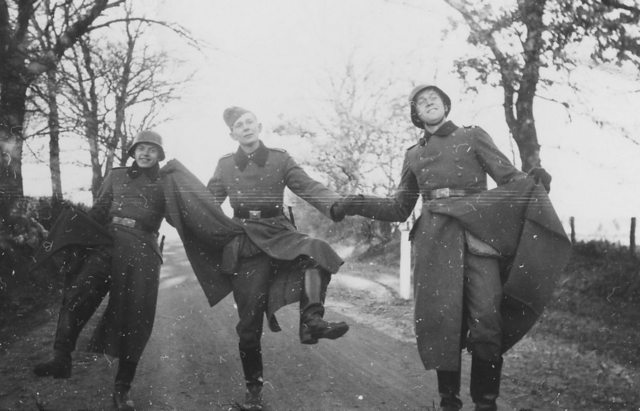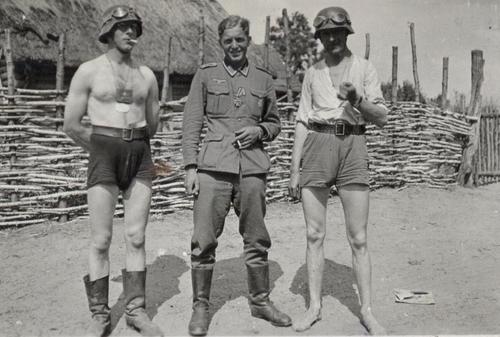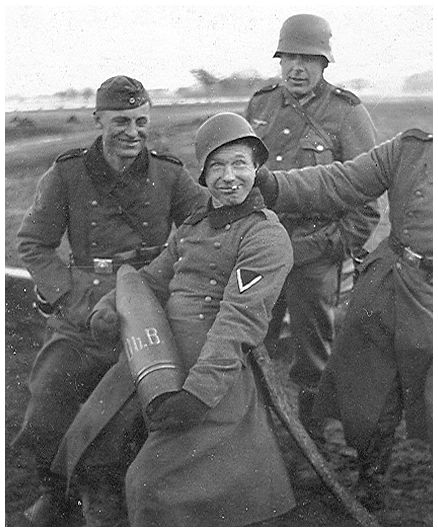 3. Ability to open

all

mail?

Undetected

? During a war? Seriously?
Thirdly, the likelihood that regular interception of mail from soldiers home to Germany in order to collect intelligence from private letters could be achieved undetected by the Polish resistance seems rather far-fetched.
4. A teenager?
But assuming all this did indeed occur and film had been developed somewhere behind the Eastern front, and a private letter containing this 'atrocity' photograph was posted home and discovered, the next part of the narrative seems also unlikely. It is alleged the print was taken out of the letter and sent to Foto-Ris, where a 16 year old youth named
Jerzy Tomaszewski
given the responsibility of making a copy which was sent undetected to London for propaganda purposes and the original preserved with Foto-Ris.
That the copying of such a 'find' would be entrusted to a 16 year old teenager who in 1942 already knew about and was skilled in photographic copying also seems not credible.
Then there are further aspects of the story that stretch credulity.
5. Who posted it and to whom?
If the Polish resistance really had intercepted this and saw it was proof of a war crime, and decided to steal it, archive it and make a copy to send to London, wouldn't they record details of the soldier who sent it, record the envelope and the address it was sent to?
Ermmm, well no, apparently not. That thought seems to have not occurred to them. They supposedly just archived it, and did nothing with it for 17 years and then used two figures from it, removed from the background, on a book cover
6. Where is photographic evidence of the back? Why is that never shown
Although the photograph has been and still is claimed to be 'proof' and therefore widely used to support the 'holocaust' narrative, I can not find — nor have ever seen — the back of the photo and the claimed written caption:
"Ukraine 1942, Judenaktion".
Not only is the back not available online, what is exactly written there varies from account to account. Sometimes the name 'Ivanhorod' is also claimed to be written there. Some accounts have that word but spelt 'Ivangorod', as a Russian would spell it (i.e. not how a German soldier would).
It gets more incredible.
7. Why wait 17 years?
The photo was released to the public for the first time in 1959. That is seventeen years after it was supposed to have been discovered!
The publishers of it were a Soviet-Communist Polish organisation called 'the Society of Fighters for Freedom and Democracy'. A small part of the photo — heavily distorted with extreme contrast — was used on the cover of a book of photographs entitled
'1939–1945. Wir haben es nicht vergessen / Nous n'avons pas oublié / We have not forgotten '.
Tomaszewski was by now one of two editors working on this book. According to another book
'Private pictures: soldiers' inside view of war'
by Janina Struk, he admitted that he knew his book was using photographs for Soviet Communist propaganda purposes but he said he didn't mind as he wanted this particular 'Ivanhorod' photo to be published somehow (?). And yet the photo is NOT included in the book. Just this distorted usage on the cover. Hmmm?
8. Accusation of forgery
Then in 1962 it was accused of being a Soviet forgery in the German press:
The West German newspaper Deutsche Soldaten Zeitung (DSZ, German Soldiers' Newspaper) printed an allegation on the 26th of January 1962 by Professor Otto Croy, known for his writings on photographic technique, under the title Achtung Fälschungen ("Beware Fakes"). Croy claimed that the photograph had been fabricated by Communist authorities in Poland in order to falsely accuse Germany of war crimes.
In December of 1964 the German magazine Der Spiegel did a news article referring to the controversy. Here it provides quotes from readers' letters saying the uniformed soldier is not wearing German Wehrmacht uniform nor is his rifle standard Wehrmacht equipment. Manfred Ensinger from Frankfurt argued the uniform shows the soldier was a Soviet. Polish newspapers stated he was a Pole, not a German:
Leser Manfred Ensinger, Frankfurt (Main), hält dem SPIEGEL Hinweise eines Exil-Polen an die "National-Zeitung" vor, wonach Schloss- und Kolbenpartie sowie der Gurt des Gewehrs, ferner "Russenbluse", "Pompki" (Hose) und "Charmoszki" (Stiefel) den atypischen Sowjetsoldaten" erkennen lassen. Gleichwohl sagt die "National-Zeitung" selbst: "Der schiessende Soldat ist ein Pole."
9. Where is the other photo?
Here is what Wikipedia currently states was the repercussion from 1962 to 1965 of the accusation of forgery:
In response to the allegations, Tomaszewski and Tadeusz Mazur (one of the editors of

'1939–1945. We have not forgotten'

)

published

another image

from the same source

in the Polish magazine

Świat

on the 25th of February.

The second image depicted five armed men, one in civilian clothes and the other four in uniform, standing and looking at the camera over a pile of corpses. It bore several similarities to the better-known photograph, but lacked the "dramatic impact", according to Struk.

The flat, barren terrain was identical; one of the men bore a strong resemblance to a soldier in the previous photograph; and the words

"Ukraine 1942"

had been written on the back of the image in the same handwriting. In the article, Tomaszewski described the

DSZ

as a supporter of the Third Reich and accused the paper of "revisionism".

The allegations continued to be recirculated in the West German press for more than two years, in what Tomaszewski described as a "press war". The Polish government was concerned about a potential diplomatic incident if the image was in fact a falsification, and they sent officials to Tomaszewski's home to inspect the image. In 1965, Der Spiegel published a letter from Kurt Vieweg, a former member of a German police battalion stationed in Norway, and he confirmed that the weapons and uniforms matched those used by his unit and those of the Einsatzgruppen.
That's the best refutation they could come up with? Ad hominem accusations against anyone who doubted the photos authenticity of being Nazi-sympathisers and of being 'revisionists'? And a person who confirmed that the uniform and weaponry was identical to his
police
unit in Norway? Why not provide proof of the exact uniform to show it was German?
But most decisively, why is this other photo not given equal prominence?
I searched online but can find no other reference to it, nor reproduction of it.
Eventually someone on another chat forum produced it. But I have never seen it in any
'holocaust'
book or website. Why?