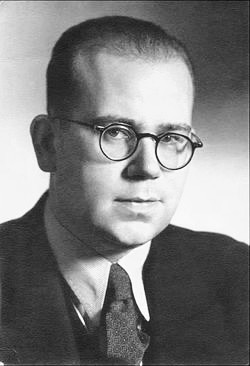 Georg Konrad Morgen
(8 June 1909 – 4 February 1982) was an SS judge and lawyer who was given the task by SS Reichsführer Heinrich Himmler of investigating crimes committed by Himmler's SS personnel. Morgen worked within the SS Judiciary, a system of courts that tried cases against members of the the Allgemeine-SS and Waffen-SS.
In 1941 and the first half of 1942, he investigated financial corruption by members of the SS in occupied Poland. Morgen's first assignment in the SS judiciary in 1941 was in Kraków, the seat of German administration in the portion of occupied Poland not incorporated into the Reich. Shortly after arriving there, Morgen began investigating members of Himmler's circle.
In July 1943, Heinrich Himmler chose Morgen to investigate SS corruption in the concentration camps.
He rose to the rank of SS-Sturmbannführer (Major).
Morgen was known as a Blutrichter — a judge authorised to pass death sentences.
After the war all SS personell received especially harsh and brutal treatment at the hands of the Allied victors [
1
], many receiving torture and summary execution. Morgen was imprisoned in Dachau. He recounted how he was beaten in order to intimidate him into giving false testimony.
Morgen was later called as a witness at the show-trials of NSDAP high command at the International Military Tribunal in Nuremberg. He also appeared in court at the trial of SS WVHA members, and the 1965 Auschwitz trial in Frankfurt–am–Main.
He gave his last deposition in 1980, two years before his death.
Morgen once described himself as a
Gerechtigkeitsfanatiker
– a fanatic for justice.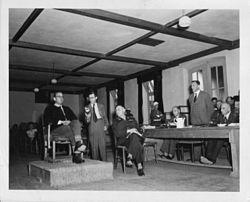 . . . . . . . . . .
Born in Frankfurt, Morgen graduated from the University of Frankfurt and the Hague Academy of International Law, before becoming a judge in Stettin.
At the outbreak of the war, he was drafted into the Waffen-SS and sent for basic military training.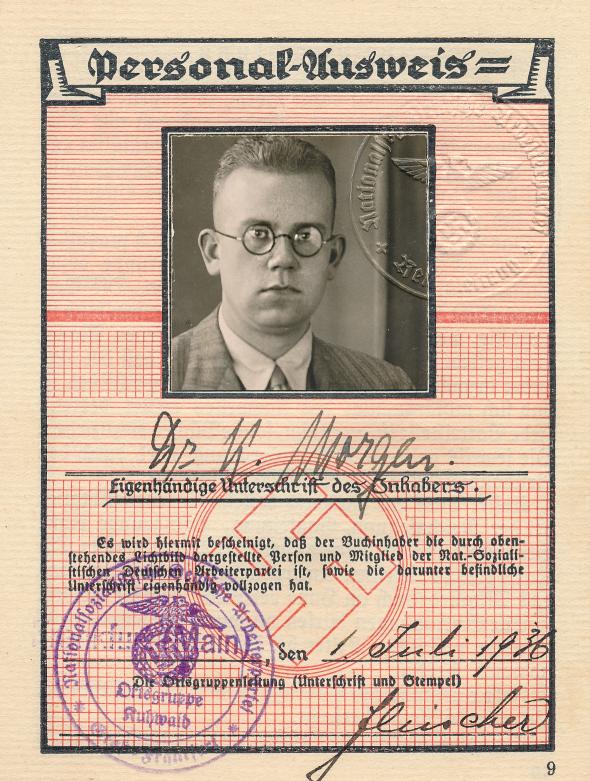 After the invasion of France in 1940, he was employed as a judge in the SS Judiciary, which assigned him to its court in Krakow.
Morgen wrote:I said to the man in the personnel office that I would like to resume employment in my profession, since if one has just passed one's exams and then leaves the profession for more than a year, it is very hard to work one's way back in. He said, "OK, the Head Office of the SS Judiciary is looking for judges. So you'll get a job there."
In Krakow he investigated several highly placed SS officers for corruption, including Hermann Fegelein, the future liason oficer of Heinrich Himmler, and the future brother-in-law of Eva Braun and Adolf Hitler. He also exposed one of Fegelein's co-conspirators, a mistress of Albert Fassbender (commander of an SS cavalry brigade) named Jaroslawa Mirowska, as a Polish spy and as the head of the Polish underground.
After requesting a transfer, Morgen served with the Wiking Division on the Eastern Front. Most histories claim that Himmler sent him there as a punishment for investigating the SS too successfully. Which appears to be an example of the currently accepted and promulgated history's inclusions of self-contradicting, delusional deceit, as in mid-1943 Himmler recalled Morgen to investigate and prosecute corruption in the concentration camp system. Why would Himmler do that if he had got rid of Morgen because he had investigated too thoroughly, too justly and too honestly previously?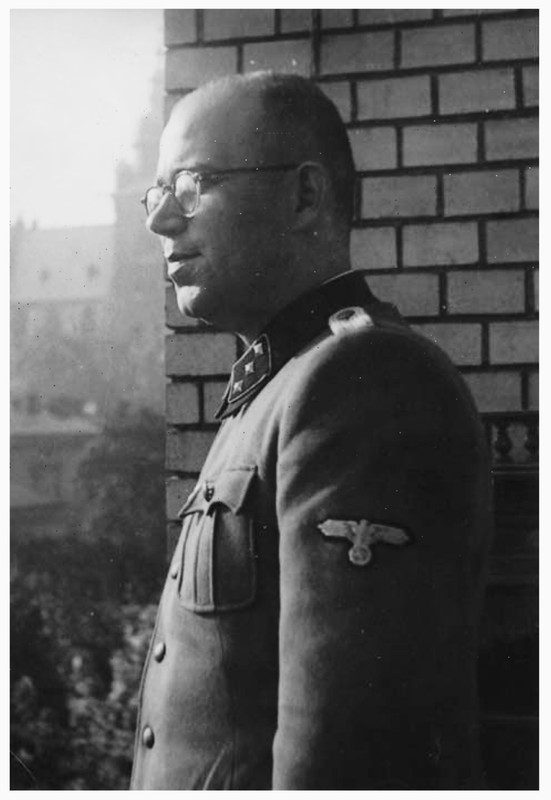 Morgen's investigations included Karl-Otto Koch the commandant of both Buchenwald and Majdanek; Koch's wife Ilse Koch; SS officer Martin Sommer; and Buchenwald's camp doctor Waldemar Hoven. Charges included theft, military insubordination, and murder.
When he found that prisoners in Buchenwald had disappeared — especially those who had witnessed corruption — he inferred that they had been murdered. Consequently, after corroborating investigation, he drew up charges against Karl Otto Koch of murder during his time as the commandant of Buchenwald.
Morgen succesfully investigated, tried, and convicted Commandant Koch. He had him executed at Buchenwald by SS firing squad on April 5th 1945, shortly before the end of the war.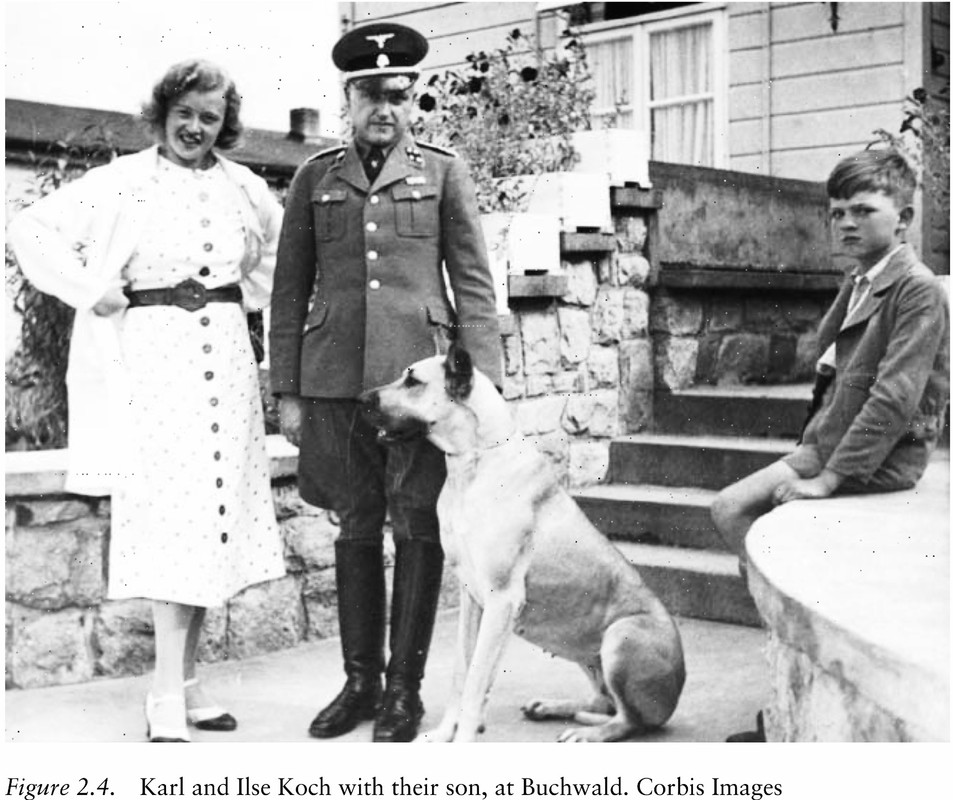 Karl-Otto and Ilse Koch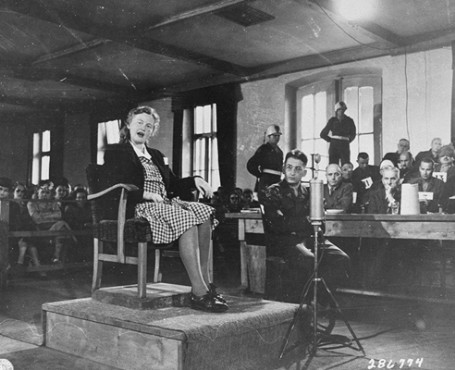 Ilse Koch on trial at Dachau after the war.
In post-war testimony, Morgen exposed the bogus atrocity-propaganda allegations against Frau Koch of an alleged fetish with lampshades made of tatooed human skin from Jewish inmates. He had personally searched Koch's home near Buchenwald and knew these were false rumours. He later told the American journalist John Toland that because he persisted in denying the story he was threatened with beatings and actually was beaten twice by Allied interrogators preparing statements for IMT at Nuremberg.
In addition to prosecuting concentration-camp officers during the war, Morgen had sought an arrest warrant for Adolf Eichmann, as Eichmann himself confirmed at his show-trial in Jerusalem. The 'crime' the prosecution was concerning was corruption, viz. for allegedly embezzling a pouch of diamonds.
Morgen then spent the latter half of 1943 — after the case of corruption at Buchenwald — investigating Dachau and other camps, including Kraków-Płaszów, the camp made famous by the Jewish 'Holocaust' promoter Stephen Spielberg in his film
Schindler's List
(1993). In one scene from the film, workers are unloading provisions ordered for 10,000 prisoners — non-existent prisoners invented by the commandant, Amon Göth, so that he could requisition extra provisions to sell on the black market. The film's narrator remarks that Göth is being audited by the SS. These SS investigators were working for Morgen.
During the late summer and fall of 1943, Morgen looked into rumours that Christian Wirth — who, unbeknownst to Morgen, was supervisor of the camps of Operation Reinhard — had permitted SS officers to participate in a drunken Jewish wedding near Lublin. Investigating, he found Wirth presiding over a collection centre for vast quantities of clothing and valuables from the victims.
On one visit to Lublin, Morgen arrived soon after
Aktion Erntefest
(Operation Harvest Festival): the liquidation of the three largest camps (Majdanek, Poniatowa, and Trawniki) and several smaller Jewish labour camps in the Lublin area. The operation, carried out as a pre-emptive security measure, was ordered by Himmler after inmates had obtained weapons and were discovered operating with communist partisans active in the surrounding forests. Morgen arrived the day after the executions had ended and so he compiled a report from the testimony of eyewitnesses. A portion of this was later read out in the pre-trial interrogation of Ernst Kaltenbrunner at Nuremberg:
"the men went first, filing into one trench, and later the nude women had their own separate trenches....all passed silently and methodically through the trenches, so the executions went very quickly."
The Allied victors made false allegations to incriminate Morgen, claiming he had been present at the massacre itself, and that he had tried to prevent the industrialist Walter Többens from intervening. These were later exposed and acknowledged to be unfounded allegations.
Two packages of dental gold, sent by an Auschwitz dental technician to his wife, had been confiscated by postal inspectors and passed on to Morgen for investigation. Realising that the gold must have been collected from camp inmates, Morgen sent an investigative team to Auschwitz and later visited himself, receiving a thorough tour of the centre at Birkenau. During his investigation his assistant SS-Stabsscharführer Gerhard Putsch disappeared and the building where his evidence files were stored, burned down. He went on to prosecute the camp commandant Rudolf Höss and the Chief of the camp Gestapo, Maximilian Grabner, for crimes including murder.
Morgen reported what he had found to several of his superiors, including the chief of the Gestapo, Heinrich Müller: "
Obergruppenführer Müller was surprised to hear about the illegal executions in the concentration camps, namely about the acts committed in the concentration camps against the law, and he was also surprised at the large extent of crime."
Much later, after the war and during the 1964 trial at Frankfurt, Morgen claimed that these prosecutions were an attempt to impede the allegations of mass exterminations that were a part of we now know by the name 'the Holocaust'. But there is no contemporary documentary evidence to support this. His testimony regarding knowledge of mass exterminations is contradictory and became more detailed the further from the events.
The trials of Koch and Grabner took place in the autumn of 1944. According to Morgen's post-war testimony, other SS officers who feared prosecution observed the proceedings. They gathered after hours with members of the court and denounced Morgen as a self-promoter, a liar, and an enemy of the SS. Morgen felt himself to be on trial and he heard rumours that corrupt SS officers were declaring him 'a dead man'. In a dramatic letter to his fiancée, he wrote: '
Defenceless, I stood alone in the storm as the object of the tribunal. […] It is a sad and thankless business to be the state's prosecutor of state institutions'.
Some histories blatantly lie about Morgen's succesful prosecutions, as it so contradicts and upsets the 'holocaust' narrative. E.g. here is one such bogus history trying to minimise and explain away Morgen's wartime service:
Buchenwald commandant Koch was convicted, but only on a charge of corruption, though he was indeed executed in 1945, shortly before the end of the war. The trial of Auschwitz Gestapo chief Grabner was recessed until the spring, never to resume. Grabner's punishment had to wait until 1948, when he was executed by a war-crimes tribunal in Poland.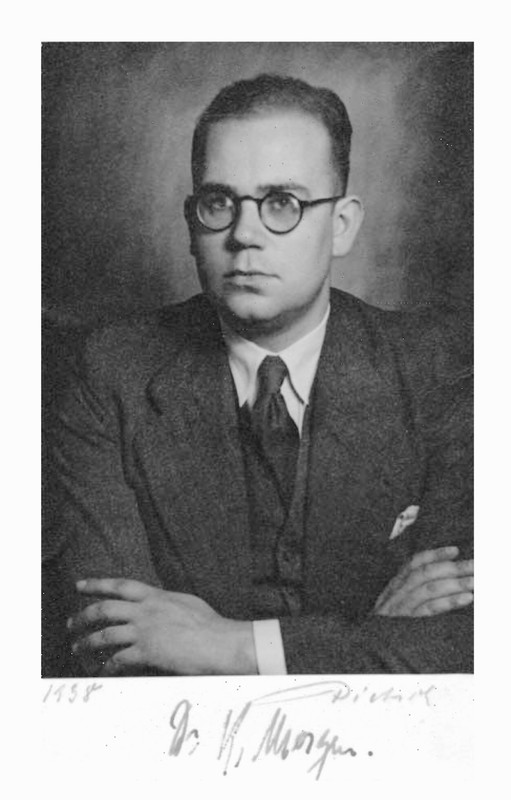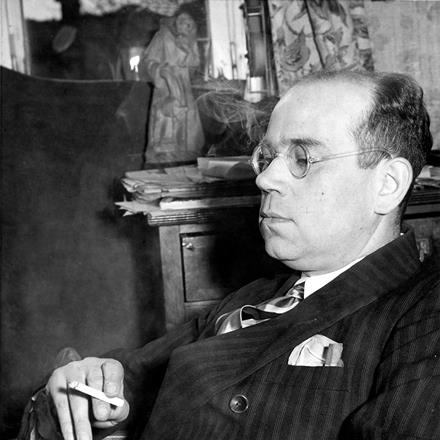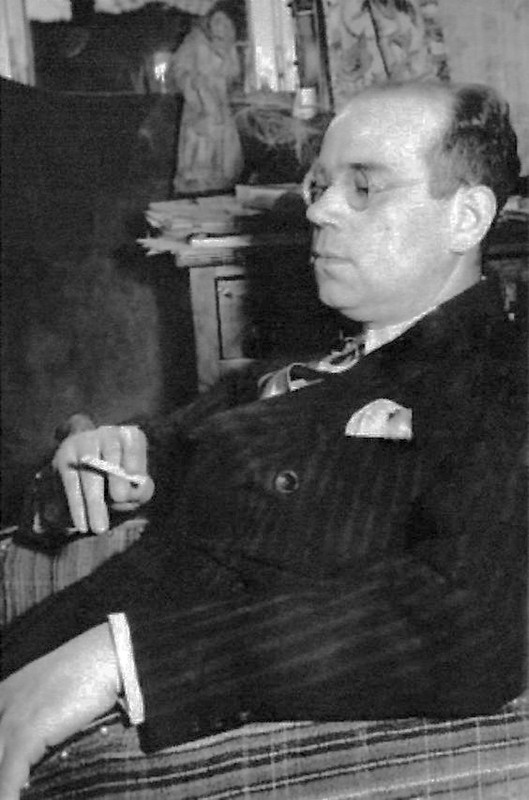 After the war he continued a legal career in Frankfurt, where he died on 4th February 1982.
Some of those indicted by Morgen
Karl-Otto Koch
– Commandant of Buchenwald and Majdanek – executed for the murder of two hospital orderlies who had treated him for syphilis.
Martin Sommer
– Buchenwald officer, indicted along with Koch. Transferred to the Russian Front; died in prison in 1988.
Hauptscharführer Blanck
– Buchenwald officer, indicted along with Koch. Fate unknown.
Hermann Florstedt
– Commandant of Majdanek – said to have been executed for murder 1945; fate uncertain.
Hermann Hackmann
– in charge of protective custody in Majdanek – condemned to death for murder but eventually posted to a penal unit; died 1994.
Hans Loritz
– Commandant of Oranienburg – proceedings initiated on suspicion of arbitrary killing; committed suicide 1946.
Adam Grünewald
– Commandant of Herzogenbusch concentration camp – found guilty of maltreatment of prisoners and posted to a penal unit; killed in 1945.
Karl Künstler
– Commandant of Flossenbürg concentration camp – dismissed for drunkenness and debauchery; missing in 1945.
Alex Piorkowski
– Commandant of the Dachau concentration camp – accused of murder but not sentenced; executed by the Allies in 1948.
Maximilian Grabner
– Head of Political Section in Auschwitz – accused of murder but not sentenced. Grabner was later hanged after the war by the Allies on 28th January 1948 in Poland.
Gerhard Palitzsch
– Sentenced to prison; disappeared in June 1944.
Amon Göth
– Sentenced to death. Executed in 1946 by the Polish government after the war.
Hans Aumeier
– Tried, convicted. Executed in 1948 by the Polish government after the war.
Waldemar Hoven
- Waffen SS Hauptsturmführer (Captain). Arrested by Morgen in 1943. Convicted and sentenced to death. Released in March 1945 due to the Nazi shortage of doctors. Hanged by the Allied victors on June 2th 1948 at Landsberg prison in Bavaria.
_________________________________________
REFERENCES
https://www.revolvy.com/main/index.php? ... type=topic
https://aeon.co/essays/the-nazi-judge-w ... the-system
. . . . . . .
[1] Examples of Allied special treatment of SS soldiers:
Some years after the war a mass grave was discovered just west of the city of Nuremberg. In it were the bodies of some 200 SS soldiers. It was not until 1976 that one of the bodies was positively identified. It was the body of SS Hauptsturmfuhrer Kukula, the commander of the 1st Battalion, 38th SS Panzer Grenadier Regiment. Autopsies on the other bodies showed that most had been shot at close range, the others beaten to death by the rifle butts of the US Seventh Army GIs. In the village of Eberstetten, 17 German soldiers of the 'Gotz von Berlichingen' Division were shot after they surrendered to US troops.

...Despite the German observance of convention the American forces response was often as summary and as brutal as those practiced by their Soviet allies. Only in cases where large numbers of captured soldiers had been taken were they to be enslaved. If captured in smaller groups the US Army policy was simply to slaughter their captured prisoners where they stood.

One such case was the cold-blooded slaying of an estimated 700 troops of the 8th SS Mountain Division. These troops who had fought with honorable distinction had earlier captured a US field hospital. Although the German troops had conducted themselves properly they were, when subsequently captured by the US Army, routinely separated and gunned down in groups by squads of American troops.
-- Alliierte Kreigsverbrechen und Verbrechen gegen die Menschlichkeit.