Turnagain

wrote:

↑

Thu Mar 26, 2020 1:29 am

Lupus wrote:

So, the evidence you have presented is invalid, and out of date. And you are wrong to say Muelenkamp IGNORED the Indian evidence!

The nutzoids THEORETICAL 22 kg of wood to cremate a body is bullshit. The "green cremation" device uses about

one third as much fuel

as a traditional Hindu cremation or

about 300 lbs of wood

. Here's the article with photos of the green device.

www.npr.org/sections/parallels/2016/05/ ... -cremation
So what makes you think you are more qualified than the expert and mechanical engineer, Vinod Kumar Argawal, who invented this cremation system ? The inventor knows that it only takes
22kg
to burn a body
but Indians are traditional and they don't want a 2 hour funeral,
they want a longer one. So its a compromise. The system described in your link is still
inefficient
, it is merely more efficient than past systems.
As you will discover by reading this article Argawal invented a system that required 10kg of wood and took 2 hours, but none of the Indians wanted it , due to the traditions I mentioned :
In 1993, Agarwal built his first pyre, a raised human-sized brazier under a roof with slats that could be lowered to maintain heat. The elevation allowed air to circulate and feed the fire. Unlike electric crematoriums, however, Agarwal's pyre still allowed family members to congregate to perform last rites. "But no one used it," said Agarwal, even though it needed only about 10kg of wood and reduced the burning process to two hours.
http://www.livemint.com/Politics/RLMRHI ... -dead.html
So, looks like your latest offering just ends up like your previous 'evidence' ,ie in the trash can.
Turnagain

wrote:

↑

Thu Mar 26, 2020 1:29 am

Kues wrote:

Glazar wrote that the Germans started to burn the corpses "one overcast November afternoon" in 1942.[12]

Glazar says that the cremations began in November, 1942. Others claim that the cremations didn't begin until early in 1943. The Hofle telegram says that 713,555 Jews were sent to Treblinka by December 31, 1942. That's 31,714 Jews per week. If the cremations began in mid November, then about 190,000 Jews were supposedly gassed and cremated without being buried in 1942. That's according to Glazar.
The early 'cremations' were a failure, hence the need for Floss who didn't arrive until January 43 according to Chil Rajchman. So not many of your 190,000 would have been cremated. But even if they were, what is your point ? Is this your attempt to get the amount of required wood up to your original ridiculous levels ?
Turnagain

wrote:

↑

Thu Mar 26, 2020 1:29 am

You have failed to prove that 250,000 Jews were transported to Treblinka in 1943.

Nice little strawman, Lupus. I didn't try to prove that 250,000 Jews were sent to Treblinka in 1943. It's claimed that as many as 950,000 were murdered at Treblinka. It's also claimed that 850,000 and 870,000 were murdered while Rajchman first claimed 1.3 million and Ehrenberg went for three million. According to the Holfle telegram, 712,555 were sent to Treblinka by December 31, 1942 which leaves 236,445 being sent to Treblinka in 1943. If 850,000 were sent we have a range of 136,445 to 236,445 Jews sent to Treblinka in 1943 and were presumably gassed and cremated without being buried.
Right so lets say 200,000 arrived in Treblinka in 1943 according to you. You tried to pass these off as Bulgarians in your last post but I had to inform you there were only 11,000 from Bulgaria. So who were the other 190,000 ?
Turnagain

wrote:

↑

Thu Mar 26, 2020 1:29 am

So sorry Turnagain, but your claims have been demolished, again .

That's tiresome, Lupus. Fat dripping down on a fire doesn't constitute the wick effect. Then there's the fact that only two bodies were burned to death in the car fire. Well, and a sheep in the experiment. None of that is the equivalent of piling 2,000 to 3,000 bodies on a grate, setting them ablaze with some kindling and letting them cremate themselves. Cremations of culled animals in England involved laying down lots of fuel such as railroad sleepers, tires and straw and putting a single layer of carcasses on the fuel. Your claim that the wick effect accounted for the cremations at Treblinka is a bust. Try again.
Again, just blatant denial. Even the sheep experiment included a note about similar results in the AR cremations, which I produced in my last post and you have just ignored it. It doesn't matter if there was only one sheep in the experiment, are you saying that there would be different results if there were 100, or 1,000 sheep lined up on seats ? So go on then, Mr Know-it-all, what would the results have been and why ? It seems the only experiment that will satisfy you is if actual 2,000 bodies were dug up from their graves and cremated in exact the same fashion as they were in Treblinka. Ridiculous !
Turnagain

wrote:

↑

Thu Mar 26, 2020 1:29 am

Blatant denial in operation here There is a clear 'ridge' under the rails which means there is a trench.

Blatant bullshit in operation here. Look at the ends of the grates. No trench and no "ridge" showing on the near grate. Not much fuel in evidence, either. As a side note, both the Laponder model and the Wiernik model show single cone stockpiles of excavated material. That's another impossibility. It didn't happen with the M&H draglines performing the excavations. That's a "twofer" for impossibilities in one photo. It's a "threefer" if you count Wiernik's initial claim that the magic Jew barbeque was 100 - 150 meters long.
Why are you solely concentrating on the 'near' grate when there are two ? This ditch is full of wood and therefore you wouldn't even see the ditch anyway !!! You can try weasling and being deliberately awkward all you like but it won't help you one bit. In fact it will only make you look more dishonest than you actually are
I have clearly highlighted the ridge of the trench, but you can't handle it so you just close your eyes, stamp your feet and scream "not there! it's not there! make it go away now ! "
This is getting ridiculous, all you're coming back with is blatant denial of the truth which has been presented to you . Why are you ignoring the arrows I included on the pic to highlight the ridge and the trench ??? Are you blind or just plain dishonest ?
What you protesting about now ? You aint making any sense, so here is the picture of the stockpile with the excavators from the model. What's your problem ?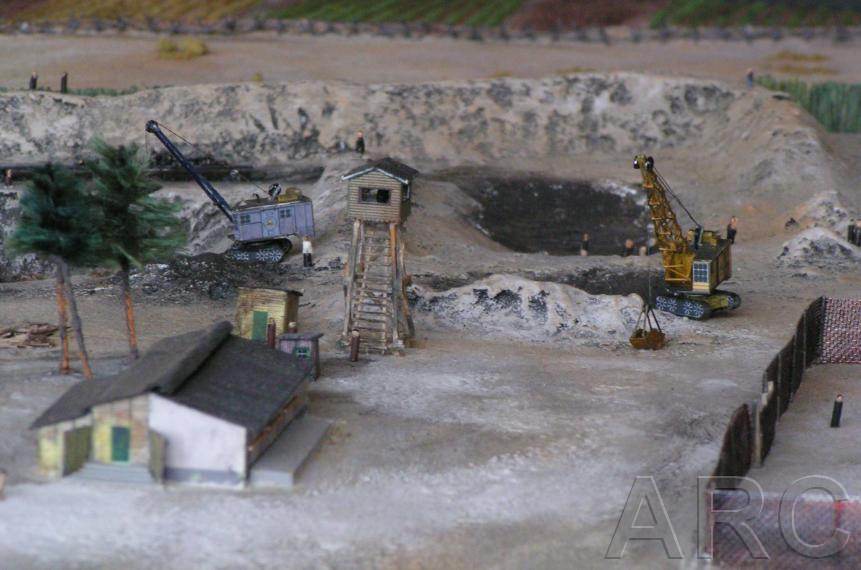 How do you come to that conclusion when the model is obviously scaled down ? Anyway, as explained previously, the wood required was not as ridiculously high as you originally claimed, and the wick effect helped combustion efficiency even more.
Turnagain

wrote:

↑

Thu Mar 26, 2020 1:29 am

Yep, a trench as shown in the laponder model and confirmed by witnesses. Fuel was poured over the wood, also confirmed by witnesses.

The model doesn't even come close to the description given for the turn of the century experiments

. Some witnesses claim that liquid fuel was poured on the kindling, others say not. Cherry pick your quotes much, Lupus?
In experiments 1-3 it states "
carcass placed on pit above ground
" , so whats so different from the cremation depicted in the model ? We have a
pit
, even though you refuse to see it. and the bodies are
above ground
. Well ?
As for the rest of your post, so what ?
Turnagain

wrote:

↑

Thu Mar 26, 2020 1:29 am

It didnt have to be hermetic, but as long as it did the job then who cares ?

If the vent was hermetically sealed and the doors hermetically sealed then the alleged gas chamber was hermetically sealed. Pump exhaust from an IC engine into the chamber and it will fail from the pressure differential. Pump the air out of the chamber and it will fail for the same reason.

All of your Rube Goldberg contraptions along with the mass graves and exhumations are a bust, Lupus.
How do you know the hermetic cap was on during a gassing ? I asked you this before and you haven't answered, so unless you can dig up something fairly soon, this will go down as another one of your failures.