My War with Robert Faurisson and his pseudo-scientific HOAX!
Introduction
The following images are from the Reference Section of the RODOH discussion forum--
viewtopic.php?f=12&p=84631#p84631
--and more pages will be added soon from the 1938 booklet from American Cyanimid. They totally discredit the insane arguments of "crackpot" revisionists around Robert Faurisson that have been spread ever since 1992.
He's wearing a gas mask--but his forearms and hands are totally uncovered. Obviously, no one here is worried about cyanide vapors penetrating the skin to injure, or even kill anyone. Obviously, Faurisson was completely wrong!
Fred Leuchter and Robert Faurisson should both learn how REAL cyanide gas chambers actually worked and were built. If one has a warehouse with some extra space somewhere, here's how you too can do it--and get rid of any unwanted employees, intruders, Jews, or whatever. A do-it-yourself gas chamber is a handy thing to have around. The following--see "REMARKS"--explains how almost anyone can make one. It's not that "formidable" at all. The text is in English so that even Fred Leuchter can read it:
There is no mention of any need for "explosion proof" light switches or of any "danger of explosion" either. In "REMARKS" it is suggested that the exhaust pipe should extend
"for

a few feet

above the building roof line"
just like in Dachau--no 40 feet high stovepipe needed. Just where on earth did Faurisson and Leuchter get all the crap they have been spouting over the years? Obviously, it never came from any real "experts." Notice also that the man in the photo on the right has exposed forearms and bare hands even though he is wearing a gas mask. How can he possibly survive Faurisson's "oceans of hydrocyanic acid" in front of him and around him--or even touch those cyanide impregnated discoids with his bare hands?
The importance of the "circulation system" is stressed several times. In German that was called
"Kreislauf."
The rather backward American gas execution chambers had no such "circulation." To this day, Fred Leuchter--the self-described "expert" and "engineer"--cannot understand why "circulation" might have even been important. If someone redesigned the American gas execution chambers using modern technology--around since the 1930's--they might kill the prisoners in far less than eighteen minutes as probably occurred with Leuchter's victims.
The following enlarged image from page 13 above shows how a worker without gloves handled Zyklon--presumably safely. The image undermines one of the central arguments of Faurisson and Leuchter.
Although workers were warned to NOT touch the discoids with their bare hands, some accidental contact was almost inevitable. The worker in his crouched positon might lose his balance and touch the floor to support himself--and inadvertently touch a discoid on the floor. According to Robert Faurisson, that might cause instant death but, in reality, nothing so tragic was likely.

-------------------------------------------------------------------
-------------------------------------------------------------------
-------------------------------------------------------------------
-------------------------------------------------------------------
When Robert Faurisson, a leading holocaust revisionist, issued his almost-famous, nine-word challenge:
"Show me or draw me a Nazi gas chamber"
in 1992 and 1993, he should have added a few more words. He might have said:
"Show me or draw me a Nazi Gas Chamber that was actually used for mass murder."
But that is NOT what this professor of literature with considerable writing skills chose to say. With only fifteen words Faurisson's "challenge" could have been much clearer, and it would have excluded perfectly good gas chambers that had only been used for fumigation to keep people alive. Instead, Faurisson added more than two pages of convoluted text with four footnotes which have confused everyone. Faurisson seems to agree with Fred Leuchter that mass gassings are "impossible." They are not "impossible" at all! That is essentially all I said--but it has bothered Faurisson to no end--even to this day. Leuchter actually insists today that "mass gassings with anything are impossible." Faurisson seems to agree completely with Leuchter but does Germar Rudolf also? Who really knows? Keep 'em guessing, Germar, and the sales of those really boring books of yours may continue.
The 1993 version of Faurisson's challenge from the IHR journal specifically excludes Zyklon-B delousing or fumigation gas chambers as any answer to his "Challenge." But why? Was Faurisson specifically aiming at me and my essay:
"The German Delousing Chambers"
from 1986--
http://www.ihr.org/jhr/v07/v07p-73_berg.html
I think he was. Is some kind of "jealousy" at work here? Were the many thousands of dollars I had sent him over many years just not enough, four thousand in early 1988 alone? The following essay reveals just how concerned Faurisson was with me:
http://vho.org/aaargh/engl/FaurisArch/RF931213.html
In any event, Faurisson's reasoning is ludicrous and false, especially as shown in footnote 3:
http://www.ihr.org/jhr/v13/v13n4p14_Faurisson.html
Footnote 3 from the
"Challenge"
essay above:
3. A Zyklon B delousing gas chamber could not have been used as a homicidal gas chamber. The first can be operated relatively easily, while the second is necessarily very complicated. The conceptual difference between the two lies in the relative ease of ridding the fabric and clothes of HCN gas after the delousing, as opposed to the extreme difficulty of removing gas from the skin, mucous membranes, and bodily fluids of a corpse. In the first case, the HCN gas is removed by blowing in a large amount of hot air, which causes most of it to evaporate. Then the fabric and the clothes are beaten for some time outdoors to discharge the remaining gas. In the second case, heating or beating the corpses would not be possible. An authentic homicidal gas chamber, of the kind used in the United States to execute convicted criminals, is extremely complicated.

To execute even a single person is so complicated that one can scarcely imagine the appalling sophistication the Nazi gas chambers would have required to execute not just one victim, but hundreds or even thousands at a time.

Such gas chambers would have become veritable baths of poison, impossible to drain. Nobody, even wearing a gas mask, could have ever survived entering such oceans of hydrocyanic acid and making the physical effort of removing the corpses, and clean up for the next batch.
Already the first sentence should make everyone scratch their heads. Is this guy really serious and/or sane? Can anyone really believe that the standard 10-cubic meter DEGESCH gas chambers--see below--of which there were literally hundreds operating in German camps (4 at Dachau alone and still there today) would not have been just as effective as any American gas execution chambers at killing a single prisoner, or several prisoners at a time? The DEGESCH chambers would have been more effective and quicker because they had continuous forced circulation (
Kreislauf
) for the entire killing phase and for the subsequent venting--whereas the American chambers used a fan ONLY for venting. The DEGESCH arrangement would have dispersed the cyanide uniformly and quickly whereas the American chambers would have allowed the cyanide to rise upward (cyanide is lighter than air) and accumulate near the ceiling away from any intended victim. The intended victim would have died s-l-o-w-l-y unless he had deliberately assisted in his own execution by gulping a large, lethal dose just as the cyanide went up and past his nose during the first few moments after its generation in the pot below the seat. It seems unlikely that Jews would have ever assisted anyone in this way. No such problems with the DEGESCH chambers, however--there was no way to escape the circulating gas with its lethal concentrations of HCN. Fred Leuchter's insistence that American gas execution chambers were superior, somehow, is completely wrong--unless the purpose was to also torture the prisoner before he died s-l-o-w-l-y. Many American prisoners took more than fifteen minutes to die by simply refusing to inhale that initial burst of HCN.
The last gas execution anywhere in the world took place in Arizona in 1999 and took eighteen minutes to kill Walter LaGrand--a German citizen who spent seventeen years on death row and was, in my opinion, another victim of anti-German prejudice in the US.
http://tucsoncitizen.com/morgue2/1999/0 ... es-to-die/
LaGrand's crime, a robbery gone wrong, was not premeditated and should have led to a second degree murder conviction, at worst--and no death sentence. But if LaGrand's death sentence had been commuted, he might have been released after spending "only" twenty-five years in prison--for the Arizona governor that could not be allowed. I strongly suspect that his German birth drove the death sentence.
During the forced-air venting of any of the well-designed German gas chambers, how long would any "oceans of hydrocyanic acid" have lasted before being dispersed and blown out and up the "ventpipe," and far away? Not long at all. Any hot spots of cyanide in air greater than 6% would have been dispersed also--therefore, no chance of any "explosion."
This is the famous photo from Dachau with actual operating times written on the door itself. Most important to note is that this was a real Nazi gas chamber, potentially homicidal--but never used to murder anyone as admitted widely today.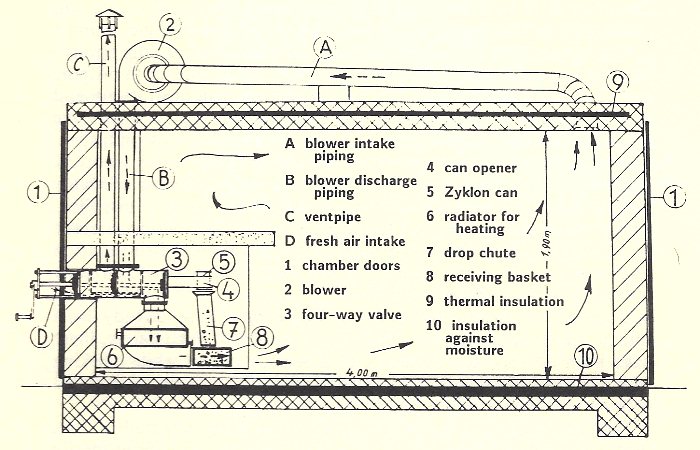 Although the gas generating apparatus is lower in this schematic than in the previous photo--this is not a significant change at all.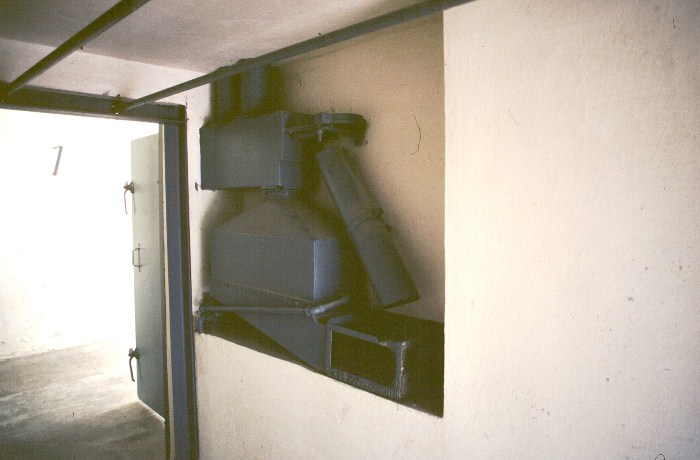 In such a gas chamber, if a solid chair were bolted to the floor and a prisoner were strapped-in, and the release of cyanide from a can of Zyklon-B was initiated as in any fumigation cycle with continuous forced-air blowing (
Kreislauf
) through the entire chamber--would the prisoner be any less dead than in any American gas execution chamber? And, almost as quickly, if not more quickly? Would the venting of the chamber as during a typical fumigation cycle have been much longer than about half-an-hour? If so, why?
If several chairs, perhaps six, had been bolted to the floor--could as many as six prisoners have been gassed at the same time? If not, why not? And, if the gas chamber had been much larger (hundreds of cubic meters in volume) like any of the widely used railroad fumigation chambers that I have shown since the 1980's, why would they have NOT worked also and on a much larger scale? Of course, they would have worked perfectly well also. But for Faurisson such a theory of mine makes him extremely angry--even rather vicious. The problem is not technical at all--but psychological.
Here is Faurisson's essay about the Baltimore gas execution protocol with its 47 steps:
http://robertfaurisson.blogspot.com/198 ... state.html
. Please note that the final step is, according to Faurisson, vastly more complicated than anything suggested by the checklist itself. Faurisson knew better than the Baltimore executioners themselves. Faurisson augmented their "check sheet" with the following "remarks" of his own:
Remarks on this document

I visited this gas chamber in September 1979 and had its operation explained to me. The prison officials told me that "gassing a man is very complicated, because it's dangerous". Today's gas chambers do not differ essentially from the gas chambers developed in 1936-1938 after years of trial and error. The first Americans who had the idea of ​​this manner of execution had thought that nothing would be easier and more humane than lulling their condemned prisoners to sleep with a gas that would eventually kill them. It was when they sought to put their idea into action that they realised the formidable difficulties of such an execution. The first one took place in 1924 and presented such dangers for those in the immediate vicinity that the idea of gassing was nearly abandoned. The document above is a simple check sheet for forty-seven steps. Some of these are elementary but others are quite delicate.

Here, for example, is what the forty-seventh and final step (emptying the chamber, removing the body) entails: the physician and two assistants must enter the chamber wearing

gas masks, rubber aprons, rubber gloves

; the physician tussles the dead man's hair in order to disperse as much as possible the hydrogen cyanide molecules that the ammonia fumes and the adjustable ventilator system have not been able to neutralise; the two assistants must wash the body with a spray hose; they must take great care in doing this work; they must, in particular, wash out the mouth and all other openings of the body, and must especially not overlook the folds of the arms and legs.

Indeed, gassing someone nearby without gassing oneself is no soft job. Most likely the tales of gassings at Auschwitz were, originally, nothing but ghastly prison rumours.
Based on what? Nothing like what Faurisson talks about here is suggested, even remotely, by anything on the Baltimore execution "Check Sheet" itself. Why not? How could they have possibly skipped steps that were so important? Also, nothing like that is suggested, even remotely, by anything in the so-called "Leuchter Report." So where did such enormously important information come from? Faurisson simply pulled it out of thin air--from his imagination based on his own cherry-picking of the technical literature. Faurisson, who thinks he knows better than the real experts in Baltimore should have joined Leuchter in the "execution business" to train executioners since he and Leuchter knew everything better anyway. Faurisson and Leuchter might have rewritten the Baltimore "protocol" to their liking. But, who would have been stupid enough to take them seriously?
The last item on the "Check Sheet"--from real executioners--merely says: "
Empty Chamber (Body Removed
)." That does not seem so "formidable" at all, folks! Surely, if Faurisson were correct, that final step would have in itself required at least seven more steps to avoid total
C-A-T-A-S-T-R-O-P-H-E
--innocent people might have been killed--and so easily. Surely, one would have had additional check sheet items for "1) gas masks, 2) rubber aprons, and 3) rubber gloves" just to be sure they were actually nearby when the corpse was removed--during this "formidable" process. Additional steps would have been 1) the physician tussles the dead man's hair ..., 2) wash the [entire naked?] body with a spray hose..., 3) wash out the mouth and all other openings of the body..., and 4) wash out the folds of the arms and legs. Could anyone with a good conscience have possibly skipped any of those essential steps?
Cyanide penetrates porous objects such as brick easily because of the small size of the HCN molecule. Once inside a brick, the cyanide gas may condense if the brick temperature is below the boiling point of cyanide which is 78.6 degrees Fahrenheit. But if the brick is warmed to more than the boiling point, condensation is physically impossible. And then, if fresh air is blown through the brick--the HCN gas will leave the brick completely. With a human corpse the situation is similar except that the corpse of any recently killed person is about 20 degrees above the boiling point of cyanide just from the normal body temperature of any human being. After death, the body temperature drops slowly. Condensation of the HCN is physcially impossible here also. So, a freshly "gassed" human corpse is actually self-venting to a great extent just from the body temperature. This is all explained in my essay:
"NAZI Railroad Delousing Tunnels for Public Health, or Mass Murder!"
http://www.nazigassings.com/Railroad.html
It is all the more reason to totally reject Faurisson's horrid fantasy from Dante's
Inferno
.
The different gas handling arrangements are enormously important because they tell us where the holocaust gassing hoax comes from; it comes from America. The Germans were far more advanced than the Americans and used continuous forced circulation throughout the DEGESCH cycle, for killing and venting, whereas American gas executioners turned a small fan "ON" only for venting after the prisoner was already dead. Big Difference! And guess what, the alleged holocaust gassing method uses the archaic American gas execution method. The fan or fans were supposedly turned "ON" after, and ONLY "after," a thousand or more Jews were all dead. That scenario points to America as its origin. Faurisson understands none of this. For Faurisson, however, the American methods must have been superior--after all, they were "American." Enough said. For Faurisson that big circular wheel to lock and unlock the American gas chamber already proved the "superiority" of American technology. All it proved was that the Americans had lots of money to waste. Faurisson's anti-German prejudice showed itself all too clearly. He could never admit, even for a moment, that the Germans were far ahead of the Americans about anything.
Faurisson's horrific, pseudo-technical hoax--which is what this really is--is used today by a worldwide gang of "crackpots" and "bigots," especially at CODOH and even as far away as Australia, to insist that the almost routine venting of any would-be homicidal fumigation chambers with corpses would have been "practically impossible." Faurisson could never get it through his head that although a 24-hour period was indeed necessary to vent a typical barracks building "naturally" (with all windows and doors wide open), a much shorter time period was sufficient with forced-air circulation. With appropriate supply and return ductwork and a powerful blower, the venting time could be reduced to minutes as in any of the widely used fumigation tunnels.
Faurisson has engaged in a shameful kind of deliberate "double-talk." With one breadth he said one thing (
Show me or draw me a Nazi Gas Chamber
)--but he then went on to claim he
"ONLY"
meant gas chambers that had actually been used for mass murder. Faurisson played what is well known in America as "bait and switch:" lure people with an attractive offer, or reward--but when the suckers come to collect the "reward," tell them that something else was meant.
"They should have read the fine print."
The following example might help. Police offer a reward for people to turn in firearms--but when people turn in perfectly good pistols or rifles, tell them that the reward ONLY applied if the firearms had actually been used to murder someone. That is quite a "switch." How else could anyone be sure it was a real "pistol," or "rifle?" Did Faurisson have any real "evidence" that the Nazi gas chambers I showed could NOT have killed huge masses of Jews? Of course, not--but he had lots of pseudo-technical arguments, excuses, and blah-blah--and that was all. Faurisson HOAXED many revisionists.
Faurisson's "challenge" was a kind declaration of war against me. It was a dirty little war that Faurisson was sure he would win with the support of enthusiastic half-wits like Mark Weber, Fred Leuchter, and Ernst Zuendel--and even Germar Rudolf! How could Berg even get to a speaking platform or get published? However, in November 1993 just a few months after his "challenge" was published by the IHR and "after" I had supposedly "pushed" Faurisson at the opening of the USHMM in April,1993 (the "pushing" incident that never happened), there was a revisionist conference in Germany organized by Germar Rudolf. At the breakfast table just before the conference, I was sitting with Germar and Ingrid Weckert when Faurisson suddenly came over and demanded that I agree to NOT talk about certain things--even when I thought I was right. I was shocked by Faurisson's arrogance and told him absolutely "NO!" I looked at Germar and he simply smiled. Faurisson had wanted to censor everything I said--a total control freak. Btw, Faurisson was not the least bit fearful that I might "push" him again.
During the conference itself, it was Dr. Walter Lueftl who brought up the fact that "railroad fumigation tunnels" would have been perfect gas chambers for mass murder. That was an important argument of mine going back to 1982 to show the utter absurdity of the holocaust gassing myth in general. Faurisson who was sitting next to Lueftl nearly collapsed from shock and outrage. Germar quietly motioned me to say that he would take care of things, somehow-- but he never did, not even to this day. Just before I spoke to the conference with my usual slide show, Faurisson walked out deliberately for everyone to see--but came back after I finished speaking. A few months later in 1994 when I asked to speak at that year's IHR conference because I had new, credible information about the huge number--500,000--of producer gas vehicles (poison gas generators of CO on wheels) widely used throughout German-occupied Europe during the war, Mark Weber turned me down cold. Weber said he needed room for Michael Shermer, a total non-revisionist, to speak instead of me. Weber only relented when a generous contributor to the IHR leaned on Weber.
The above image was one of many I showed Dr. Leuftl when he and I met in Vienna in 1990. Although he had never seen such images before, he understood their enormous importance instantly. By contrast, neither Faurisson, nor Leuchter, nor Germar Rudolf appreciate their enormous importance even to this day. Shame on them all!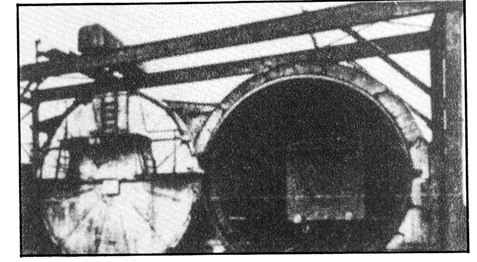 The above image is one of several railroad fumigation chambers using a combination of vacuum and cyanide gas. No doubt, the vacuum would have also helped anesthetize any humans trapped inside. The image is from the following website, possibly from Carlos W. Porter:
http://whale.to/b/large_gas_chambers.html
---------------------------------------------------------------------------------------
Faurisson's "challenge" was such a muddle that he felt obliged to explain afterward at great length what he was NOT willing to accept as an answer--that was lots of extra work for a "simple" nine-word challenge. The following is from an additional Faurisson essay:
http://vho.org/aaargh/engl/FaurisArch/RF931213.html
Faurisson wrote:
My challenge, as you know, was : «

Show me or draw me a Nazi gas chamber !

» Well, the one clear fact is that the only way of giving an answer to my challenge would be to show me or to draw me a Nazi gas chamber, i.e. the chemical slaughterhouse supposedly conceived by the Nazis and used to kill at once hundreds or thousands of Jews every day, systematically. Mr. Berg does not show me nor does he draw me that extraordinary weapon. Therefore he does not give any answer to my challenge.

I am not interested in speculations about what the Nazis according to someone or other could have done in the matter of homicidal gas chambers. I could myself speculate and say that they could easily have suffocated Jews by only putting 2,000 of them, as we are told, in a « Leichenkeller » of 210 sq.m. (minus the space occupied by seven concrete pillars) : lack of oxygen would have killed those people.

In fact, I only have to consider the specific crime that the Nazis according to their accusers are supposed to have actually committed in Auschwitz and in five or six other camps in very precise or rather precise locations.
I would have had NO PROBLEM with Faurisson if the quote above were "ALL" that Faurisson had said on this subject--but Faurisson wrote much more and even expanded on the original "challenge" arguments and claims. Today Faurisson and Leuchter both INSIST that those perfectly good, real Nazi Gas Chambers that I have shown since 1982 could never have been used for mass murder--
even if the Nazis had chosen to use them for mass murder.
The Nazis never "chose" to do anything so foul--but, but, they certainly could have done it technologically, and surely would have if they were anything like the "monsters" they were supposed to be. For me that always was enormously important. But, they never were "monsters"--they were "idealists" and morally far above anything like that. That is one more inconvenient truth, largely buried, by Faurisson's viciousness and arrogance and utter stupidity. The true "monsters" were the Western Allies, and anti-Nazis generally--just like Faurisson himself. The anti-German prejudice of Faurisson himself became all too clear to me during many private conversations I had with him. The truth about the actual and readily available German gas chamber technology exonerates the Germans in a profound way. Excellent real gas chambers were all there at their fingertips, already in Budapest--but were never used except to keep people ALIVE! The Nazis could have committed mass murder so easily--but they chose not to! No doubt, already the idea that anything about Germany could have been technically better than what America had was for Faurisson totally unacceptable. Faurisson's anti-German prejudice would not even allow that. Faurisson did say he liked German women, however. What a slob!
Read Faurisson's note #3 for the supposed huge problems with the real German gas chambers that were actually available widely throughout German-occupied Europe, even the world generally:
Such gas chambers would have become veritable baths of poison,

impossible

to drain.

Nobody, even wearing a gas mask, could have ever survived

entering such

oceans of hydrocyanic acid

and making the physical effort of removing the corpses, and clean up for the next batch.
.
"Oceans of hydrocyanic acid"--really? Based on what "evidence," Dr. Faurisson? Wouldn't the forced circulation system with a powerful blower have picked up the cyanide and vented it just like the gases after any ordinary fumigation? Why not? Did Faurisson have "evidence" for his wild, preposterous theory? Any "evidence" at all--from real Baltimore executioners, or even Leuchter, or anywhere? Of course, not! It was all sham and bluff!
To insist that even the DEGESCH standard gas chambers or even railroad fumigation tunnels, all perfectly excellent gas chambers, could have
never
been used for mass murder is not merely:
"stupid"
--it is
"INSANE."
But that is what Faurisson and his worldwide flock of loyal fools firmly insist everyone believe! Faurisson concocted a BIG pack of really BIG Lies--and a pack of fools gobbled it up as if it came from Heaven. Shame on all of them for being so stupid!
What follows is a widely distributed letter from Robert Faurisson himself dated: Thu, 29 Nov 2007. It was written to condemn me personally as well as my claims that railroad fumigating gas chambers would have been ideal for mass murder--and that the total absence of even a mention of such gas chambers anywhere in the holocaust literature is a monumental flaw. Railroad fumigation gas chambers would have worked extremely well as devices for mass murder. Although Germar Rudolf passed my "Sanity Test" about this issue several years ago, his recent answers are quite different--and he is not alone. Why?
Dear Sir,

The argument of Fritz Berg has no value at all. I have told him that to his face. But maybe you are familiar with this unfortunate man's temper and zeal.

The existence of these hangars for the disinfection of trains was known for a long time, and I recall having talked about this during my first visit to the United States in 1979. Among my photo slides, in particular, I had some about a shed for the disinfection of trains (in Budapest?). I have repeated a hundred times, that gassing of inanimate objects, such as clothing, boats, trains, or facilities as sheds, churches, silos, libraries, rooms, etc. would truly be a delicate and dangerous, but not an impossible, operation. It would suffice to take a certain number of precautions, (for example, in order to avoid the spreading of the gas to the outside, explosions, etc.) and to proceed with the aeration, the ventilation of the inanimate objects at the gassing site wherein the gas could still remain. I have written of these procedures.

On the other hand, when the subject is alive, the problem becomes formidable, because the body is entirely impregnated and permeated with a virulent poison. It is for this reason that an execution gas chamber is so complicated, and that is why the doctor and his two assistants have to multiply the precautions. I will not reiterate about all they have to do and which does not guarantee much because even after all that, the corpse to be removed from the chamber, can still be hazardous. One can well imagine the formidable dangers which the piles of corpses would constitute, be they inside a shed, a house, or a so-called Nazi "gas chamber." There is the rub. Here lies the danger and nowhere else. One ends up with a

practical, total impossibility.

As to my question of 1978: For me, the mass gassings are technically impossible, yet you, if you think, that this is technically possible, show it to me. You know the answer which you gave me on February 21, 1979: A jest and an admission of incapacity? And since that date I am still waiting for an answer, be it from any practical jokers, or be it from Mr. Berg.

That which the latter could never stand, that a Frenchman, imbued in the culture of classical literature, had made a

kind of

scientific discovery

, which a German or, better yet, especially, an American chemist or engineer should have attained, because, in the United States, gas chamber facilities were present right there within their penitentiaries.

As to that, I remember that in 1917 American humanitarians had the idea that it would be easier and more humane to execute the condemned persons with gas, than with the electric chair, or hanging, or by firing squad. That's when in the course of the construction of a gas chamber the technical difficulties were discovered. After seven years of effort, the first execution took place in Carson City, Nevada, which turned out to be all but a complete catastrophe.

What would Mr. F. Berg have done had it been demanded of him to enter his shed, immediately, or some hours later after an execution in order to remove thousands of corpses, highly impermeated with cyanide, and therefore untouchable? I had put this question to him in public, and he remained silent. I have told him, "study a subject that you have never studied: about the execution gas chambers in your own country." I remember that an American, who had followed our conversation had then made the remark, "Well, there, at least this is clear!"

Regards,

RF
Is that really "clear?" No doubt, a mass gassing is more complicated than a single gassing--but how much more complicated? If it takes 55 steps to gas one person, (based on the Baltimore protocol plus some extra steps from Faurisson's notes) does it take 110 steps to kill two people? How much work does it really take to put another chair in an American gas execution chamber? OK, so one has to add piping to supply an extra pot of acid--but that is hardly "formidable." If one wanted to gas 100 people, would it take 5,500 steps? Of course, not! If one wanted to gas 1,000 people, would it take ten thousand additional steps? Of course, not! Sane people understand that--but Faurisson and his true-believers are not among them.
Faurisson's
"scientific discovery"
about the
"

practical, total impossibility.

"
will. no doubt, be embraced by some as if it really were some new "scientific discovery." It is nothing of the sort even when repeated by Fred Leuchter and the gang of bigots at CODOH. It is pure bunk! It is a BIG LIE for a new false religion for another gaggle of idiots.
Friedrich Paul Berg
Learn everything at:
http://www.nazigassings.com

Nazi Gassings Never Happened! Niemand wurde vergast!

There were NO "limited gassings!" There were NO homicidal Nazi Gassings at all!
http://www.nazigassings.com/Railroad.html

The

REAL Mass Murderers

were the Anglo-Americans and the Jews themselves!