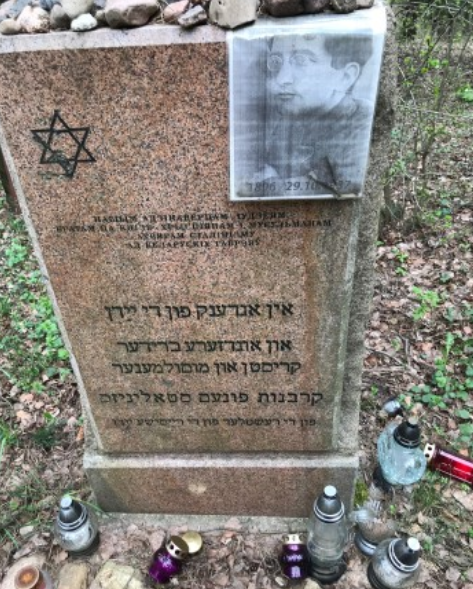 Курапаты, is a wooded area on the outskirts of Minsk, Belarus, in which a vast number of people were executed between 1937 and 1941 during the Great Purge by the Soviet secret police, the NKVD.
Zianon Pazniak
a Belarusian politician in
"Litaratura i mastactva"
has written
a quarter of a million people
were murdered here. This is confirmed by
Zdzisław Julian Winnicki
(Polish historian and professor of University of Wrocław); British historian Norman Davies has the deaths as being considerably higher.
The Soviet, and Belarusian governments, which have been conclusive as to the perpetrators who are
the Soviet NKVD
. This is based on former NKVD members confession and the eyewitness testimonies of 55 villagers, from villages such as Cna, Cna-Yodkava, Drazdova, Padbaloccie and others, that gave evidence that NKVD brought people in trucks and executed them during 1937 – 1941.
On October 29, 2004, the Jüdische community of Belarus installed a monument in memory of juden and other nationals who were murdered in Kurapaty forest.
No documents and materials were found in the archives of Ministry of Justice, KGB, Ministry of Interior Affairs and the Prosecutor's Office in BSSR. In 1994, a so-called civil commission of investigation on mass crimes in Kurapaty asked the Presidential administration to carry out a new investigation.
According to this commission, the perpetrators were German officers and the victims were mostly European Jews
; this smacks of the Katyn cover up attempt.. Foreign brands on clothes suggests that a good number of these juden were from Poland. The artefacts found includes: spectacles, pencils, Catholic Medallions with the image of the Madonna, high-quality factory-made footwear, a relatively high number of metal dental crowns, dental prostheses, leather clothing, etc. (Kurapaty, 1994: 128). These people had travelled a considerable distance. During the 1988 investigation, the commission heard testimony from 55 witnesses, which led them to deduce that the executions had taken place from
1937 until summer 1941
; this coincides with the Korherr calculations from
1937 to December 1942
.